We have had the most glorious fall day!  It was crisp and cold this morning, so Aaron built a fire in the wood stove to warm the house.  By early afternoon, though, I was opening up windows and doors to let the fresh air in, but a fire again this evening will probably feel good!  It is cooling down quickly now that the sun has set.  It really is just glorious weather!
We had a wonderful time yesterday attending Corin's home church and being able to participate in our youngest grandchild's dedication.  Corin's father-in-law does the majority of the teaching in their home fellowship, and he prepared a very moving dedication that included blessings to be read by both he and my husband for our youngest treasure.  Sweet baby girl would look up at one Grandpa and then at the rest of us, quite interested in what was going on and very glad to be the center of attention!
We had a sweet time of joining our hearts in song and prayer and then in opening the Word together.
Their home church makes a trip to a local (to them) pumpkin farm every fall, and they invited us to tag along. We've not been in two years, and we enjoyed our day very much.  I spent most of my afternoon chatting with the other ladies.  It was so nice to have a relaxed time of catching up with one another.  We home churched with these terrific folks for six years, and I have missed them all.  The children had all grown so much!!
My husband, bless his heart, still has quite a cough; but he is feeling fine.  He went to work right away on the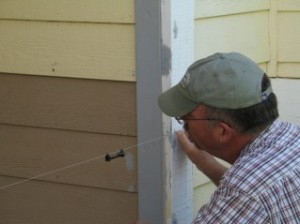 front porch today.  He doesn't have much to show for his day's efforts, but great progress was made in the very important planning and preparation stages.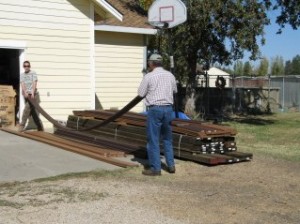 By mid-afternoon he was ready to hang the ledger board with Aaron's help.  From this first, very important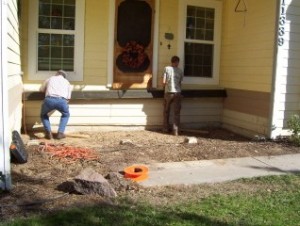 piece, the rest of the porch will grow.   I am so happy to see that big, dark board attached to the house just under the front door!   Progress!!!   Oh, I know that there is a lot of work ahead for my husband and his treasured helpers; but I can't help being excited by that first board being attached to the house!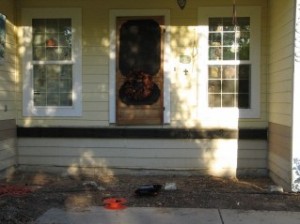 These next few weeks will be such a grand learning time for my sons, as well as for my husband.  This opportunity to work on a construction project together will be such a wonderful time for them to not only work together, but for my husband to begin passing along his building knowledge to our sons.  They will watch as he learns new things as well, and they will all learn together.  Aaron, especially, will gain a lot from this project, as he is really old enough, and big enough, to be a good assistant.  William, though younger, is a hard worker and he is very task oriented.  I'm sure he will learn quite a lot as well.
Since it is my practice to leave my Mondays fairly free so that I can spend them with my husband, I found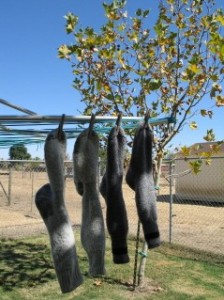 myself with a fairly clean slate today.  The normal daily stuff, of course, got done first.  Laundry, watering, irrigation, kitchen and bathroom stuff.  Straightening up a bit here and there.  It really is a sure sign of fall when the wool boot socks begin making their appearance on my clothes line!
I giggled today as I was folding the clean jeans.  It used to be a simple matter to determine whose jeans were whose as there were three very distinct sizes.  Not so anymore!!!  In fact, Aaron's inseam is now an inch longer than his Dad's!!  He's not nearly as tall as Copper, but at thirteen he is all legs!!!  I have to double check the jeans now to see if they should be folded for Aaron's basket, or hung up for my husband.
I like to keep a seasonal display of potted silk plants near my entry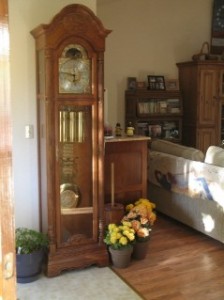 way.  However, when I worked on my little poolside retreat last summer, I used every terra cotta pot I had!  I picked up three new clay pots when I did the mega-shop on Friday.  I like the dull brown of these Italian imports, and they were only $2 each.  I put my fall silk plants (all mums) in the pots this morning, covering the floral foam with Spanish moss.  These will remain on display until the silk poinsettias come out in December.
The second week of the month is when I concentrate my extra cleaning efforts on my kitchen, dining room, back hall and laundry room.  As it turns out, my laundry room was quite a mess!  I don't usually let things get quite so cluttered back there, so I was happy for the opportunity to get it straightened up!
One of the biggest problems was that all of my fall table cloths were folded up and left on top of the washer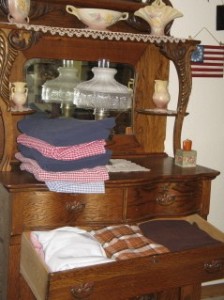 because there was no place to put them away.  When we bring in our fall things, I usually pack the things I am putting away into the tubs that the fall things come out of.  This time around, though,  I forgot to pack my everyday table cloths away.  This afternoon I took all five of my everyday cloths out of the sideboard drawer and then stored them in the armoire in my bedroom.  That left plenty of room for our fall table cloths in the sideboard, which is just a couple of steps from our dining table.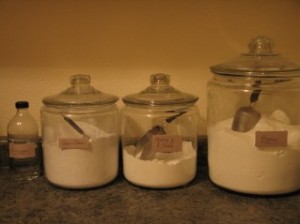 Once that was done, I pulled my ironing pile off of the dryer and took it to the mudroom/sewing nook to be ironed later in the afternoon.  All that was left to do then was just a bit of straightening up of the hangers left in the basket on the dryer and wiping down my counter and machines.  It looks so much better back there!
I glanced over my scheduled house cleaning list again to see what all needed to be done this week.  This month I had scheduled the task of washing down all of my kitchen cabinets.  The cabinets are dusted and wiped down as needed throughout the year, but I do like to give them a thorough scrubbing and oiling once a year.  October is the month for that job.  There are a lot of cabinets in my kitchen, so I decided today  to just tackle the cabinets and drawers right at the sink area.  My cabinets really are in bad need of refinishing, but keeping them clean is still important.  I worked on that particular area of cabinets for about 40 minutes or so today, trying out a new-to-me product called Cabinet Magic.  Guess what?  It's not magical.   After dinner tonight Dani got the can out again, remembering that I'd bought it on Friday but not knowing that I'd already used it, and was working on the same cabinets!   She could not tell that I had just worked on them a few hours before!   We talked about it for a few minutes and I think we might tag team the kitchen cabinets tomorrow sometime.
Another one of my scheduled tasks was quickly attended to – checking the expiration dates of the over-the-counter, herbal and prescription meds we keep in tubs on a high kitchen shelf.  I also checked the dates on the various ointments in our first aid tub, too.  Expired items are discarded.  Any frequently used items that were discarded were penned onto the grocery list for our next mega-shop day.  Only two this time around.  It really is important to be sure that the medications and first aid products you give to your family are discarded when they are past their expiration dates.  I have checking the expiration dates in these tubs scheduled for once every three months.
Our four little lambs are doing so well.  We do believe that the beautiful little white spotted one might have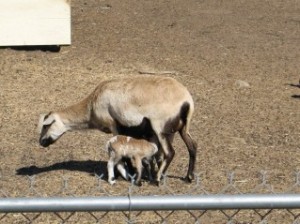 some impaired hearing, but he seems to be doing fine.  He causes poor momma-ewe grief when he falls asleep in the pasture and she wanders away, though.  She bleets and bleets for him, and he just snoozes merrily away while she searches and calls for him.  Eventually, though, he wakes up, realizes he is all alone and begins bleeting pitifully for her.  He runs like the wind to her when she calls then!  I love watching these little guys nursing from the ewes. Their little tails just wag so fast the whole while they are eating.  It's such a joy to watch!
This evening, the boys played a game of their own making – three man baseball.  It's a complicated set-up,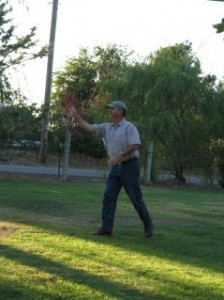 really; but it enables my family to enjoy the All-American past time together!  My husband pitches and each boy hits until there is an out.  The boy not batting is playing all of the defensive positions simultaneously.   If a boy hits a double and runs to second, then when he returns to the plate to bat again, it is considered that there is a runner remaining on second base.  Does that make sense?  They seem to be able to keep track just fine, and cheer themselves silly as the make believe runners are batted in!!  Somehow the little guy holds his own against his brother!  The yard lights enabled them to play until well after dark.  A full day of hard work, and hard play!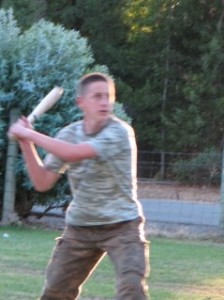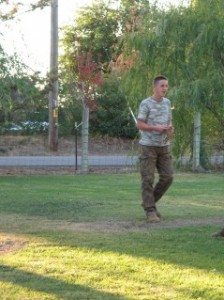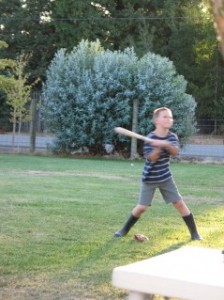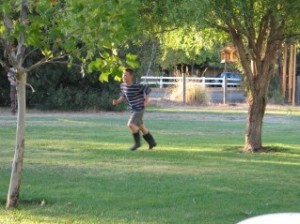 Our homeschool weeks are set up a bit differently just now.  Monday and Tuesday are devoted to working on the porch, as long as there is actual work that they can be a part of.  We'll homeschool more normally on the days that my husband works.  The final outcome, of course, will be that my sons will have learned some valuable skills that will follow them for the the rest of their lives.  Their other school subjects will not suffer a bit as we homeschool year round and quickly recover time spent on pursuits such as this.  Homeschooling for us never really has been just about readin', 'ritin', and 'rithmetic.  Homeschooling at Copper's house has always been a matter of discipleship and teaching as we go through our days.  The 3 R's are a part of that, of course, and an important part!  They just aren't all there is.  There is so much more to learn!
I've been enjoying reading a few pages in Hidden Art of Homemaking
.  I believe it has been two or three years since I last read it, I'd have to check my reader's journal to be sure.  I know that I've been inspired each time that I've read it before, and I'm finding that true with this reading as well.  I've not yet hit any of the more practical chapters, but I've been enjoying the introductory chapters so much.  I love being reminded that we are, each one of us, made in the image of God.  God the Creator of all things.  My desire to be creative, to make things with my own hands, to bring beauty into my home in keeping with my own tastes, and to plant flowers and lovely trees and plants in my gardens comes from Him!
Mrs. Schaeffer points out , "Because we are finite and limited, and because human beings are diverse, there must be a great diversity in the possibilities and opportunities that I would call "Hidden Art", but it should find a constantly growing and widening expression as life goes on." (added emphasis mine)  Constantly growing.  Constantly widening.  We cannot all be proficient at every skill that might interest us, but we can all be proficient at a few things.  Find those things and continue to practice and improve in them.  I also believe that your time is well spent developing a new skill, so long as your God-given priorities are kept in order.  Don't be afraid to try something new.  It doesn't have to be perfect.  Keep those creative juices flowing!
God bless you as you look well to the ways of your households!
Proverbs 31:27