Today I worked through my day by working a little, then resting a little, working, resting, working, resting……..  You get the idea!
It's quite possible, though, to still enjoy a day like this.  I might have had to walk slower than normal out to the orchard to irrigate, but the slower pace allowed me to enjoy the warmth of the sun just that much longer.  I was also able to enjoy watching one of the neighbors' horses eating the leaves from a tree and then scaring himself when his pulling on a branch caused the dry leaves over his head to rustle.  Boy, did he kick up the dust as he fled!
The chicken for tomorrow's fellowship lunch was cooked early and the two large baking pans run through the dishwasher with our breakfast dishes.  My laundry progressed, though even that was at a slower pace as I had several things to wash individually on the "handwash" cycle.  As morning wore into afternoon, my pace needed to pick up a bit.  I took on more of a work a lot, rest a little approach.
Our temperatures are still quite warm, but I was motivated to pull out the flannel sheets today.  It seemed a bit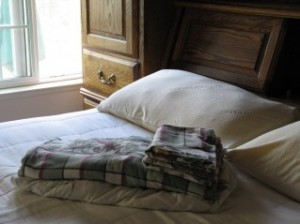 silly, since my bedroom windows were wide open all day, but I've been longing for the soft warmth of those sheets.  My longing has not been borne of necessity this year, but more of just a readiness for cold weather.  My sheets have been stored out of the way of dust all summer and still smelled quite fresh and clean.  Instead of re-washing them before putting them on my bed, I simply made up my bed in stages today.  After spreading the bottom sheet, I sprayed it well with my lavender linen spray and then let it air a bit.  I did the same with the top sheet and pillow cases before pulling up the top covers.
I pulled out the boys' flannel sheets as well for Aaron to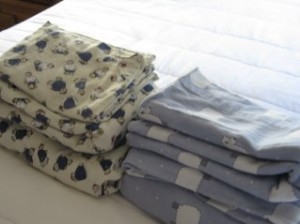 put onto the bunk beds.  I have one boy that's been complaining about it being cold, while the other is still "roasting" at night, but they are both making the switch to flannel sheets just the same.
I mixed up the dough for the cookies for Sunday and then put it into the fridge to chill while I mixed tomorrow's coffee cake.  The coffee cake baked, the cookie dough chilled, and I recycled my laundry and turned off all of the irrigation and watering I'd started earlier in the day.  Every now and again I was pleased to sit down at the computer and discover a new xanga message from Dani.  It's fun to be able to keep in touch with her while she's away!
We had a splendid evening at the Reformation Party last night.  I was so pleased that Corin, Rob and the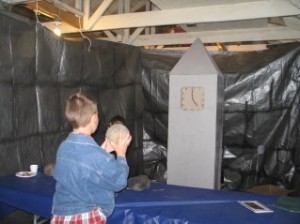 grandbabies could join us this year.  The traffic was horrid driving down, and we met up with Copper and Aaron for a quick dinner at a fast food place, so we arrived a bit late.  The children all had time to participate in at least a couple of the games before the booths were closed.  This year we had a fun look at the Westminster Divines in action in the form of a short play looking in on one of their meetings.  We enjoyed a time of hymn singing as well, and found the drive home, quite late in the evening, to be a long one.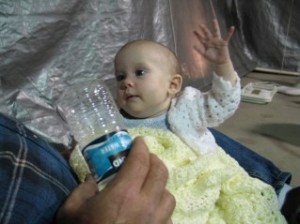 Grandpa's water bottle was, apparently, more entertaining than the play.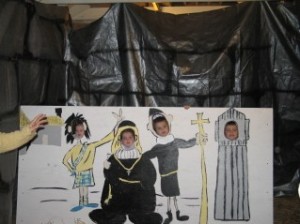 My grandbabies are "divinely" cute, are they not??  Check out the baby on the far left!  I wish you could see her face better, because she was laughing!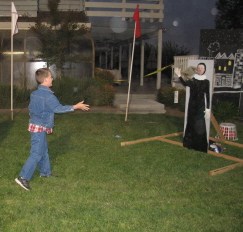 Will re-enacts the legendary tale of Jenny Geddes.
As always, our church basket is waiting by the back door, ready to be loaded into the car tomorrow.  I started packing it this morning, as a matter of fact, when Dani messaged that she'd forgotten to pack her church shoes!  The shoes were put into a plastic bag, then into the basket and the basket parked by the back door.  Clothes are ironed and hung out.  I am just finishing up the last of about seven dozen gingersnaps for tomorrw, and my boys are asking about dinner.  I need to mix up a batch of my buttermilk baking mix before starting dinner, so that it will be ready for waffles on Monday morning.  I have enjoyed spending the extra time in my kitchen this afternoon, though I had hoped to make up a few things for the freezer, too.  Maybe next Saturday.  I still have a very busy evening ahead, and I am dragging.  I am very much looking forward to a Sabbath rest tomorrow.  Have a blessed Lord's Day!
God bless you as you look well to the ways of your households!
Proverbs 31:27