My son, Aaron, learned a new word today.  He heard it used in conversation multiple times in a thirty minute period late this morning.  The word was "obsolete".  We were able to discuss that word throughout the day today, as well as how it applied to various aspects of the life he knows.  More on that in a bit.
The ingredients I use most often in baking and everyday cooking are housed in the cabinet over my baking/food prep area.  My main shelf there is filled with Tupperware Modular Mates containers.  Most of those containers are more than twenty years old.  With the years of use, several of the seals have cracked or broken, but they are guaranteed for life.  I contacted a Tupperware representative, and we've been exchanging e-mails back and forth for a couple of weeks, arranging to meet this morning at a Starbuck's in a nearby town to take care of the warranty work on my seals.  I also had several missing components to other pieces that I hoped to purchase from her.
Now, lest you think that I have jumped off the frugal bandwagon by buying new Tupperware, allow me a moment to explain.  I do not live in a large city.  There is only one thrift store anywhere near where I do all of my shopping, and it is an upscale, American Cancer Society thrift store.  I've never seen Tupperware there.  If I lived in a large city, or if there were thrift stores near the places I do visit in the city, believe me I would be checking there for Tupperware, as well as for other treasures.  In my situation, though, the cost of gas and the time it would take traveling to and from a large city, far outweigh the cost of purchasing my missing parts new.  Okay.  Whew! Glad I got that off my chest!
So, I met Sherry, the lovely Tupperware lady, at Starbuck's.  She wrote up my warranted replacements, and graciously sold me a few things at her cost for replacements as well.  I began working my way down my list of other missing parts.  Time after time after time she would look a part up in her book and the listing would say "obsolete".  Freezer containers,  for the most part, are obsolete.  A favorite container that was chewed a bit by a critter when we went camping is now obsolete.  She was a delightful lady, and I enjoyed chatting with her very much, but she must have said three or four times that women just don't bake anymore, or cook things for the freezer anymore, or….. You get the idea.  I assured her, several times, that I still did all of those things and loved doing them!
I ordered a couple of extra of my favorite containers.  At least some of the things I use and love are not obsolete!  I mentioned needing a couple of freezer containers for my wheat flours in the freezer.  The containers I pulled off my shelf last week really are not meant for the freezer and are prone to break easily when frozen.  There was nothing suitable at all in the catalogue.   However, as I explained to her what I needed them for, she realized that she had some old product in her storehouse – you know, the obsolete stuff – that she was willing to sell me, and how did $7.00 each sound.  It sounded great, so she'll have those for me with the rest of my order.  All in all, I am very grateful for what was made available for me.  But, obsolete?
Obsolete.  Obsolete!!!  Aaron and I chatted about women not baking for their families anymore.  He knows that I have been baking muffins and putting them in containers in the freezer and that we can then just bring in two or three each of whatever various varieties are out there for breakfast.  He likes that!  He knows that most moms just buy the variety pack of muffins at Costco.  We, my children and I, had just discussed the other day what sorts of offerings the grocery store adds had this week.  Packaged this, and pre-made that.  Already seasoned and stuffed chicken, ready for the oven.  Pre-marinated and cooked roasts, ready to re-heat in their special microwave-safe package.  Luscious freezer meals with the names of famous restaurants on the box.  Packaged salads, complete with dressing.  Frozen scrambled eggs ready for the microwave.
After my morning meeting, this obsolete homemaker and her oldest son continued on their way to pick up supplies and actual ingredients for obsolete cooking and baking.
My husband stayed home from work today again, still nursing his chest cold.  Will stayed with him, and Dani is working for three neighbors simultaneously this week.  Busy girl!  So, it was just Aaron and I out for the shopping.  I enjoy the opportunity to have just one of my children with me on these jaunts from time to time!  One on one time is often hard to come by.
And it was great to have him along!  I lifted nothing heavy, as he did it all without my even asking.  He pushed the cart for me if I didn't care to (although I like pushing it most of the time!), and he backtracked to pick up things I'd missed.  I had a couple of things I was looking for in the house ware sections of the stores we went to today, and he patiently stood by as I looked at one thing and then another and back again.  He takes most of the seats out of the van to accommodate all of our purchases on these mega-shop days, loading in ice chests and our re-usable shopping bags and totes, and he did a fine job today of consolidating and packing up our purchases as we brought them out to the van.  It's such a blessing to see him taking pride in a job well done, and that's what he did with packing up the van all day.
We had a bit of an exciting moment when a weld on our shopping cart broke at Wal-Mart.  Fortunately, there were several employees standing just where it happened, and they were right there to help us catch things that started tumbling out of the broken cart…..including eight drinking glasses!  Yikes!  We thought we'd saved everything from harm, but when we got to the check out two of the glasses were chipped.  Aaron ran back for the replacements and was back by the time the cashier had finished ringing up our order.
It was a fine, fall day, and we had a lovely time of it!
All of the materials for our new front porch, down to the sacks of cement and the color matched deck screws,
was delivered just before 5:00 this afternoon.  Aaron and I pulled into the driveway just a minute or two behind the semi-truck and trailer.  The man from the lumber yard used a fork lift to unload all of the components and stack them neatly on our drive way.  The pallet, covered in blue tarp, has the bags of cement, and I don't know what all else.  My husband said that it is really overwhelming for him to see it all being unloaded like that and stacked on the driveway!  Poor guy, he feels so awful still, I'm sure that building a porch has absolutely no appeal right now.  (I would appreciate your prayers for him.  He has called in sick for yet a third day.  It is a very rare occurrence for him to call in sick for even one day.  He has agreed to call in for a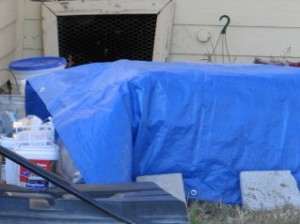 doctor's appointment in the morning.)
We unloaded the van, sorted out the food and supplies, and got everything put away quickly.  It was such a blessing to have Dani here to help with that aspect of it.  There was the better part of a meat pie left over from our dinner Wednesday, as well as some green salad.  I put the pie in the oven to heat, and Dani brought in a few muffins from the freezer to microwave.  We sat down to a yummy, hot dinner by 6:30, after thanking the Lord for His provision.
So, my son learned the word obsolete today.  My friends, I am not obsolete, nor are any of the skills and pursuits that I engage in day in and day out in my home!  Homemaking is not an obsolete pursuit.  Caring for one's household, and those that live there, is a mandate and a blessing from the Lord!  The various aspects of homemaking are all valuable skills and occupations, and you will bless your family immensely by looking well to them!
Most careers have some sort of continuing education program to keep folks at the top of their game.  Doctors and dentists need to keep up on the latest in medical advancements.  Computer savvy folks, like my son-in-love, must continually keep themselves abreast of the current technologies.  Retailers need to keep up with marketing trends.  Law enforcement personnel, like Copper, have to attend classes annually to learn about new aspects of law enforcement, and they must also qualify with their firearms several times each year.
I am no different!  Homemaking is my career, and I intend to continue my education in that career.  I am constantly on the look out for opportunities to learn a new skill, or to perfect a skill I already have.  It is just one way that I can look well to the ways of my household.
God bless you as you look well to the ways of your household!
Proverbs 31:27