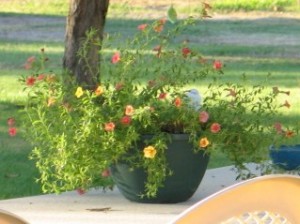 I wanted to pop in quickly tonight, and thank all of you for praying for Copper.  He had an appointment early  this afternoon with the doctor, and she prescribed a couple of medications for him.  I am thanking the Lord because he is feeling so much better. Our Saturday, as usual, was quite busy; but it was different than most.  Of course, having my husband home on a Saturday made it wonderful, even if he wasn't feeling his best.  I love having my husband home!
I am always so thankful when I see the Lord's hand in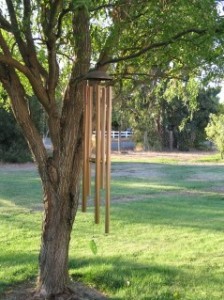 our day to day living.  Dani is working for three different neighbors this weekend.  None of the jobs keeps her away from home long, but she is gone for awhile off and on from early morning until just before dark.  She is caring for pets and animals, including horses, for two neighbors; and she is helping the owner of the Arabian horse ranch around the corner while his hired man is away for the weekend.  It's unusual for everyone to need her at once, but that's how it worked out this time.  We just never know what the Lord has in store for us.
Normally her Saturday would be far too full for so much activity away from home, but our plans for this weekend are not our normal plans.   We will not be attending services at our own church tomorrow.  Instead, we will be traveling the same hour or so tomorrow morning, but it will be in a different direction.  Tomorrow we will be visiting with the families at Corin's home church as she and Rob dedicate their wee, littlest one to the Lord.  We are so blessed and excited to be able to attend.
My own Saturday was different, too.  Instead of preparing food for our church's fellowship meal, I spent time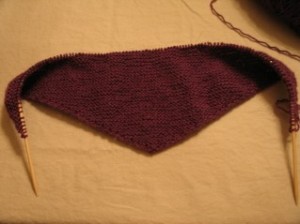 driving to town to the doctor with my husband.  My two big crock pots will get a rest this Sunday!  I did a bit of sewing to finish up the pot holders that I promised long ago to Corin's mother-in-love.  She's such a dear friend and has been so patient with me!  I took my shawl along in the car today and into the medical building and completed several more rows while I rode and waited with my husband.  It is now just about the size of a bandana.  I will have plenty of car riding time tomorrow to work on it more.  Busy hands keep me from fretting too much about traffic and such, and it surely makes the drive pass by quickly.
Of course, I still made preparation for our Lord's Day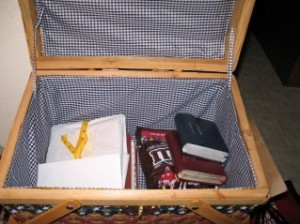 tomorrow.  The church basket was packed with our Bibles and notebooks, the completed pot holders, and a few other assorted items we need to take with us.   The basket is waiting by the back door to be loaded into the van in the morning, just as it always is.  We will be taking our own picnic-style lunch, so a loaf of bread was made early this afternoon.  We will pack the ice chest in the morning, but all the ingredients (including a small batch of Dani-made cookies!) are ready to go.  She made the cookies while we were at the doctor's office, and had tomorrow's coffee cake in the oven as we came in the door.  With her busy day, she still found time to bake!!!
Clothing for tomorrow will be casual, but I still made sure to have everyone's clothes out tonight before bed so that everyone can just get dressed without having to decide what to wear with sleepy, morning brains. An evening pass was made through my home picking up and straightening up a bit as I moved through.  This was not a house cleaning.  It was just a time to pick up wayward items and return them to their proper places.  It is important that we leave our home in decent order when we leave on Sunday morning, but this work is not done on Sunday morning, it is accomplished Saturday evening.
I have been asked, then, what sorts of things that I still need to tend to on Sunday mornings in order to leave our home in good order.  First of all, everyone makes their own bed.  Will clears the breakfast table after we've eaten, as he does every morning, and feeds the pets.  Aaron feeds and waters the farm animals.  Dani packs the ice chest, and my husband loads the car.  Before I dress, I rinse the breakfast dishes, load them into the dishwasher and then make a quick job of wiping crumbs and spills from the counters.  I cover up the left overs from breakfast, and then I rinse out the sink and polish my faucets dry.  That's it!  Our Sunday morning breakfast is always coffee cake, muffins or sweet rolls, so the only dishes are plates, forks, glasses and a couple of cups. The whole process takes less than ten minutes.  Oh!  As I start the dishes, I do put the tea kettle on to make two travel mugs of hot tea for Copper and I for our drive.  The tea is done by the time I am done in the kitchen, and has cooled enough to drink by the time we head out the door.
It is wonderful to leave on Sunday morning knowing that we will be returning to a neat home and a clean kitchen; and we are, usually, fairly relaxed as there is no last minute ironing of clothes, or looking for shoes, or trying to decide what to wear.  If the boys want to bring along something extra, it is their responsibility to get it ready on Saturday night.
I will miss worshiping with our church family tomorrow, but I am very much looking forward to visiting with old friends; and, more importantly, I am looking forward to celebrating with Corin and her family in my sweet, littlest treasure's dedication service.  What a joyful time it will be!  Have a blessed Lord's Day tomorrow!
God bless you as you look well to the ways of your households!
Proverbs 31:27