First things first, thank you, all of you, for your prayers.  My friend Lisa continues at the hospital and we are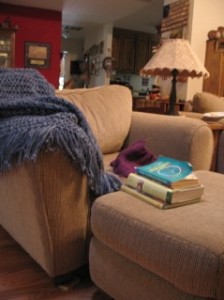 continuing in prayer for her and her tiny baby girl.  Dani is doing well, but she is very busy keeping the home fires burning in Lisa's absence from her home.  My sweet husband came home from work last night very tired, but he did have a very good, sound night's sleep.  For that I am VERY thankful.
I have been under the weather today.  I've been taking it easy all day, with my knitting and my books, in my husband's big chair for the most part.  My boys finished their homeschool assignments and have played quietly for the rest of the afternoon.  Okay, "quiet" is subject to interpretation!
I have some of Dani's left over tomato soup and even some of her homemade biscuits to warm up for our supper tonight.  How is that for you?  My sweet girly-girl is not even home and she's still taking care of me!
I am quite sure that I will be fit as a fiddle tomorrow.
God bless you as you look well to the ways of your households!
Proverbs 31:27