As usual, I have so much I'd planned to share with you this evening; but I really and truly have very little time to do it tonight.  There is much going on, and I'll try to share a bit of it here quickly.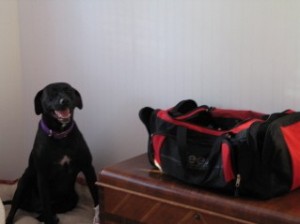 Dixie, our  big black lab mix, is a very intelligent dog.  Dani is getting ready to spend another few days helping  out at Lisa's, and the dog is following her every step, moping, and looking depressed.  I'm not one to claim that animals have human emotions, but I'm tellin' ya, this dog is moping!  She knows that Dani is leaving again, and she is bummed.  I scurried through my laundry today so that Dani could get hers done.  She normally does all of her laundry on Thursdays, but we'll be changing things around a bit for the next few weeks.  Having Dani gone certainly makes life different in my home, and I miss her terribly; but I am grateful for her servant's heart and her willingness to make herself available to a family she loves.  Please continue to pray for Lisa!
My husband had to go to the firing range this morning to qualify with his duty weapon.  He said he did not plan to shoot well as he was very occupied thinking about the porch.  Well, he not only shot well, he shot very well.  He earned his Master medal (the 2nd highest ranking possible) and missed Distinguished Master (the highest) by just one point!  Imagine how well he would have done had he been able to concentrate on his shooting!!!
He and I went out this afternoon and did some shopping for our Aaron (who will be 14 on Sunday).  My husband has always bought the boys tools for their birthdays and for Christmas, starting when they are 4, and Aaron now has a very nice tool box full of hand tools.  With the porch building on his mind, my husband bought our son his very first power tool – a corded drill/driver.  Aaron will be so surprised and thrilled, I know, with the gift.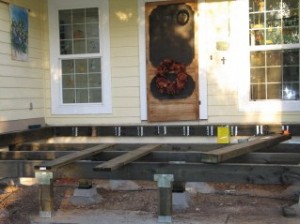 My husband had to re-do part of what he did yesterday on the porch, but then he moved beyond that and all  of the brackets are attached to the ledger ready to accept the joists.  It will remain like this until his next day off, next Monday.
I have, for quite awhile now, been promising to get to work on the homemaking section of the web site.  Ladies, I've not forgotten, but my days are just so full of the things that the Lord has blessed me with – my family, my home, the work that He give me to do daily.  I knew that the Lord would have to lead in this, and today I've had some time to really think about how best to present this information to you.  A few things that I didn't quite know how to work out, now don't appear quite so challenging.  All this to say, the homemaking section of the web site is at least now officially in the works.  You all have been so patient with me, and I do appreciate it so very much.  Hang in there with me just a bit longer.
Since I'm writing so very little this evening, you know how wordy I normally am, I wanted to share a link with you.  Carmon, whose blog I have read for years, had a post up this morning that I really loved.  It's the first part of the post that I want you all to read, but read the rest of it, too, as she has some great shots of her family participating in a Gold Rush re-enactment.  It looks like loads of fun!   Click on over to read it, and then be sure to add her blog to your Bloglines so you don't miss any of her future posts either.
See, short post.  For me anway.  You know how wordy I normally am.  But I can be quiet.  Sometimes.  Honest.  (more on THAT later
)
God bless you as you look well to the ways of your households!
Proverbs 31:27