Ever have one of those days that takes you out of your comfort zone?  Boy, I sure did today!  It sure felt wonderful mid-afternoon, to come back to my own little home, brew myself a BIG cup of tea, and sit down to relax!  I love my home!!!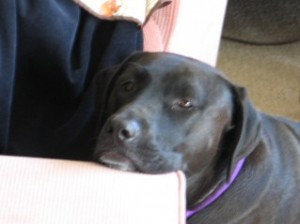 Now, some of you had some particular words of comfort that you wanted me to pass along to Dixie.  You all have NO idea how spoiled our dog really is . She is a house dog, and she has TWO beds.  One in Dani's room, where she sleeps at night.  Truthfully, it is where she sleeps at night until she is certain that Dani is fast asleep and then she hops, as gracefully as her 75 lbs. will allow her, into the bed WITH Dani . Oh, and did I mention that there is a blanket for her use there as well?  And that she is actually tucked in at night when it's cold?   And she has a second bed in the school room where she takes her 1,509 naps every day.  On especially cold days, a well meaning family member will drag that bed into the living room and put it in front of the wood stove.  I mean, heaven forbid, that the DOG should have to lie on the actual FLOOR in front of the fire!!!  When Dani is away, the bed is taken to the boys' room, but she doesn't even wait for Will to fall asleep to hop into his bed.  I'm telling you, this dog is a pampered pooch.
So, for all of you who felt especially sorry for her missing Dani, here is how she spent her afternoon.  Yep,  lying right by my side, having her head patted or her ear rubbed every so often.  I'm not saying for certain, but it just might be that she was slipped a crumb or two of the cookie I was having with my tea.
The cat, on the other hand, is not spoiled.  She lives outside; and though we do feed her well, she is expected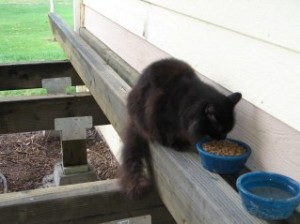 to keep up her end by keeping the rodent population under control.  So far, it's a win-win situation for all of us. We've always fed her on the front porch.  The last couple of weeks, she's had her food on the picnic table in the front yard, on the drive way near the garage, or where ever else seems like a good place at the time.  Though the porch is far from being completed, Miss Meow is happy to have her food and water bowls back on the front porch where they belong.  I think she enjoys the porch the way it is now!
After a bite of breakfast this morning, Dani and I hit the road for Lisa's house.  For some reason, e-mail communication between our two homes has been intermittent that last couple of days.  I'm still not sure that Dani arrived when she was needed, but she's there now and will stay until Saturday!  We had a lovely morning drive, encountered no traffic to speak of, and chatted all the way there.  I took the scenic route home, on purpose, hoping to find a Starbuck's sooner than I would have on my regular route.  My mission was a success and I enjoyed the sites along the way as well.  I travelled through many, many orchards, mostly nuts I think.   I've never seen so many really great produce stands on one stretch of road before!  Makes me wish we lived a bit closer.  I called the boys to see how they were doing on their morning chores and to let them know that I would be stopping by the feed store on my way home.
Now, the last time that I went to the feed store, it was so packed that it was impossible for me to back my van up to the dock and I had to pull in.  When I apologized to the young man that loaded my feed that day, he said that it really was preferred that cars with trunks and vehicles with hatches that opened upward pulled in rather than backed in.  I thanked him and assured him that next time I would be sure to pull in on purpose!
Well, next time was today.  They weren't even crowded, so I wheeled right up to the dock, careful to pull in rather than back in, went inside to order and pay for my feed and the fella was waiting on the dock with my feed by the time I got back outside.   He carried the chicken scratch to the back.  Then he carried the hens' laying ration to the back.  When he came around with the Sweet Cob we feed our goats and sheep, he mumbled something about carrying a 70 lb. sack all the way from the dock to the back of the car.  I told him I was sorry, but that I'd been told they preferred hatch back vehicles pull in.  Hmmm………apparently it's all in who you talk to!  I apologized and told him that next time I would be sure to back in.   sigh…………… It was 11:30, and I was headed for home!
After lunch, the boys and I needed to make a run to the hay broker.  We use a composted straw bedding system for our sheep and goats and we were completely out of straw.  With more rain in the forecast, it was vital that we have some dry straw to put down for the animals.  My husband has been so busy with the porch, that a run to the broker's has just not been made.  I was glad to be able to do this for him.
I've driven our trailer many times, and I've backed that same trailer up as well.  And I've done a good job. But my husband has taken care of making the runs to the hay brokers for the last few years and I've not backed the trailer in at least three years.  Until today.  At the hay brokers.  The grumpy, not very patient, and not very good at directing hay broker's.  I knew I was in trouble when I got there and the broker couldn't find his hired hand.
Now, our hay broker has been in the hay business since…….well, for a VERY long time.  He's had the same hand working for him for longer than we've been buying hay there.  And he's always going to fire him for not being around.  Or he's going to fire him for this reason or that.  But each time we go Howard the hired hand is always still there, working.  Slinging hay is no easy job, either!  Anyway, the broker was already annoyed that he'd had to come out and see why a woman with a trailer was just standing in his hay yard while her boys played with his dogs, and now Howard was no where to be found and would I "toot" my horn for him.  Aaron reached in the window and tooted the horn.  Howard appeared, from somewhere deep in the hay barn, looking like he'd just been awakened by someone tooting their horn.
I was directed to the straw barn, and began backing the trailer up.  I missed.  I pulled forward and backed again.  Ugh!!!!  I know how to back a trailer up.  I do!!  But having the already-grumpy-at-his-hired-hand hay broker standing there, the diamond rings on his hands flashing in the sunlight and blinding me as I caught site of them in my mirrors, with his hands on his hips and shaking his head from side to side made me forget everything I ever knew about backing a trailer up.
He came up to the driver's side window and said, "I'm gonna point my finger and you just turn the back end of your vehicle the way I'm pointin' my finger."  Okay, I can do that.  He pointed.  I backed and turned.  He said, "You're not turning hard enough, pull forward and do it again."  I did.  He pointed.  I backed and turned harder.  "When I POINT, you need to turn your wheels HARD!  Pull forward!"  He pointed. I backed and turned HARD. "You don't need to go CRAZY turning it!" sigh……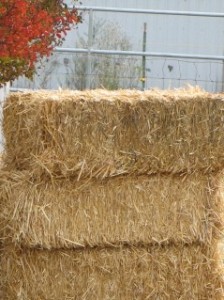 Finally, I caught site of Howard, the hired hand, high atop the bales of straw in the barn and he was giving quite sensible hand gestures.  I followed Howard's gestures and backed right on up to the mile high stack of straw he was standing on.  He bid me stop, and I did, just inches from the straw.  He tossed my five bales down into the trailer, neatened them up for the drive home, told me the total price, took my check and off I went!  I like Howard.  I think I know why Howard never does get fired.
Do any of you buy hay for animals?  Howard told me that this is the worst year the broker has ever seen. Aaron told me that we needed hay, too; but I knew that was definitely a job for my husband as we buy a ton of hay (literally) at a time.  Howard said there would be no grass hay left inside of a month.  Yikes!  The price is already very high.  Apparently a lot of hay farmers switched and grew corn this year.  I was just wondering if this is a nation-wide trend or if it's more regional in nature . Let me know what you know!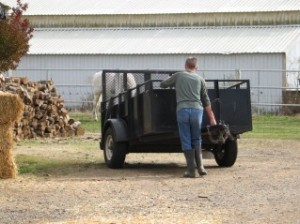 Oh, but then I came home!  I did!  And you know what?  I was going  to back in to make unloading the straw easier for Aaron, but he said, "Momma., you don't have to back up, just pull on up there by the garage and I'll unload it right there."  I love that boy!!!
The same boy who just a couple of hours before had been uncooperative with his brother and non-responsive to my directions, was now showing me the side of him I pray to see more and more of.  The impatient little boy of earlier, was now a considerate, hard-working young man, willing to do a bit of extra work to save his momma the grief of backing up that trailer again!  There was an immediate "yes" to his request for a root beer when the job was done, too!  As far as parking the trailer once it was emptied, he unhitched it and backed it into place manually.  What a kid, huh?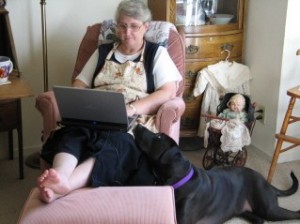 Once I was home to stay, I put on my apron and then I put my household servants to work!  The laundry I'd started this morning was put into the dryer and the dryer was put to work.  I reloaded the washer and set her to work as well.  The lunch dishes and some stray odds and ends the boys used this morning while I was gone were loaded into the dishwasher and that servant began working for me, too.  I did wash up a few things by hand, and left them to dry on the drying rack.  The computer delivered a couple of e-mails.  The voice recorder gave me the message he had received.  My tea kettle brought some water to a boil and I brewed some tea.  Aaaahhhh, the life of leisure, sitting in the parlor with my feet up, dog at my side, and sipping my tea while my household staff labors for me.
These last couple of weeks, and the next few, have meant a postponement of our weekly Library Day at Grandma's House on Thursdays.  I do, very much, miss my afternoons with Corin and the grandbabies.  They are every bit as much treasured as they ever were, but this is a season where it's just not been possible.  Soon enough, Lord willing, our Thursday afternoon fun will resume.  Flexibility is a good thing.  Remember my admonition to you to hold your own plans loosely so as to be better available to serve in whatever way the Lord has for you.  I'm holding onto my daily plans with a very loose hold these days, for the big things as well as for the small.
God bless you as you look well to the ways of your households!
Proverbs 31:27