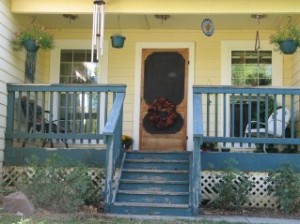 The neighbors are talking.  That's okay, we certainly are creating quite a stir!  In the nine years that we have lived here, we've had a lot of comments from our neighbors on the work that we've done on our home.  Nice comments.  You see, the original owners did some rather strange things.  For example, they built what amounted to a solid wood fence, six feet tall, around a small area of the front yard, blocking the view of the house entirely. They filled that entire area with several inches of pea gravel and called it a yard!  We're still finding that gravel in everything!  The fence, like most everything else the original owners did, was poorly built.  By the time we moved in, the fence was leaning badly, and supported here and there by posts propping it up.  It was pretty awful.
The day, nine years ago, that my husband tore down that front fence, neighbors and passer by driving on our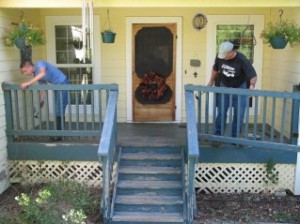 road would honk their car horns in appreciation.  When we painted the house, the same thing happened.  When we'd run into someone at the feed store and tell them where we lived, they'd say, "Oh! You live in the house that used to have that horrible fence.  It sure looks nice now!".  It has never been in our minds to do anything other than lovingly care for this place and make it our home.
We were just so blessed that the Lord gave us this little piece of land and house and knew from the start that it was from Him.  We've heard so many times from others how they had made appointments with real estate agents to show them the house and then the agents never showed up.  There was even another offer placed on the property at the same time that ours was.  Our offer was accepted.  Our loan was processed without any complications.  Our old house was sold before we were compromised financially.  Moving to the country was the answer to years of prayer for us. Years.
So when the neighbors began calling today wondering what all the racket was and why we were tearing off the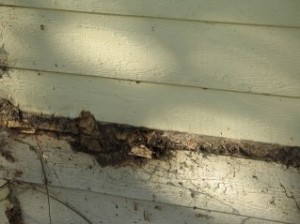 front porch, we just laughed and said that we were fixing things up some more.  Of course, the porch had to come off of the house in order for my husband to repair the dry rot we found  in some of the siding.  As he and the boys worked this morning, a lot of dry rot was found in the boards of the porch itself.   You know, it really is a blessing that the little spot of dry rot in the siding was discovered this year.  Tender mercies.  Another winter would only have increased the damage to the siding and might have even made our porch dangerous!  Now, the siding will be repaired and the porch rebuilt before winter.
My husband and I have decided to replace the porch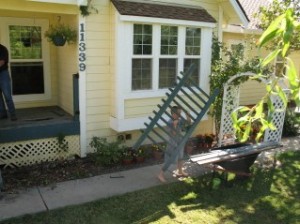 with a wood composite decking.  This makes sense to me on so many levels.  One, it will never need painting, and it is guaranteed for 25 years.
The way this material will be installed, the porch boards will not be butted up against the siding of the house, which will prevent dry rot from occurring there again.  And the wood composite is made up, at least in part, from recycled wood products and recycled plastic grocery bags.  It sounds like an excellent way to go.
Oh, I am so excited!!!  Our front porch has been quite
small.  There was just barely room for a couple of chairs out there, and the way the steps were situated, the porch was divided in half, as far as usable space.  My husband will be rebuilding the porch making it quite a bit larger, but also re-situating the steps.  This is going to be a huge project for him, but what a lovely, usable front porch we will have when it is done!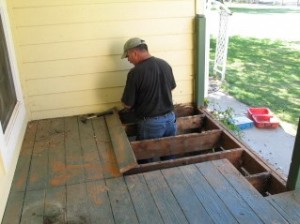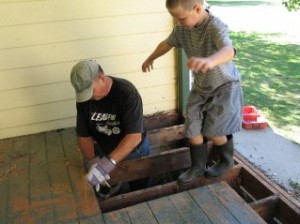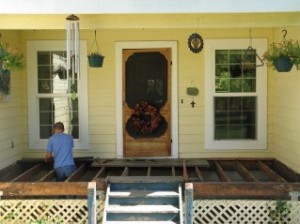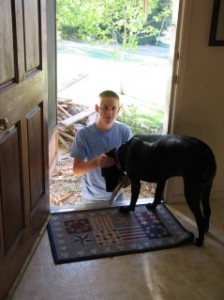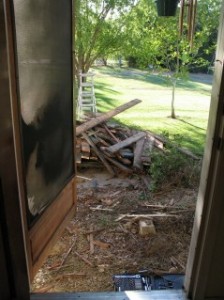 My husband and I lived in our last home for 18 years, and would have stayed there contentedly if it had been the Lord's will for us.  We had, in fact, given up the idea of moving to the country, so long yearned for.  The Lord knew our hearts' desire, though, and made our eventual decision to move to the country happen quickly and decidedly.  We have been here for nine years now, and plan to grow old in this house.  That is our way, to put down roots.  Long, strong roots.  When we make an improvement or repair to our home, we tend to make it with our long term future in mind.  That is why this porch is such a delight!  It will be, Lord willing, the last front porch we ever build!  I am so thankful that the Lord provided the way for us to tackle this project before the necessity of a falling down porch made it a priority.
It has been a wonderful couple of days, riding long distances in the van just my husband and I.  Mostly silent miles as he mulled over the porch design in his mind and I knit quietly next to him.  After 29 years, I can almost see the wheels spinning in his mind.
So, when he finally does speak, telling me about an idea he has, I am immediately able to track with him because I already knew what he had been thinking about as he drove.  I don't enjoy the lengthy hours away from my home, but I do enjoy the time spent with my husband.  It's a trade off, and one I'm happy to make.  Yep, I'll have to double up on laundry and chores this evening and tomorrow.  Ah, but it is all so worth it to have had this time planning and doing with my husband.
As I said, it is our way to put down deep roots.  As we plan this porch, we know that for years to come our grown children will return home to visit us by climbing the steps he'll soon be building and walking across the porch to our front door.  Grandbabies yet to come will arrive for their first visits via the same route, and it will be, I pray, a familiar path for them as they grow up.
Of course, not everything in my home has come to a screeching halt with the porch project.  Some things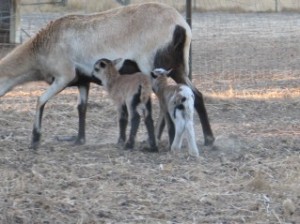 continue on without fail – meals, of course!  Laundry.  We've not had any rain to speak of, so the watering and irrigation still continues.  We were blessed this morning with two more little ram lambs.  One of them is quite striking in that he is not at all marked in keeping with the breed.  From his hips back, he is marked with uncharacteristic white spots.  He also has very light colored eyes, which we have seen a couple of times in blind lambs;  but we believe his vision is fine.  His markings remind me of a beautiful young fawn!  What a blessing to have our little flock increase from nine to thirteen in just a matter of days!
I've had a chance, here and there, to do a bit of reading.  I finally read more than just the table of contents in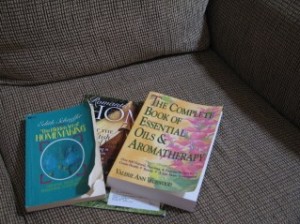 the book on essential oils
yesterday. There is such a huge wealth of information in this book.  I will have to read and digest it in small bits and pieces.  I also browsed through the table of contents in Hidden Art of Homemaking
, remembering how inspiring I always find Mrs. Schaeffer's book.  I plan to spend some time tonight beginning it again.  My copy is old and the pages are ruffled at the corners.  It feels like a comfortable old friend in my hands, and so it is.  I've also enjoyed a bit of the latest issue of Romantic Homes, having received the subscription as a gift on my last birthday.  Such lovely, lovely pictures!
Amy asked about the pilgrims on my mantle. That particular pair, I believe, were purchased at a crafts store,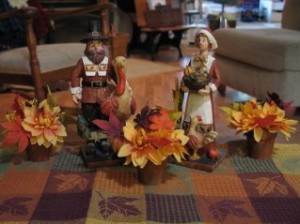 most probably Michael's.  I've always enjoyed that particular pair because they are so tall.  I have been buying pilgrim couples, and occasionally matching Indian couples, for several years.  I've found most on clearance at the crafts stores well before Thanksgiving.  These two on my coffee table are a couple of my favorites.  The turkey he has tucked under his arm looks much more like a beloved pet than Thanksgiving dinner!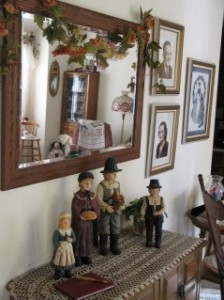 My husband blessed me a few years ago with this pilgrim family.  I think he purchased them at Costco.  I love them, most especially because he bought them for me just because he knew I'd like them.  They adorn the chest in my entry way every year.
Dani surprised me by making this wonderful garland of felt fall leaves.  It's beautiful, and I just love it!  I didn't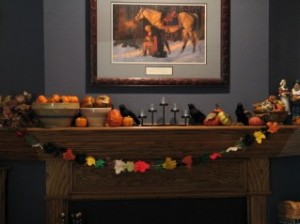 even know she was working on it.  She, apparently, made good use of the time that her Dad and I have been away from home this week!  I hung it from the mantle, being careful to hang it securely and high enough that the heat from the wood stove would not make it a fire danger!  All of our windows and doors have been open today, but I know that the cooler fall weather will be here soon and the wood stove will begin keeping us toasty day and night.
His Homemaker asked the other day about the price of Sucanat as compared to regular sugar.  I will tell you that Sucanat, which I use in place of brown sugar, does cost more than brown sugar.  However, for our family, especially for William, we are willing to spend the extra money for the healthier alternative.  I bought a 25 lb. sack of Sucanat from a young man at our church who can order through a large health foods co-op.  However, it is readily available in smaller quantities at any health foods store, such as Whole Foods, etc.  My deep discount grocer has carried it in their bulk foods section, as well, and that price was lower per pound than I paid for my 25 lb. sack through the co-op.
I had thought, by now, that I would be able to show you a picture of my completed shawl.  Well……….how can I put this
……….okay, bluntly and truthfully it is.  I had laid the shawl aside for about a week to finish up another project, and when I came back to it I knew that I would just never be quite happy with it.  The stockinette stitch I used was beautiful but it did curl under the full length of the sides.  I thought, in my novice knitting mind, that it would be fine when it was finished and wrapped around me.  As I had the thing just inches from completion, though, I realized that would not be the case.  I have since learned from Jodi that this is a normal characteristic of something knit completely in stockinette.  Soooo………. I spent the drive to church Sunday ripping out the shawl and winding up the wool around the skein I had just added on.  I have since experimented with a couple of ideas for a garter stitch border around the shawl, and I'm still working on how I want to work the increases.  I'll let you know how it goes!  I have so enjoyed seeing all of the shawls that some of you have finished up!  They are all so beautiful!  Your pictures are the inspiration I need to get mine really going again.
I want to thank Christi for honoring me with the Nice Matters award.  May I say that all of you just bless me continually with your sweet comments left here, and with the private messages and e-mails that you send.  I've been so busy here lately that I've not had opportunity to answer back many, or to say "thank you", so I'll just say it here and now ~ Thank you, dear ladies!
My husband is away for the evening for the monthly meeting of the men at our church.  A simple time of instruction and discipleship and iron sharpening iron.  And pizza.  Of course, there is the pizza!
I always enjoy his telling me about these meetings late into the evening when he comes home.  I'm looking forward to it again this evening.  I will spend my evening, once the evening routine is complete and my boys are in bed, quietly I think.  Dani and I usually watch a chick flick on these nights that my husband is away, but I think I would prefer to knit just a bit on my shawl and then read until my husband comes home.  It sounds wonderful!
This post has gotten quite long, and I've not even begun to share some of the things that were on my heart to share with you all.  Tomorrow, perhaps, but I'll wait and see what He has planned, holding my plans loosely….
God bless you as you look well to the ways of your households!
Proverbs 31:27