We enjoyed a spectacular light show last evening, courtesy of the Creator of all things.  Thunderstorms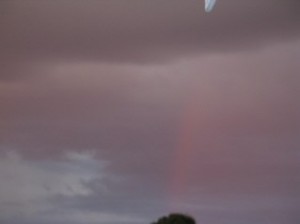 developed in the foothills just a few miles to the east of us, and the lightning display was incredible for our part of the country.  All throughout dinner we watched out the school room windows and would loudly, "Whoa!" when the sky would light up.  Poor Copper, with his back to the windows, saw very little of it, but enjoyed himself immensely by laughing at us and then issuing his own, "Whoa!" whenever the fancy struck him, which made us all laugh hysterically!  Later on, we stood on the back porch and watched the tail end of God's beautiful light show.
There were tremendous downpours all around us, but we had only a drop or two of rain.  So today found me working on my watering and irrigation.  I've let this slip a bit in the last couple of weeks.  With the cooler temperatures we've had, not as much watering has been necessary, but I've let things go about as far between drinks as I dare.  Today I irrigated our orchard and berries (blackberries & blueberries).  I watered my cutting roses, back yard flower beds, back lawn and front yard flower beds.  The crape myrtle trees next to our little storage barn were given a good soak, and I watered all of my outdoor potted plants, too.  The day was overcast and cool, which made working outside pleasant; but it made getting my feet wet (which always happens) unpleasant.  I'm pleased to give the trees and plants a good, long drink.
I'm still moving rather slowly through my day today, but I had my everyday tasks completed before noon. When lunch was finished, I recycled the laundry, quickly loaded the lunch dishes into the dishwasher and turned it on, washed up the stove-top griddle (from the cheese quesadillas we had for lunch), and then we all had our personal Bible reading and hour long quiet time. That hour of quiet in the early afternoon is a wonderful thing!
With my little potpourri pots plugged in again today, my house smells like apple pie!  Mmmmmmmmmmmmm! Delightful!  I topped them all off with hot water this morning when I plugged them in, and then topped them off again this afternoon.  Tomorrow I will pull out and replace the apple slices, and I will also refresh the spices a bit.
I've been asked about The Book of Life that we read together in the mornings.  The Book of Life
is an eight volume series.  It is actually the King James text of the Bible, broken up into different volumes, and then into small reading segments.  Each small segment is only two or three pages long.  We are currently reading Volume Two, Bible Heroes and Pioneers
, which begins with creation, and follows right on through the Tower of Babel, the stories of the patriarchs, the history of Israel's captivity in Egypt and the Exodus, the book of the law, the conquest of Canaan, the Judges, and ending with Ruth.  Interspersed throughout are lovely classical works of art, hymns and poems that correlate with the Scripture passages.  For my family, this is a wonderful way for us to read God's Word together in the morning.
The boys kept busy throughout the morning and the early afternoon with home school work.  Will finished up a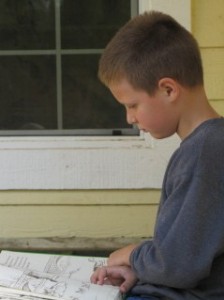 bit before our tea time, and so he took one of his favorite books out to the front porch to read.  I wonder if the front porch will be such a magnet when it is finished?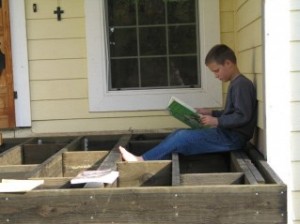 My husband had several errands to run in town this morning, but he worked on the steps for the porch all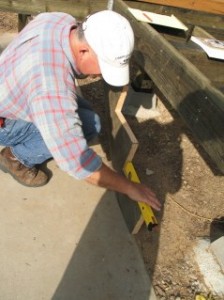 afternoon.  He has read and studied, and read some more, and looked up even more, in his determination to build a fine set of steps for our new porch.  Life long learning! It's what we tell our children we want for them.  It's certainly a good example for my boys to see Dad opening his various books and manuals to find the information he needs.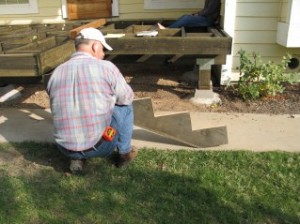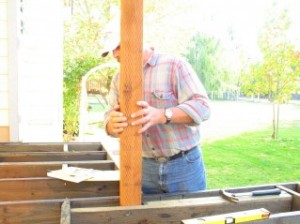 My afternoon was filled with my normal Tuesday chores.  On Tuesdays I dust, Webster and clean up my school room and the mud room/sewing nook.  The tile floor of the mudroom/sewing nook is supposed to be mopped weekly, but it hasn't been done in awhile.  Sewing projects out or under construction have kept me away from doing a thorough mopping, but it was done today!  It looks so much better!  When I was done, Dani used the mop and damp mopped the rest of our vinyl and laminate floors, a job she does about once a week in between the weekly, more thorough mopping.  Laundry was recycled.  Watering was finished up and, one by one, valves were finally turned to the off position.  Eggs were collected.  Ingredients for cinnamon raisin bread were put into the machine.  Looking back over things, it's such a pleasure to see clean floors and drawers filled with clean clothing, fresh bread cooling on a wire rack, and fresh, clean eggs drying on the kitchen counter.  Yes, it is "work", but it is fulfilling work in that there is a pleasurable, valuable outcome!  At the end of your day's labors, take pleasure, take delight in the work of your hands!  I've admired my pretty mudroom floor all afternoon!
I have been looking forward to the chapter in Hidden Art
on flower arranging, and I finally had the time to read it during our quiet hour this afternoon.  You know, though I've read this book several times before, this chapter seemed like all new information to me!  Funny how that happens!  I was inspired by some of her suggestions for arrangements for the dinner table.  How many times has a Lego creation been admired by me, and then relegated back to the boys' room?  Why not use that Lego creation, in some unique way, as a centerpiece on the dinner table, perhaps with a lit candle on either side?  What a wonderful way to let a son know that his creative abilities are appreciated by the entire family and are something we want to enjoy!  Special rocks discovered during a boy's afternoon explorations could be arranged on the table, perhaps with some twigs or cut grasses, to make his discovery something lovely to be shared with the family.  Cut flowers on the table are lovely, of course; but I was inspired to think outside of my normal box by this chapter.  A potted house plant that is in full bloom could be lovely on the table.  An arrangement of cut twigs from trees in full color might be especially nice for fall.
Mrs. Schaeffer closes the chapter with this, "I must add one more sentence to this chapter: please try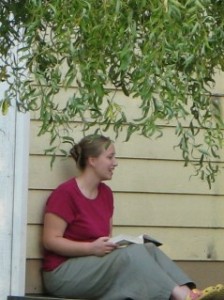 something in this area today. The only way to start, is to start."  My boys didn't have any new creations or discoveries for me to use for our supper table tonight, but I took up her challenge and decided to do something a bit different this evening.  I finished my tea, grabbed my trusty scissors and headed outside where I was promptly startled by a slithering snake, screamed and flapped my arms, which sent Dani into peels of laughter.  Sure!  Easy for her to laugh!  She was sitting on the porch with her dad and not out in the "wilds" of the front yard with the snakes!
I wandered about a bit and decided to cut a few tips, 6 to 8 inches long, from a tree and a large shrub that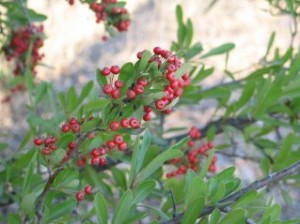 grow along the front of our property.  The shrub is a Pyracantha, which has red berries (and looooong, sharp thorns!), and the tree had some dried seed pods mixed with its long, dark green leaves.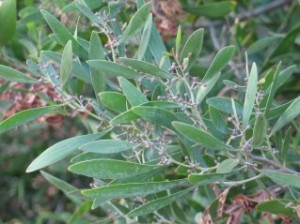 Any idea what the tree might be?
I brought my cuttings in by carrying them in my apron.  I looked into my linen closet and checked the candle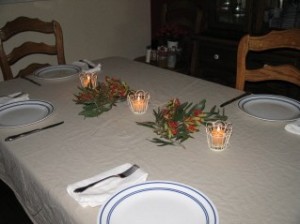 shelf and found three pretty candles in wire baskets that I haven't used in awhile.  I spaced the candles out along the center of my table, and then I trimmed my cuttings to, very roughly, the same length.  I then placed the cuttings in two groups directly onto my tablecloth between the candles.  I lit the candles to take this picture and William immediately asked, "Why's the table decorated so nicely?".  I thanked him for his compliment and realized that I need to remember to make this more of a habit!
My weeekday evenings are filled with looking over completed school assignments and making notes for the next day's homeschooling.  Then there's a bit of last minute tidying.  Once that is completed I'm ready to just relax and take it easy.  A bit of stitching on an embroidery project.  Knitting a few rows of my shawl or another project. Reading.  The weather is cool enough this evening for a fire in the wood stove, and it feels so nice!
Bren, who comments here as TJSNana, sent me the most wonderful gift!   When the box arrived yesterday,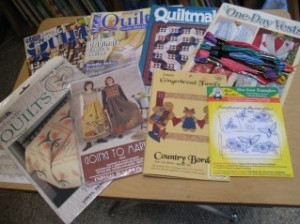 Dani and I just kept "oooooo"ing and "aaaahhhh"ing as we pulled item after item from the box!  I will be sharing many of these lovely things with Corin and Dani, per Bren's instructions.  Oh, Bren, you should have heard Will when he sniffed the Citrus Grove candle!  He absolutely loved it and asked if he could use it in his room!  Precious!
Bren makes beautiful, lovely scented soy jar candles for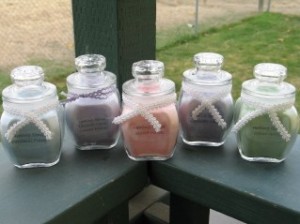 sale, and I must tell you that they are wonderful!  She  also shared several craft kits and patterns, a lovely selection of embroidery floss as well as an iron on transfer, and some of her great quilting magazines, too.
This beautiful tea pot light was just for me!  I am….my girls and I are… just overwhelmed by your generous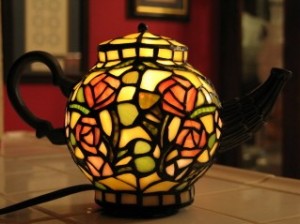 gift of friendship. Thank you, Brenda, I am blessed by you and your gift!
I always have so many things planned to share with you, and the time just flies by.  No matter how fast I type (and I do type pretty fast), I simply run out of time to share it all!  I've been inspired, or re-inspired, toward so many things from Mrs. Schaeffer's book that I'd like to share, as well as a couple of recipes.  They will be coming in the days ahead, Lord willing, and as He provides the time.
God bless you as you look well to the ways of your households!
Proverbs 31:27