Fall off the deep end? Amy (mambeanof4) is that what you asked me? Did I fall off the Menu Plan Monday deep end?  Oh, Sister!  If you only knew the half of it!
The truth of the matter is that I did not get my menu plan for this week made up.  I try to do it on a piece of notebook paper during the day Saturday, and then print up the pretty copy for my fridge on Sunday evening.  While I'm at the computer doing that, I type up a copy for a Menu Plan Monday blog post.  My Saturday was crazy.  I didn't get home Sunday until almost bedtime.  The menu plan was never done!
I have told you often of the many benefits of menu planning – no last minute deciding what to make for dinner, well-balanced meals, more variety for your family, the ability to better stay within a grocery budget, no running out for fast food because the chicken didn't thaw.  Guess what?  We ran out for fast food because I didn't remember to take the chicken out of the freezer until 3:00!
I thought about it a hundred times today, but I never did it. Having that menu plan on the front of my fridge every week really does make a huge difference!!!  Having it ever before me means that I don't forget, and serves as a constant reminder to do any advance planning (like getting meat out of the freezer!) for our meals.  It was completely my husband's idea to go out tonight, God bless him.
I did, however, spend a lot of time in the kitchen today!  Both of my wheat flour containers in the freezer were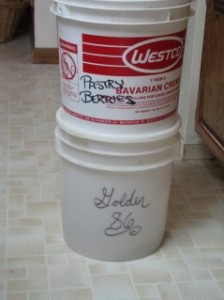 quite low.  As it turns out, both of my jars of wheat berries in the house were empty, too, so I couldn't even grind more wheat!  I solicited Aaron's help and all of the containers are full now.  The big buckets of wheat berries really are too heavy for me to lift.  If I had done the job on my own, it would have taken far longer as I would have had to scoop the wheat from the buckets into my jars scoop by scoop, and then bring the jars into the house to put into the grain mill to grind and then head back out to re-fill the jars for next time.  When Aaron helps, he can just pick those heavy buckets up and pour them into the grain mill for me!
I ground about 10 lbs. each of hard wheat (for bread) and soft wheat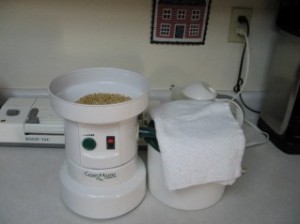 (pastry flour for everything else), and then Aaron re-filled my jars full of wheat berries for the next time I run out of flour.  I surely do like this system of grinding quite a bit at once and keeping the freshly ground wheat flour in the freezer.  I can clean everything up just once, and then I'm done for a week or so.  Having the wheat already ground and ready means that making bread for my family is quick and easy.  I have a loaf in the machine even now!
I also made up a batch of my homemade Buttermilk Baking Mix.  It's been awhile since I've made this for my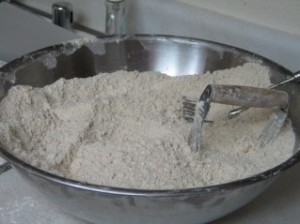 family, and it certainly was a joy to do it again.  It's been way too easy for me to just pick up that big box of Bisquick at Costco on our mega-shop day.  No more.  I walked right on by that stuff on Friday, and now we have a better for us product in the cupboard in its place.  No preservatives.  No refined sugar.  Very little in the way of white flour.  I've posted the recipe for the Homemade Buttermilk Baking Mix for you just below this post.  My family has always liked this mix, and it substitutes cup for cup for Bisquick in any recipe you might have that uses it.
The last thing I made up today was a batch of Poppy Seed Muffins.  Our freezer muffin stash has run out, and Aaron has been asking ever so sweetly for Poppy Seed Muffins.  He's been working so hard with and for his Dad that I surprised him with them late this afternoon.  I substituted whole wheat pastry flour for the white flour and evaporated cane juice for the white sugar to help them out a bit nutritionally.  We'll have one dozen for breakfast in the morning, with scrambled eggs; and the second dozen are already in the freezer.
It's been too long since I've cooked and prepared like that.  It was such a treat!  I have the stove repairman coming again tomorrow to put in the parts he ordered, but I'm hoping I'll be able to make up a batch of my Health Nut Muffins for the freezer before he comes.  I'd also like to mix up some of the freezer cookies I used to make. We'll see how the day goes.
My husband and sons worked so hard all day on the porch.  Lots of concrete mixing and setting of piers and
such.
Aaron spent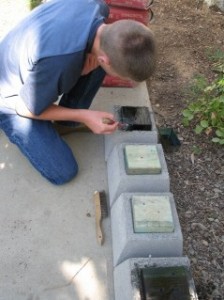 some time this morning painting the sealer onto the tops of the porch piers.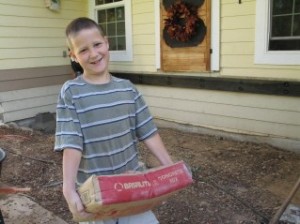 My little guy slung 60 pound sacks of concrete around for a few hours.   He was also in charge of removing the bag from around the concrete after placing it in the wheelbarrow.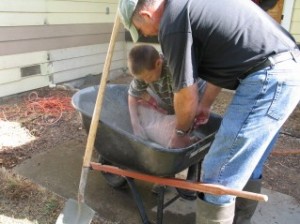 Aaron mixed and helped pour concrete.  He also mowed the orchard for my husband this afternoon, which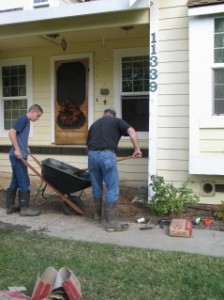 was a huge blessing.  My husband does not like for the orchard grass to get too tall, and he'd been fretting about getting out there to mow it. Aaron's doing it blessed us all!
At the end of the afternoon, the piers were all in place!  My husband allowed each of the kids to write their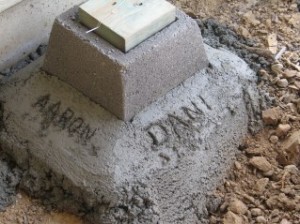 name into the cement on one side of the same pier.  He carefully inscribed our last name and the year on another, with his and my first names on the back of the same pier!  How romantic!!!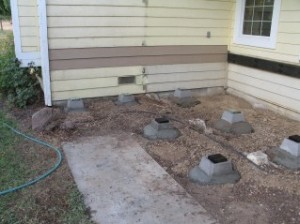 At one point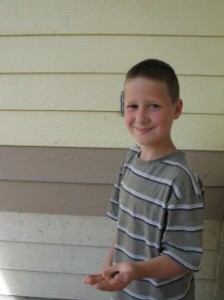 today, a very excited Will was calling to me  from the front window.  He had found a caterpillar and was enjoying it so much!  It was all curled up in his little hand for quite awhile playing dead, but then it stretched back out and began crawling on Will's palm.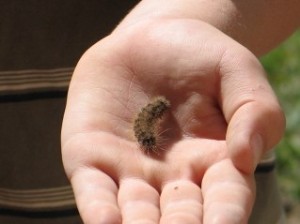 Oh, my son was so excited seeing its legs and watching it.  After a bit he released it in a safe place in the front yard.  I enjoy experiencing these things with a little one.  They have such wonder and amazement at God's creation.
It was a busy day….cooking, baking, laundry (of course!), extra dishes from the extra kitchen projects, tending to little things here and there around my home, and going out every little bit to check on the guys and admire their progress.  It was a delightful day!
I really can say, quite honestly, that I do not feel that anything I do in my home is dull or boring.  If you'd asked me that same question in years past, I would likely have told you a different story.  The Lord has made all the difference, you see.  Once I fully understood that being a wife, a mom, and a keeper at home were my calling, once I realized from His Word that I was doing exactly what He would have me do, that is when my heart was changed.  I want to please Him.  I want to be in His will.  Doing what I do does please Him, when it is done in a spirit of service and done as though I were doing it for Him.  In His will…..It's such a wonderful place to be!  How can it not be joyful?
God bless you as you look well to the ways of your households!
Proverbs 31:27