Outside the air is fragrant with the scent of rain washed everything.  Even the wet ground in the animal pens smells nice!  Inside, the candle warmers were all turned on first thing this morning.  The lovely aroma of a spicy scented candle is fragrancing my living room, and the scent from my fresh cut roses candles is keeping things smelling quite nice in my parlor and bedroom.  My kitchen……hmmmm…….. My kitchen is filled with the enticing aroma of stuff burning in the oven.
The repair guy fixed the problem with my oven, and I was happy to quickly set it for a long overdue self-cleaning!  I am just so grateful that the repair only required fixing a broken door latch and did not involve any of the electronic stuff.  What a blessing!  Self-cleaning ovens are a wonderful thing, but when they break there are very few commercial oven cleaners (or even homemade oven cleaners) that are safe to use in them.  We tried one awhile back and it just did not do a very thorough job.  I am happy, happy, happy to have it fixed.
We have sure had a season of M.A.M. around here. (Major Appliance Melt-down.
)  Throughout our marriage, we can look back at other times that we've endured a season where, seemingly, everything that can break, does, and all at the same time.  As I write that, though, I must tell you that I am thankful for the new appliances that the Lord made possible for us to buy this time around.  These household servants really do relieve us of so much work, and I don't think we truly recognize how spoiled we are by having them.
That said, I did finally purchase a dish rack for my counter.  There are just times each and every day when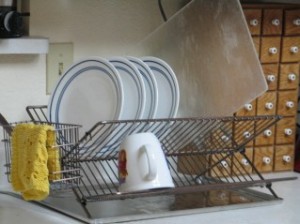 washing up a few dishes by hand makes so much more sense than putting them into the dishwasher, or into the sink to wait for the dishwasher to be empty.  Today's lunch dishes, are a great example.  There were four plates, one glass, one mug, one knife and an acrylic cutting board.  I  splurged a bit and bought an attractive rack that I don't mind having out, but it also folds up flat and can be stored with my cutting boards next to my knife block.  It really is so nice to be able to just wash up a few things and not have them littering my kitchen sink until the dishwasher can be emptied (one of Will's jobs) to make room for them.  I realized when we were without a dishwasher that hand washing dishes really can be a pleasurable experience.  I am very glad and thankful for my dishwasher, though, when there are lots of dishes after a big meal!
My husband did not sleep well last night.  This is remarkable because the man can, and does, fall asleep most anytime he sits still for more than five minutes!  He went to bed at our normal 10:00, but finally got back up shortly after midnight to try reading for a bit.  When that didn't work, he tried getting back into bed at 2:30.  By then, the rain had started to fall.  Keep in mind, my husband has been very busy these last few weeks hauling and stacking our firewood and then working on the porch, and so the rain gutters have not yet been cleaned.  The gutter just outside our bedroom window began to overflow and soon sounded like a raging waterfall.  Poor Copper!  He got out of bed at 3:15 a.m., put on his muck boots and a slicker over his p.j.'s, got out his ladder and cleaned out that gutter!  Somewhere during the night he asked me to set his alarm for 5:15, rather than his usual 4:35, so he was up for the day at 5:15 after less than two hours sleep.  I am in prayer for my husband today, more so than usual. I prayed for that man off and on all night (when I wasn't sleeping, which was often) and also prayed for him as he drove off to work. I 'm not sure what was up with his being awake all night, but I'm praying that the Lord will give him sweet, sound sleep tonight.  I may brew him some Sleepytime tea later this evening.
Wednesday is the day that I generally spray my Lavender Linen Spray on my sheets.  I spray it on the clean sheets when I put them on the bed on Saturday, and I also allow the bed to air every morning before making it. On Wednesday, though, I like to re-spray the lavender onto the sheets.  I'm hoping that the lavender spray will also help his sleep tonight.
The boys and I were back to the homeschool routine this morning.  I know they miss their Dad when he heads back to work after spending so much time with him on his days off.  I know they do, because I miss him, too!  We had a bit of a rough start this morning, but things smoothed out after a bit and the boys were back in business.
Despite the smoke in my kitchen, I did start tackling the thorough, annual washing down of the kitchen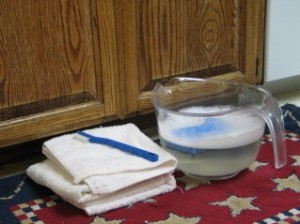 cabinets scheduled for October.  Most of the kitchen cabinets, of course, are cleaned more often.  The doors and drawers around the sink and stove, for example, get wiped down many times a week.  However, once a year I like to give all of the cabinets a good scrubbing, even using a toothbrush to get into the crevices on the doors.  I use Murphy's Oil Soap
and warm water for the job, wiping them dry with a clean towel as I go . After they've had a chance to completely dry, I come back along with Orange Glo
and polish them back up again.  I was hoping to do both steps, the cleaning and the polishing, with the stuff I mentioned yesterday; but I'm back to my tried and true methods!
I started with the cabinets around my sink area, scrubbing gently along the door tops where they are handled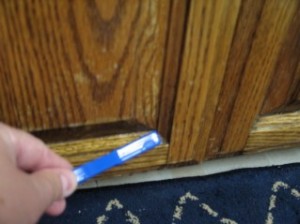 the most and into the crevices and corners with a toothbruth.  Gently with the toothbrush, of course, so as not to damage what is left of the finish!  Once I had all of the lower cabinets and drawers clean, I got out my step stool and did the upper cabinets.
I was careful, too, to open up each door and drawer so that I could get the cabinet facings that would have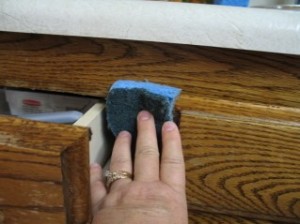 otherwise been hidden above, below and between the doors and drawers.  If it's wood, it was washed.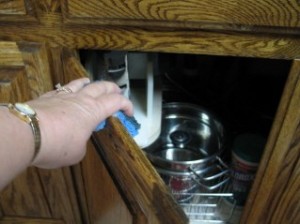 Everything had a chance to dry thoroughly before I came back with my Orange Glo to polish.  My cabinets really and truly are in need of refinishing, and the cabinets around the sink and stove, which get the most use (and abuse!) are the worst.  I was really quite pleased with the way the cabinets turned out!  The Orange Glo brought back a lot of the luster and they really look quite pretty again!   I hope these before and after shots show the difference well enough.  I'm not sure why they look so orange!   There really is some wonderful fruit from today's labor!
I had hoped to do at least the cabinets in the island around the stove today, too; but the Lord had other plans.  Do you remember to hold your plans loosely?  Oh, I hope you do!  So many, many times I have held my plans too tightly and then have either been reluctant to let them go or have refused to do so; and in return, I have missed out on the Lord's best for myself and my family.  This afternoon, just I was finishing with washing my cabinets with the Murphy's my phone rang.  Dear friends of ours, in fact the family that took Dani with them on their fabulous trip last summer, needed her help.  Dani quickly packed a bag for a few days.  I called Copper at work to discuss the situation with him.  I left my boys instructions for school work to be completed, and then she and I hit the road!  We were out of the door in less than 30 minutes!  The family lives just a bit over an hour from us, so I was gone for about 2 1/2 hours total.  My boys did great, finishing up school and then playing contentedly.
However, I would ask that you please pray for my friend, Lisa.  She is expecting her 8th child and is about 23 weeks along, but she has been hospitalized due to some contractions.  Please pray that the Lord will keep her sweet baby safe in her womb a bit longer.  If you think of it, please pray for Dani as well.  She will be gone until Sunday (we will see her at church), and she does get homesick.  I miss her already, but I'm thankful for her servant's heart.
Driving home on the back roads leading home, I passed by a vineyard where they were harvesting the grapes.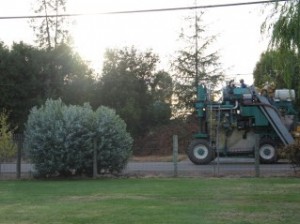 I never have my camera at the right time!!  These machines are incredible to watch as they pass over each row of grapes and beat the grapes off of the vines, onto a conveyor belt and then shoot them into the trailers travelling along side.  Needless to say, these are wine grapes that are being harvested this way, not table grapes!  There are hundreds of acres around us planted in many, many varieties of grapes.  Since the various varieties are ready at different times, we can hear the sounds of the harvesters running at night from late August through the end of October.  It's a sound we have not only become accustomed to, but one we have come to love.  Just after I came home, this guy was headed down the road to work.
The highlight of my day today was receiving a package in the mail from Australia.  My partner for the napkin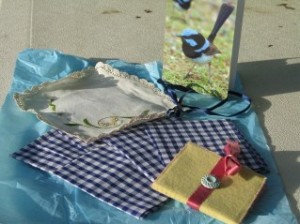 swap at Rhonda's was Jenny, and my package arrived today!  Dear Jenny is a very generous and talented woman as you can see!  She blessed me with six wonderful navy checked napkins, which go with my kitchen's dark red, navy and cream color scheme beautifully.  They are so beautifully made, and are fragranced with a lovely rose scent.  Heavenly!
She also included an embroidered doily with crocheted edging (which might be vintage), and a lovely,
handmade needle book.  The blanket stitching along the edge of the needle book is exquisite!  When I first started reading blogs, oh so long ago, Jenny's was one I always loved.  Somehow I lost the address to it, though, and only rediscovered Little Jenny Wren a couple of months ago.  She is a delightful woman, who loves caring for her home and family, and the dolls she makes to sell in her shop are just wonderful!  Be sure and pay her a visit!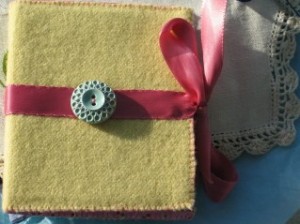 My husband is at last home.  He is so very, very tired!  I lit the tea lights on the mantle, as well as the potted tea lights in the kitchen window before he came home.  I love the look of candle light on cool evenings.  So pretty.  So restful.  So homey.  These next days will be especially busy with my treasured girly-girl away blessing our friends.  It seems strange to be glad to let her go and to miss her all at the same time.  I will be working hard here in my home and yet I'll be holding my plans loosely……….
God bless you as you look well the ways of your household!
Proverbs 31:27