We've had a productive day here.  The porch is coming right along!  The heavy timbers that will support the  new porch are being carefully laid out and put into place.  Since our new porch will be quite a bit larger than our old porch, holes needed to be drilled into the concrete of part of the sidewalk for the new supports.  It rained, off and on, all day today, but never really hard.  Enough of the porch area is covered that the guys could get out of the rain if they needed to.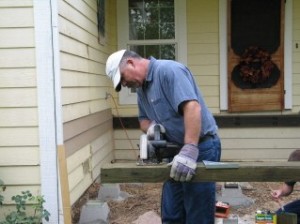 Danielle and I stayed busy inside, but we went out quite frequently to see how the porch was coming along and to take pictures of the progress.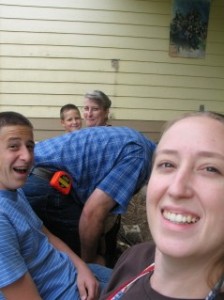 At one point in time, the entire family was needed for the project.  Apparently, one of the beams was a bit bowed and the weight of the family was required to keep it in position while my husband nailed it into position.  Poor guy, we were so silly about the whole thing! The boys were pretending to lose their balance, wavering back and forth, with all of the required sound effects.  In all their silliness, they almost knocked me off the board a couple of times!  And Dani, of course, always with the camera, trying to snap pictures of the whole process.  Despite our shenanigans, Copper was able to get the board into place and continue on with his work.  He made great progress for the day!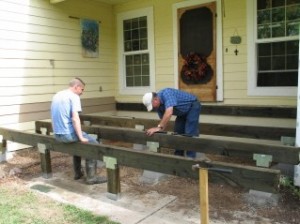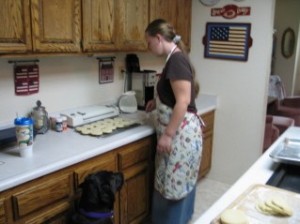 After the normal morning chores for Dani and I – the usual laundry, kitchen chores, vacuuming, straightening,  etc., we settled into some other pursuits.  Dani made up a batch of iced sugar cookies, topped with fall sprinkles. It is certainly a nice treat for us to have cookies mid-week!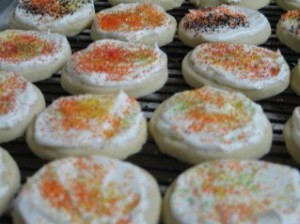 Since this is the third week of the month, I looked to my list of the monthly (and longer term) scheduled tasks in the bedrooms and bathrooms.  I settled on the two cabinets under the sinks in the master bathroom, and the three drawers between them.
Now, if you were to see my list of scheduled chores, it would say simply "clean out cabinets and drawers in master bath".  I can, for two or three months perhaps, simply re-organize and straighten these areas and call the job done.  However, this month the cabinets and drawers – especially the drawers – needed to completely emptied and thoroughly cleaned out.  I spent about an hour or so, sitting on the floor of my bathroom tending to the job.  A few old, almost empty, out-of-date products were tossed.  I spent 5 minutes cleaning up the mess left from the old tube of Icy Hot that had leaked after being smooshed in the back of the drawer.  Yuck, what a gummy mess!  Hair elastics that had lost their elasticity, hair clips that were sprung, and a curling iron that hasn't been used for years, were all tossed.  I'm not sure why I hung onto that curling iron for so long.
There were several empty tins on a shelf under my side of the cabinet….Christmas tins.  Don't ask me why they were there, I haven't a clue!  I wiped them up and put them with our other Christmas tins in the cupboard in the garage so they'll be available to deliver Christmas goodies in.  Several Ace bandage wraps and a tennis elbow bandage were also in one of the drawers, and I relocated those with our other medical supplies.  I wiped out all of the drawers and under the cabinets, and then sprayed them with our all-purpose cleaner and wiped them dry.  I organized and replaced all of our things neatly back into place, and then marked the job off my list on my lap top.
I've thought for awhile about setting up some things for our afternoon tea time.  Generally speaking, on our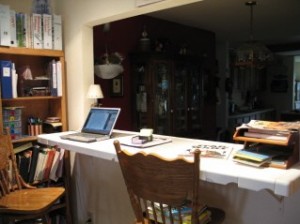 normal home schooling days when we have our "tea time" read aloud, I have a cup of tea, the boys fix themselves some hot cider or a glass of milk, and they grab a muffin, fruit leather or some other treat.  We've just been grabbing cups from the kitchen cupboard.
I have several Franciscan Dessert Rose pieces (a pattern we registered for when we were married, but which didn't survive the girls' childhood!) and I thought there might be enough pieces left to set up for our afternoon tea times.  I checked, and there were!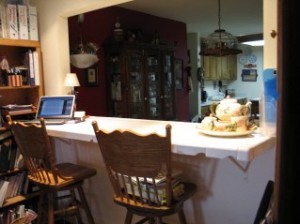 First I had to clear the spot at the end of the breakfast bar.  The old vintage wooden letter tray was simply moved  over to the shelf on the bookcase next to where I sit with my laptop.  It's going to be better there because I will be able to keep things from just getting piled into it "just for now".   With it now within easy reach any time that I am sitting at my "command central", I'll be able to keep it organized.
I washed up most of the pieces that I still have in the house (the rest is packed away in a box in one of our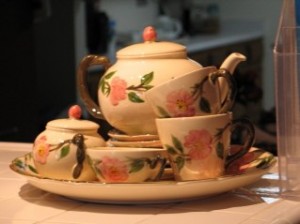 little barns), stacked them up and placed them at the end of the breakfast bar.  I have a large tray, the tea pot, a sugar pot, two salad/snack plates, three saucers, two mugs and a more dainty tea cup for myself.  I'll be able to retrieve the tea pot to fill it with hot water and brew our tea from the kitchen side of the breakfast bar, and then place it back on the tray from the same side.  We can pour our tea right there, too.  The boys can each have a saucer with their mug, and I'll have a saucer for my tea cup, too.   I'll put out whatever muffins, etc., we'll have with our tea on one of the snack/salad plates.  Everything can then just return to the tray, and be taken to the kitchen to be cleaned up.  I think this will be a nice treat for us in the afternoon!
I like to use my pretty and special things with my family.  Yeah, sometimes things get broken; but really, why else would I want to have them if not to use them?  And who better to use special things with than the ones who are most special to me, my treasured children?  And if a tea cup or mug or plate gets broken in the everyday use, then it gets broken.  My peace and contentment are not found in pretty things anyway.
Peace.  Contentment.  JOY!!!  These are things that I have every day!  I am not unique, or special.  My life is not perfect, and my children and I certainly are not perfect.  Copper comes pretty close, in my eye, but even he is not quite perfect.
I have not always found contentment, peace and joy so easily nor so readily as I do now.  I wish I had found it earlier in my life, but then, perhaps, I would not know what a rare and valuable thing it is.  My peace and contentment, and certainly my joy, are all from the Lord.  I find peace in being where He wants me to be and doing what He wants me to do.  Ladies, the Scriptures are full of instructions for you, telling you what it is that you are to be doing!!!
If you have no clue where to start, how about Titus 2?  Here we find the characteristics that are to be found in a godly older woman.  Guess what?  She didn't just magically obtain these characteristics when she became older!  These are character traits and skills that she developed as she tended to doing the things that the Lord called her to do.  This is an excellent list, if you will, of some of the things that the Lord desires we, as women, to do and be.  Loving our husbands.  Loving our children.  Being discreet.  Chaste. Homemakers.  Good.  Obedient to our own husbands.  Of course the excellent wife of Proverbs 31 is also a good reference for finding what it is that the Lord calls us to.  Follow the examples laid out for you in the Scriptures! You cannot learn and be and do all things all at once, but earnestly seek the Lord in prayer about a good starting place.
But there is so much more!!!  I am learning, as Paul did, to be content when times are good as well as when they are hard.  I find when I am discontent it is I who have wandered away from Him, and not the other way around.  When I am discontent there is usually sin involved – pride, selfishness, covetousness.
Years ago, before I was a Christian, I gave a little two year pocket calendar to my high school band teacher.  I was always in the dog house with him it seemed.  The cover of the calendar had a sad-eyed puppy on the front and the caption read, "Please be patient.  God isn't finished with me yet."  Now while that is not necessarily a Scriptural sentiment, there is still some truth there.  I will not be perfect, nor without sin, this side of God's kingdom.  I am telling you this because….well, because it's true, of course, but also so that you will understand that I do stumble.  I do fall.  But I do not choose to wallow in my sin and dwell in my failure.  I choose to repent of those sins that rob me of my peace, contentment and joy.  I choose to return as soon as possible to the place where I belong, serving Him by loving and serving my family.
Several years ago the book, Rare Jewel of Christian Contentment
by Jeremiah Burroughs, was mentioned in passing in a homeschool seminar I attended.  The speaker mentioned that his wife thought it was the most important book she had ever read.  I picked up a paperback copy from another vendor at that very convention and began reading it the next week.  This book really did open my eyes, and started me on the path that I now walk.  I understand that this book is available to read on line for free, but I would recommend that you find a copy to hold in your hand instead if that is at all possible.  I found myself reading and then re-reading sections, and referring back to parts already read.  It is a book to be savored and read carefully.  Your church library may have a copy.  Perhaps a friend will let you borrow hers.  I have seen used copies for just a couple of dollars, and a brand new copy is only about $8.  I highly recommend this book to you!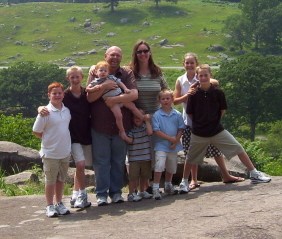 My friend, Lisa, is home from the hospital!  I know that her family is happy for that, and thankful, too!  Please  continue to hold her up in prayer.  She is just 24 weeks pregnant, and she must remain on bed rest for several more weeks to keep her wee baby girl safe in her womb.  Please pray for her husband and seven other children (six boys and one girl) during the next few weeks as well.  Thank you so much for your prayers.
God bless you as you look well to the ways of your households!
Proverbs 31:27