My husband is the hardest working man!  He's been laboring away on our front porch all day today.  Lifting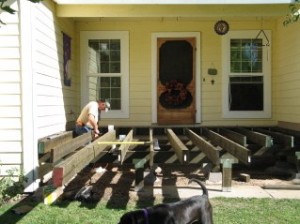 heavy beams, measuring, cutting, nailing.  The boys have been helping as they are needed.  Aaron was the muscle on the other end of especially heavy lifting, and Will painted the tops of the beams that were put into place today. He used black paint so that the treated wood will not show between the gaps in the final decking.  Needless to say, Will is covered in black paint!  And my husband is very tired.  Tomorrow he returns to work….or, more accurately, the place where he is paid for his labors.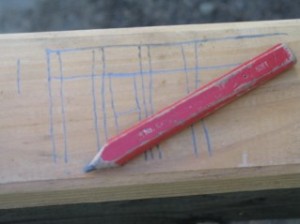 I feel as though I've had a rather leisurely day today.  I've done my daily chores, as well as my Tuesday chores, and even had a chance to work a bit on the monthly and longer term chores for the week.  However, the boys were outside working with their Dad and so there was no "official" home schooling today.  I'll be glad to be back at that first thing in the morning!  We all enjoyed spending some time enjoying the beautiful day outside.  Dani worked on a knitting project that will be a Christmas gift.  Will manufactured his own rope swing, and then cushioned it with his pillow!
Amy asked a good question yesterday about my scheduled chores.  I will try to answer in abbreviated form here.  The short answer to your question, Amy, is, "no".
Whenever I refer to the scheduled chores that I do during a particular week of the month, those chores may be monthly, quarterly, semi-annual or annual in nature.  To make life easier, I simply divided my home into four, more or less equal areas.  For each of those areas I have a list of chores that are done monthly or less frequently.  During the fourth week of each month, the area of my home that I work on in this manner include the School Room, Living Room, Mud Room/Sewing Nook, and Back Porch.  I work on the chores throughout the week, accomplishing as many of them as I can manage.
I do not wash the windows in these areas every month.  I do try to get them washed quarterly.  The mini blinds and screens are taken down and washed semi-annually and the curtains are washed annually.  I vacuum the curtains monthly.  Usually.  Except for when I don't.
It just so happened that this month, October, is when all of these things happen at once – the window washing, the screen cleaning, the mini-blind washing and the curtain washing.
The curtains came down yesterday and I washed and dried them.  I am waiting until we can borrow Corin's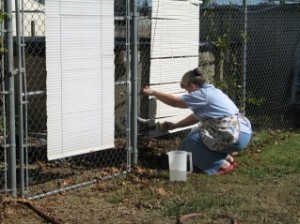 iron to iron and re-hang them.  This morning, Dani helped me pull down the three sets of mini-blinds.  Normally, I stretch the blinds out on the driveway and scrub them there.  I didn't want to get too much water around the wood that my husband would be needing today, though; so I hung them up on the fence instead.  I don't think I was able to do as thorough of a job this way, but I needed to be flexible.  When I wash them on the driveway, the hard, flat surface supports the blinds and I can really give them a good scrubbing.  I wasn't able to exert as much pressure today.    I used a bucket of warm sudsy (dish soap) water and a soft scrub brush to wash them.  The pressure nozzle on the hose does a good job of wetting them and then rinsing them off.   I do, normally, hang them on the fence to dry, so I just left them after washing them.  The cyclone fence allows the air to get to both sides at the same time and they dry very quickly on a warm day like today.  A friend of mine quite sensibly asked her husband to hang a couple of hooks from her front porch overhang and that is where she hangs her blinds to dry.
I did put the screens on the drive way to wash.  I used the same warm sudsy water and brush for them,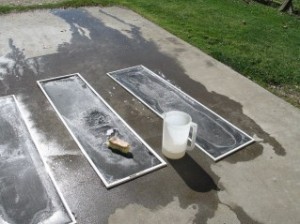 scrubbing both sides well and spraying them thoroughly with the spray nozzle to rinse.  I propped them up against the house to dry.
While the blinds and screens dried, I washed the inside and out of all three windows in that area, as well as the sliding door in the mud room/sewing nook.  The sliding door gets washed at least monthly, and sometimes more often.  The dog is in and out through this door, letting herself in and out I might add, and it gets pretty dirty.
I had Aaron set the ladder up for me in the back yard so that I could wash the outsides of those high up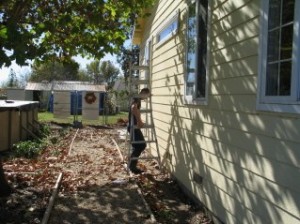 windows.  I use the same cloth, wet from the window washing, to wipe out the window tracks and the side rails of the windows. When the blinds and screens were dry, I popped them all back into place, again with Dani's help.  Clean, shiny, fresh smelling windows are my reward!
Not everyone needs to wash their windows quarterly, and some folks need to wash windows, at least some windows, much more frequently.  The windows in my entry way are washed once a month, but they could easily stand to be washed weekly.  To be quite honest, I just do not have the time to wash those windows every week; and, again quite honestly, it really doesn't bother me a bit that there are children's hand prints on these windows (from my own treasures and my treasured grandbabies) and it only bugs me a little that there are, quite often, dog nose prints on the windows as well.
My mom and dad had a huge picture window in their living room.  It was a good 5 feet tall by about 6 feet wide.  That window was my mom's pride and joy.  It was always clean, even when I was little.  When my girls were little, and I worked full time, they would stand at that window and watch for me to come home in the evening to pick them up (my Dad was my babysitter for a couple of years).  Guess what?  My mom totally did NOT care that there were little hand prints and marks from little faces pressed against the glass on her window!
Please don't say it's a Grandma thing.  Maybe it is, but you can make it a "mom" thing, too!  If the dirty windows really and truly bug you that much, then clean them.  Just don't do it begrudgingly!   If the hand prints don't bother you, schedule the windows to be cleaned less frequently and look at the hand prints and smile.  Right now, my entry way windows are covered in decorative fall window "clings" interspersed with plenty of hand prints.  They will probably not be washed until the clings come down just after Thanksgiving.
Amy was also wondering a bit about the "clean sweep" sort of cleaning, that includes the straightening and cleaning of drawers and closets.  The list for every area of my home includes an entry each month for each room that simply says, "straighten, clean, re-organize drawers, cupboards and closets".  Sounds so quick and easy, doesn't it?  To see what that looks like in real life, we'll look at my kitchen.  I do not clean, straighten and re-organize every drawer and cupboard in my kitchen every month.  In reality they may each get done once a year, and some few may be done more often.  I simply make a note each month of the last drawer and/or cabinet that I worked on and just start from there the following month.  If I've noticed one drawer or cabinet being especially in need of attention, I'll start there.  Once I've worked my way completely around my kitchen, I start at the beginning again.  I hope that helps make some sense of things.
As always, my chore lists are MY servant, I am not theirs.  I do know that if I choose to skip a chore this month, it will be more work to take care of the next month . However, there are times when skipping a household chore is necessary for me to properly care for my family in other ways.
I hope this helps clarify a little bit, and that I didn't muddy the waters worse with my efforts.  I am, honestly, working on the homemaking pages for the web site, but I do need to have most of it completed before any of it can go on-line.
Dani has the pleasure of having my grandbabies stay with her and the boys tonight.  We have an annual dinner to attend that marks an anniversary of sorts.  In mid-October of 1999, we were taken to dinner by Rob's parents in order for them to broach the topic of a possible courtship between their son and our Corin.  By the end of October, the courtship had begun.  On Valentine's Day, Rob proposed.  Labor Day weekend they were married. And we met for dinner again, October, 2000, but that time we included Rob and Corin, our newlywed children. We've met for dinner, the six of us, every October since.  This year, as we have three other times in the past, we will have a sweet tiny infant join us as well!  We are so blessed!
I remember driving with my husband to that first dinner date, eight years ago, as though it were yesterday.  The Lord spared us from being involved in a horrible car accident on the way, having us miss a car careening out of control by just inches!  Rob's parents were originally great friends of ours through church, and we have remained friends throughout the years.  Sharing grandbabies with friends is a sweet thing!
God bless you as you look well to the ways of your households!
Proverbs 31:27