Always thankful.  Always looking for His hand of mercy.  Looking always and in all ways.  My son who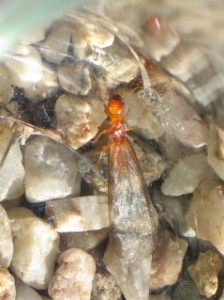 cannot concentrate today – through the frustration of trying to help him focus I am still thankful for his exuberance and vitality.  For the blessing that he was, and still is, to this older mom.  The seemingly endless list of household tasks – I am still thankful for the necessity of my work and for the way that it enables me to bless my family.  For the lone termite found – the bad kind.  The tent the house kind.  I am thankful that He sent that one lone critter our way to alert us of a possible problem so that inspections could be made and we now know what to be on the look out for.  Thankful too that, for the same inspection fee, some more dry rot was found that we had not yet discovered.
Wait a minute.  Thankful for dry rot?  Yes, yes I am.  The dry rot in this house has been an ongoing battle, and we are always thankful to find it before it spreads too far causing more damage.  Dry rot is something that my wonderful husband has become quite adept at taking care of.  I am thankful that the inspector did his job so thoroughly that we now have been made aware of quite a few new places of dry rot that can be fixed before the dampness of winter sets in.
I'm not sure that my boys were exactly thankful this morning to sit down with a full day of home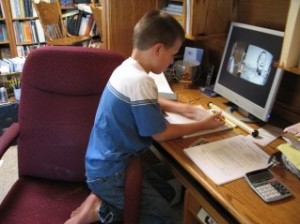 schooling again, but it felt good to me . Reviewing the questions we've already covered in the shorter catechism
, picking up where we'd left off in the Book of Life (which corresponds exactly with a series our pastor is doing from the book of Genesis!), and enjoying our read aloud times.  I'm always thrilled when the boys advance in their timed drills for math and reading, and they each advanced in both today!  The morning hummed along with a few rough spots, but it hummed along.  Aaron filled our cd player with five cds from our classical music shelf, and the strains of the music mixed with the hum of the clothes dryer and the swishing of the washer.  It sounded lovely to me.  Homey.  Good.  Busy!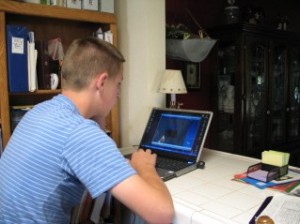 The daily chores completed, or at least well underway, I began looking at the weekly chores scheduled for  Wednesday – dusting & webbing
in my parlor.  It's a small room, but filled with many beautiful things that I love, so the dusting takes awhile.  Picking up the tea cups and saucers and dusting them one by one.  Remembering the way that a particular tea cup looked in my mother-in-love's china cabinet – the china cabinet that my dad bought as an unfinished piece of furniture in the fall of 1978.  He stained it, polished it, and then snuck it into our very first home just a few months after Copper and I were married.  I walked in the door from work one evening and there it was in our tiny dining room.  I smelled the stain before I saw the china cabinet.  Dad was delighted with his sneakiness.  When my folks died and we held their estate sale, that china cabinet was taken to the sale and I brought my grandmother's old, old china cabinet home.  My mother-in-love bought our first china cabinet from that sale.  And now?  Now, that very same china cabinet looks lovely in the sunroom of my sister-in-law's home, one of the things that she and Copper's brother took home from Lola's when she passed away.  I'm pleased that it is still in the family.
By noon I knew that I needed to go out and get some watering and irrigation started.  It's been beautiful fall weather, but very dry.  The rain we've had in the last couple of weeks has not been heavy enough to soak down to the roots of the orchard trees or grape vines.  I took my time as I walked out to hook water up, and took a bit of an inventory of things.  My boys have been, it seems, growing our second compost pile horizontally more than vertically.  I can see a bit of a job in their near future, shoveling the pile into a neater, higher stack, and giving it a bit of a turning in the process.  That needs to be done before we have a soaking rain that makes the compost too heavy and wet to turn.
The blueberries have taken on their fall color, and now make the berry patch glow; and all that after rewarding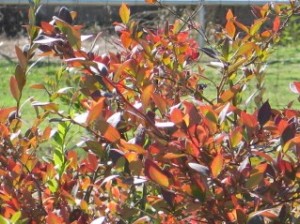 us with quarts upon quarts of luscious berries during the summer.
There are still some apples and pears on the trees, and we will need to pick them soon.  Some of the pears are
a late variety, and they are still not quite ready to be picked.  For the first time ever, we have a few pomegranates as well.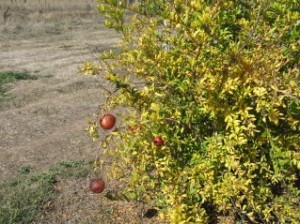 I glanced over the area where Dani and I are hoping to plant some spring bulbs.  Tulips and Ranunculus.  The planting is to be done only after we've had two consecutive weeks of sweater-wearing weather.  Out in my short sleeves today, it was more than warm, so I think the bulbs will not go in the ground for at least a few more weeks. The light rains we've had, though, followed by warm days, have caused the grass to grow there again.  The area will need to be well-tilled before we plant.
The grape vines are looking spent, but they still need to be watered deeply.  I always take my cue from the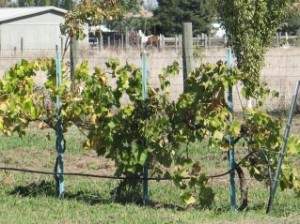 neighboring vineyards on my watering.  When I hear the diesel pumps kick on for the first time in the spring, I know that it's time for me to start watering and irrigating here.  I keep watering until I've not heard them running at night for a week or so.  The diesel pumps were running late in the day yesterday, so I know that I still need to be watering here.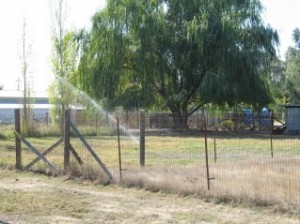 I let the rainbird sprinkler run for several hours in the goat pen, as well.  I like to keep some green grass there for them to munch on.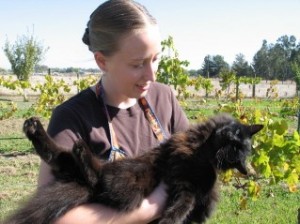 I was in and out several times today, changing irrigation lines, moving sprinklers, etc., my trips in and out often  interrupted by a mewing cat looking for some attention.  She usually found it.  I'm not really a cat person, but there's something about that contented purring that a cat makes that is endearing.  We refer to the cat as being "Dani's cat", though she claims to not be a cat person either.  I dunno about that…..
The kitchen was busy all day.  The dishwasher running after lunch.  The bread machine started right after the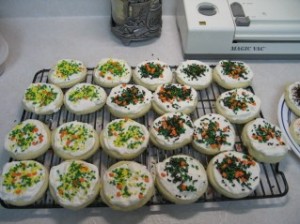 dishwasher.  We're planning an outing with Corin and the grandbabies tomorrow, so Dani made up another batch of Tea Cookies, decorated this time with fall sprinkles found in the Target $1.00 bins.  Just after tea time, I started the pizza dough for tonight's dinner.
While the dough worked on its first rise, I ironed the curtains from my school room and sewing nook and re-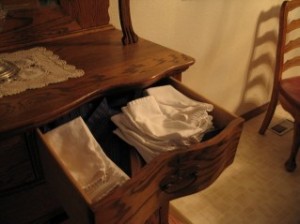 hung them.  I cleaned out one of the drawers in my side board, as well, tossing out some very worn and tattered placemats and re-folding and putting away all of the odd ball napkins I've accumulated over the years.  Those napkins went into the left sideboard drawer with a couple of smaller tablecloths that I sometimes use for toppers. The right drawer now holds just our extra every day napkins, and our smaller, tea time/snack napkins.  When the napkin basket on the kitchen table's lazy susan is empty, it can be quickly re-filled from the sideboard drawer which is just a couple of steps away.
Amy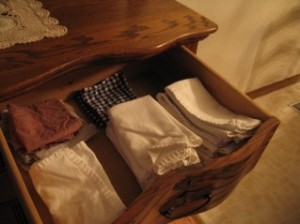 had some interesting questions for me in the comments from yesterday's post.  I'll try to answer them here, briefly.  I was a full time working woman until Dani was about three years old.  I will tell you, quite honestly, that the Lord had laid on my heart to be a full time stay at home mom right after Corin was born . He even opened up a couple of doors of opportunity to meet our needs financially, to begin replacing my salary; but in our immaturity and lack of faith we decided that I would keep working.  Finally, though, we did take that step of faith and the Lord has always graciously taken care of us.  First through giving me a few kids to take care of in my home during the day,  and then by allowing my husband's salary to increase at the same time that He was teaching us to live on one income.  The two concepts worked hand in hand.
I do wear dresses or skirts pretty much all of the time.  I do own one pair of pants that I wear when I need to visit the chiropractor, and I may wear them one other time in an entire year.  Both of my girls wear pants and jeans.  Dani wears skirts about 75% of the time now, and jeans or Capri's the rest of the time.  Wearing dresses was originally born from an extra-biblical conviction that we once held.  We no longer hold that conviction, but I do PREFER wearing dresses and my husband also likes that I do . Long, full skirts enable me to do anything I would do in pants, and do so modestly.  I enjoy dressing this way, and my husband likes it; but I don't see anything wrong with women wearing pants or jeans so long as they are careful to be modest.  And I will yield here that modesty is a matter of wide ranging opinion.  The Harris boys did a great poll on this subject and you should check it out.
Similarly, I wear my hair long based on personal conviction.  My husband also likes my hair long, and that in itself would be reason enough to keep it long.  Though I do wear my hair long based on a conviction, the conviction is my own and not one that I would ever impose on anyone.  Wearing my hair long does not make me more spiritual, or godly, or anything else.  In fact, if I wore my hair long and believed any of those things, then any righteousness that I might have garnered would then be counted as filthy rags.  Ladies, our salvation is not found in anything that we can do.  It is found only in Christ and His grace alone.  You cannot earn it by dressing a particular way, or by only wearing your hair up in a bun, or by grinding your own wheat, or by home schooling your children.
We, as women, need to be very, very careful.  We are very susceptible to being carried away with rules and lists of requirements.  If I would only do ________(you fill in the blank), then I would be a better wife, mom, or Christian.  Nonsense!  Be very careful to not apply standards to your own life, or to stand in judgment of others, over things that are not Biblical.  My counsel to you in these matters is the same as it would be in most matters – What does your husband say?  And it matters not if your husband is a Christian or not.  If your husband prefers that you wear a skirt rather than pants, then there is your answer.  If he likes your hair long, then there is your answer. If he prefers that you color your hair to hide the gray, then there is your answer.  If he prefers to come home to a wife in a cute pair of jeans and a short, bouncy hair do, then there is your answer.
I had a friend, many years ago, who struggled with this very issue.  She felt "convicted" to wear long, full skirts. Her husband, on the other hand, enjoyed coming home and seeing her in a pair of spandex bike shorts and a t-shirt.
When she shared her conviction about wearing dresses with him, he honestly did not share her "conviction", but they formed a compromise.  She wore her skirts whenever she went out, but she wore the spandex shorts and t-shirts when she was at home.  She was a wise girl!
************
While my pizza dough had its final rising this evening, I wrapped up my still barely warm bread to keep the  crust soft.  I washed up our tea time dishes and let them air dry.  The remainder of the day's laundry was folded and put away, or put into the boys' baskets for them to put away after dinner.
I totally goofed up with my dinner tonight!  I remembered to get the crust started in plenty of time, but I forgot that I had sauce in the freezer.  The crust was ready to go, and I needed to speed thaw a bag of sauce in a pan of water on the stove.  But I still wasn't done with my forgetfulness.  As I was ready to spread the sauce over the crust, I realized that the ground beef and sausage were still sitting, raw, in the fridge!!!  I quickly browned them and got the pizza in the oven, already 20 minutes after our normal dinner time!  Good golly!
I called my husband's office, left a message with his partner letting him know that if he wanted to hurry home a bit, there'd be fresh, hot homemade pizza on the table!  I got the boys started on their after dinner chores while the pizza cooked.  Will even showered and got into his jammies!  I'm not sure where my brain was…….
Immediately after dinner, I sat down to check over the boys' home school work from today, and to make some notes for school tomorrow.  Dani takes care of our after dinner clean up every day except Friday, which is a huge help for me in the evenings.
It's been a wonderful, busy, productive, lovely day.  I've spent it doing what I love doing – caring for my family, tending to my home and home schooling my children.  I'm looking forward to a quiet evening. I am thankful in all ways for this life, and I'm thankful for it always.
God bless you as you look well to the ways of your households!
Proverbs 31:27