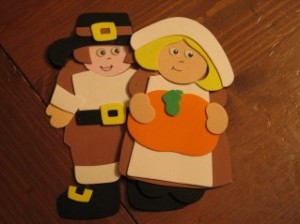 Are you remembering to hold your plans loosely?  Oh, it's so hard!  We have such great expectations for the  day ahead of us and then, Boom!  our bubble is burst and the hoped for plans do not materialize!  Make your plans, but hold them loosely.  Let the Lord lead your days.
I had just such plans for today!  My husband called this morning to let me know that he was able to take a vacation day from work tomorrow, and that we will be having a wonderful family day trip on Friday.  I was excited and knew that I could quite easily accomplish everything today that I wanted to along with my normal Friday tasks (save for the bi-weekly mega-shop, of course).
As the morning wore on, though, I realized that my Will really did need to make a visit to the doctor.  His cough has continued every night, he just feels crummy, and I was a bit concerned.  To top it off, he took a nasty spill on Tuesday, falling between the joists on the porch and landing right on his abdomen across a 2 x 4, knocking the wind out of him.  We watched him closely for the rest of the day and he seemed to be doing okay.  The last couple of days, however, he has been complaining of some pain, and with the continued coughing and feeling poorly, I figured we might as well get him checked out for that, too.  The trip into the city, parking at our medical facility, and then the appointment iselft took a good chunk right out of the middle of my day.
Our regular pediatrician did not have any appointments available today, but there was just one left with a nurse practitioner that we have used since the girls were young.  I booked it right away!  Long story short, Will has nothing more than some deep bruising from his fall, but he was diagnosed with asthma.  I wasn't surprised, and I'm very thankful that our appointment was with someone we have a good working relationship with, know and trust.  Asthma is nothing new to me, as I've dealt with it seasonally (spring and winter) for years.  I'm happy that I know what to watch for and how best to help him.
The appointment was late enough in the afternoon that Corin and the grandbabies, treasures all, still came out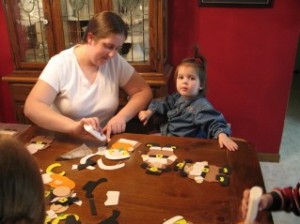 for our Thursday Library Day at Grandma's House.    In fact……ahem, there was a bit of a glitch in the date and time of the meeting Corin and Rob attended (or didn't attend) last night, and the babies are staying here again this evening.
We had time to finish up our pilgrim craft, and I read a couple of books to my little treasures before Will and I had to leave for the doctor.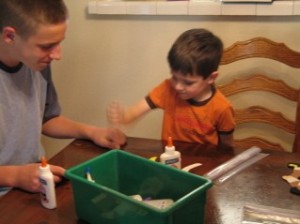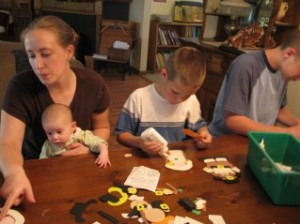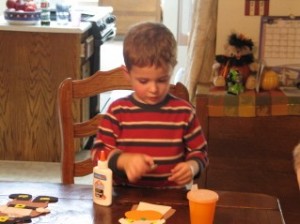 Since the grandbabies were staying for dinner,  I switched the menu plan a bit, and Will and I stopped for a second bag of Fajita Fries and some store-bought burger buns for dinner on the way home from his appointment.  Burgers and fries made a quick and easy fix that the kids are all happy with.  I love having my grandbabies gathered around the dinner table and listening to, and giggling through, the conversation.  My five year old grandson was regaling us with the tale of something he did "when I was still a kid", and the four year old acted out a part from a movie that none of us recognized, but the delight it brought him cracked us all up!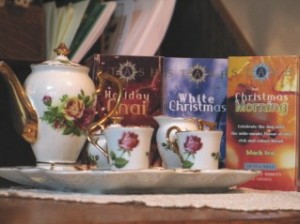 Oh, and look what I found at the store when I ran in!  The Stash Christmas teas!  I know my store,  so I  knew that the single display they had will be all that there is.  I bought two boxes each of teas that I know I'll love, Christmas Morning
and Holiday Chai
.  I also picked up a single box of White Christmas
.  It sounded good, and I am intrigued by the notion of a "white" tea.
Thank you all so much for your sweet comments about the porch.  It is turning out so well….I just love it.  My husband is hopeful that he will be able to get the railings done on his days off (Monday and Tuesday) next week.  I am so blessed that he is willing to work so hard on projects like this for our home and our family.  Kendra mentioned picturing rockers on the front porch.  Well, as usual, I have my "dream" scenario and my base line of what I will love and be content with.  The two can be very dissimilar.  My dream would be something along the lines of four Adirondack rockers
in bright white, with a couple of white tables to set between each pair.  Or, perhaps, only two rockers with a lovely white wicker loveseat and coffee table to pair with them.  On the other hand, I will be totally content if I find a few pieces that will work together and that are either white, or that can be painted white, at thrift stores or garage sales.  In the meantime, I will be bringing our bench back to the porch, along with a motel chair that Dani painted for me a few years ago.
I did walk out onto the porch several times during the day today, just admiring it and thinking about how it will look with the rails up, and with a bit of furniture on it.  In fact, I sat on the front porch steps when my husband made his daily call home this afternoon!  It's going to be a favorite spot, I'm sure.
I've been asked about Evaporated Cane Juice.  The evaporated cane juice I buy is granular and is interchangeable with sugar in any recipe.  It has a hint of a carmel color to it, and just the barest hint of a molasses flavor.  Not enough to be noticeable when used in a recipe, or stirred into your tea; but you would get a hint of the flavor if you tasted the sugar alone.  You can find it at stores like Trader Joe's or the natural foods store in the baking or bulk foods sections.  My deep discount grocer carries it in their bulk foods section for the best price.
Kendra mentioned in the comments on yesterday's post that she's recently ditched her placemats.  Kendra is a friend of mine, so I'm using her comment to address something that I hear a lot (so I'm not picking on you, friend, just allowing you to open the door for something I've wanted to say for awhile to many, many ladies).  I would be grieved if I ever thought that what I talk about here, and the things I encourage you to do for your families, would cause you to feel burdened, or to feel like it was just that much more work added to your plate.  Never!  If the Lord ever led me to believe that, this blog would disappear overnight, and the archives would be purged!  It is never my intention to try to impose any sort of burden on anyone.
On the other hand, I see far too many women who claim that they don't have enough time to tend to their homemaking responsibilities, and yet they are running here and there (either literally in their cars or figuratively on the Internet) for hours every week, while their homes remain in disarray, their laundry remains in piles on the floor, and their family eats take-out night after night.  The Lord gives us some pretty clear direction for how we are to spend the 24 hours he blesses us with every day.  We are to love the Lord our God first and foremost.  Then we are to love our husbands.  Love our children.  And look well to the ways of our households.  He created us.  He knows our weaknesses and He knows how much work we can each do.  Some of us have healthy, young, fit bodies.  Some of us suffer from chronic diseases or disorders of various natures.  Some of us are undergoing a season of horrible morning sickness.  Some of us have children who are very ill.  God knows!  He knew it all from before the advent of time.  And yet, His Word remains.
So, how do we do it all?  Well, if we have children in our homes, we don't!  Now track with me a minute, here.  The more people that live in your home, the more work there is.  Children, even very young children, can do their share of tasks to keep the home in order.  My two year old granddaughter put away the silverware from the dishwasher this afternoon.  The four year old and five year old cleared the table, and helped Uncle Will empty all of the household trash cans and feed all of our pets.  Corin has trained them, and they do far more than this in their own home.  Older children can, and should, be helping with the laundry, the cooking, and the basic housekeeping duties.  Boys, too!  My Aaron has, what amounts to, his own small bathroom.  It is his responsibility to clean this bathroom.  If you have children in your home, a good many of your household tasks can be delegated to them.
I know that one day, in the near future, my home will be occupied by just Copper and myself.  I won't have the same amount of laundry, or cooking or dishes to do.  My house will remain cleaner with just the two of us here, and my housework will be reduced considerably.  This is not something that I am necessarily looking forward to, but it is God's plan for my life and I am happy knowing that His plan is perfect.  His plan for you is also perfect.  If He has blessed you with ten children or if He has determined that you will be childless.  If He has blessed you with land to roam, or if He has blessed you with a small apartment.  It is His plan for YOU!  Knowing that, and knowing that His Word still calls you to love Him first and foremost, then to love your husband, then to love your children and then to look well to the ways of your household, there can be no excuses.  Whatever your current situation, hold to these priorities as set by the Lord to the best of your present ability.  Just be sure that you really are tending to things to the best of your present ability.
Now, back to Kendra's ditched placemats…..You know what?  We used placemats for years and I just grew to really dislike them.  It always felt so divided or something.  Or did it feel too much like a restaurant?  I dunno.  And then we were faced with a dilemma with the dirty ones.  If three of the blue ones were dirty, but two weren't, did I wash all five blue ones, or should I mix and match with other colors of place mats, only washing the dirty ones?  I finally decided that I just didn't like the things, and all of mine were tossed.
You all know by now that I use, and love using, cloth tablecloths on my table 24/7.  I love that the tablecloths are pretty and just make every meal seem a bit more special.  Table cloths are traditional.  They protect the finish of your table; or, as in my case, mask the very damaged finish on the table.  Over the years, I've been able to purchase quite a few cloths on clearance, and my collection has grown.  I have several everyday cloths, and several seasonal (Thanksgiving and Christmas) cloths.  I could, however, do just fine with three tablecloths.
After each meal, the tablecloth is taken outside and shaken out (which totally freaks the goofy sheep out each and every time!).  If there were no "wet" spills, then the crumb-free tablecloth is replaced on the kitchen table.  If there was a spill that requires laundering, then the cloth is taken to the laundry room and put in the hamper, and a fresh cloth is put on the table.  When I do my laundry, I always wash whatever dirty tablecloths (and napkins) there are that are of similar color to the load I'm doing.  My dark navy cloths are washed with the jeans.  My pretty light-colored plaid cloth is washed with the lighter clothing.  They really do not take up any more laundry time as they are simply laundered with the rest of the family laundry.  Cotton fabrics launder and wear beautifully, and are pleasant to the touch at the table, too.
That doesn't mean that everyone should use a tablecloth or toss their place mats!  Use what is pleasing to you and what you feel gives your family your best at meal time.  If you have a gorgeous table, perhaps you like to see its beautiful finish during the day and only want to protect it at mealtime.  Perhaps you want to enjoy its finish even during mealtime, and do not mind the extra polishing that is required to maintain its finish.  Perhaps you have a beautiful collection of place mats that you love using!  Well then, do it!  My mom had several pairs of pretty fabric place mats, with matching napkins AND napkin rings that she bought for she and dad after I had married.  She enjoyed using those for every meal, and they made her table pretty.
The point is, treat your family like the treasures they are!  Don't reserve your table linens, candles and extra care only for your guests.  Give your family the best that you can on a daily basis.
I hung Dani and Will's pilgrims up around the menu plan on the fridge this evening.  I think they're cute!  Will  worked very hard on his, and it was not an easy task for him.  I'm proud of his efforts, though, and I wanted him to know it!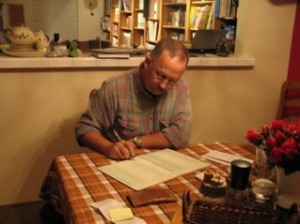 As the evening wore on, my husband came in and all the kids, our own and our grands, were happy to see him.  I'm sure he's happy to be home, with a day's vacation coming tomorrow to boot!  He sat down tonight to pay bills and take care of some record keeping.  You'd think by now my family would be used to me having the camera out and snapping their pictures, but he went back to his books when he saw me coming tonight, instead of continuing to watch the animated movie all of the kids were watching!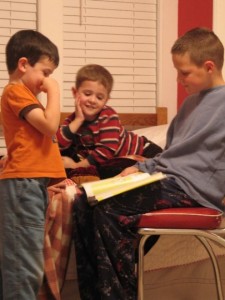 Uncle Will read two Curious George stories to his nephews at bedtime.  Precious, precious, precious.  He had his first lesson with his inhaler and aero chamber, and I think he'll soon be able to handle it on his own.  My precious two year old granddaughter and I rocked and played and tickled and giggled for a bit, and then I laid her down.  She wanted her momma, but accepted a stuffed animal to cuddle to tide her over until Corin's return.
It has grown quite late, and Corin and Rob have called to say that they are on their way to pick up their children, my treasures.  I have certainly enjoyed having them here two days in a row!  They are so precious to me.  We are looking forward to our day trip tomorrow, and I always enjoy a day out with my family.  Yee Haw!
God bless you as you look well to the ways of your household!
Proverbs 31:27