Oh, what a lovely, glorious, fun, exciting day we have had!  The morning broke sunny, cloudless and warm. 
Warmer than the last few mornings have been.  As the day progressed, the breeze picked up, the clouds rolled in, and the day grew cooler.  I enjoyed sitting outside for awhile today, working on some home school and household planning, and the breeze almost sent me in for my shawl.  Almost. I spent my time outside at a picnic table out front,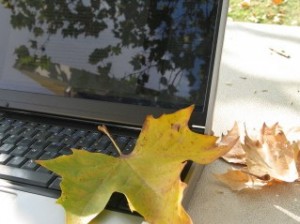 under a big Sycamore tree.  Every now and then, I'd have to remove a huge Sycamore leaf from the keyboard.  My Weeping Willow trees are a beautiful combination of green and gold right now.  As the breeze blew a bit harder, from time to time, the yellow leaves fell, almost like snowflakes.  It was so pretty to watch!  I'm always awed by God when I watch how the seasons play out in His creation. I mentioned the other day that part of the common fence between us and our closest neighbors was taken down.  These neighbors, good neighbors, fellow believers, are building an incredible covered arena for their horses.  We were glad to accommodate them.  Just before nine this morning our neighbor asked if we could open the gate.  The cement trucks were on their way! The first driver pulled in through our gate, turned around in our driveway, and then backed down the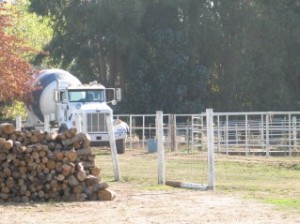 neighbor's side pasture.  He needed to turn again, though, to cross the very narrow bridge across the drainage ditch/re-routed seasonal creek bed.  The bridge is so narrow, that the truck had to be exactly lined up with the sides to cross.  The problem was, there wasn't enough room to maneuver in the side pasture to get lined up correctly.  I was glad that I was outside just then because I was able to tell the neighbors, "do whatever you need to do to make this happen".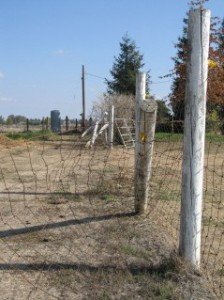 The wire fence was cut and rolled back, the electric horse fencing turned off (after it was discovered to be "on" by one of the fellas), and several more posts were pulled out.  I have no idea how old this line of fence is, but a good number of the posts are rotten.  Fortunately, I think, all of the posts that were removed in a hurry this morning were rotten.  When the fence is rebuilt, we'll have good posts in place of the rotten.  The idea was to open up the fence to give the drivers just a few more feet to turn their trucks. What we didn't know, was that the cement truck drivers would take full advantage of the ample space on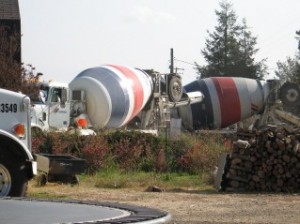 our   property that was now open to them!  At one point in time there was a truck idling backed up in my driveway, two trucks were idling, waiting their turn to pour back between our berries and garden, a fourth truck was in the neighbor's side pasture hosing out his chutes, and the fifth truck was pouring the footings for the arena! I enjoyed watching these guys come in through our front gate.  We live on a rather narrow, two lane road.  On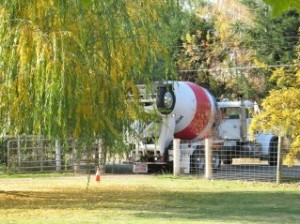 either side of the road, with no real shoulder space, are deep, open drainage ditches.  Some of the drivers could make the turn into our front gate with just a couple of back and forth maneuvers.  Others, took many, many, many attempts before making it in.  One guy pulled a bit past my gate and then backed straight in as easily as if the gate were 100 feet wide!  One guy almost backed into the ditch across the road and was so tipped that I was sure he was going to roll! All day long the trucks came and went.  Nine of them in all, with an hour's break in the early afternoon before the last two came.  I had my camera in my pocket all day.  I kept it close at hand all day.  I snapped several pictures all day.  It was my constant companion.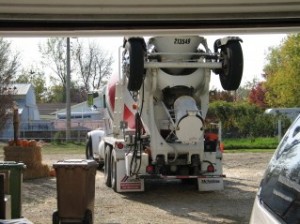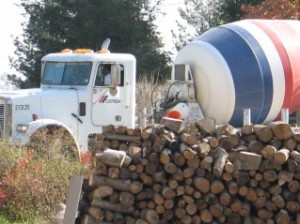 My constant companion, that is, except for when I walked Will out to watch the last truck clean out, dismantle his chute and fold up. Then the camera was in the house.  Of course, this was also the driver that said, "Hey.  Wanna see inside my truck?" and actually let Will climb on up the steps and sit in the driver's seat!  Then I did not have my camera!  My little boy was some kinda pleased sitting way up there in that big old truck.  The driver told us all about his truck and I was surprised at how high-tech a concrete mixer is these days!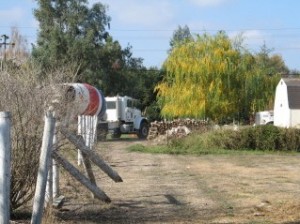 In the end, he too drove on out the gate, thrilling William by pulling the horn a couple of times in farewell. I am so thankful that I still have such young boys, well, one of them anyway, who find things like a steady stream of concrete mixers fascinating.  I felt like a young girl out there watching with William and enjoying feeling the ground shake as the trucks passed by.  It was a delightful little detour in our day, and one that we'll talk about for a long time to come, I'm sure. So, can I tell you how good the Lord is?  Though I've been praying for rain, and positively longing for it, our neighbors have been praying that the rain would hold off until the holes for their footings had been filled with concrete.  If we had already had much in the way of rain, the portions of my property where the trucks were turning and waiting, would have been like a wet clay pit and completely unusable for them.  Because we've had no real soaking rains, the clay ground is as hard as, well, concrete!  And guess what?  The forecast is calling for rain tomorrow! Both of my girls are out of town.  I knew it was happening, but somehow it failed to really sink in until Dani was already gone last night and Corin IM'd to say "good bye".  Huh.  They are both going to be just fine, of course, it just struck me weird that they'd both be so far from home at the same time.  I kept my boys close today! I was working in my home today, pondering things while I worked, as I always do, and the thought of how important it is that we stay the course kept filling my thoughts.  As I worked, it struck me that my homemaking schedule is one way that I stay the course.  Things are done routinely, which keeps my home in fair to middlin' shape all the time.  We do not have a daily "schedule", but we do have what I would call a flow chart of our days. Because we stay the course, our days follow the same general path every day, and there is a peace and dependability to them.  Because I remember to stay the course with my children's education, I am not as apt to follow every new trend in homeschooling that might pull me from our predetermined path. Staying the course is a good thing.  It is freeing, really, to know what the road before you looks like, and to know where the bumps will be.  I know when I should veer a bit to the right or left, and I know exactly when I need to slow down in order to safely make those turns.  I know the uphill climbs that take more energy, and I assure you that I know those long, downhill places where I can, more or less, coast!
However, good as staying the course is, we do not want to miss the detours that the Lord sends our way. Detours can sometimes be God's providence in our lives.  A detour to help a friend in need, or to send a daughter to minister on my behalf.  A detour to stay at home from church on Sunday to comfort and nurse a sick child.  A detour to let the cleaning go for a day to take the children on a surprise outing.  Even a mini-detour to watch the concrete trucks. The detours, though, need to be the exception rather than the rule, or we will veer so far from our course that we may become lost at sea!  Spending our days flitting here and there away from our homes can allow our homes to fall into chaos. Taking the children on one wonderful field trip after another can cause them (and us!) to lose their contentment for being at home.  Stay the course!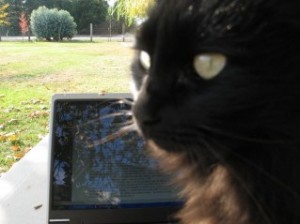 Late this afternoon, with my household tasks behind me, I took Hidden Art of Homemaking
outside to read  awhile.  I knew that the chapter on food was next, and I wanted to save it until I had time for a leisurely read.  Today gave me that opportunity.  Seated in a yard chair, with my feet up on the picnic bench and the cat purring contentedly in my lap, I read.  Ladies, we've been talking the last week or so about food and our food budgets and such.  This chapter was so timely!!  If I could, I'd copy the whole thing for you here, it was really just that good! Mrs. Schaeffer discusses food from such a wonderful biblical perspective.  She talks about the Lord's creating us with taste buds and then giving us an enormously wide variety of tastes and textures to sample.  She discusses the difference between eating solely for the nutritional benefit and of eating for enjoyment as well.  She writes about times of feasting and times of fasting.  The chapter ends with her comments on feeding the hungry and "entertaining angels unawares" which I found particularly humbling. Practically speaking, she also talks about our ability to be creative in the kitchen. I loved this from the chapter, "It is not necessary to have a large food budget to make meals interesting.  In fact it is often the other way around.  The need to 'stretch' the money often gives birth to ideas in cooking and serving."  Well, then!  I don't know about you, but that challenges me a bit.  Can I better stretch my husband's hard earned food dollars by being more creative?  How might I do that? Another practical aspect from this chapter that got me to thinking (okay, I know, that's dangerous!) was this, "Food should be chosen for nutritive values, of course, but also to give variety and interest to meals.  Food should be chosen to give pleasure, and to cheer up people after a hard day's work, to comfort them when they feel down for some reason, to amuse them when things seem a bit dull, or to open conversation when they feel silent and uncommunicative.  It seems to me totally unnecessary for any home, or even institution, to fall into the rut of serving the same thing the same day each week.  One should not be able to say, "Oh, yes, Monday, bread pudding: – anywhere.  Meals should be a surprise, and should show imagination." After rubbing my poor toes that Mrs. Schaeffer had just stepped on, I pondered a bit.  Our breakfasts are the same every week:  Monday/waffles, Tuesday/bacon or sausage, eggs & toast, Wednesday/cereal, Thursday/scrambled eggs and toast or muffins, Friday/pancakes, Saturday/cereal, Sunday/coffee cake.  Our lunches and dinners do not fall into that same patterned routine, but on the other hand, are they creative?  Is there enough in the way of variety?  Do I tend to fix the same things far too often? I can do better, but it will require some thought.  I've said it before, and I'll say it again, homemaking is my career.  If I truly believe that, I need to use my brain cells to be creative in my homemaking.  I need to spend times when my hands are busy with activities that do not require a great deal of thought (knitting, for example), and train myself to think about ways to be creative in my homemaking.  Right now, I think I should specifically think about being creative in the way of meal planning and preparation.  And presentation.  Mrs. Schaeffer discusses presenting our meals with a thought toward creating a "still life" of sorts to be enjoyed for the short time it exists.  I tend to either dump everything unimaginatively into serving bowls for the table, or to just plop everything onto our plates without thought.  Again, I need to refocus some of my thoughts to figuring out how I might do better in these areas. I've been married for almost thirty years.  I've been a mom for over 27 years.  I've been homeschooling for almost two decades.  I'm 50 years old.  The longer I do any of these things, including live, the more I know that there is always something more to be learned.  I am so thankful for my books and the opportunity to use them to grow and learn.  I am so thankful for the opportunities the Lord gives me to expand my horizons and learn new skills. My Dani-girl will be pulling in tomorrow evening at about the same time that her Daddy comes home from work.  It is my desire, Lord help me, to have all of my Saturday tasks completed and have everything ready for Sunday before either of them come through the door.  What a blessing it would be to have a bit of family time together before the boys head to bed!  That is my fervent hope for tomorrow. God bless you as you look well to the ways of your household! Proverbs 31:27
PRAY FOR LISA!