Here's the recipe for the Cinnamon Raisin Bread we make in our bread machine. This comes out quite nicely, but doesn't raise into a tall loaf. The texture and flavor are wonderful, though. This is a recipe that Dani and I have adapted to meet the needs of our family. You certainly may substitute regular sugar for the evaporated cane juice if you prefer.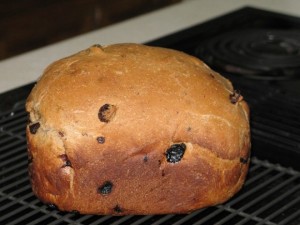 (If you click on the links below, and then make a purchase, some of them may put a few pennies into my pocket. Of course, there is no additional cost to you. I am always grateful to those of you who choose to bless me this way. You can read about how I spend those pennies, and more about how I earn them, in my disclosure policy.)
For those of you new to using your bread machines, or who just want to add some variety to your bread baking, I would recommend these wonderful books (all of which I own and use):
WHOLE WHEAT CINNAMON RAISIN BREAD FOR THE BREAD MACHINE
1 1/8 cup water
2 Tablespoons butter
2 Tablespoons evaporated cane juice
1 teaspoon salt
3 cups whole wheat flour
1 Tablespoon cinnamon
2 1/2 teaspoons yeast
3/4 cup raisin
This recipe makes a 1 1/2 lb.mloaf. Load the ingredients in the order specified by your bread machine, and bake on a sweet bread or fruit & nut bread setting, if your machine has it.