This week's menu is nothing special.  A lot of tried and true, family favorites, most quick to fix, to best fit our busy week ahead.  We'll be in town Monday for a couple of appointments and then in town again Friday for the mega shop.  Dani will be gone Wednesday until Friday evening.  Add to that the increased rate of activity that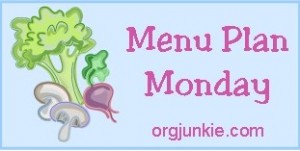 comes with the pending holidays, and easy to fix menus are a blessing!
Not much new on the menu, but there is one recipe for Raisin Bran Muffins that I'll have to share with you later  this week.  If your stumped for menu planning ideas, be sure to check out this week's Menu Plan Monday for some inspiration.
ON THE MENU THIS WEEK AT COPPER'S HOUSE
MONDAY:
Breakfast – Cold Cereal
Lunch – (Lunch out in town after dental appointments)
Dinner – Homemade Four Meat Pizza (pepperoni, linguica, sausage and ground beef), Greeen Salad
TUESDAY:
Breakfast –  Sausage patties, fried eggs, toast (from Portuguese Sweet Bread
made in the machine)
Lunch – Baked Potatoes with all the fixin's
Dinner – Spaghetti, Green Salad, Garlic Bread
WEDNESDAY:
Breakfast – Waffles
Lunch – Meat sandwiches, chips
Dinner – Tri Tip Roast (marinated in homemade teriyaki sauce), Basmati Rice Pilaf, Steamed Broccoli
THURSDAY:
Breakfast – Rolled 5 Grain (hot cereal)
Lunch – Beef Soft Tacos (from left over roast), fruit
Dinner – Aztec Quiche Find the recipe here
, Health Nut Muffins (both from my freezer stash)
FRIDAY:
Breakfast – Pancakes
Lunch – In Town for the Mega Shop
Dinner – Sub Sandwiches, chips
SATURDAY:
Breakfast – *Raisin Bran Muffins, Scrambled Eggs
Lunch – Chef Dani's Choice
Dinner – Hobo Dinners, green salad
SUNDAY:
Breakfast – Audrey's Coffee Cake
Lunch – Fellowship meal at church, we'll take Hamburger Corn Casserole, sliced fruit, Peanut Butter Blossoms
Dinner – Wild Dinner (my son, Will's, term for our Sunday evening meal – popcorn, left overs, etc.)
God bless you as you look well to the ways of your household!
Proverbs 31:27