Today was just a simple Saturday spent tending to things in my home.  Since we do not homeschool** on Saturday, my day has a more leisurely pace about it.  I'm still not quite used to Dani being gone on Saturdays, but I have adapted my routine around her absence.  Lisa is keeping Dani busy making meals for her freezer and running a few errands.  I'm glad that Dani is able to help out in this small way.  (**I do not consider homeschooling to be strictly the academics, but all of life, really.  However, for lack of a better term to describe the lack of "book work" on Saturday, "homeschool" had to suffice.)
I worked steadily this morning.  The beds were stripped first thing and the sheets were put into the washer.  The boys hamper and my own were emptied and the laundry sorted into piles on my bathroom floor.  By the time we were done with breakfast, the sheets were put into the dryer and another load of wash was put in.  I dusted the mantle in my living room and then dusted my bedroom and bathroom, brushing down the cobwebs as I went.  I made a trip to my outside storage area to bring in a new sponge and a few other things and chatted with my neighbor for a minute or two.  He was, bless his heart, patching up the fence between us a bit.  He knows that our dog, Dixie, likes to run outside late every day and he also knew that she'd be sorely tempted to slip through that opening in the fence to play with the horses.  I am blessed, truly, with wonderful neighbors!
When I came back in, the washer and dryer were ready to be recycled again.  I loaded the few breakfast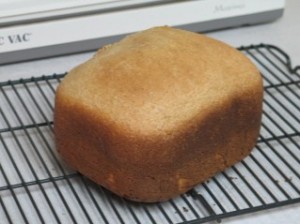 dishes into the dishwasher and then started a loaf of our everyday bead in the bread machine.  Next, I put together tomorrow morning's coffee cake.  When the coffee cake went into the oven, I turned the griddle on to heat up.  I quickly put all of the morning's dishes, along with all of the bowls, measuring cups and spoons, etc., that I'd just finished with, into the dishwasher and turned it on to run.  I washed up the kitchen knives I'd used by hand, and left them to dry on the drying rack.  I made myself a yummy bacon and cheese quesadilla (the boys made their own lunches today!), and put it on the griddle to cook.  While I sat down with my lunch and read a few e-mails, my washer was washing up all of our light colored clothes and table linens, the dryer was humming happily and drying all of our whites, the dishwasher was cleaning a full load of dishes, the bread machine was making a loaf of wonderful whole wheat bread, and the oven was baking Sunday morning's breakfast.  What a life of leisure I lead!
Now that our weather is a bit more fallish, we are keeping our wood stove burning all day.  I love the heat that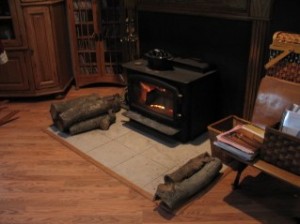 comes from a wood stove, but there is extra work involved.  Aaron's daily chores now include re-stocking the firewood holders in our garage.  Will's daily chores now include bringing wood into the house from the garage a couple of times a day.  I need to remember to keep the pan on the stove filled with water to help keep some moisture in our home during the cold weather months, and I do need to dust the mantle several times a week as a bit of ash does tend to drift up there.  We also keep a small whisk broom and dust pan in a basket next to the stove so that we can brush up the wood and ash debris that collect on the hearth throughout the day.
After lunch, I took a few delicate things out to the clothesline to hang them, but it was sprinkling!  It had been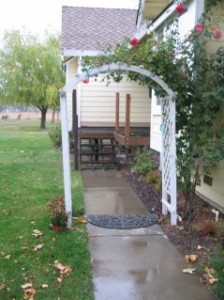 cloudy all morning, but I didn't expect any rain until evening.  We could surely use a good, soaking rain, but I don't think we will get it this time around.  I'm praying that it's enough that I won't have to water or irrigate for a few days, though.  It rained lightly, but steadily, all afternoon and it is still falling now at about 5:00 p.m.
There was enough rain that even the sheep took shelter in their little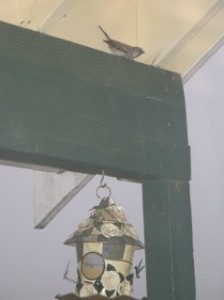 covered sleeping area for most of the afternoon.  This sweet little bird is, I think, building a nest up in the eaves of my back porch.  Too bad he doesn't take advantage of the bird house hanging just below instead!
The rest of my day continued much the same.  The laundry was recycled load by load until it was all finished, folded and put away.  In the mid-afternoon I gave my bathroom its weekly cleaning and then brought the mop to the kitchen to mop the kitchen floor, too.
I ironed our church clothes and a few other things and the boys' and my church clothes are hanging up ready
for tomorrow morning.  I spent some time this afternoon pulling some more books for Will's school basket.  He has become a voracious reader, and I'm trying very hard to balance books that I know he will enjoy with books that I'd like him to read that might be more of a challenge for him.  I packed up our church basket and placed it by the back door, ready to be loaded into the car tomorrow morning.  The fruit that I will take for our fellowship meal is in a bowl in the fridge, likewise ready for the car in the morning.
Ostara asked about the painting on my laundry room walls, which was visible in a picture a couple of posts ago.  Dani did most of that for me, along with some other painting about my home.  Here's a link to the post where I show more of  the laundry room and more of her work.
My day quickly passed by, and in just a couple of hours or so my husband and much-missed daughter will be home.  In fact, I'm winding things up early.  All of my Satruday tasks are done, and I'm going to start dinner for the boys and I a bit early.  It is my hope that I will have everything done, including the dinner dishes and kitchen clean up, before Copper and Dani come home this evening.  I'd like to get the potpourri burners re-filled and going soon so that the house will smell yummy; and, perhaps, I'll even get some fresh candles on the mantle lit. I'd hoped to get a bit more done today in the way of getting things made for the freezer and such, but that will wait.
Do you love your home?  Do you love caring for your family?  Oh, I hope that you do!  Our jobs are not ones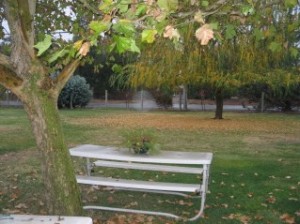 of drudgery and endless, mindless work, but a wonderful life of serving the Lord through serving our families.  As we serve the Lord with gladness, we serve our families in the same way.  The Lord has given us a calling, every bit as a real as any other calling, to be keepers at home.  We are given an entire realm (our own homes) where we are free to creatively decorate, cook, clean and manage according to our own tastes and desires.  We are free to hone our skills and learn knew ones, to refresh ourselves daily in His Word, and to enjoy watching our children grow up.  What a blessed life!
God bless you as you look well to the ways of your household!
Proverbs 31:27