I had a lot on my agenda this morning.  All of the normal Saturday stuff, plus a bit of catching up from things that didn't get done while we were out yesterday, and several things right here that I wanted to finish up and post for you.  I've had the Thanksgiving Library Builders post half done for several days, and I'd given my word to a couple of gals that it would be up this week.  I've a couple more started that should be up next week as promised to some other ladies who are hoping for some ideas for Christmas gifts for their children.
This morning was a lazy morning, though.  Not for my poor husband who had to get up early for work, but the rest of us enjoyed hanging out in our jammies, letting the wood stove warm the house up, and just taking it easy for most of the morning.  We live in a valley that is known for its dense fog.  The fog season begins in earnest in November and lasts well through February, and often into March.  The fog can stick around for days sometimes, but today it finally burned off around noon.  It will be a cool day all day, and I'm so thankful for the hours and hours that my guys spent hauling and stacking our firewood a couple of months ago.  We can keep the house cozy and warm despite the damp, gray lingering outside.
I've had two of my Christmas teas.  The Holiday Chai
is wonderful!  It has a bit more subtle flavor than Stash's Chai Spice
, which I love,  but there's a  bit more cinnamon in the holiday version.  It's very good!  I brewed a cup of the White Christmas
yesterday morning.  I'm a black tea drinker.  I like green tea, but I just prefer black tea.  I bought just one box of the white tea to try, and I'm glad I did!  White tea is actually green in the cup.  The Stash White Christmas
tea is yummy!  The predmoninant flavor is peppermint, but it's not overwhelmingly peppermint.  It won't be my favorite tea, but I'll definitely enjoy having a cup here and there.  I've not opened my Christmas Morning
yet, but truth be told, I just used my last tea bag from last year earlier this week.  It's a good one, too.
Now, howiesgal claimed the other day to be a tea snob, but I don't believe she could be snobbish about anything! Then Mrs. Sheila asked if I've always been a tea drinker and she asked for some tea drinking tips.  Hmmmm……I think she should probably ask howiesgal!  I've been a tea drinker for almost 30 years.  As a full-time working gal, I needed the caffeine boost first thing in the morning at work and then again in the middle of the afternoon.  In those days the attorney I worked for would comment regularly on the "oil slick" I had brewing in our little closet where the coffee machine and hot water pot were located.  I'd get the water to boiling, pour it over my tea bag in the cup, and then leave it to brew.  Then the phone would ring, or a client would come in, or something would happen to distract me, and that tea would brew for 20 minutes!  I drank it anyway, bitter stuff that it was.
Not much has changed.  I still need my caffeinie first thing in the morning and again mid-afternoon.
I drink plain old Lipton first thing in the morning, and save my nicer teas for either later in the morning or for the afternoon.  No use wasting that "good" tea on my sleepy brain!  I have bought and used loose teas in the past, but I prefer the simplicity and ease of tea bags.  I do, faithfully, compost my tea bags, though, so I don't feel quite as guilty about using them.  I'm not a tea perfectionist, and those who are will be wincing at my remarks, but I simply pour boiling water carefully over my tea bag (one in a cup, or two in a tea pot) and then let it steep for four minutes.  Voila!  I do usually sweeten my tea.
Several of you have mentioned that you would love to use cloth tablecloths, but you feel hindered for one reason or another.  Most generally, it seems, the hindrance is either from not having enough tablecloths to tide you over, or not wanting to deal with the extra laundry.  I can't help you with the extra laundry, but in my home, we are so used to laundering the tablecloths with our regular loads that we don't even notice them.  I've also been asked about good sources for inexpensive tablecloths.  Hopefully I can answer everyone's questions.
I do have several tablecloths, but we've been using them for years and my collection has grown over the years.  Our family could definitey "make do" quite easily with only three.  I know that little ones make messes at the table.  My little guy is no exception!  To top it off, I am a notorious spiller of drips and drops of stuff at the table!  I do keep only a clean tablecloth on my table from meal to meal, but that does not mean that the cloth needs to be changed after every meal.  Most often, when our meal is done, there are only crumbs on the tablecloth.  I shake the crumbs out of the tablecloth and put it back on the table.  If there has been a wet spill, or something that has left a grease mark, the tablecloth goes to the laundry room and a fresh one is put on.   Some days my tablecloth is changed after every meal, and other times one tablecloth will last an entire day.  Sometimes a day and a half! The other night, when three of my grandbabies joined us for dinner, there were only crumbs to be shaken off the cloth, no wet spills or greasy spills at all.  They are 5, 4 and 2 years old, so I know it's quite possible!
Because we do laundry all week long, there is usually a load that a tablecloth can be worked into within a day or two.  Because the tablecloths are cotton, they can be washed in almost any sort of laundry load – cold water, hot water, whatever; and they can be hung to dry on the line or tossed into the dryer.  I do try to fold the tablecloths as soon as they are dry so that they don't get too wrinkled, but I do not iron our everyday tablecloths.  By laundering them this way, we quite often go the whole week using just the same three tablecloths as they come through the wash.
Watch for tablecloths at yard sales and thrift stores.  Folks get rid of them all the time, which is a huge blessing for those of us who love to use them daily!  My table is quite large so I have to hunt a bit more to find tablecloths big enough.  I found two wonderful, heavy cotton tablecloths at Big Lots once for $4.00 each.  They had their J.C. Penney sticker for $29.99 still on them!  Most of my holiday tablecloths have been bought in January for 75% off.  I have bought a few retail at Target when they've been on sale, and also some from WalMart.  If folks know you want them, they'll watch for them for you.  Copper's step-mom, Meg, has gifted me with a couple of beauties!
You can certainly make your own tablecloths, too.  If your table isn't too wide, it would simply mean buying sufficient yardage for the length and then hemming the two cut ends.  You could, of course, hem all four sides, but to keep it really simple, you could allow the selvedge edges to remain just as they are.  My WalMart has a $2/yard table that quite often has some pretty cotton prints on it; and JoAnn always has their 40% off coupons that can be applied to a single cut of fabric.
I do purchase 100% cotton tablecloths because they wear well and they launder well.  I have some that I've been using for years and they are still going strong.  Oh, they're a bit thinner than then originally were, and they are certainly more faded; but they are still pretty and still do their job.  I have not retired a cotton tablecloth yet.  However, when I do, because they are 100% cotton, I will be able to cut them up to use for other things.  If the cloth is just torn, I can use the rest of it for napkins for our every day use.  If it is too faded for that, I can cut it into cloths for washing windows.  Ultimately, 100% cotton cloth can be cut into small pieces and composted in our compost pile!  I have a few in my collection that are poly-cotton blends that were either given to me, or were brought home from Copper's mom's house when she passed away.  I still use these, but generally keep them for "company" use because they will not hold up to the laundering that my everyday cloths receive.
Speaking of laundry, I did have quite a bit to do today.  All of the bed sheets were washed this morning, along with the bath towels.  I worked all afternoon on the rest of our laundry.  Dani does her laundry on Thursday, and we were gone yesterday, so the hampers were filling up.  The boys' especially!  Staying on top of it, listening for the machines to finish so that each load could immediately be recycled, kept things moving right along.  When a large job like that looms before you, it's best to just keep at it until it is done.
I did have some weekly jobs do to today.  However, with a holiday coming next week, I decided to do just a few basics today.  I did, of course, change the bed sheets, and the sheets on my bed were spritzed nicely with lavender linen spray before I made the bed up totally.  I dusted and webstered my bedroom and bathroom, and I gave my bathroom its daily cleaning; but I decided to put off the weekly bathroom cleaning until Tuesday.  On Tuesday, I plan to give my whole house a quick once over with the duster and webster.  We'll do all of the floors on Tuesday, as well.  Wednesday we'll give all three bathrooms a thorough, weekly cleaning, which will leave only the food preparation for the rest of Wednesday, and cooking only for Thursday.  The daily cleanings we do around here, especially in the bathrooms, keep things clean enough to be healthy and presentable, and allow me a bit of wiggle room when planning for a holiday.
Aaron helped me put the park bench and my painted motel chair up on the porch this afternoon.  He helped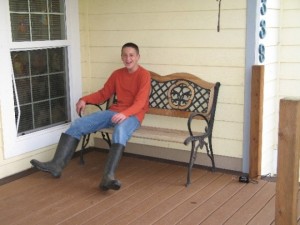 me by carrying both of them while I watched!
I cleaned them both up a bit, but the bench is probably going to need to be sanded and painted before spring.  It has been out in the weather since we tore the porch down several weeks ago, and it has not faired too well.  Still, we have a couple of places to sit out there now!   And I thank you for being very good sports and ignoring the fact that we still need to paint, replace screens, etc.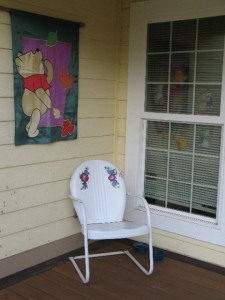 Of course, our main focus on Saturday is preparing for the Lord's Day.  Tidying up the house is a part of that, of course; but our main focus is on doing as much as we can toward tomorrow's needs.  Clothing for Sunday morning is hung up where it can be easily reached on Sunday morning.  We check to be sure anything that needs to be ironed is ironed on Saturday.  If playclothes are to be taken for Sunday afternoon, those are packed and placed by the back door on Saturday.  Bibles, notebooks, and anything that needs to be returned to someone at church are placed in our big basket, which is also placed by the back door.
Food for our shared meal at church is prepared and packaged to go on Saturday.  Today I cooked a few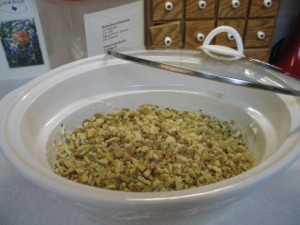 chicken breasts and then assembled my Chicken and Dressing Casserole into my big crock pot and then put it into the fridge.  Tomorrow morning I'll put the green beans and some seasonings into the smaller crockpot and then they'll be ready to go as well.  If I had room in my fridge for both crockpots, I'd do the side dish today as well.  Dani baked the Chocolate Crinkle cookies this afternoon, and after they cooled she arranged them nicely onto a big tray and covered them with plastic wrap, ready to go to the car in the morning.  Tomorrow morning's coffee cake (a new recipe we've just re-written for our family), was baked early in the day as well.  This evening it will be placed on the kitchen table, along with a knife and server, plates and forks, ready for Sunday morning breakfast.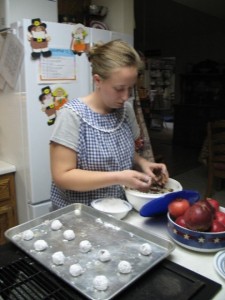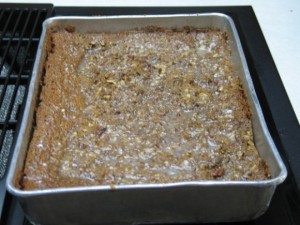 We've been preparing our clothing and our Sunday morning breakfast on Saturdays for about 15 years or so.  Taking care of planning the rest of our Sunday food has been done for the better part of the last seven years.  If this is a new idea to you, I urge you to give it a try.  Being able to spend the Lord's Day the way He intended, for worship and as a day of rest from our normal labors, is such a wonderful way to spend a Sunday!
Have a blessed Lord's Day tomorrow!
Oh, I almost forgot.  We were quiet today, too.
God bless you as you look well to the ways of your household!
Proverbs 31:27