This is by no means an exhaustive list of children's books about Thanksgiving, but these are a few that I will be reading to my boys and the grandbabies during the next few days.  These are all books that have a permanent home in our Heritage Library.   While this list might be a bit late to help you find some good books for this year's Thanksgiving celebration, you'll have it to refer to for the next year as you look for books for your own Heritage Library.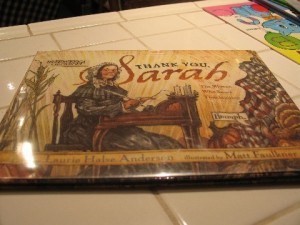 Thank You, Sarah – The Woman Who Saved Thanksgiving
, by Laurie Halse Anderson.  Illustrated by Matt Faulkner.  This book is a whimsical telling of the story of Sarah Hale who is credited as one of the movers and shakers that prompted President Lincoln to delcare a national day of Thanksgiving.  This is a fun read-aloud for all ages, but geared toward the younger crowd (which doesn't mean the older kids won't enjoy it).  Matt Faulkner's full color illustrations are beautiful and funny all at the same time.  He blends caricature with a more natural look wonderfully.  One word of caution:  there is a very brief mention that Sarah Hale also campaigned against biblical discipline (sp***ing).  When I read this aloud I simply skip that word.  My independent readers already know what the Bible has to say about that issue, so it's not a problem for them.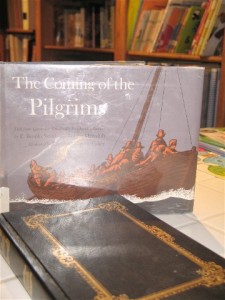 The Coming of the Pilgrims, by E. Brooks Smith and Robert Meredith.  Illustrated by Leonard Everett Fisher.  This book for children is taken directly from the firsthand account written down in a journal by Governor Bradford.  Mr. Smith and Mr. Meredith edited the journal accounts for children, and Mr. Fisher's simple illustrations are beautiful.  This book at about 60 pages, would make a wonderful read aloud on Thanksgiving morning.  From the journal, the story begins with the pilgrims in England, follows them to Holland, and then recounts their voyage to America on the Mayflower, their hard first winter, through the time of that first Thanksgiving.  This first hand account, edited for children, will give the true flavor of what Thanksgiving is all about.
For the older kids, or even for yourself, Of Plymouth Plantation
, is highly recommended.  This is the history of Plymouth Plantation, written by Governor William Bradford, covering the years 1608 – 1650.  This book is required reading for graduation from our homeschool.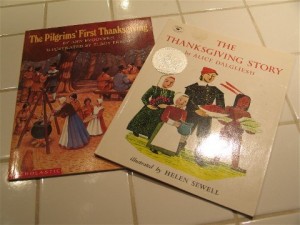 We also enjoy The Thanksgiving Story, written by Alice Dalgliesh and illustrated by Helen Sewell.  This little book, less than 30 pages, is simply yet beautifully illustrated, and is a marvelous brief, yet elegant, account beginning with the trip to American on the Mayflower.
Another short but sweet picture book, The Pilgrim's First Thanksgiving
, by Ann McGovern, illustrated by Elroy Freem is a favorite here because of the lovely, full color illustrations.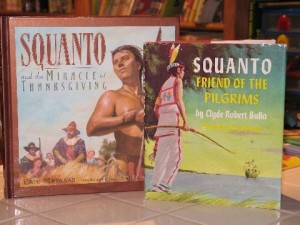 Squanto's story is integral to the story of the first Thanksgiving.  One nice little children's biography of Squanto is Squanto and the Miracle of Thanksgiving
, written by Eric Metaxas, illustrated by Shannon Stirnweis, and published by Tommy Nelson.
I highly recommend looking for, and buying, Clyde Robert Bulla's Squanto, Friend of the Pilgrims
.   Please note – the preceding link is to the Scholastic edition of this book.  I have not seen the Scholastic edition, and I do not know if it has been edited from the original.  Therefore, I would recommend that you watch for an older copy published by Crowell instead.  Mine is a beautiful, like new copy with a dust jacket, that I purchased on e-bay for $2.00.  A quick check tonight at abebooks found copies starting at $3.25.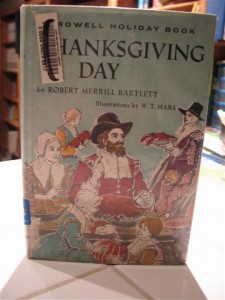 One section of our own Heritage Library that I have been working hard to build is our holiday section.  It's  easy to find books for Thanksgiving, Christmas and Easter; but some of our other holidays, especially those specific to American culture, are a bit more obscure.  With that in mind, I am making an effort to collect the Crowell Holiday Book series.  At this point I have just a few, but those I do recommend.  Included, of course, is Thanksgiving Day (part of the Crowell Holiday Book series)
.  These are long out of print books, but you can find them still at Amazon, on e-bay, or at abebooks.com.
To see all of the Library Builders posts to date, please visit the Library Builders page on my web site.
God bless you as you look well to the ways of your household!
Proverbs 31:27