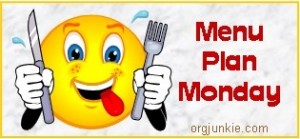 I've been pondering and thinking about my menu planning since this post, and I have mixed things up just a bit this week.  I think that my entire family enjoys our big breakfast, and Tuesday is really just the best day for us to do that.  Monday mornings are just, too, well…MONDAY!  My husband does not always have Wednesday off, so Tuesday is the perfect opportunity to have a big, leisurely breakfast.  We're keeping our big breakfast Tuesday, and for this week anyway, we'll still have pancakes on Friday; but the pancakes will likely start moving around after this week!
I have tried, though, for all of our other breakfasts, as well as our lunches, to mix things up a bit and to bring in a new idea or two.  The quiche dish is one we enjoy for dinner, but why not lunch?  I've also looked through some older recipes that I've not made in awhile and have brought out some oldies but goodies this week.  We'll also be trying some new dishes, too.
I'm looking forward to cooking some new things, and enjoying some old favorites again.  If you're not enjoying cooking, try something new!!  Dig through your cookbooks and find one that you've not used in awhile.  Ask a good friend if she has a favorite cookbook you might borrow.  I know that there are zillions of recipes available on line, but if you don't know what you're looking for, you're not likely to find much inspriration there.  A good cook book, though, can really inspire you in the kitchen and can make cooking for your family fun again!!!
As usual, I will share the recipe for any dish marked with an * later in the week.  I usually post those recipes late in the day that the recipe is prepared.  I may also post a couple of other recipes this week for things that I'm making for the freezer stash, so you can watch for those as well.  In fact, I think I'll be posting a bit about my freezer stash and how and why to build your own (no matter the size of your family or freezer).  Major Hat Tip to my good buddy, Lisa, who has really inspired me in this area again.  Lisa is doing such a fabulous job of parenting and  homeschooling her children, and looking well to the ways of her household, all while on strict bedrest for the last several weeks!  My friend, you truly are an inspiration!
If menu planning is new to you, or if, like me, you just need some fresh, new ideas, be sure and check out this week's Menu Plan Monday for close to two hundred great menu planning ideas.
HERE'S WHAT'S ON OUR TABLE THIS WEEK
MONDAY:
Breakfast:  Orange Coffee Cake (from the freezer stash), *Scrambled Eggs Supreme
Lunch:  Grilled Cheese Sandwiches, homemade tomato soup
Dinner:  Southern Fried Chicken Light, Mashed Potatoes, Green Salad
TUESDAY:
Breakfast:  Turkey bacon, eggs, cinnamon raisin toast (from the bread machine)
Lunch:  Left over tomato soup, whole grain crackers
Dinner:  *Pork Chop & Tater Dish, Steamed Broccoli, Berry Pie for dessert (from the freezer stash)
WEDNESDAY:
Breakfast:  French Toast (one of the dishes that I like to make white bread for!)
Lunch:  Aztec Quiche ( recipe can be found here)
,  fruit
Dinner:  *Cowboy Casserole, Green Salad, *Whole Wheat Biscuits (from my homemade buttermilk baking mix)
THURSDAY:
Breakfast:  Cereal
Lunch:  Meat Sandwiches, chips (or left-over casserole if there is any)
Dinner:  Corn Chowder (recipe in the chapter on food)
, Whole Wheat Soft Breadsticks
FRIDAY:
Breakfast:  Whole Wheat Pancakes (from my homemade buttermilk baking mix)
Lunch:  Our Mega-Shopping Day, We'll Grab a Bite in Town
Dinner:  Left-over corn chowder, garlic bread
SATURDAY:
Breakfast:  *Oat Bran Muffins (baked fresh from the freezer stash), scrambled eggs
Lunch:  Cheese & Bacon Quesadillas, sliced apples
Dinner:  Cheese Burgers, Fajita Fries, green salad
SUNDAY:
Breakfast:  *South of the Border Coffee Cake
Lunch:  Fellowship Lunch at Church:  We'll take Chicken & Dressing Casserole,  Corn,  Chocolate Crinkle Cookies
Dinner:  Wild Dinner – Our son, William's, term for our Sunday evening meal (Popcorn, left overs, cereal, cheese & crackers….pretty much every man, woman & child for themselves!)
God bless you as you look well to the ways of your household!
Proverbs 31:27