I hope that you enjoyed a wonderful, thoughtul Thanksgiving Day.  We did!  My husband worked the entire  day, right up until the time that the kids arrived, on the porch.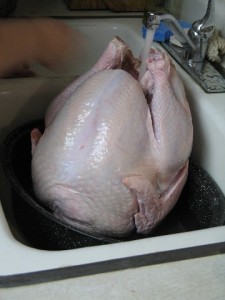 The boys spent their morning, as my children always have, watching the Macy's parade on t.v., followed by the big dog show.  We enjoyed a big turkey bacon, eggs and toast breakfast.  After the breakfast and morning kitchen clean-up, I got started on dinner.  The turkey was thawed, but still a bit icy inside.  I used lots of cold water to wash it up and it felt thawed through and through.  To be safe, though, I made the stuffing, put it in the bird, and put the turkey in a good half hour or so ahead of schedule.
I enjoyed the leisurely pace of preparing things throughout the day and being able to keep my kitchen clean as I went.  I went out several times, enjoying the warmth of my wool shawl, to check on my husband's progress and to "oooo" and "aaahhh" over the porch.  I was blessed that when he asked how things were going, and I said, "fine" that he commented on the fact that I did not seem stressed!  Yee Haw!  I wasn't either, it was just easy going and pleasant work the entire day.
And you know what?  When it came time to carve the turkey, it was still stress free.  Even, after the turkey was about 2/3 carved, and we discovered that the very meatiest portion of the turkey breast was not cooked through!  We just regrouped a bit.  The already cut meat was transferred from the gold-trimmed china platter to a regular plate and then put in the microwave to finish cooking.  The stuffing, likewise, was put in a microwave safe dish, and nuked to be sure there was no uncooked turkey juice in it.  Everything was put back into its  pretty china serving dishes and put onto the buffet table.  Dinner was served about five minutes later than I'd planned.  With all of the last minute confusion, though, I forgot to take a picture of the buffet table set for dinner!
Now see, I'd had a plan, but we worked around it and made do when the turkey wasn't quite done.  However,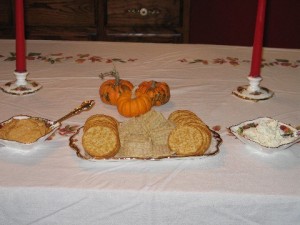 when Aaron went to the kitchen for seconds, he came back, bent over and whispered in my ear, "Mom?  Did we forget the cranberry sauce?"  Oh, my!  Two pretty, pretty dishes of cranberry sauce, covered in plastic and still in the fridge!!!  The "plan" had been for Dani to start taking things out of the fridge and putting the hot dishes onto the table as I pulled them out of the oven, made the gravy, etc.  Since she was diverted to microwave duty, no one finished pulling things out of the fridge!!!  We were putting away left overs after dinner when I discovered the crystal punch bowl full of tossed green salad STILL in the fridge!!!!  How funny!  There had, of course, been an abundance of food on the table, not to mention the pre-dinner appetizers, and no one missed the green salad.  We had a lovely salad to go with our leftovers, though!  We ate about half of Dani's cheesecake on Thanksgiving, and only a piece of two of pumpkin pie.  I packaged up the second pumpkin pie and put it in the freezer.  What a treat it will be to pull out in a couple of weeks to enjoy for an evening or two.
I am so thankful that all of my children, and of course, grandbabies were here in our home.  We expressed our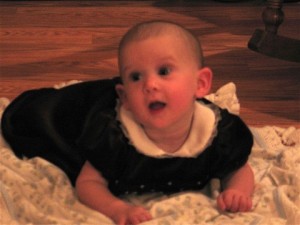 thanks for all of the Lord's incredible goodness and mercy to us.  I am particularly thankful for the the faith that has passed through the generations of my husband's family, traced back to the Mayflower, that I can see continuing now in my own children and, Lord willing, for generations more to come.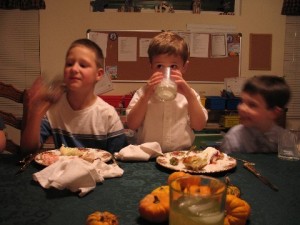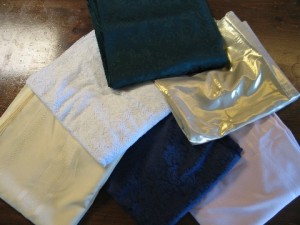 One day last week, I had a lovely private message from Elizabeth.  She offered to mail me some tablecloths that had belonged to her "Mother Helen", a dear woman who had loved and cared for Elizabeth as though she were her own daughter.  The tablecloths were too big for Elizabeth's table and she wanted to bless me with them!!  Well, I was blessed, and doubly so, because the box of beautiful tablecloths arrived the day before Thanksgiving.  Aren't they gorgeous??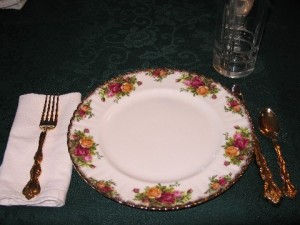 Among the tablecloths was a beautiful, rich green that I knew would look just beautiful on my table, set with  my late mom's Old Country Roses china
.  And it did look just spectacular.  Elizabeth, dear one, thank you again for your most generous gift.  Mother Helen's tablecloths will be loved and appreciated here in my home for years to come.
The porch is as finished as it can be without one last trip to the lumberyard.  Our porch posts are two different sizes, but the finishing post caps they sold us are all for the fatter posts.  We need to exchange a few for the smaller size, and then it will be done.  Thanks for allowing me to share the building of the porch with you these last few weeks.  I am just so proud of my husband, I want to tell everyone!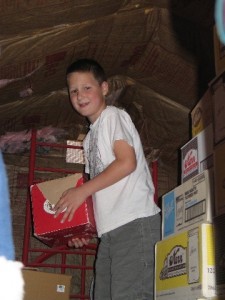 As soon as his morning chores were done Friday morning, Aaron was bringing in the empty tubs for our fall  decorations, and went to work packing things away!  My children know that Mom is usually willing to start decorating our home for Christmas the day after thanksgiving.  Traditions, you know, so decorate we did!  Boxes were brought down from the loft of our little storage barn, and stacked outside.  Then the boxes were ferried, one by one, into our house.  This was Will's first year of being allowed to help up in the loft, following Dad's admonition "if you are careful".  He was thrilled with the new responsibility!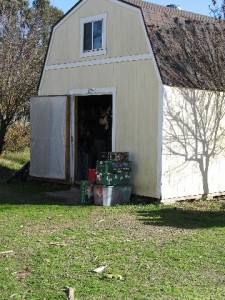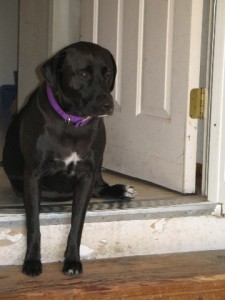 We left the door open from the garage into the house to make it easier to get in with our arms full.  Our dog, Dixie, is very obedient.  On the outside, anyway, but I'm not so sure that she was being obedient in her heart.  She was told to stay in the house, but you'll notice those rebellious front paws are on that top step!  She would much rather have been allowed outside to run and get into mischief while we were otherwise occupied.
We worked diligently all Friday afternoon, and by the time my husband came home from work, we had things about half done.  Poor Copper, there were empty tubs and boxes everywhere!!! He poured himself a glass of lemonade and then began hanging the many evergreen garlands that I use around my home.
I have three miniature, very rustic looking trees that stand next to the wood stove (but not too close), that are decorated with blue, cream  and red folk art ornaments.  My new little moose is right at home in front of them!
Saturday I finished up the rest of the Christmas decorating inside.  All of the trees are lit and decorated, including one little one that I put on the front porch!  Aaron took all of the empty boxes back out to our little storage barn, so they are out of the way.  The only box still in the house when my husband came home Saturday evening was the box of lights for the garlands.  He spent the evening putting the lights on all six evergreen garlands that I have hung in the living room, school room and dining room.
Aaron and I began feeling like we had colds on Friday, but we thought that it was just the dust we were stirring up bringing things in from storage.  By Saturday afternoon, though, I knew we'd caught just good, old-fashioned, regular colds.  We kept plenty of tissues at hand and just kept on working anyway.
I did promise to share a bit more from the "Drama" chapter of Hidden Art of Homemaking
.  It's funny to me that I almost skipped this chapter this time through.  It's so rich, I would have missed so much!  As I mentioned before, I've never considered acting or anything like it, but I do employ drama every time I read aloud.  Mrs. Schaeffer goes further on the topic of reading aloud in this chapter, though, discussing not only why we should read aloud to our children, but also giving many, many marvelous recommendations for what to read to your children as well.  I was pleased to find quite a few books among her recommendations that are already on our Heritage Library shelves, but I took note of a few others, as well.
I very much enjoyed her sharing about reading aloud to her own four children.  I nodded in agreement when she recollected that books read to the older children were enjoyed by the little ones, and that the older children very much enjoyed hearing the stories that were being read to the little ones – stories that they remembered from when they were younger, and that they still loved hearing read to them.  One thing I've recently decided to do, is to read something different to each of my boys, along with the books that we enjoy together.  I found this idea confirmed in Hidden Art.
Not to be missed, though, is the idea of reading the Bible to our children with feeling and emotion, employing drama here just as we would in reading a work of fiction.  Here's what Mrs. Schaeffer says about reading God's Word in this way, "This enthusiasm is not artificial or worked-up but real because of the reality of the assurance that the Bible is real and important."  She says, "Imagine reading, with expression, the story of Daniel in the lion's den, or the three men in the furnace, or Jonah, or Elijah calling down fire on his altar, or Peter being prayed for as he was in prison, or of Paul and Silas."
As much as I enjoy reading aloud to my children, and employing the hidden art of drama as I do so, I'm not so sure that I've done this as well as I could have with the most important of all books, the Bible.  Have our daily readings been dull and lifeless?  Have I remembered to alter my volume, tone and speed to make the Bible come alive as I read to my boys?  Am I allowing my eyes to read just a bit ahead of my voice, watching for what might be just ahead so that I can better read with proper emotion?  From here on out,  Mrs. Schaeffer's words will remind me to use this skill when I read God's precious Word to my children.
This Lord's Day morning found three of us not well, so just Dani and my husband made the drive to church.  They stayed only for the worship service and then came back home to have some lunch with us.  I spent the morning reading a bit, feeding and watering my houseplants, and then reading some more.  I finished The Hidden Art of Homemaking
by reading the last three, short chapters.  I'll share a few gleanings from those last chapters next time around.
Will and Copper took naps in the afternoon, and then we all settled in to watch The Muppet's Christmas Carol, which we haven't seen for a few years.  It's been a lovely afternoon, sitting with my family, with a nice blaze in the wood stove keeping us warm and comfortable.  Evening is falling, and I will begin turning on the Christmas lights in the house and enjoying the light from only those.  It feels warm and cozy and homey.
God bless you as you look well to the ways of your household!
Proverbs 31:27