I love my job!!  Some days more than others, of course, as I am very "normal" and my sinful nature does get the better of me; but I do love my job!  The fall weather here is just glorious, though we could surely use a few days of good, soaking rain.  Our overnight temperatures are quite cool, but still well above freezing; and our days are sunny and oh, so warm!  I opened my windows and doors just before noon to warm the house up as it was warmer outside than in! We don't watch t.v.  I say that, but it's really only partially true.  We don't watch t.v., except for when we do is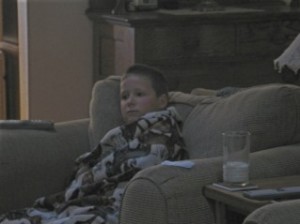 a bit more like it.  We do allow Saturday morning cartoons in our home, carefully screened Saturday morning cartoons mind you, but my boys do watch a few.  It's a pleasant childhood memory for Copper and I both, and we are glad that there are still a few acceptable kids shows broadcast on Saturday morning.  My boys always have their Saturday breakfast in the living room, and this time of year finds them wrapped snuggly in blankets, too!  I thought Will was just too cute this morning, wrapped up in the fleece horse blanket that Dani made him last Christmas. I busied myself this morning first thing by gathering the boys' sheets and my own and popping them in to the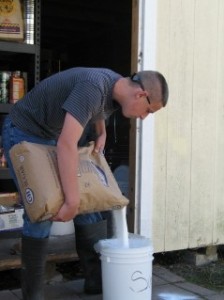 washer.  The bulk purchases of old-fashioned oats, flour and sugar were put into their storage containers and then put away.  I store my larger bulk purchases, those bought in 25 lb. lots or larger, in 5 gallon buckets lined with a food safe plastic liner.  Smaller bulk purchases are put into my big brown jars, or half-gallon or quart size canning jars.  Aaron is such a blessing to me when it comes to emptying the heavy sacks into the buckets.  He's also a pretty good sport about running my baking center containers out and re-filling them from the 5 gallon buckets when they run low.  He and I worked together this morning to get the bulk stuff put away and to re-fill some of my baking center containers.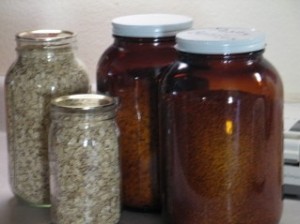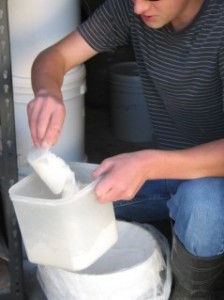 With all of my containers filled to the brim, I went to work in my kitchen.  I loaded the bread machine with a loaf  of Orange Oatmeal Bread and let the machine do its job.  As soon as I pulled the finished Orange bread out of the machine, I set it on a rack to cool and washed up the bread pan and paddle.  I refilled the pan with ingredients for our Everyday Whole Wheat bread and started the machine up again.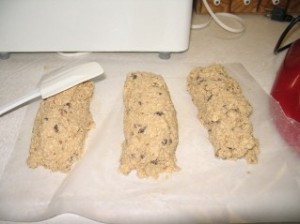 While the bread was baking, I mixed up a batch of oatmeal cookies.  I divided the dough into thirds, formed  each portion into a log shape, wrapped it in waxed paper and labeled it.  All of the logs were put into a container, which I labeled "cookie dough", and put into the freezer.  Each log will make, approximately, 18-20 cookies, which is an ideal number for a mid-week treat, or to quickly bake up for a visitor.  I have done my cookies this way before, and I have also baked cookies and then frozen them.  I prefer the frozen dough for two reasons.  First, the cookies just taste fresher, because they are; and second, we have the pleasure of smelling them baking!
Saturday is a big laundry day here when I've been gone on Fridays, so loads of laundry were recycled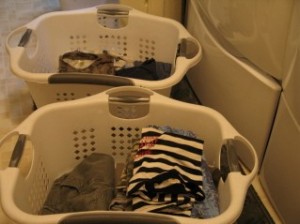 throughout the entire day.  Cothes from the dryer are folded and put away.  The washer load is switched into the dryer, and then the washer is filled and started again.  You do, of course, remember to empty the lint trap for your dryer each and every load, don't you?  Hmmmm?  Trust me, you don't want to have a dryer fire to find out just how necessary that job is!   It really does make things easier, in the long run, to fold the clothes, or what have you, as soon as they are removed from the dryer.  I have large capacity front loaders, and I fill them up, yet it only takes 5 – 10 minutes to empty the dryer, folding things as I go.  The boys' clothes are folded and placed neatly into laundry baskets, which they empty and put away in the evening. Everything else is folded onto my small laundry room counter, and I take the stacks from the laundry room with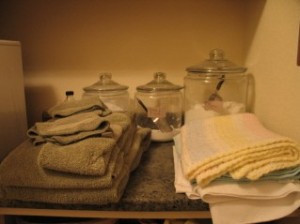 me to put away when I am done.  The end result is this – the clothes that are folded or hung still warm from the dryer, do not get wrinkled.  Best of all, when the last load of the day comes out of the dryer and is folded and put away, I'm done!  No rummaging through piles of clean laundry looking for clothes to wear.  No stacks, piles or baskets of laundry waiting to be folded and put away!  Yee Haw!  (And may I say plainly, ladies…..if the only place you have to fold your laundry is on your bed, then be especially sure that you fold it and put it away immediately.  A bed covered in piles of laundry is certainly not conducive to restful sleep nor to romance.) Just after lunch time, I was washing up a few dishes in my kitchen, my boys were both in the living room, and I suddenly heard my big garage door closing!  (My garage is just a few steps from my kitchen, and I'd had the big door open and the screen into my house closed, enjoying the fresh air.).  It seems that Bill, the horse rancher that Dani occasionally helps out, had wandered around to pay her for some work she did for him last month.  We don't have a front porch, and I guess he thought that the garage door opener button was a door bell.  I'm not sure who was more startled, Bill at being trapped in a garage with the door closing, or me hearing that door closing when all of us were in the house!!
In any event, Bill and I chatted on the garage steps for quite awhile – he lamenting the lack of work ethic in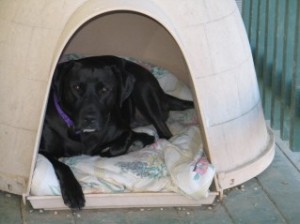 today's youth in comparison with the work ethic he sees in my Dani-girl, me nodding in agreement and smiling on the inside when he kept checking himself from swearing in front of me.  Does he do that with you, too, Dani, or does he just let the words fly when you're over there?????  Anyway, he really is a very nice man, just a hard working horse rancher. (I know, Dixie, I miss Dani, too!  Our dog can certainly give the impression of being sad, even though she is positively spoiled rotten!) Right after Bill left, I browsed through my recipe box for a couple of muffin recipes.  Several months ago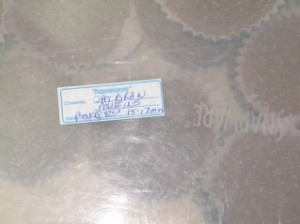 Clarice did a post on freezing muffins before they are baked.  Dani did some muffins for Lisa's family like this last week.  I decided it was about time I give it a try.  I feel about the muffins much as I do about the cookies.  Being able to bake them up fresh is a double blessing, both for freshness and for being able to send the wonderful smell of something yummy baking throughout my home.  I also like that I can bring in as many to bake at a time as we need, and not have to bake the whole batch if they aren't needed.  I chose a recipe for Oat Bran Muffins, which is one I haven't made in awhile.  I poured the batter into my paper lined muffin tin and then slid it into the freezer for the batter to freeze in the muffin cups.  After a few hours, I popped the frozen muffins out of the tin, and put them into a storage container for the freezer, labeled with the baking temperature and time. While I was in the freezer in my garage, I brought in one of the Orange Coffee Cakes that Dani made the other day, which we'll have for our Sunday morning breakfast, along with the chocolate chip cookies that she made for our fellowship lunch at church.  In the process, I dropped the coffee cake, which she always makes in one of my beautiful ceramic pie plates.  I was heart broken when it broke.  Fortunately, no little pieces of the plate got onto the frozen coffee cake, so I was able to rescue the coffee cake at least.  I was able to take it, still frozen, out of the broken plate and put it into another from the set.  Man, I am so bummed that I broke that pie plate! My afternoon started to get away from me, so I quickly started the pizza dough for our dinner tonight.  I pulled out a crust recipe that Dani had written down.  I'm not sure what I did wrong, but it certainly didn't work out for me.  After fighting it for about 10 minutes trying to get it to work, I gave up, tossed it, and started afresh with my tried and true pizza crust recipe.  Yep, I've been talking about having pizza for a few days now, but we finally had it tonight!!  After one failed beginning that is!  While the dough had its first rise, I webstered and dusted my bedroom and bathroom, and then I put the fresh sheets onto our bed.  They always, as you know, get a nice spray with the lavender linen spray as they are put on. I headed into my bathroom and did the weekly cleaning in there.  I finished up by hanging fresh towels, which I spritzed with lavender spray on a last minute whim, and then swept and mopped myself out the door.  By then it was time to punch down the pizza dough and spread it on the pan.  While it rose a bit on the pan, I browned the sausage and ground beef, and made up the pizza sauce.  While the pizza cooked, I folded and put away my last load of laundry. After dinner, I wrapped up the glazed Orange Oat bread and the whole wheat bread and took those out to the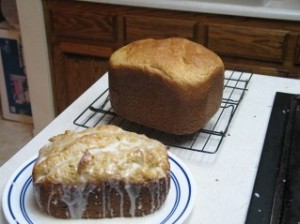 freezer, too.  I've put quite a bit into my freezer stash today.  I'm very pleased!  In fact, when I made the sauce for our pizza, I made a double batch.  I was able to put the remainder into a container and put it on the shelf in the freezer next to the meat for our next all-meat pizza. I have very much enjoyed all of your comments left here about the USDA food cost schedules, and I have also enjoyed following the continued discussions on some of your own blogs.  How we shop for our families is a very personal thing, I think.  Some of us are dealing with special dietary needs and/or restrictions, some of us live in parts of the country (or world) where costs of some items are especially high, or perhaps especially low.  Some of us live in or near large metropolitan areas that make using a discount grocer easy, while others live where only smaller, more expensive markets can be found.  Some of us are able to grow just a bit of our own food, and others are able to raise their own meat and most of their own produce.  Some of us are on very tight or fixed incomes, and others have a bit more lee way with what they are able to spend.  It's quite a balancing act, is it not?  I've promised a couple of gals that I'd try to offer some ideas that I've used that help keep the grocery costs down, but I'll also share some things that are "budget busters", too.  I'll do that on Monday, Lord willing. While we were out yesterday, Will bought this NEON decoration for his fish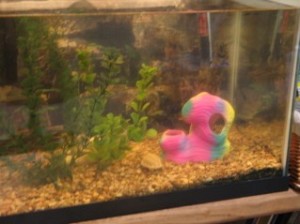 tank.  I know, it's hideous, but he loves it and I can live with it.  He's been wanting something new for his aquarium for ever so long, and I told him on our last mega-shop that he needed to put it on the list so that it was a planned expenditure and not an impulse purchase.  He also had to use his own money.  He very sweetly had penned onto our shopping list, which we keep on the front of the fridge, "fish tank decirashin", so how could we NOT buy a fish tank decoration!  He had two bucks, and this was within his budget!  Woo hoo! I picked up a few yards of some Gooseberry Patch fabric yesterday.  I saw it and it just hollered, "Buy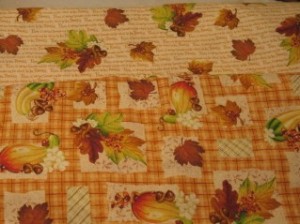 me, Cheryl" right out loud there in the store!  It is two coordinating fall prints, and the one says "There is always something to be thankful for" repeatedly amongst the leaves.  Pre-washing these two pieces of fabric was my last load of laundry for the day.  It's far too late to use this fabric for this Thanksgiving season, but I will be happy to have it ready to go next fall.  I wonder what it will become?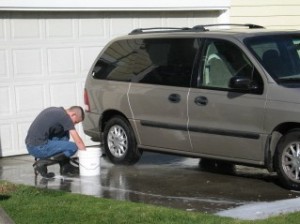 Aaron washed the car for us today.  There were so many bugs on the windshield yesterday, it was hard to see out when the sun hit it just right!  Aaron did a nice job getting the van spiffed up for me.  It will be nice driving to church in a clean van in the morning! This is my husband's long Saturday.  He has to work over his normal 12 hour shift every other Saturday 
because the on-coming shift has a briefing.  He cannot leave his duty post, of course, until they are out of briefing.  I worked right up until he was expected home close to 8:00 p.m., and kept right on going.  He came home, had a couple of pieces of pizza with us, and then gave Will a hair cut. I was very late getting things packed into our church basket and getting the boys' clothes ironed and hung out for them.  Though the evening was late, it's always such a blessing to be able to enjoy the Lord's Day fully by having the necessary work done on Saturday evening.  Since my afternoon ran well into the evening, I'm especially glad that we get to set our clocks back an hour before bedtime tonight!  Have a blessed Lord's Day tomorrow! God bless you as you look well to the ways of your households! Proverbs 31:27
PRAY FOR LISA!