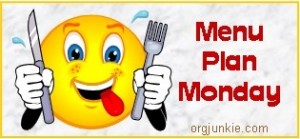 Hey, Mom!  What's for Dinner?  Even though I post our weekly menu on the fridge, I still hear that question!  I
don't have to think about it, though, I simply say, "Check the menu on the fridge!".  I love not having to retain all that information in my poor old brain.  Once I write it down, I'm free to forget it, thus freeing up precious brain cells for other important stuff.
I worked on this week's menu on Sunday morning, while I was home with a sick little boy.  Poor Will!  He's had a tough week emotionally, and sometimes, but not always, that's a precurser to his falling ill.  Looks like that was the case this time.  Nothing serious – low grade fever, sore throat, and just feels miserable.  It breaks my heart to hear an eight year old say that, "I feel miserable".
Maybe that's why this week's menu is filled with comfort food.  Lots of down-home, old-fashioned, family pleasing dishes this week.  The London Broil and pork steaks were purchased a couple of weeks ago on a really good loss leader store sale, and it will be fun to have those this week!  If you'd like to see what gals around the globe are feeding their families this week, or if you're hankering for some new ideas and/or recipes, be sure to check out this week's Menu Plan Monday.  By the way, Laura has recently changed her blog to a new site, so be sure to bookmark the new site.  She runs some great organizing ideas throughout the week.
MONDAY
Breakfast – Waffles
Lunch – Tostadas (fried corn tortillas, topped with black beans, corn and mozzarella cheese, then heated in the oven until the cheese melts)
Dinner – Chicken Enchiladas, Spanish Rice, Green Salad
TUESDAY
Breakfast – Sausage Patties, Eggs, Portuguese Sweet Bread Toast
Lunch – Grilled Cheese Sandwiches, Chips
Dinner – Marinated London Broil, Baked Potatoes, Steamed Broccoli, Candied Carrots
WEDNESDAY
Breakfast – Cereal
Lunch – Meat Sandwiches, Chips
Dinner – Ham Steaks, Fried Potatoes, Green Salad
THURSDAY
Breakfast – Scrambled Eggs, glazed Orange Oat Bread (from my freezer stash)
Lunch – PBJ Sandwiches, Chips
Dinner – Stroganoff (using left over London Broil) served over Pasta, Green Salad
FRIDAY
Breakfast – Pancakes
Lunch – Meat Sandwiches, Chips
Dinner – Pork Steaks, Basmati Rice Pilaf, Green Salad
SATURDAY
Breakfast – Cereal
Lunch – Chef Dani's Choice
Dinner – German Pancake (two of 'em), Sliced Peaches
SUNDAY
Breakfast – Chocolate Swirl Coffee Cake
Lunch – Fellowship lunch at church – We'll bring a big bowl of fruit & Melt-in-Your-Mouth Cookies
Dinner – Wild Dinner!  Will's term for our Sunday evening meal – left overs, popcorn, every-man-for-himself