Porch building took the forefront again today, and my boys assistance was needed, off and on, throughout the day.  All the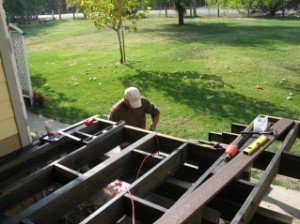 infrastructure of the porch is such hard work, and takes so much time.  I know, though, that all of this time and labor building the strong foundation will mean a porch that will, Lord willing, last the rest of my life!  My husband worked so hard out there all day, and though we can see progress being made, it is slow going.  Watching the stairs take shape today was fun!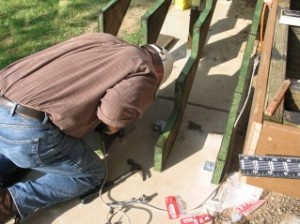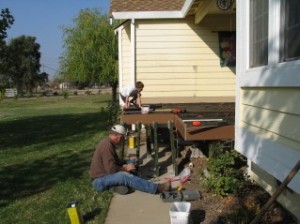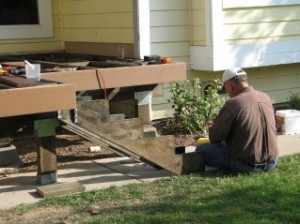 I worked on the second half of my watering/irrigation schedule today, too. During the summer months, half of the watering is done every Monday, Wednesday and Friday, and the other half is done every Tuesday, Thursday and Saturday.  Week in and week out.  Yesterday and today's watering, though keeping me busy and moving all day, were really not such a big deal since I've not had to do it for about a week.  Today I irrigated all of the vineyard – three rows of grapes, letting the water run for about an hour and a half on each row to water them deeply.  I also irrigated our small citrus orchard, and then soaked the three big willows that grow along the side of our sheep yard.  The side yard near our drive way was watered, and I let the sprinkler run for a good long while in the goat yard, too.  The poplar trees behind the chicken yard and goat pens are beginning to lose their leaves, but I gave them a good, thorough soaking as well.
We had a foggy, cold morning, but the fog burned off around noon, giving us a sunny, but cool afternoon.  I'm wearing short sleeves, but I would not have wanted to sit out in the shade today without a sweater.  Me thinks I'd better get those last few inches knitted onto my shawl!  We had a fire in the wood stove this morning, but the house was opened up by mid-day.  After dinner, the coals were stirred up and the fire re-started.  I love autumn!
Daily chores were worked on this morning, and continued throughout the day.  Wednesday is the day that I Webster and dust my parlor, and that was accomplished  by mid-afternoon.  I spent a couple of hours today working on things for the upcoming addition to the web site (Oh! That is slow going!), time available only because the boys were busy with their dad and not with school.
When porch building became, as happens from time to time, a one man job, I was happy to redirect my boys to other jobs.  Will was put to work doing a good picking up and straightening of the boys' room.  Then he ran about turning off water valves for me as the watering was finished up for the day.  He ended up with the very important job of being his handsome daddy's very cute shadow toward the end of the afternoon.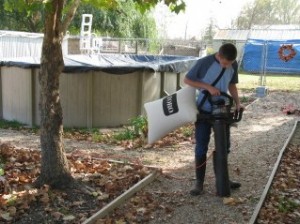 I asked Aaron to get the leaf blower/vacuum and clean up the backyard a bit.  It took him quite awhile  because the Sycamore tree is losing its leaves like crazy, but he did a good job.
I then set him to work fixing up the mess that our second compost pile has become.  Our first pile has been
topped off and is being left to cook until spring.  Our second pile has grown quite large, but the boys have been growing it out too far sideways and not enough vertically.  It seems that it's easier to dump a load of grass, or manure, or leaves around the edges, rather than lugging it to the top of the pile.  I put Aaron to work scooping the sides of the pile up onto the top.  Will worked for a bit, but eventually his brother had had enough of his "help" and sent him packing.
Aaron did what he could with the second pile, and the pile got a good turning in the process.  He watered it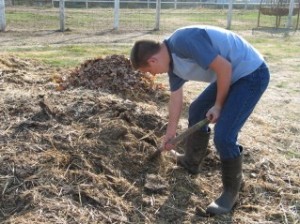 all  down well when he was done.  I think that, perhaps, we should also put this second pile to bed for the season and begin a third compost pile elsewhere.  We will be having lawn trimmings for a few more weeks at least.  There will be plenty of leaves for awhile, and we'll still be raking up the goat and sheep yards.  Add to that all of the kitchen compost, and we'll still have plenty to build a third pile.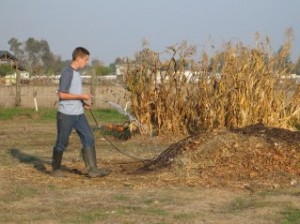 I would like to say that both boys embraced the work they were given to do today cheerfully, but I can not. 
There was some grumbling and complaining, but by and by the work was settled into and completed.  We're still working on the cheerful hearts and working as unto the Lord concepts here.
I spent a wee bit of time this afternoon moving things around a bit on the breakfast bar/command central.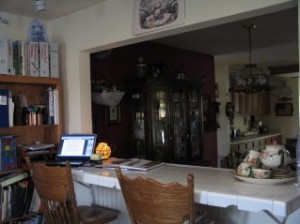 Will had left another stack of books he'd finished there for me to count pages and record for him.  He's become quite the voracious reader lately, which thrills me to no end.  With our tea time things recently placed on one end of the breakfast bar, I decided that this is where my beautiful new tea pot lamp will reside.  I've placed it on a vintage doily, just behind my laptop, where I can turn it on for a bit of cheer on dreary days, or to give us a bit of lovely light, just for show, in the evenings.  I will be reminded to lift up my distant friend and her family every time I turn this lamp on.
Do you have remembrances about your home that prompt you to lift a family member or friend to the Lord? Or perhaps a verse posted somewhere on your walls that leads you to remember to pray specifically about something each time you see it?   Or an item that reminds you of God's faithfulness in your life, and that reminds you to offer up prayers of praise and thanksgiving?  I am so thankful for the little reminders that I have throughout my home that turn my heart to the Lord during the day.  We are called to pray without ceasing, and I am glad for the reminders to do just that!
Dani will be returning to Lisa's later this week for a couple of days.  Dani and I talked a bit yesterday about how we can better plan our weeks for her absences and we came up with some good ideas.  Today, for example, Dani made two coffee cakes and popped both of them into the freezer.  I'll pull one out Saturday evening for our Sunday morning breakfast.  The second coffee cake will just remain in our freezer stash for a bit.
I usually make a treat for our Thursday Grandma's Library Day on Thursday mornings, but Dani asked if she could make cookies tomorrow instead.  She'll make a big batch so that we can enjoy the cookies with the grandbabies tomorrow, and the rest will be packaged up for the freezer and brought in Saturday night to thaw to take to church on Sunday.  Just a wee bit of advance planning, and a transferring of Saturday's work to a few minutes today and an hour or so tomorrow, have things well in hand.
Since Dani mixed up some orange juice for the coffee cakes, I decided to make a loaf of sweet Orange Oat Bread, too.  (You can find the recipe here
.)  I had our everyday whole wheat bread in the machine, but as soon as it came out and the pan had cooled a bit, I loaded the pan with the ingredients for the Orange Oat Bread and turned the machine right back on. I think I'll make a glaze for the bread and serve it with scrambled eggs for breakfast in the morning.  There's still quite a bit of orange juice in the fridge, so I might make another loaf for the freezer tomorrow.
I've been troubled lately when I think about how many of us complain about the lack of time we have in our days. We grumble about not having enough time to home school the way we'd like.  We complain that we cannot keep our homes as clean and neat as we'd like, or that we can't prepare the sorts of meals that our husbands prefer, or that we'd love to learn to sew, or knit, or to have time to read….if only we had the time.  Sound familiar?
We need to remember, ladies, that our homes are our professions.  Our careers.  I'm speaking now to those of you who are privileged to be full time homemakers.  There are many of you who work outside your homes, full time or part time; and I am certainly impressed by what many of you are able to accomplish at home after working all day.  Alesha, U Da Bomb!
However, for those of us at home all day, how many hours do we really devote to our "work".  Yes, yes, I know, mothers of boys (and girls!) work from "son" up to "son" down, but is that really true for you?  I think we have been deceived into believing that we do not need to labor in this life.  God's Word tells me differently.
I work fairly steadily all day long, but rarely do I work hard all day long.  There are periods of hard, heavy work; but for the most part, I work more like the tortoise than the hare.  Ladies, it is never my intention to cause you to be stressed out by sharing my days with you.  Truth be told, I consider my life one of great luxury and comfort!  My desire is to encourage you in your calling to look well to the ways of your own households.
God bless you as you look well to the ways of your households!
Proverbs 31:27