This afternoon we finally had another Thursday Library Day at Grandma's house.  Oh, I do love having my grandbabies here; and I cannot tell you how good it feels having all of my children under my roof at the same time, even if it is just for a few hours!  All of my treasures, my own and my grands, here at one time!  Bliss!  Even if a couple of them were grumpy.  I'm not naming names……..
After just a tad of homeschooling following our morning chores, we dashed around finishing up lunch just as Corin and the grandbabies arrived.  I was sending off an e-mail as they came in, and all three walking grandbabies came out to the school room and I snatched kisses as they passed by.  It's a grandma's right, you know, to snatch kisses, hugs and squeezes all at her own discretion!
Dani was just finishing mixing up a batch of chocolate chip cookies x 6 (would that be called sextupled???), and started baking them.  Aaron was sorting out the pieces and parts of a foam craft that we'd used a few years ago.  There were still enough pieces to make six pilgrim couples.  Aaron sorted all the various components out onto the kitchen table while I read to the little ones.
We were doing pretty well with our read aloud time, and the grandbabies were enjoying Why Do Leaves Change Color?
with me.  They were choosing which of the pretty fall leaves were their favorites, and I showed them mine.  While we were choosing I was thinking of the various trees here that had leaves changing and was trying to think if I had all of their favorite leaves…..Sycamore? Check!  Red Maple?  Hmmm….Yeah, I think so!  Oak?  Definitely!  I was thinking that a walk outside to collect the various favorites might be fun.   And then there was the potty emergency with the four year old.  He's just learning this important skill, so we dropped what we were doing and off he went!  Successfully!
I'd chosen one of the Thanksgiving books from my library shelf to read to them next, but they were in chatty moods.  As it turns out, I'm not really sure why I have the particular Thanksgiving book I'd chosen to read to them, and I think it is headed out the door to the thrift store.  The beginning is very evolutionary (telling about how Plymouth Rock came to be where it is), and I was having to severely edit the first pages of the book before we got into the landing of the pilgrims.  Since they were chatty, and since I was not caring much for the book I'd chosen, we called our read aloud time to an end, gave up the idea of a leaf collecting walk, and headed off to the kitchen to work on our pilgrim craft.  I have several other truly wonderful Thanksgiving books that I can read aloud to my treasures in the couple of weeks.
I'd love to send you the link to the craft we did, but apparently it is so old it has fallen out of their line.  Dani is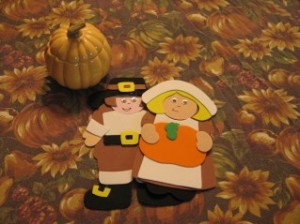 the only one who finished hers, so I snapped a quick picture for you.  Everyone else finished either the boy pilgrim or the girl, and we'll finish them up next week, Lord willing.  When they are completed, a magnet is attached to the back so that they can be hung on a fridge!  It was fun watching the little ones with their glue and watching them POUND the pieces into place with their little hands.  Of course, my very feminine two year old granddaughter just pushed her pieces daintily into place with the very tip of her index finger.  All of my treasures worked on one for themselves, save for Aaron, but he helped the five year old with his.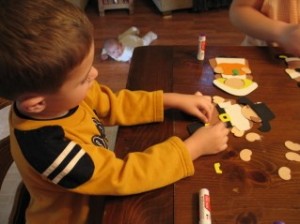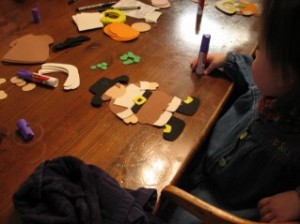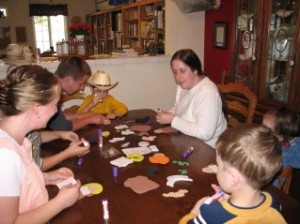 If you haven't checked out Oriental Trading Company before, do so now.  They have oodles of inexpensive  crafts for kids for every season, occasion, holiday or just for fun.  I've not purchased anything from them for a few years because most kits come in packages of 12 and I just have the two boys here; but with the grandbabies coming on Thursdays I'm seeing a definite reason to order some more fun kits now!  Splitting some of these kits with a friend is a good idea, and helps with the cost; but really, their crafts are very affordable.  In the past, I've bought a 12 pack of a craft, done it with my kids, and then put it away for a few years and then we've done the same craft again.  This is the reason that I still had half a package of the pilgrim craft on hand.  With several years in between, the kids really didn't mind the opportunity to do the same craft over again.  We've also made extras for gifts for grandparents and friends.
May I tell you how I blew it today?  You know, being a grandma and still having your own little ones at home can sometimes be tricky.  While we were working on our little craft today, I was standing behind my two year old granddaughter and putting the glue on her pieces and helping her to attach them.  Every once in awhile I'd grab a piece for the four year old to my left, or help him with his glue.  My son.  My precious Will, was on the other side of the table and I guess none of use were really paying much attention.  He was having a very tough time with his little pilgrim boy.  If you look carefully at the fourth picture, he has a very huge frown darkening his sweet brow!  There were a lot of parts and the glue was not cooperating and (as most of you know) he sometimes has a hard time dealing with life.  Poor guy!  As we were finishing up the first half of our pilgrim couples, I saw that he was just about at his wit's end.  Well, I heard it more than saw it, because his frustration level had suddenly sky rocketed and he was losing control.
Yes, it is important that he learn self-control.  Yes, I do expect him to maintain control and he is rebuked and/or disciplined when he loses control.  However, I totally accept my part in his dilemma today.  Had I been paying half as much attention to my own young son as I was to my grandbabies, I would have been able to give him enough help that he would not have reached the level of frustration that he did.  Like I said, this is tricky business sometimes.  As it was, I was able to rescue his poor pilgrim from being glued permanently to the kitchen table, and to help him move things around more to his liking before the glue set.  We all told him what a great job he'd done, and I was so pleased that he quietly regained his composure.  By the time Corin and the grandbabies were leaving, he was his lovable, cheerful self, and gave me a big old bear hug!
We enjoyed some still-warm-from-the-oven chocolate chip cookies, and then the children all went out to play.  My girls and I just hung around in the house, chatting the afternoon away.  I had planned to go out with the kids for awhile, but my body, after sitting for awhile, doesn't move too well.  I'll do a bit of double duty here in the morning to get my weekly homemaking tasks back on track.  I
Dani and Aaron left shortly after Corin did for a run to the feed store, to check on the pets and home of vacationing family members in the city, and a quick jaunt into Jo-Ann on the way home.  I had planned an all meat pizza and a green salad for dinner, but the meat will stay in the fridge until tomorrow evening, and we'll just have sandwiches when they get home instead.
I busied myself a bit in the kitchen, loading the dishwasher with a few odds and ends from the cookie baking and the cups the grandbabies had used.  I washed up today's chicken eggs and left them to dry on a dishtowel on the counter.  I wiped up the counters and stove top, and washed my bread machine pan.  I then spent some time updating my list of books that I'd like to, one day, purchase for our Heritage Library.
I've been asked several times now what bread machine I use and to share some of my bread machine recipes.  Instead of answering individually, I'll just answer here and now!  The bread machine I have now is a couple of years old, and it still serving me well several times a week.  Apparently, the model I have is no longer in the line, but this bread machine
seems to be the replacement for it.  As I said, it has served me quite well, and I would definitely recommend it to you, though I am sure that there are others on the market just as nice, or perhaps even better.  In fact, I've seen unused bread machines for sale in thrift stores, and would think that might be a good choice, too, especially if you are just buying your first bread machine.
Over the years I have had a couple of other bread machines.  The first was a $300, very elaborate machine.  The second was a $50 Target special.  Guess what?  The $50 Target special out performed, and out lasted, the $300 machine!  There are just a few features that I like on a bread machine…the ability to program the machine to start at a later time is nice, and I like having settings for various bread types, specifically, whole wheat and fruit & nut (or sweet) breads.  I also like being able to choose the size of the loaf (mine can be set for 1 lb., 1.5 lb. or 2 lb. loaves).  You'd also want to look for a crust (light, medium, dark) setting.
Almost all of the recipes we use in our machine are found in the various cookbooks by Donna German.  I have, and use, The Bread Machine Cookbook
, The Bread Machine Cookbook II
, and The Bread Machine Cookbook IV
.  There are at least three other bread machine books in this series, and I may be looking into a couple more in the future.  I have posted our Everyday Whole Wheat Bread recipe before.  This is the recipe that we use most frequently for our "everyday" bread for sandwiches, toast, etc.
I love making my own bread by hand, and I do still do this from time to time.  However, I do suffer with arthritis and just some general weakness in my hands now, which make kneading and mixing bread dough painful, and sometimes impossible.  It is also very time consuming.  I can put the ingredients for a loaf of bread into my machine and clean up the little bit of mess that is made in about five minutes.  The machine is then set and I walk away.  I do try to watch the time on my machine so that I can pull out the kneading paddle just before the final rise of the bread so that we don't have a big hole in our finished bread from the paddle.  If we need a lot of bread, or if I want to make several varieties or extra for the freezer all in one day, it is quite possible to do.  The bread pan and kneading paddle are quickly washed as soon as one loaf is made, and then another loaf can be started immediately.
Dani came home from Jo-Ann with the brand new Victoria magazine!  Some of you subscribed and have had your issues for a couple of weeks.  It hit the news stands on Tuesday, though, and this is the first copy that we've run across.  I plan to hit the shower a wee bit early, snuggle into my robe on the loveseat in front of the fire, and enjoy perusing my new Victoria.  Have a blessed evening!
God bless you as you look well to the ways of your households!
Proverbs 31:27