We've had such a great day today.  Busy, of course, but wonderfully productive!  Dani will be home all week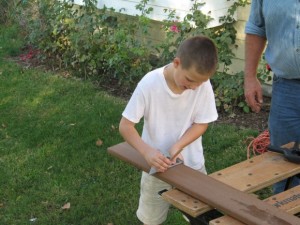 this week, and I have to selfishly tell you how glad I am to have her here.  She and I remained busy in the house all day, while the guys worked outside.  Towards day's end, I heard my husband reminding one of the boys, "We're running out of daylight, son, you've got to keep working."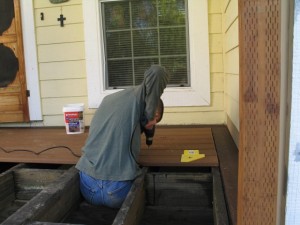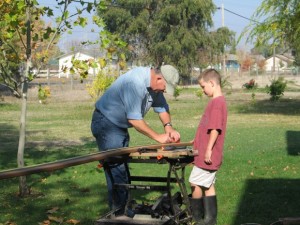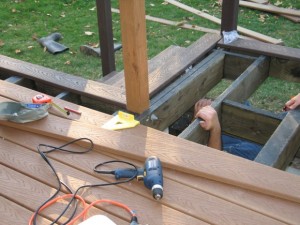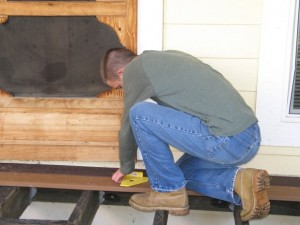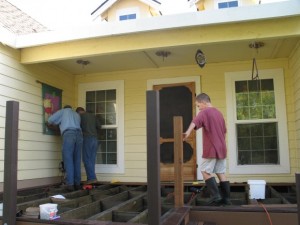 I busied myself this morning with the daily tasks – laundry, my morning kitchen routine, laundry and straightening up my living room.  I wove in the ends of a few dish cloths that I made up in the last few evenings, and got those ready to mail to a friend.  I wrote the description of the defect in my iron and got that ready to ship off, too.
At lunchtime, my husband called in to see if Dani had already started the quiche.  It was just ready to pop into the oven to bake.  He asked if it would keep, and it would, so he drove us all to town for Chinese food for lunch!  What a fun treat!!!  It was doubly nice because we ran into a couple in the restaurant that we knew.  Copper had grown up on the same block as the gentleman, and his lovely wife had been an aide at the private school where Corin and Dani went before we started homeschooling.  Dani certainly enjoyed seeing her again, and my husband and her's reminisced a bit (Do you remember getting hit by that car when you were a kid?  No?  I remember seeing you fly through the air!).
I was blessed that there was a UPS store in the same little strip mall, so I was able to ship off my packages without too much running about town!  We try to take note of where services that we occasionally need are located, and this is, so far as we know, the closest such facility to our home.  Good to know.
When we came back home after lunch, I recycled the laundry and settled in to do the weekly tasks for Tuesday and Wednesday, since I neglected my Tuesday chores yesterday.  I dusted and webstered
the school room, mudroom/sewing nook and my parlor.  With that behind me, I brought several pieces from my ironing pile to the sewing nook, set up my iron and took care of that.
I mentioned my iron woes yesterday, but I'd like to tell you that the iron Dani picked up for us yesterday to use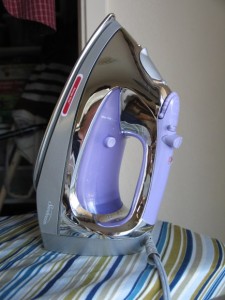 while the Rowenta is in for warranted repair, is a gem!  It's a Sunbeam (model #3056) that Dani picked up at WalMart for just under $30 and it is very similar to this iron
.  It's a great, mid-priced iron, and will be a nice fill in for us.  It's heavy enough to get the job done, steams fairly efficiently and has a wonderful stainless steel plate.  No sticking!  No leaking!  Yee Haw!  It has a couple of nice little features.  One is an off switch.  Most irons have that auto-off feature when they've been left unattended, and this has that, too.  However, I like being able to actually turn an iron off, especially on days when I'm doing lots of sewing and will need the iron from time to time.  The other feature I like is a small strip on the side that turns red when the iron is hot, and back to black when the iron is cool enough to store away.  Great idea.  It's not my precious Rowenta, but it will do in the meantime.
The sweet little Sunbeam iron made quick work of the ten pieces of  ironing I did today.  I'll tell you, it was an absolute TREAT to iron today after fighting that little, cheapo Black & Decker for the last couple of weeks!  I didn't even mind that my ironing board is wobbly and flimsy!  Okay, I didn't mind much.
I caught Dani multi-tasking this morning.  Again.  I don't know where she gets it.
She was wiping down the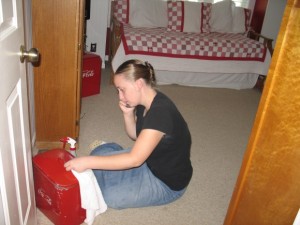 old coke ice chests that she uses to store her paints and things in, her baseboards, etc., while chatting on the phone with an older neighbor who has been ill.  Multi-tasking is a terrific way to make great use of your time.  You know, though, there is a very fine line between multi-tasking and getting side tracked!
Most of us multi-task through a good part of our days.  We fold laundry while instructing our children.  We brown meat in a skillet while cutting up vegetables.  We use our household servants to further make this possible, allowing us to wash clothes, wash dishes, bake bread and type a blog post all at the same time!  You know you've crossed the line between multi-tasking and being side tracked when you notice a stack of neatly folded bath towels on the back of the couch – not once, but twice in the same day.  (I did that yesterday!)   I was trying to do too many unrelated tasks at the same time, put the towels down to put away something else, and then ended up just leaving the towels!
It's good, though, to find ways to do more than one job at a time, so long as you can still do those jobs well.  I can knit or do a bit of embroidery while I give verbal instructions to my boys, or even while giving them a spelling test.  I can work on quite a few things at once in the kitchen, so long as I stay in the kitchen and keep my mind on what I'm doing.
There are other times that focusing on one thing, and one thing only, is not only a good idea but necessary.  Driving, comes immediately to mind; but I'm thinking more of parenting.  I cannot listen to my boys and "listen" to an IM message from Corin at the same time.  In order to really hear what my sons are saying to me, I need to turn away from the computer screen, the washer, the cooking, or whatever else might have my attention.  Conversely, if Corin and I are discussing something that is important, then I need to tell the boys that they will have to wait until Corin and I are done "talking".  Even though she is married with children of her own, she is still my daughter and I treasure her, too.   And there are times when I need to give my total attention to one of my children, ALL of my attention, so that they know that I am really and truly listening, and so that they know just how much they are loved and how important they are.  Multi-tasking is a good thing, when done wisely.  It's a tool that can give you more time to devote to those whom you treasure most.
I've had some questions about flour and grinding wheat lately.  I do grind my own wheat, and I use two different types of wheat.  I use a hard white wheat for our bread, and a soft white wheat in place of all-purpose flour in most of our other recipes.  I use white all purpose flour still for dessert-type cakes, but we do use the whole wheat from the soft wheat for our coffee cakes, muffins and some of our cookies.  If you don't own a grain mill, you certainly can purchase already ground whole wheat flour.  We are using the whole wheat flours more and more in our home for health reasons as we try to get further and further from processed, refined and artificial ingredients.  This is something we are doing, primarily, for Will, but the health benefits extend to the rest of us as well.
The grain mill I use is a Whisper Mill
(which is now known as a Wonder Mill).  My wonderful husband worked many, many hours of overtime many, many years ago to surprise me with this household servant.  I've been trying to remember how many years ago it was purchased, but I believe it is about 15 years old.  It has served me faithfully over the years, grinding all of our wheat and even beans for various recipes using ground bean "flour".  It's the only mill I've ever owned and I will gladly replace it, should it ever wear out, with the same brand.
There is a bit of difference between all-purpose flour and "bread" flour.  The primary difference is that bread flour, or those flours sold specifically for bread machines, have a higher gluten content than all-purpose flour.  The gluten is important in helping your yeast breads to rise and to have an appealing texture when baked.  If you want more information, you can check out this link.
The sun set.  The porch lights went on.  The guys kept working.  They were soooo close to having the floor
of the porch built.  And they did it!!!  It's so beeeaauuuuuuteeeeeful!  The railings still need to be done, of course, and we do still need to paint the siding that went up and take care of a few more details; but we have a front porch!!!!!  I am so excited, thrilled and proud proud proud of my husband!  This project took him way out of his comfort zone, but he built a beautiful porch for us, almost twice the size of our old one.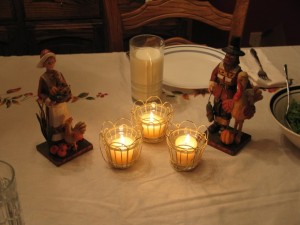 Are you remembering to set your table for your family creatively every night?  I've not remembered every night, but I have remembered every night, so far, this week.  Our table last night was set with three small candles and a pilgrim couple moved, temporarily, from the coffee table in the living toom.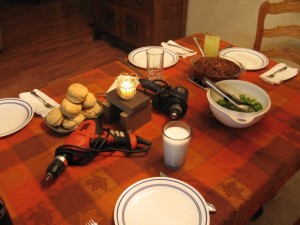 Tonight, I brought in three scraps of the Trex material that our porch is built from and built a platform for a  single small candle.  On either side of this, I placed my husband's and son's drills!  Looking around for different ways to adorn the supper table is fun!  We had a late supper because the guys all came in exhausted and dirty.  They all showered and the boys put on their jammies before supper.  They looked so comfy at the table!
Take the time to set the table for your family.  We do use cloth napkins every meal every day, but even if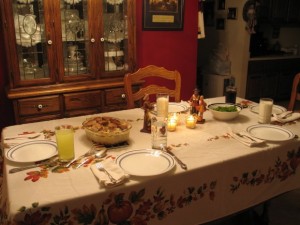 you  use paper napkins, they can be folded and placed nicely on the table either under the fork or on the plate.  Serving utensils can be arranged attractively, too.  We use the microwave to just soften our butter for the table, and then place it on the table in a butter dish with a butter knife.  Little touches to let your treasures know that you care, and that they are worth the effort.  My husband liked tonight's centerpiece of Trex decking and electric drills!
Lord willing I'll be able to put up two recipes for you late
this evening as well as a Library Builders post for  Thanksgiving books for children.  However, my evening is very full of many, many treasures.  My own children, of course, my wonderful husband, but also the three oldest grandbabies are here while Corin & Rob attend a meeting (baby girl, of course, needs to be close to her momma still).  What a wonderful end to the day!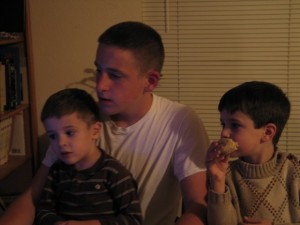 God bless you as you look well to the ways of your household!
Proverbs 31:27