Denise asked me about making big, as in tall, fluffy biscuits when we met at a homeschool conference last July.  I told her I used Bisquick (which is true), and she was hoping for a healthier alternative. I love the ease of making biscuits from a mix, and love using my own healthier alternative to the commercial biscuit mixes to get those tall, fluffy biscuits we all love. I'm not saying that this is extremely healthy (I do use some all purpose flour in my mix, and there is Crisco in it); but I like my homemade mix.  I know exactly what is in it, and my family loves the things I make from it!  Works for me!
I've been making big biscuits for a long time.  The trick is in the rolling (or lack thereof), and in letting the dough have a brief rest.  Handle your dough as lightly and little as possible to keep your biscuits fluffy and light.  Too much handling will make them tough.  This recipe only makes 6 – 7 biscuits, but it can be doubled successfully.
COPPERSWIFE'S MILE HIGH WHOLE WHEAT (mostly) BISCUITS
3 cups of my Homemade (mostly) Whole Wheat Buttermilk Baking Mix
1 cup milk
extra baking mix for rolling and cutting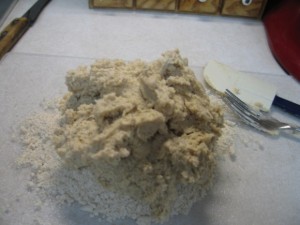 In a mixing bowl, combine baking mix and milk with a fork.  The dough will be very sticky.  Turn onto a board sprinkled with more baking mix.  Lightly knead the dough, 5 or 6 times, working in a bit of baking mix with each turn.  You should end up with a very soft, but no longer sticky, dough.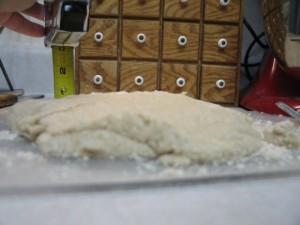 With the palm of your hand, gently press the dough to 3/4″ thick.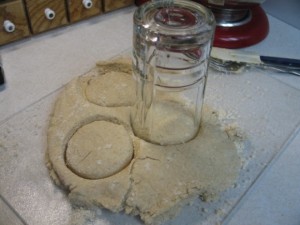 Dip the top of a drinking glass, or a biscuit cutter, into the  baking mix and cut your biscuits. Place the cut biscuits 2″ or so apart on a non-stick baking sheet (or one that has been lightly greased).  Gently reform the dough left after the first cutting, pressing again to 3/4″ thick, and cut more biscuits.  Repeat if there is enough dough.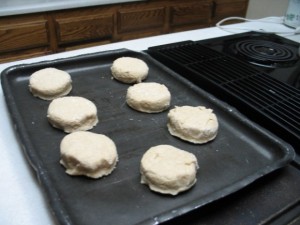 When all biscuits have been cut, allow the cut biscuits to rest in a warm spot for five minutes.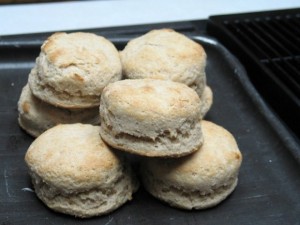 Bake at 450° for 10-12 minutes, or until golden brown.  Serve fresh and hot from the oven!