We had a quiet day.  A good day.  For me, there was a lot of reflection and thought, too.  And time for silent  prayer for those dear to me who are in need.  Praying for Eric, his wife and children, and for the medical staff overseeing his care.  Praying for my friend, Lisa, and baby Grace, safe in her mama's womb; and praying, too, for Dani while she is there and away from home.
My household tasks were completed today as usual.  I did a bit of extra laundry, working ahead a bit.  Only during this time of the year could there ever be a full load of  RED laundry!  I'm trying to bless Dani by working her laundry in with the rest of the household's so that she doesn't need to fit it in around me on Saturday.  I like the thought of doing things to bless her.  She does so much for me!
I made a tough choice this morning to cancel having Corin and the grandbabies come for our Library Day at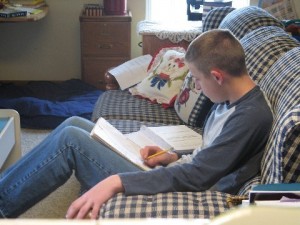 Grandma's House.  I've not seen them since last Thursday, Thanksgiving Day, and I miss them terribly.  However, my boys needed a quiet day of concentrating well on their homeschooling and focusing on their responsibilities around our home.  The fruit of hard parenting choices rightly made, though, is sweet.  My boys have both had an incredible day.  We're ending the day with sweet dispositions, proper attitudes, and the enjoyment of recreation that has been earned.  God is faithful.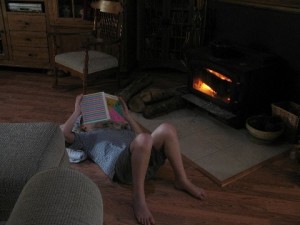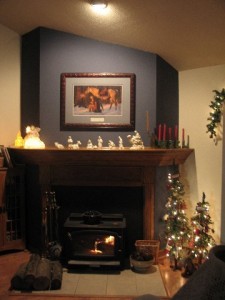 Thursday is the day that I tend to the weekly tasks in my living room, and I did so today.  My relfective mood, though, was working on me even then.  As I dusted my mantle, I thought about the objects displayed there for the season.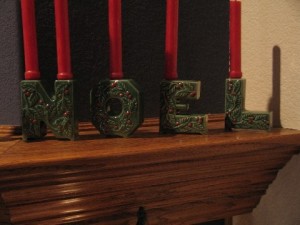 The post war ceramic "Noel" candle holders that were my mom's.  Christmas pictures from my folks' home,  from even before I was born, have these candle holders on the mantle.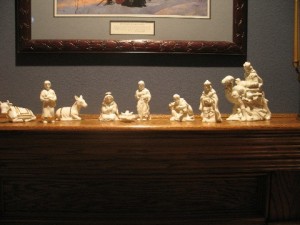 The jade porcelain nativity that belonged to my mother-in-love.  I don't remember her displaying this in her  home, but I'm sure my girls do.  They were always invited over to help Memom decorate her home for the holidays.  I remembered back to Christmas three years ago……has it only been three years?…..when Lola was with us, fighting the cancer that took her home just weeks later.  I remember the Christmas Eve that my husband took our children to his dad's side of the family's annual get together and she and I stayed home together.  It was a lovely, quiet evening, listening to beautiful music together.  She enjoyed our indoor Christmas lights and decorations so much that year!  I'm so glad that we took the time to decorate that year even though our days were filled to overflowing with not only the things of our own home, but doctor's appointments, chemo appointments, and extra visitors.  I'm glad to have the lovely white and gold nativity set, but I'm blessed to have the memories it brings!
The animated angel was one of the very first Christmas decorations that my husband and I bought for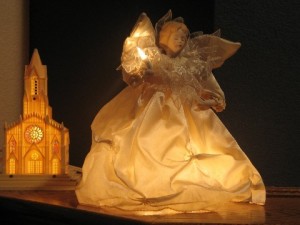 ourselves.  We had hand-me-downs and things that had been given to us, but we both saw and loved this angel.  For years she topped our tree, but these days we keep her on the mantel.  Her movement has become a bit noisy, and she groans a bit as she lights the way with her candle; but she's old.  She's entitled to a few aches and pains.  And the white church with the stained windows.  My mom always said that it was mine, but I don't know who might have purchased it for me.  She and Dad, perhaps, or my grandparents.  I'm sad that I don't know.  It has a wind up music box that played Silent Night, but the music box gave out a few years ago.  I don't remember a Christmas without the white church.
With the day's chores behind me, and while my boys read the last of their school time reading, I took a cup of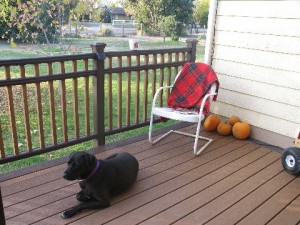 tea and a couple of books out to the porch.  I had to move my chair to keep the sun out of my eyes, but I still sat in its warmth.   I tested out the porch rails and they are adequately wide to hold my BIG cup.   I read some, and prayed some, and thought some.  I read a few of the short chapters in Family Practice
.  I'll share my thoughts on this book with you when I finish it.  I then settled in and read the opening chapter of Creating a SenseSational Home
.
A good book can be read over and over again.  A good book should be read over and over again!  A work of fiction can be enjoyed through the years in multiple readings, but a non-fiction book can inspire with each reading as though it were the first reading every time.  I've come to expect that from this book, much as I have from Hidden Art.  As I read I thought about what was written, and realized afresh how important my role as homemaker is in my home.  Since I've read this book several times before, the idea of caring for my family by incorporating all five of our senses into my homemaking wasn't new to me.  And yet…….
……and yet, the author's words touched me and caused me to think, "You may not be able to control all of the sights, sounds, smells, tastes and touches you or your family encounter outside your home, but you can have tremendous influence over the astmosphere inside your home and how you stimulate the senses.  The color paint you choose, the tone and volume of your voice (OUCH!), the fragrance of the room, the table you set for dinner, the firmness of your mattress, the food with which you fill your pantry – all of these are simple choices you can make to influence your home in a positive way."  (The "OUCH" was mine!)
We can do so much in this regard, whether we are just starting out in life or whether we have been homemakers for decades.  It's all in your outlook, ladies.  If you look around your home and see only the walls that need paint, or the flooring that is worn through, or the couch that is sagging in the middle, then you need to correct your vision.  Your home, your life, is a gift from the Lord and it is what He has given you for this season of your life.  What can you do to use what is in your hand to make your home lovely?
All five of your senses are necessary for living life.  Use them!  Learn to enjoy them!  Better yet, learn to employ them in your homemaking!  Can you re-arrange things for a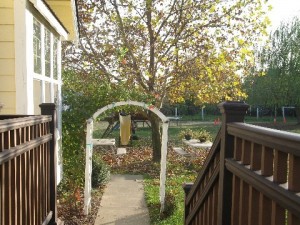 fresh look?  Can you light a scented candle, or put a pot of simmering potpourri on the stove to bring a lovely scent into your home?  Can you offer a hug or a back rub or a good back scratching to a loved one?  How about putting on some soft, plesant music to sooth through sound?  Baking a batch of yummy spice cookies doesn't take long, but the taste buds of your family would be so pleased!  It's not hard, but it does take some thought.  I spent some time out on the porch, sipping the last of my tea and basking in the sun's warmth, doing just that.  Thinking about my home and what I might do with what is already in my hand to make it better.  Pondering.  Reflecting.  It was the order of the day.
With Dani gone and the boys diligently working into the afternoon, my house was quiet and so was I.  Quiet  physically and quiet in my heart, allowing the Lord to speak gently and quietly to me as I sought His will for the upcoming year – for my family, for my home, for homeschooling.  His quiet voice brings peace and comfort and joy as I begin to write down plans for the coming year.  Renewing my energy for necessary projects in my home.  Inspiring me for the new skills that this old gal would still like to learn.  Reminding me of what I know to be true about our method of homeschooling, even though it is not written down in any book or shared as a "method" at any homeschooling conference.
Will was right back into Naturalist mode late today.  He put together his cool bug habitat
and brought in some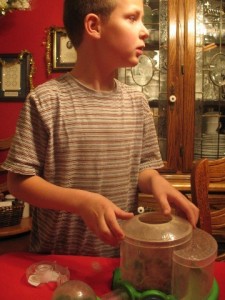 more critters.  Yesterday's catch was, humanely, released last night; but he'll be able to keep these safely for a day or two in the habitat.  Worms, slugs and sow bugs…..right there on my kitchen table atop my festive red tablecloth!
A day of homeschooling and assigned chores, necessary work for the family, not just busy work, followed by plenty of time for well-earned recreation.  A boy will fit it with good things so long as some restraints are placed on the not-so-good things that might keep him indoors.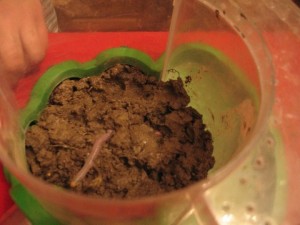 Nothing says lovin' like bugs on the dining table!  I long ago learned to stifle the shudder and allow my little guy to have his nature finds in the house.  We won't even talk about the night that three, THREE, millipedes escaped.  We never did find those rascals!
My quiet day is ending with an equally quiet evening.  My husband and oldest son have gone to a men's study at church, Dani is away, and that just leaves the little naturalist and I at home.  Well, us and the worms, sow bugs and slugs.
I'm looking forward to some knitting and some reading while I wait for the big guys to get home.
God bless you as you look well to the ways of your household!
Proverbs 31:27