Legolas/Cheryl:  Final count, forty-two!
Gimli/Dani:  Forty-two?  Oh, that's not bad for a pointy eared elvish princling.  Hmph!  I myself am sitting pretty on forty-THREE.
Legolas/Cheryl:  (Takes out fly swatter and swats fly that Gimli/Dani is hovering over) Forty-three.
Gimli/Dani:  He was already dead!
Legolas/Cheryl:  He was twitching!
Gimli/Dani:  That's because my fly swatter was still EMBEDDED IN HIS NERVOUS SYSTEM!
The fly wars continue here, non-stop, without let up.  No cease fire in site.  No chance for detente.  In fact,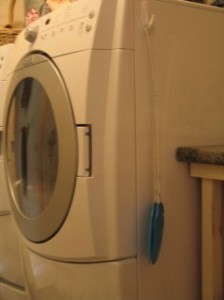 though you might THINK that the lines from Lord of the Rings – The Two Towers were posted merely for fun, you would be wrong!  Dani and I actually had the count going this morning, counting off the flies as they fell…..and our counts were very near Legolas and Gimli's.  Ugh!!!  FLIES!!!!  At this very moment, another is buzzing around my head.  I cannot imagine what it must be like for the people who actually live in the vineyards where these things are breeding right now!  Everything in the kitchen needs to be covered with dishtowels to keep the flies out.  They are on the windows and on the doors.  They are on the ceilings.  They are on the ceiling fans.  They are on the tables and they are on the floors.  If history repeats itself, which of course it does, this annual plague of flies will run its course very soon; but it won't be soon enough for me!
William had a tough night last night.  He developed a very dry, barking cough and got very wheezy.  He's never had asthma, though I have it and Aaron did when he was younger; but he sounded very asthmatic last night.  We got some decongestant down him and fired up the vaporizer
.  I checked on him an hour later, and he was better, though still awake.  An hour after that, he was sleeping but still sounded wheezy.  I kissed his sweet forehead, tucked the covers all around him, and prayed for his breathing.  My husband checked on him when he got up a couple of hours later and the boy was still a bit wheezy.   He woke up this morning feeling, and sounding, just fine!  I'll start the vaporizer tonight when I tuck him in and hopefully we'll all have a good night's sleep.
Dani was home until between 1:30 and 2:00 today, and then she left to spend the next few days at Lisa's. 
Before she left this morning, she made the cookies for our Sunday fellowship lunch, wrapped them and put them in the freezer.  She dyed some turbinado sugar red, yellow and green and dipped the cookies in that.  They are absolutely beautiful, and very autumn-y!  She took the last pan full to Lisa's to share there.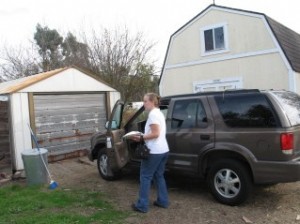 When she took Sunday's cookies out to the freezer, I asked her to bring in one of the rolls of frozen cookie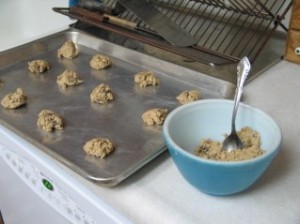 dough I made last Saturday.  It thawed quickly on the counter, and then I baked a couple dozen cookies for the boys and I to enjoy at tea time this afternoon.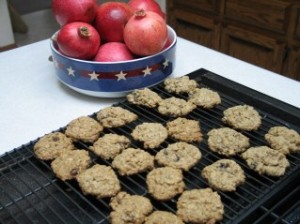 I worked on my daily tasks, laundry and homeschooling until Dani left.  I wanted to not get so involved in stuff that I couldn't visit just a bit with her before she left.  Later on, I did my weekly chores for Wednesday and Thursday.  Wednesday I tend to things in the parlor, which I skipped yesterday, and Thursdays I do the dusting, webstering, etc. in the living room.  The bit of doubling up today took only about 10 minutes extra.  I finished everything up before our tea time/ read aloud time.  The boys and I enjoyed two chapters of Penrod
and Aaron and I laughed ourselves silly through both chapters!  It's hard to read out loud when you are laughing at the same time!  Aaron and I were up for more, but Will needed to move on.  Today we went with Will, tomorrow he'll need to sit for one more!
I was surprised this afternoon to find that William had read all of the books that I put into his homeschool basket in early September.  I've already begun the process of re-filling his basket with new books.  Besides math, handwriting, and a wee bit of very basic grammar and spelling, we cover all of the subjects in the grammar school years with living books.  I simply pull a wide assortment of books from our Heritage Library shelves, put them in his basket, and he reads.  There is a bit of structure for some of it.  He is reading about Italy and the western region of the United States for geography.  His history reading this year revolves, mostly, around early U.S. history.  Other than that, the other subjects cover a wide array of topics.  I LOVE refilling his reading basket!
I finally finished my shawl last night!!  I haven't been working on it much lately, but decided that I needed to ge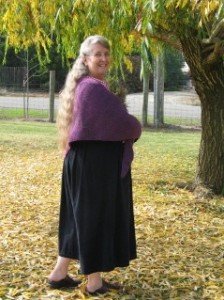 t it finished this week.  I think I would have preferred it just a bit longer, but I did make it plenty wide to wrap all the way around my shoulders and cross over in the front to keep me warm outside.  I was ready to move on to another knitting project, though, so I'm happy with it just the way it is.  I'm planning on making up a few more cotton dish cloths, mostly in Christmassy yarn, for my own kitchen as well as for gifting to others.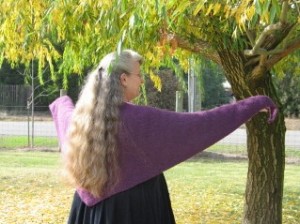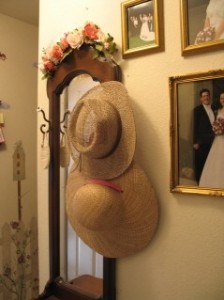 The shawl was finished in a timely manner.  Our morning was warm, but towards afternoon the clouds rolled in and the temperature dipped.  I closed up the house mid-afternoon because it was getting so cool, and the ashes from our morning fire were stirred and new wood loaded into the stove.  I changed out the things we keep on the hall tree by the back door, stowing my sun hat and Aaron's straw hat away until spring, and hanging my new shawl by the back door ready to grab the first time I needed it.  Little did I know that I'd have to grab it this afternoon when I went out to collect eggs!  Brrrrr…….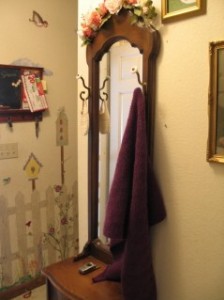 Tomorrow I plan to finish up the monthly/quarterly/etc. chores in my parlor, entryway and front hall.  I got quite a bit done in the parlor on Tuesday, but the rest of my list is still waiting.  A long list always looks so…. so……well, LONG!  I've found, though, that if I just start in on it, the tasks on my list are quickly worked through and finished in no time at all.  Isn't that always the way?  We look at the work before us with such dread, when in reality the whole of it can be done in just a very short time!
I much prefer to face down my giants, put my day's work behind me sooner rather than later, and then find some other productive things to do with my time.  That's my plan for tomorrow and Saturday.  If I can work quickly through the tasks that need to be done, I may find time to make up some more breads, muffins and/or cookie dough for my freezer stash.  I might be able to cut out my corduroy skirt.  I might be able to work on the aprons I owe my daughters.
Aaron and Copper are off to a men's book study tonight, which leaves just Will and I here at home.  Dani usually does the after dinner clean up, but it falls to me this evening.  I think that once the kitchen is done, and my other evening tasks are behind me, that I might have Will bring me a couple of books to read aloud.  Just the little guy and me, and a couple more oatmeal cookies from today's baking.  It sounds great!  I'm off to make it happen!
God bless you as you look well to the ways of your household!
Proverbs 31:27