You know, I'm not hugely technologically savvy, but I didn't just fall into the 21st century either.  I've got to tell you, though, this whole wireless thing is just amazing to me.  I'm really going to love it!  Dani has been helping me get things set up, and she has shown me a couple of things to do.  She did a great job yesterday of getting the router installed and set up.  We were actually all up and running for a bit before it all came crashing down, which necessitated that lengthy call to technical support.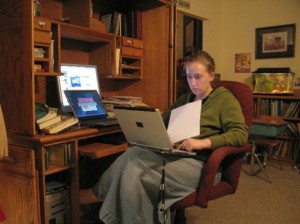 I had to snap this picture of Dani last night.  She's sitting at the desk with the big computer, her laptop in her  lap, and my laptop next to her on the desk….flashdrive plugged into the laptop laptop transferring data from one machine to the next……the paper with the security codes propped up against her………….working on connecting all three at the same time.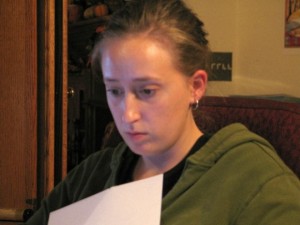 I thought it was pretty funny, but she certainly did look intense!
My little laptop was bought a few years ago to be just a good tool for me to use for keeping my planner and calendars, homeschooling lists and records, homemaking lists and records, etc.  We didn't buy with the idea of using it to do what I'm now using it to do, but it's hanging in there pretty well!  Every now and then I get bogged down if I'm trying to do too many things at once (what is it with me and multi-tasking?!?!?), but for the most part it's getting the job done.
My boys helped their dad some today with the wiring on the front porch.  You know, we do try to live quite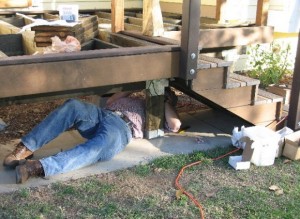 frugally, and even the porch building is a frugal endeavor with my husband doing all of the work himself.  On the other hand, living frugally does allow us the flexibility to do things nicely when we are finally able to do them.  For example, my husband is installing some very low wattage lights on the stairs and on a few of the posts on our porch.  This is, in one respect, a safety issue.  We have had guests stop by unexpectedly after dark, and out here in the country, it can get really, really dark!!!  Having these low voltage lights installed on each step and then a few on the porch itself will make that less of a safety hazard.  At the same time, I think it will look lovely lit up for a few hours every evening.  The low voltage transformer has a timer that we will set to come on at dark and then turn off around 10:00 in the evening. 
The wiring and installation of the lights has taken a lot of time, but in the long run, we will love having these lights on our porch for many, many, many years.  I'm still amazed at the way the Lord worked out the necessity of replacing the porch at the same time as the funds were made available to buy the materials and during a time of year that the weather has made it easy to be out working in the sun all day.  He is so good to us!
I've been busy today with many little things.  Laundry, picking up and straightening here and there.  We're having French Toast for breakfast tomorrow morning, so I made two loaves of Honey Bread
in the machine.  Dani took Aaron to the orthodontist this afternoon and picked up a new iron for us.
My wonderful, beautiful brand new Rowenta is broken.  It has an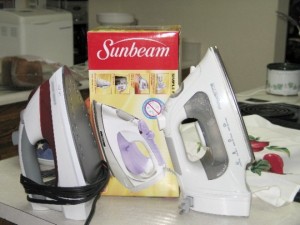 automatic shut off feature for when it's left on but is not in use.  The problem is, the silly thing shuts itself  off while it is being used and then won't come back on!  I will take it to town tomorrow and package it up and send it, via UPS, to the warranty repair place.  In the meantime, I ran into WalMart and bought a cheap Black & Decker iron.  It needs to go back. That thing!  On the cotton setting it scorched one of my favorite cotton blouses.  The only setting that doesn't scorch, is too low to produce steam!  Consequently, I have only ironed things as they were absolutely needed, which has resulted in a huge pile of clothing needing to be ironed.  I asked Dani to pick up a bit better iron today to get us through until our wonderful, beautiful Rowenta is repaired and returned.  She bought a Sunbeam that looks very much like our old iron.  It should work just fine.
So, tomorrow I will be back to my tried and true incremental approach to catching up on the ironing.  I will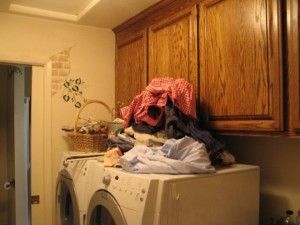 begin tomorrow with the clothing from the day's laundry.  This is the logcial starting point because they will be less wrinkled than the clothes that have been in the pile.  I will count how many pieces I have from tomorrow's laundry, and then will take more from the pile to make a total of ten pieces of clothing.  I'll do the same every day until I'm caught up again.  Though the problem of a broken iron (or two) has resulted in a backlog (again), I'm not discouraged.  I know that my incremental approach will get things back in order while still allowing me the time to keep the rest of my household schedule intact.
While I'm talking about products…..I want to revisit the ECOS line of products.  I still use and love my ECOS laundry detergent
.  I buy the big bottle at Costco and feel that it is a very cost-effective, and yet natural, alternative to the Kirkland laundry detergent I'd been using.  I've been asked a few times about how much I use, using fabric softeners, etc.  The amount of ECOS I use depends on what I am washing and just how large my load of washing is.  I do have the really large capacity front loader, which holds about twice what my old top loader held.  If I have a full load of clothing, I will fill the soap cup of my washer to the "max fill" line.  If the load is smaller, I use less.
At first I was sort of bummed about using so much detergent, until I realized that it was still a lot less than I used of the non-high efficiency detergent.  Using a soap cap full for what amounts to two regular loads of laundry is still a huge savings.  On the other hand, if I'm washing a full load of towels, I still only use a half cup of the detergent or there are far too many suds!
I do not use a commercial fabric softener.  My friend Kendra told me that she used plain white vinegar as a rinse agent in her washer, so I gave it a try.  I like it!!  And no, there is not even a trace of a vinegar smell in the laundry when it comes out of the washer.  I just fill the fabric softener cup in the washer with vinegar the same way I would with fabric softener.  Now, while the vinegar does a great job of allowing the water to rinse all residue out of the clothes, and while it does soften them, it does not give the same softness as a commercial (chemical) softener.  It also does not help much with static electricity in synthetic fabrics when they are dried in the dryer.  Drying things on the line works great, however!
After having such wonderful success with the ECOS laundry detergent, I bought some ECOS dishwasher detergent to try.  I wanted very much to like it.  Opening the dishwasher door to a lovely lavender scent was wonderful.  Knowing that there was no bleach or chemical residue on my dishes was a great thought.  However, after using it for several weeks, our dishes had a horrible film on them.  The glasses, of course, were the worst, but even the plates and silverware began to show signs of residue.  My pretty stainless pots were filmy.  In truth, it was gross!  However, I was determined to use what I'd purchased as it was just a bit pricey.  One day, though, I noticed that the bottom of my dishwasher looked weird.  When I investigated further…..ugh!….there was a layer of greasy, brown residue in the bottom of my dishwasher!  That was the last straw.  The ECOS dishwasher stuff was dumped and I happily switched back to my Costco brand dishwasher detergent!  In just a couple of cycles, the dishes were back to normal and the inside of my dishwasher was clean.
Well, ladies, I have not had as productive a day as normal.  I've spent far too much time figuring things out on this new wireless system and my laptop and not nearly enough on my home!  I'd normally be pretty bummed about that, but I do know that in the long run this will be a time saver for me.  Taking the time today to get everything set up and running smoothly is time well invested in the long run.  I took care of all of my dailies, but just touched on my Tuesday weekly jobs.  I can double up a bit tomorrow to be all caught up again.  And I do have that new iron, which will allow me to make a dent in the backlog of ironing that has piled up.
I'll have a recipe to share with you later this evening, and tomorrow I'll have some library builders for you along with a "bits and pieces" post.
For those of you who have been faithfully praying for my friend, Lisa, she had some very encouraging news from the doctor today.  She is officially at 28 weeks and the doctor is now optimistic that baby Grace will remain in the womb until she is full term!!  I'm praising the Lord for this wonderful news!  Of course, the doctor does still want Lisa on complete bed rest for another five weeks.  Lisa's children are thriving in their homeschooling, and she is spending tons of time reading aloud to them.  I hope you will remember to lift Lisa up in these next few weeks as she continues in bed.
God bless you as you look well to the ways of your household!
Proverbs 31:27