I came up with this dish on a whim while I was making up my menu plan the other day. Seasoned, browned pork chops cooked in the oven over a dish of old-fashioned scalloped potatoes (just like Mom used to make). Comfort food at its finest! This doesn't take a lot of time to put together, but I love that it bakes for about an hour and a half. It's nice to have that extra bit of time in my home to tend to a few last things before dinnertime, or to put my feet up and read while dinner cooks.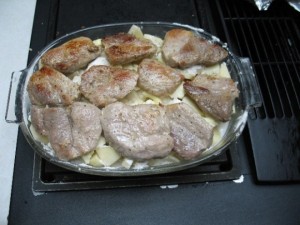 (This picture was taken before cooking.)
 PORK CHOP AND POTATO DISH
Make up a batch of my mom's scalloped potatoes. While you are working on peeling and cutting up the potatoes, brown enough pork chops* for your family in a bit of oil in a skillet. Season the chops with plenty of garlic salt, fresh ground black pepper and a wee bit of chili powder. Brown the chops on both sides in olive oil.
Once the Scalloped Potatoes have been assembled, place the browned chops on of the potatoes. Cover and bake at 350° for one hour. Uncover and bake 15 – 30 minutes longer, watching that the chops don't get overcooked and dry.
*In the markets in my area, pork chops are usually quite pricey. However, I can often buy small, boneless pork sirloin roasts for a really good price. That's what I used for this dish tonight. I simply sliced the roast into slices about 1/2 inch to 3/4 inch thick, and used them in place of the chops.