We had a wonderful Monday, full of lots of errands and appointments, visiting with extended family, a bit of shopping, and laughing until our sides hurt over dinner!  It didn't start out to be that sort of day, but that's how it turned out.  What a sweet day, spent with my treasured family.
We started out with dental appointments for the boys this morning in the big city.  Dani decided to drag along with us rather than stay home alone, and I'm so glad she did.  The boys were quickly in and out of their check ups, and we were off to pick up a couple of things from Copper's Dad who lives just outside of downtown.  Unfortunatley for us, we had been expected later in the day and his dad had gone out to run some errands.  We visited briefly with Grandma Meg, who blessed me with a beautiful arrangement for my front porch for the Christmas season.  (I'll share a picture with you soon – it's fabulous!  Thanks again, Meg!). She also had some wonderful books for our kids, which they love.  She then invited us out for an all-you-can-eat salad & pizza lunch at a near-by pizza parlor.  What fun!  We didn't know until we were there that she had already had her lunch!  We had a lovely time visiting and were just finishing up when Dani waved, said, "Hi, Paw Paw" and then jumped up to hug him.  Copper's dad had found us!
We stayed and visited while PawPaw had his lunch, and then we all went outside to admire Paw Paw's new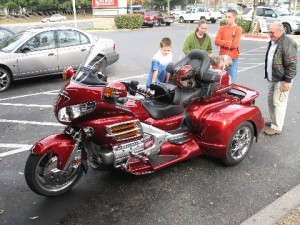 ride!  Isn't it a beauty?  He's had a Honda Gold Wing trike for a few years, but recently sold the older one for a new model.  Wow!  Now, hang onto your hats girls…….I've already told my sweet husband that I will definitely ride behind him if a trike is in our future!  Remember, ladies….if your husband loves it, you should love it, too!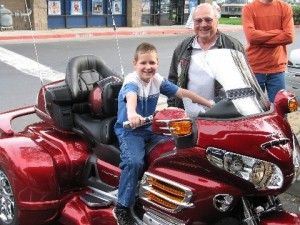 We had a few things to return and/or exchange at a couple of different stores, and we did this in PawPaw's part of the city.  New territory for us, but we got 'er done.  We had a rather large, but necessary purchase to make today, too.  You know, sometimes, hand-me-downs do come to their natural end; and poor William!  He's had the mattress that's been in our home for I don't know how long, even though his brother had a new one a couple of years ago.  We just discovered that he's been sleeping in a ball in the very center of his bed not because it was warmer, but because there were springs poking him in the other parts of the bed!  Poor little kid!  We were not able to buy the mattress at the discount warehouse where such purchases are usually made, but we found one that didn't quite break the bank that will be delivered tomorrow.  Turns out we drug our utility trailer all over town today needlessly.
We got home late in the afternoon, and my husband went to work hanging up the outside Christmas lights.  The daylight gave out before the job was quite done, so he'll finish up tomorrow. 
We've had frost every night this week, so Aaron has been covering the citrus.  Do you see this tree?  My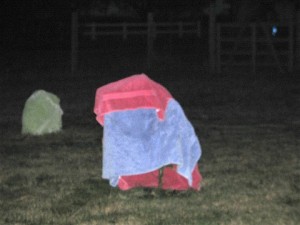 sweet across-the-road neighbor, Kay, as well as my own husband, have both seen this tree covered this way and thought it was me working out there!!!!  Hmmmmm……….I look like a covered up grapefruit tree, apparently.  Me thinks I need to work on my posture a bit!
Pizza was on the menu for dinner, but we had just had pizza for lunch.  My husband said, don't make it, we'll have burgers.  We have a small town just to the south of us, and we headed there for a quick dinner.  Two meals out in one day!  I'm livin' high on the town, don't you think?  I don't know what it is about that particular little fast food place, but every time we eat there (which isn't very often) we end up laughing until we cry.  Over nothing in particular, but just enjoying one another's silliness.  Tonight was no exception!  The risen-once pizza dough is wrapped tightly and in the fridge.  We'll have our homemade pizza tomorrow night.
Monday night is Dani's dinner night, and she did a lovely job fixing the table up for our supper tonight!  It's a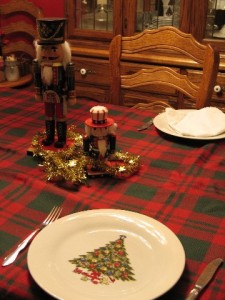 shame we didn't sit down to enjoy it!  She brought a couple of my small nutcrackers to the table, draped a bit of garland around them, and set the table with my thrift store Christmas dishes.  It was lovely!  Are you remembering to be creative with your table for your family?  It doesn't take much effort.  Dani simply moved a couple of decorations from the living room to the table, and opened up the hutch to pull out the Christmas plates. Mrs. Schaeffer's idea
was not to create elaborate centerpieces, but to simply grace your table creatively with what you have in your hand, or what you might be able to gather from just outside your door.  It's not hard.  It doesn't take much time.  It does require that you give it some thought, though.
Which brings me to the final chapters of her book, The Hidden Art of Homemaking
.  I read the final chapters, Creative Recreation, Clothing, Integration and Environment, while the boys and I stayed home on Sunday.  The clothing chapter was a wonderful read for me, especially in light of the inspiration I received while attending the big craft show with my family several days ago.  Mrs. Schaeffer wisely reminds us that we can offend others and even discourage them from being open to the gospel by our manner of dress.  She gives very convincing evidence  of this from the experience of missionaries.  There is much more in the chapter – modesty, really "considering" the "lilies of the field", and thinking about making some of our own clothing.
Her chapters on Integration and Environment are equally good and thought provoking.  If I've not enticed you in these last few weeks to search out a copy of this book to read, I hope I can encourage you to do so now.  If you can find a copy within your budget to purchase, this is a book that is worth reading again and again.  I have read it several times, and will continue to do so every couple of years.  Each reading brings new ideas!
I want to share just a bit, though, from the Creative Recreation chapter.  This chapter gave me so many great ideas….the ideas were not all so much things that Mrs. Schaeffer actually shared, but what her words inspired me to think of on my own.  And that is at the heart of what she wants us to do, my friends.  We need to think about our own families and how we might bless them creatively.  Creativity doesn't cost a dime.  Of course, you can spend money being creative, there are plenty of crafts stores to prove that; but it is not necessary.  The Creative Recreation chapter of Hidden Art
got me to thinking, and as I thought, several ideas came immediately to mind.
There are two aspects to Creative Recreation……first, it can mean recreation that stimulates you to fresh ideas and creativity.  I think back to the fishing trips we took this past summer, and how refreshed and inspired I was to new ideas and projects while relaxing under the trees in the forest, hearing only the birds in the trees and the rushing of the river.  Second, and this is what I want to focus on tonight, creative recreation can mean recreation "which is the result of original ideas, creative because someone has creatively planned an evening, a day, an occupation which in itself is fresh and different."  And you know what?  She was right!  I very much enjoyed the minutes I spent thinking of just a very few ideas for creative ways to bless my family in the near future.  It was refreshing.  I've also found that creative thought breeds more creative thought.
Mrs. Schaeffer even goes so far as to give busy moms ideas for when there might be time for such creative thought.  Scrubbing the dishes.  Folding the laundry.  Stirring the soup.  Yes, these are just minutes, but really, that's all it takes.  Let me offer a few examples of my own.
If your children are having a tough day, or perhaps the weather has been stormy and they've all developed a bit of cabin fever, your heart already longs to do something to relieve their (and perhaps YOUR) distress.  Since it's already on your mind and heart, it will be quite natural that you would think about the problem throughout the day.  However, instead of dwelling on the problem, begin to think how you might be able to change things for the better as you fold the laundry, do the dishes or stir the soup.  What would brighten your children's day?  What would cause their little coutenances to be lifted?  How about grabbing a cookie for each of them, and one for you, too; putting a blanket on the living room floor before the fire, and calling everyone together for a read aloud.  Or a sing-a-long if that better suits your family.  I'd make the cookies a big surprise by hiding them under an upturned bowl and making a big deal out of revealing them just before I started to read.
While I was reading this chapter, I remembered a dinner I used to make for my family frequently.  I can't remember the last time we had "Hobo Dinners", but they're on the menu for us this Saturday night.  Saturday is Dani's second dinner night, but I'm planning on fixing us up a "camp" in front of the wood stove to eat our dinner with the boys that night.  We'll eat our hobo dinners, hobo style, serving milk in small canning jars and sitting on a blanket.  Perhaps I'll wrap a few cookies in a bandana and tie it to a long stick for our dessert!  Cost – absolutely nothing.  Extra work – the time to spread a blanket and tie up the cookies.  Fun factor – I'll let you know!  Saturdays in my home are extra busy.  A full day of chores, and the added work of preparing for the Lord's Day.  We're all ready for Copper to be home from work for a few days.  Won't this be a fun way to end a busy day?
There are more ideas given by the author – treasure hunt meals, making visits to local museums regular occurrences rather than once-in-a-lifetime visits – and I think you'll find the inspriration to come up with ideas of your own that will creatively bless your own family.  The chapter closes by reminding us that our children are naturally creative, and inspiring us to keep that fire alive in them and not to dampen their enthusiasm for creative pursuits.
Speaking of creative endeavors, the cotton dishcloths have been flying off of my needles!  I've a couple in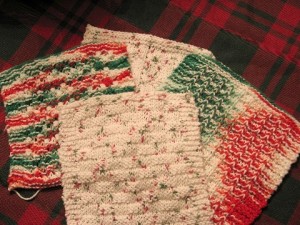 everyday colors made up, and several more in Christmas colors.  My two extra-huge skeins of cotton yarn, bought on sale at Jo-Ann months ago, are yielding a wonderful number of wonderful cotton dishcloths.  I have nine or ten different patterns I use for them which keeps it fresh and interesting for me.
I'm working on a Library Builder post for Christmas books for later this week, and I'm hoping to have at least one more this week.  I know that time is running short for those hoping to do some book shopping for Christmas, but I know that you understand that my time in my home is precious, too.  If there is a category or type of book that you are really, really needing some ideas for, please privately e-mail (or send a private xanga message) and I will see what I can do.  Again, I really do hope to help where I can, but I know you understand that I am still a wife and homeschooling mom myself.  We'll muddle through together!
The subject of an article I've written appearing in "AEW" came up in the comments today.  An Encouraging Word magazine has picked up a couple of my articles and has published them, with my express written permission, in their magazine.  These articles are taken directly from this blog, and have already appeared here.  An Encouraging Word, as well as Home School Digest, are terrific magazines that I wholeheartedly endorse (and not just because they've published a couple of my articles
).  I've subscribed to both publications for years, and I've also read and enjoyed books authored by Skeet Savage and her son, Israel Wayne.  All of their materials are available through their web site Wisdom's Gate.  I've had the pleasure of meeting Skeet, Israel and Mercy Hope when we hosted them in our exhibit hall one year when Copper and I were exhibit hall coordinators for a homeschool conference.  They are down-to-earth folks who love the Lord!  Check 'em out!
God bless you as you look well to the ways of your household!
Proverbs 31:27