Will and I had a lovely, quiet day at home yesterday.  I pampered him well by making him a bed on the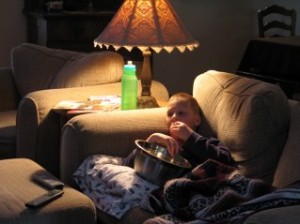 loveseat in the living room and keeping plenty of ice in his water bottle.  The cold water was soothing to his sore throat, and made drinking lots of fluids easier for him.  I watched a few shows with him that he enjoyed.  You know what?  I enjoyed them, too!  Mostly I just enjoyed being with my boy.  My husband called around 2:30 to say that they were headed home from church.  When I hung up the phone, I convinced Will to close his eyes for awhile and he quickly fell sound asleep and slept until my family came back home.  We are all very glad to have Dani back home again, too.  She joined the family at church yesterday morning, and then caravanned home with them.  She'll be returning to Lisa's later this week.
Please do remember to pray for Lisa.  She's still on bed rest and I'm sure you can imagine how old that has already become.  Lisa is doing a remarkable job, though, of looking very well to the ways of her household from her bed!  Please continue to lift her up in prayer.  Put yourself in her shoes for a moment, and then pray for whatever you know would be difficult for you.  If it would be difficult for you to endure, then it's probably tough for her, too.  That will give you some ideas for how to pray specifically.  Baby Grace is due in February.
I very much missed being in worship yesterday, but I loved staying home with Will, too.  Aaron is already old enough to stay home on his own when he is sick, and I know that the day is fast approaching when the same will be true for William.  I treasure the opportunity to "have" to stay home to take care of him.  I read quite a bit, and knitted quite a bit, and I even worked a bit on the stuff I've promised for the web site (it's coming along!).  As I said, it was a lovely, quiet day.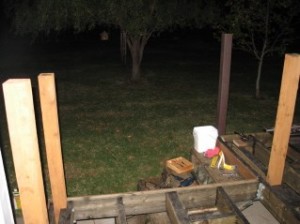 Our Monday flew by way too fast.  My husband needed to exchange some porch parts at two different places  today, and I was happy to be invited along for the ride.
That's why I leave my Monday's fairly free of scheduled chores, so that I'm available to accompany my husband on any errands he might have.  He bought me lunch while we were out, too!  We did not get back home until well after two, which only gave my husband a couple of hours of daylight to work on the porch.  He worked until dark, and then switched on the porch lights and worked just a bit longer.  He thinks that he'll have it done by the end of this month! Yee haw!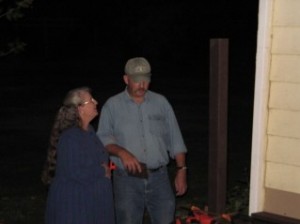 My Monday was not totally spent in the car, though a good portion of it was!!  Three loads of laundry made it
through my machines during the course of the day, and I took care of the morning kitchen routine before we left. Beyond that, it was just little things here and there for the rest of the afternoon and evening.  Aaron was given some instructions for home school, and he carried those out on his own while we were gone, and Will continued to just take it easy through the early afternoon.  Dani makes dinner on Monday and she was preparing tonight's chicken enchiladas when we came home.  She put everything together, even rolling the enchiladas and putting them in the pan, and then popped everything in to the fridge until it was closer to dinner time, which gave her some time to read and do other things before dinner.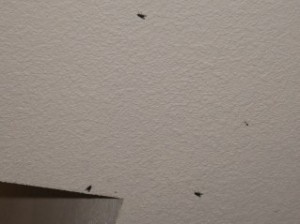 One thing we are battling in my home right now are flies!  Ugh, nasty, dirty flies!  It happens every fall, and we deal with it, but I assure you that our attitudes are not the best!  As I'm typing this now, seated at my breakfast bar/command central, I can count four flies on the ceiling above my kitchen table, and at least half a dozen flies on the school room ceiling behind me.  Yuck!  I know that it is the change of the season that is driving them in, and I know that they are multiplying like crazy in the decaying fruit in the vineyards.   I know this is all part of God's creation and that flies have a job to do.  I know all of this.  I love autumn! Despite the flies, I love autumn!  I just don't like the flies.  At all.
Will had perked up quite a bit by mid-afternoon, even spending some time playing outdoors with Aaron; but towards evening he started feeling puny again.  It's just a wee virus and it will quickly run its course.  It just hurts a momma's heart, though, to see her babies not feeling well.  Will's eyes just always show it when he doesn't feel good and they are showing it tonight.
In the wee small hours of the night last night, Dani and Will came into my room.  Now, I'd thought I'd heard the dark barking just before that, but I do wear ear plugs and when I woke up enough to really listen, I didn't hear anything.  I went right back to sleep, but that's when the kids came in.  The dog had been barking (she sleeps in the house and she NEVER barks at night), and she'd woken Will up.  He'd wandered into Danielle's room, wondering if he might have something to help unstuff his nose, and so they were in my room asking.  Of course he can have medicine, but why was the dog barking????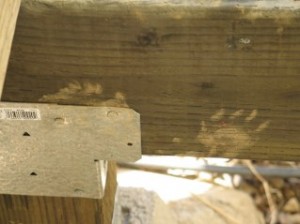 It seems that two very large raccoons had discovered the cat's food, up on a slender ledge of our still-under- construction front porch.  They were up and down and all around, making quite a racket, while they were helping themselves to the cat's food.  Apparently one of the raccoons thought that the service he was getting at our home was not quite up to par, so he started banging on the screen door!  Dani's room is next to the porch, so she heard the entire ruckus.  She turned on the lights, but that didn't even phase those big old 'coons.  She opened the door and hissed at them, but they still were in no hurry to leave, though they did meander off into the dark.  Bad old things!!!!  By the time I heard the story and got up, they were long gone, but there are some good-sized 'coon handprints about the place! Dani's first hand account is here.
Poor Miss Meow, it's not bad enough that she has to balance on a beam to eat, now she needs to eat quickly before the wildlife makes off with her dinner!
I started and finished one of Deb's waffle knit dish cloths yesterday.  I had just a bit of the blue cotton  yarn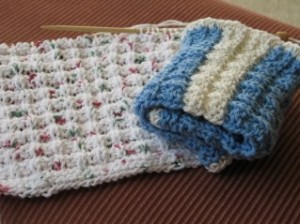 left, which I combined with some cream, for the striped cloth.  I like the color combination very much.  Dani put a nice single crochet edging on it for me last night.  She took pity on my laboriously trying to do it myself.   I started another one, this one in a pretty, white-speckled Christmassy cotton, and had it about 3/4 done by the time my husband and I got home from our errands. This is a quick & easy pattern, easily memorized, which makes it perfect for taking along in the car.  I'm grateful to Debbie for sharing it on her blog.
I promised that I'd try to share a bit about things I do to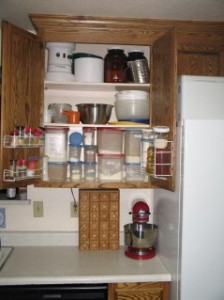 help keep the food bill under control, and also some things that I allow to be budget busters.  One thing that is helpful is to keep a pantry of the things that your family uses regularly.  The size of your pantry is going to depend on several things – the size of your family, the amount of space you have available to store things, and the way that your family normally eats.  I would encourage you to try to set aside some space to keep a pantry.  If space is at a premium, you might need to get creative. My mom's pantry was in a cabinet in her garage, and that's where Corin's pantry is, too.  I'm fortunate to have a small pantry just off my kitchen, but I also have an outbuilding not far from my house that allows me to store buckets of grains, flour, etc., as well.  I also utilize my baking center to house my containers of oft used baking supplies.  I know women who have turned a closet in a spare bedroom into their pantry and others who have utilized the space under their own beds.  Look about and see if you can't find a small space, or two, that you could use for a pantry.
Keeping a pantry allows me to wait for sales to buy many of the things that we use on a regular basis. When I find a really great sale on something we use regularly, I buy by the case.  If you have some freezer space, you can do the same things with fresh meat and even produce.  Don't forget to use the same principles for buying toilet paper, toiletries and the like.  For years and years, I used this pantry system and it worked wonderfully.  Unfortunately, a few years ago, we had a few things happen that upset our balance a bit, and the pantry was depleted and not re-stocked.  I've been working for some time now on getting back to this great system.  By and by, it's coming back together and we are beginning to enjoy the benefits.
I do buy store brands, and I do so happily.  There are only a couple of things that have been sub-standard with my store's brand, but there have been several that I have actually found to be superior to the name brands.  For the most part, I find the store brand to be equal to the big name brands.  Watch out, though, because some times loss leader sale prices on name brands will cause them to fall below the store brand pricing.
I do not clip coupons.  I know that many gals do, and that they save a bundle.  Several years ago I knew a gal who was a couponing queen and she shared her secrets with several of us. For my family, clipping and redeeming coupons and mail in offers is not cost-effective. Remember, not all systems, deals, etc. work the same for every family. Couponing is not something that works for my family, but I know that other families benefit greatly from coupons. If you want to learn more about couponing, you can learn from the best here
Keeping a price book is a vital tool in keeping your pantry, whatever its size, stocked.  If you know that at least once in the last six months that a local store has sold tomato paste 10 cans for $1, then you know to buy them when they reach that price again.  The idea is to buy only when prices are at their very best, and to use your pantry stock in between those good sales.  Be sure that you always put your new purchases to the back of the shelf, and use the oldest product first.  We've found it helpful to actually use a black marker and write the month and year that a product was purchased right on the can or package.
Buying in bulk is also helpful.  Now, I know that not everyone is able to use up a 50 pound sack of oats in a reasonable amount of time.  However, many large, discount grocers have bulk food sections that allow you to take advantage of the bulk food pricing, and yet only buy the amount you actually need.  My deep discount grocer has a huge bulk foods section that sells everything – spices, baking supplies, candy, pasta, cereal, soup & muffin mixes, even tea bags – and you may purchase as much or as little as you want.  They also offer an even better deal to those who wish to purchase by the bag or box that they fill their barrels from.
It's also budget friendly to plan meals that do not revolve around having a large portion of meat at the main course. I liked the comment from my friend LulasHardt to consider meat as side dish rather than the main dish.  We have meat here most every night, but we try to stretch it.  Tonight, for example, we had chicken enchiladas.  If we'd just had chicken breasts on the menu, we would have cooked five, one for each of us, and they would have been gone in one meal.  Dani cooked just three chicken breasts for the enchiladas, and we have half a pan still left for lunch tomorrow.  Tomorrow night's marinated London Broil will be sliced thinly, and served on our dinner plates.  I will purposely hold back about half of it to use in the stroganoff later in the week.  Of course, some folks have dietary restrictions that require a diet that utilizes more protein and less carbohydrates, but thinking of their meat course as a side dish and not the main dish can still help stretch their food dollar.
Budget busters come in many forms at my house.  Letting my pantry or freezer run completely out of something that we use regularly means that I'm having to buy at normal store prices to replace it.  Going to the grocery store without a list ruins me every time!!!  Same with going to the store when I'm hungry!  Running out of milk or produce between our normal shopping trips can also break the budget because running in "just for milk" means traipsing all the way to the back of the store and passing everything else along the way!  Asking Copper to stop for milk on his way home is better, but it almost always guarantees that he buys ice cream, too.  Wait a minute.  I say that like it's a bad thing.
Pre-packaged anything is something that used to bust my budget on a regular basis – be it cookies, noodle mixes, instant mashed potatoes, whatever; but cooking from scratch rarely busts the budget.  One huge benefit is that cooking from scratch, using wholesome ingredients, is always the best nutritional choice for your family.  For my own family, we choose to do this even for those times when the monetary cost is a bit higher.
I have enjoyed hearing how all of you did against the USDA schedule, but I do have just a few closing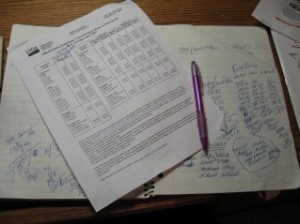 comments about that.  First, I think that, perhaps, some of you did not make the necessary adjustments for the size of your family.  Unless your family consists of exactly four people, you needed to either adjust the amounts up or down by a given percentage.  See footnote #3 at their site for the exact instructions.  Also, the adjustment needed to be made for each individual, and then the adjusted amounts for each person were to be added together.  For example, when I looked at the amount for the various members of my family, I had to subtract 5% for each of us, and then add those adjusted totals together for the family total.
Also, the schedule assumes that your entire family eats all three meals at home, seven days a week, for the entire month.  No McDonald's lunches out, no Starbucks, no lunch out with your husband, no school or at work meals, no dinner at Mom's, no ice cream cones on the way home.  So, if your totals were really low, but you enjoy several meals and/or snacks out a month, your total reflects those times that you have eaten out.  I'm not trying to scold anyone, we enjoy a meal out , too; and I love treating myself to a Starbuck's drink once or twice a month.  I just shared that my husband took me out for lunch today, and my husband eats several meals a week at work.  Just keep all of these factors in mind as you make your comparison…..
…..and just one more thing.  Ladies, we need to be very careful and not become prideful with our homemaking.  Working to be as frugal as we can is a good thing.  Being good stewards of everything that the Lord gives us is good and right.  It honors our hard working husbands when they know that they can safely trust in us.(Proverbs 31:11)    It's fun to share with one another how we're doing, and I don't want to discourage that in the comments.  I treasure your comments, and we can all learn something new from someone else.  Just be very careful.  Examine your own heart.  Is this an area of prideful boasting?  Are you secretly proud of the fact that you are "doing better" than your sister?
We need to guard against envy, too.  It is far too easy to think that "if only we had what she has" how much better we could feed our families, or beautify our homes, or clothe our children.  Be very, very careful!  The Lord blesses each of us differently and according to His good pleasure. When you envy another, you are not only guilty of covetousness, but you are also guilty of pride.  Pride in thinking that you know better what you should have than the Lord does.
I am so pleased that tomorrow will be a full day at home, all day at home, tending to things here.  A full day of home schooling with my boys, including all of our precious read aloud times.  A full day of working on keeping my home.  I do look forward to being back in "the groove" of things here after a day or two away from it.
God bless you as you look well to the ways of your households!
Proverbs 31:27