I have to laugh when I hear women say, "Oh, I couldn't be a full time homemaker or stay at home mom.  I'd be bored to death, and I just don't know what I'd do all day."
I can't imagine NOT being a full time homemaker and stay at home, home schooling Mom!  I certainly have plenty to do all day, every day, and I am never bored.  Being bored is the fault of the person who is bored anyway.  My mother-in-love used to say, "Only boring people are bored." I love that!
The Lord gives me plenty of work to fill my days.  Not too much.  He knows, in His infinite wisdom, how much is appropriate for me.  When I feel there is too much work, I always find out later that it was my own fault for taking on things that the Lord has not planned for me to do, or for allowing my priorities to get out of order. It's up to us, however, to decide how we will look at the work we have to do.  I choose to look at all that is before me every day as a labor of love for my family, and I try, as I go through my day, to do the tasks set before me as though I were doing them as unto the Lord.  It brings me such contentment, and even joy!  Serve the Lord with gladness! (Psalm100:2)
My Will is feeling some better.  He has a nasty cough, but I know he's feeling better because he is finding plenty of mischief to get into!  I carefully structured most of his day….allowing him a bit of quiet reading time, mixed with just a bit of home schooling.  Sick kids at my house spend their one hour of afternoon quiet time on their beds, and quite often their ailing bodies will fall into a nice nap. Will didn't fall asleep today, but he did spend the hour reading quietly on his bed.  Tomorrow, Lord willing, he will be ready to join back into his full routine of chores, home schooling and free time.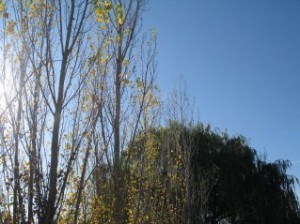 We are still without rain here, so today I did about half of my watering and irrigating.  I'll do the rest of it  tomorrow.  Rather than watering everything three times a week, the cooler weather is enabling me to water most things just once a week.  Potted plants need more water than that, of course, but not the things in the ground.  It is pleasant to go out and see the changes in the vineyard and orchard that have occurred just in the last several days since I last walked out there to irrigate.  The grapes are quickly falling dormant, and the leaves on the fruit trees are all turning various shades of yellow, orange and brown.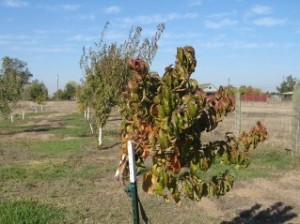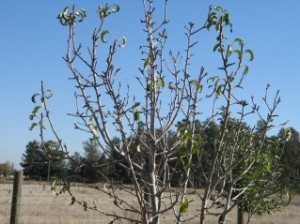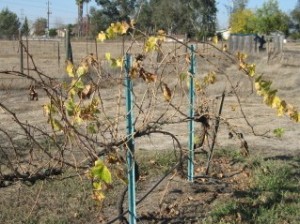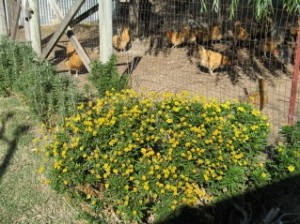 My daily chores were quickly accomplished, and it's always such a nice feeling to look back over a neatened living room, a sparkling kitchen, a freshened bathroom and completed laundry put neatly away.  Tuesday is the day that I take care of the weekly cleaning in the school room and mudroom/sewing nook.  I start in one corner and work my way around the room with the long-handled mop, covered with terry cloth, brushing down all of the cobwebs.  When I've made a full circle, I turn to check around the light fixtures and ceiling for cob webs there.  I repeat my circuit with either my feather duster or my vacuum to do the dusting, working my way around the edges of the room dusting what is against the walls, and then returning to dust the tables, light fixtures, etc., in the center of the room.  Since Dani vacuums several times a week, I don't need to follow up with vacuuming the floor when I am done.  It will all be vacuumed first thing in the morning.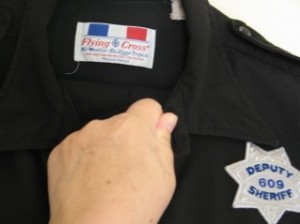 Part of my Tuesday laundry is washing my husband's uniform.  Until the last couple of years, the uniforms,  though being labeled permanent press, required ironing.  I am so pleased that the current uniform is truly wrinkle free.  I do, however, need to pay attention and pull it out of the dryer as soon as it is dry and while it is still warm. The pants are shaken out and held by the bottom cuffs, lining up the front creases, and then put carefully across the hanger.  His shirts are given a gentle shake and then placed immediately over the hanger.  As I button the top button, I use my fingers to gently "finger crease" the neck line opening to insure that it lies flat.  Listening for the dryer and then taking just a couple of minutes to get these things done, saves me from ironing his uniforms.  I don't mind ironing his uniforms, but it's certainly nice when I don't have to do it, too!  (Okay, my husband does have a REAL badge, but it is not worn in his position in the jail.  A badge has a long, sharp pin on the back and it would be very dangerous if my husband were to be overtaken by inmates and have his badge taken from him and used as a weapon.  Cloth badges are MUCH safer!)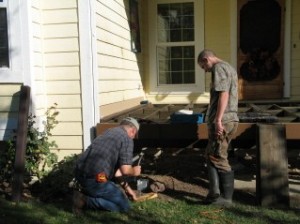 Aaron spent his morning working on school, but Copper needed him this afternoon to work on the porch.  Some things are just a "two man" job.  Will was bouncing off the walls by mid-afternoon, so I told him to get out of his jammies, put on some clothes and head outside!  I knew that the fresh air and warm sunshine would do him a world of good.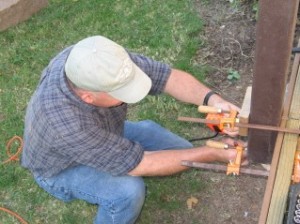 My husband got all of the porch posts in today.  He also did the trim work on the steps and finished up all of the foundation work for the steps, too.  He finished up a bit before dark so that he could attend the monthly men's meeting of our church tonight.
With the daily chores behind me, and the schoolroom and mudroom/sewing nook dusted and webstered, I opened up my list of monthly/quarterly/etc. tasks for the first week of the month.  Again, this is just a spread sheet document that I've done on my laptop.  One column lists the task to be completed and how often, and the second column is where I make a notation of when the chore was last done.  During the first week of each month I do these longer term tasks in my front hall, entry way, parlor and front porch.  Since I don't have a front porch, I have fewer tasks to look at this time around! 
One of the tasks that is a semi-annual job, is to wash the curtains in the parlor.  On the spreadsheet it is listed   like this: Take down and wash parlor curtains, November & May   That lets me know that the job is to be done twice a year, and which months.  When I checked the "last done" column though, I found out that I'd skipped this chore last spring!  No wonder the curtains are looking so dirty!  They are vacuumed monthly, but the vacuum can only do so much!
I have a silk flower garland along the top of the curtains, so I took that down first.  My future plans for this  room do not include any sort of window treatment other than faux wood blinds, but I'm not sure when we'll be able to swing a re-do of the parlor.  I want to keep things looking as nice as I can until that day.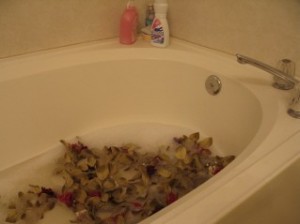 I carefully checked over the garland to see what sort of shape it was in.  It was dirty, but it really isn't faded or worn looking, and I do like the look of it over the top of the lace curtains.  I decided to fill my bath tub with some warm water and Woolite
and see if I couldn't clean the garland up a bit.  I remembered the single stems that were pinned to the tie backs, and put those in the tub, too. I left it to soak and, from time to time for the next hour or so, I'd swish the water about.  I honestly expected  the water in the tub to be filthy, but it was just a bit dingy.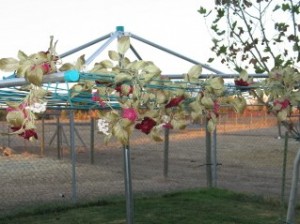 I drained and filled the tub with cool water a few times to rinse the garland completely clean, and then took it out to the clothesline to dry.  It was late in the day, so the garland will have to stay out overnight and finish drying in the morning sun.
I know that there are commercial products made especially for cleaning silk garlands, but I have very few silks in my home anymore.  The Woolite is something I keep on hand for hand washing a few things, so it seemed like a good choice.  The garland cleaned up nicely using it, and there was no fading or color loss at all.
I have a "hand wash" cycle on my washer, and I used that to wash the lace curtains. I did use my ECOS
detergent on them, and I put a bit of Clorox II in as well, rather than using the Woolite for them as I would normally.  They just looked too dirty to me!  I finished the curtains up in the dryer on the air fluff cycle, and I'll re-hang them tomorrow.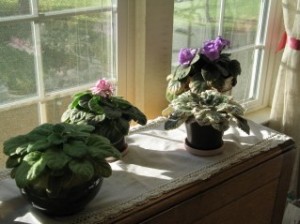 I noticed that my African violets could use a drink while I was taking the curtains down.  I watered and  fed them
all, checking each one over to pull off any dead leaves, to nip off spent blossoms and to check for new blossoms coming up.  It looks like they will all be in bloom soon.  I have two or three that have been blooming for a couple of months now, but they are still putting up fresh blossoms.  I love that these pretty little indoor plants reward me with flowers all year long, despite the fact that I'm less than diligent with their care.
It was almost dark when I remembered that I still had water running out here and there.  Though it should have run just a bit longer, I went out and turned everything off before it was too dark to see.  Changing the clocks back always throws me off, time-wise, for a week or so.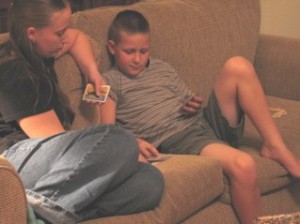 On the other hand, I love that it gets dark so much earlier.  I like that it brings my family indoors earlier in the  evening, and that time is found to play a card game or two before dinner.  I love the fact that, though the days are still quite warm, the nights and mornings are cold enough for us to have a fire in the wood stove.  When there's a fire in the wood stove, the entire family tends to gather near by.
With my husband gone for the evening, Dani and I have big plans!
Once the boys are off to bed, she's planning to make us each little individual apple crisps, and then we'll enjoy a chick-flick together. Yee haw!
My days are full, and I wouldn't have it any other way!
God bless you as you look well to the ways of your households!
Proverbs 31:27