Dani and I moved quickly yesterday.  We weren't quite moving at the speed of light, but we did work fast.    We headed to town for the mega-shop around 10:30, telling the guys that we'd be home by 3:00.  I walked right up to the teller's window at the bank, took care of my transaction, and was right back out of there.  We had a short list for Trader Joe's and that stop was quick and easy.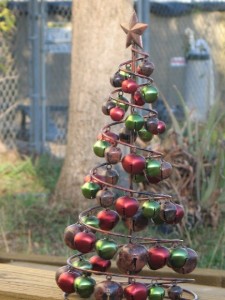 There were very few people in Target, and there were two express check out lines open, so we were in and out of there quickly.  Despite browsing through the Christmas aisles a bit.  Despite buying this for the boys' room…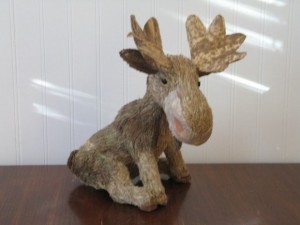 ……… and this to put by my folk-art Christmas trees that I set up in the living room every year.  He was just so ugly, he was cute!
We had a quick bite to eat for lunch, and laughed a lot while we were eating!  It was fun giggling and chatting with my Dani-girl.   As we were leaving the restaurant I said, "You know, we only have about 2 1/2 hours, but I think we might make it!"  Ha!  Famous last words.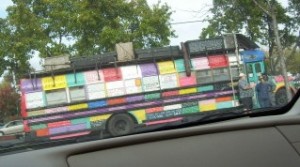 Wal Mart was a bit more crowded, and we needed quite a few things, but we were in and out of there in about 30 minutes.  Of course, I had to work my way back around the parking lot just so that Dani could take this picture for me.  Just one of the sites we saw on our trip to the city!
Then we went to Costco.  I knew the jig was up as soon as I saw the parking lot!!!  Dani had started working on a migraine, too.  Bummer.  Now, I love Costco.  I love the quality of the things I buy there, and I love the prices on staples like whole milk, 25 lb. sacks of baking supplies, butter and cheese.  I do not, however, care a bit for the product demonstraters in the store and the traffic jams they create.  Yesterday was horrid!  Dani asked if she could browse the books while I shopped and she re-joined me just as I'd worked my way past the last of the demonstraters.  She went to fetch small, odd things for me, and we met up at the check stands.  It was after 2:00.  I debated just a bit and decided we'd go for our last stop, the regular grocery store.  We sorted our Costco purchases, putting the cold stuff into the ice chests and headed out.
My favorite low cost grocery store was fairly busy, but they have wide aisles so we moved right along.  Dani went back for things we'd missed (which happens a lot since they've remodeled and re-arranged the store) and we were doing pretty well.  I knew we'd miss our 3:00 home time, but I also knew we could make our evening outing if we were home as late as 3:30.  We were in the produce section.  Dani was picking out and bagging oranges and apples, and I was selecting the rest of the produce.  I'd parked my cart to go get the celery and when I returned I heard my name called.  I looked up, and right there by the vine-ripened tomatoes was a face I've never seen in "real life", but that I knew right away.  "Hi, Susan!", I said, and then ElkGroveSusan and I hugged one another like long lost friends.  In a way, I guess, we are!  Susan and I have discovered, through our on-line friendship, that we have been in the same stores at the same time before; but yesterday we finally met, and oh, it was so much fun!!!  We were only able to chat a few moments, though.  I'm sure she was in a hurry, and Dani and I certainly were facing down a huge deadline.
You know, you want to meet someone for the first time looking your best.  But there I was, hot and tired from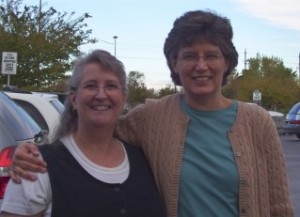 rushing through the store, my hair a bedraggled mess, and looking, I'm sure, a fright.  Susan, I'll have you know, was fresh as a daisy, and even more beautiful.  What an elegant woman!  We said our goodbyes, and Dani and I headed for the checkout.  We were almost done loading our things into the van, when we noticed Susan walking toward us.  She was parked just a bit further down the same aisle!  Well, we weren't going to miss this second opportunity, so Dani grabbed her camera out of the car and snapped this shot for us!  (This is actually the second shot, because I had my eyes closed in the first one)
We finished loading the van, and then I checked my watch – 3:15.  Yikes!  The street the store is located on was bumper to bumper, so I took my trusty, top secret short cut out the back……only to find that construction was underway and we sat and sat waiting for the big earth moving machinery to clear the way.  We walked through the backdoor by 3:35.  The van was unloaded, the ice chests unpacked, everything that required freezing or refrigeration was put into the proper appliance and everything else was left on the kitchen counters in the bags.  I grabbed my knitting
, and we were back out the door by 3:50!
We had been given passes for a pre-screening of the new Disney movie Enchanted.   I won't go into the loooooong details, but arriving two hours, or more, before the screening time is not only advised, but necessary to insure that you get seats.  We did get seats, but attending "sneak peaks" or "prescreenings" is not something I want to do very often.
I don't do movie reviews, per se, but I will tell you what I thought of this one.  Be sure to read it all if you intend to see it.  Enchanted is a delightful story, well written, well cast, and well acted.  It's a sweet story, and it was very funny.  There were some scenes near the end that might be frightening to very small children.  There were also some instances of spell casting by a wicked witch that I should mention for those that would object to that.   There was an amazingly wonderful live-action song and dance number that takes place in New York's Central Park that just grew and grew, and I know that I smiled through the whole number.  I had to stifle the urge to break into applause at the end of it, it was that good.
However, there were two instances of gross humor, several examples of inappropriately clad (or unclad) female physique, and a lot of over-the-top adult innuendo.  The sad thing is, NONE of it was at all necessary or added a thing to the story line or the movie itself.  The movie had plenty of good, clean humor, and guess what, Disney –    adults and kids do laugh at the same things!  A theater filled with both children and adults proved that last night.  It seems to me a total shame that a movie that might have found a place as a DVD in our cabinet for family viewing will not be purchased by my family because of the cheap laughs that the Disney studio thought needed to be included.  They were wrong.  And it's really too bad.
Dani left this morning to spend just a couple of days at Lisa's.  After being gone all day yesterday, she had to hustle a bit to get a few things packed and ready to go this morning.  Once she left, I got busy unpacking groceries, sorting out the things we'll need for our Thanksgiving dinner, and cleaning up my kitchen a bit.  Laundry was started right away, too; and as usual, I recycled it often throughout the day, getting four big loads washed, dryed and put away by day's end.  Since Thursday is Dani's normal laundry day, I emptied her hamper and threw her things in with the wash I was doing.  I finished up with my husband's one and only remaining uniform, getting it ready for him to return to work tomorrow.
I did not anticipate another run into town until after the weekend, but things do come up.  Dani had a book that needed to be returned to the library today (she was going to renew it on line, but there is already a hold on it).  Aaron made everyone quesadillas for lunch, and then I headed to town to return the book, pick up the dog's heart worm prevention meds, make a quick stop at Home Depot, and then to fill the gas tank on the way home.  Before I left I recycled the laundry, turned on the dishwasher and started some bread in the machine.  I might need to be away from home, but my servants can certainly be working in my absence!  I had a bit of car trouble on the way home.  It seems I have a bit of a steering problem.  I was headed straight for the gas station, but the van made a sudden right turn, and then a quick left and I found myself in the Starbuck's drive through.
My girls can both tell you that every mini van we've ever owned has had control issues like this.  I think it might have something to do with the loose nut behind the wheel!
I am thankful for so many things that make running my home easier and more efficient.  While I didn't anticipate today's trip to town, I was able to do several things on a looping route, with no backtracking.  One thing that needed to be done was to re-fill my husband's blood pressure meds and to get a second inhaler for Will before his runs out.  All of my errands today were done in the small city we live near, but the pharmacy is in the larger city further up the highway.  Instead of driving there and waiting while the prescriptions were refilled, I was able to use their automated phone system, after I returned home, to order both re-fills, pay for them via my debit card, and they will be mailed to our home in about a week.  What a blessing that is!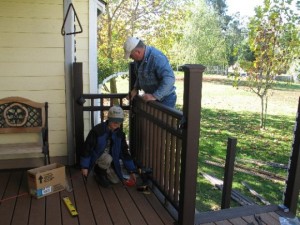 The guys have, of course, been working on the porch for the last couple of days.  The rails have proved a bit  of a challenge, but my husband just kept working diligently at it all day.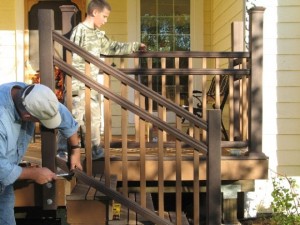 The upright part of the stair rails were particularly difficult, needing to be cut at a very precise angle, but my meticulous husband is just the guy for a job like that!  The rails are beautiful!  I'm so happy that we decided to go with a darker material for the trim and accents.  I love the look of it!
As I straightened up my tablecloth today, I  thought about some of the comments I've received recently about using tablecloths.  We've been using tablecloths since Will was a baby.  Our cloth still accidentally gets tugged occasionally during a meal, and it certainly gets scooched a bit here and there during every meal.  You know, I just remind Will, or one of the grandbabies, that they need to be careful and then pull it back into place.  It's no big deal to straighten it a bit during the meal.  And your little ones can be trained to not tug on the cloth in the same way that they are trained to not throw their milk cup, or their food.
I've had fun reading some of your menus for Thanksgiving Dinner.  Some are quite elaborate.  Some are gourmet affairs.  Some of you are only cooking the turkey and stuffing and the rest of the family is bringing everything else.  Some of you are heading to your parents' house, and you are only taking a side dish or two.  What fun!  Our dinner is very old-fashioned, and down home.  And there is always a jello salad.  Always.  Here's my menu:
Appetizers:
Crackers and fancy spreadable cheeses
Dinner:
Turkey
Bread Stuffing (lots of celery, onion, butter, sage & thyme)
Gravy
My Mom's Scalloped Potatoes
Green Bean Casserole ala Corin (she's bringing this holiday favorite this year)
Tossed Green Salad
Strawberry Jello Pretzel Salad
Dilly Dinner Rolls
Dessert:
Family Favorite Cheesecake
Pumpkin Pie with fresh whipped cream
One of my more important tasks today was to work out my timeline for preparing our Thanksgiving dinner.  My mom somehow just got a big, holiday meal on the table all at the same time, regardless of how many she was feeding.  I don't know how she did it.  She was a wonderful cook, but she did not teach me to cook, nor how to plan and prepare a big meal.  She'd rather just do it herself and she did.  I cannot, for the life of me, get everything all done, and on the table hot without writing up a plan.  However, the time spent writing up the plan insures my meal is a success.  I use the same system for any big meal that I serve.
My time line for this year's Thanksgiving includes all the things that can, or should, be done beforehand.  Tomorrow morning I'll start the dough for the rolls.  While they rise, I'll work on my pumpkin pies.  While the pies bake, the dough will be punched down, formed into rolls and allowed to rise again.  When the pies come out of the oven, the rolls will go in.  Dani will be home in the afternoon to make a cheesecake, so I've included taking the cream cheese out of the fridge to soften on my time line around noon tomorrow.  I'll also make the jello salad during the day tomorrow.
I start my timeline with the time that I want to serve my meal, and then work backwards.  I plan to serve dinner Thursday at 5:00.  If I want the turkey on the table, sliced and ready to go at 5:00, it needs to come out of the oven around 4:40, to stand for a few minutes, and then to allow my husband time to carve it.  My cooking time, then, needs to be counted backwards from 4:40.  Then I needed to factor in the time to prepare the bird for the oven and to put in the stuffing (which will be prepared a bit earlier in the day and then kept in the fridge).
I do the same process with each portion of the meal, including warming the dinner rolls and whipping the cream for the pies.  I leave plenty of spaces on my working sheet to add things in as I figure out each individual dish, and once it's all down on paper, I re-write it so that I can actually READ it!
Here's a brief sample of my time line for the meal prep that will be done Thanksgiving Day.  Keep in mind, the dinner rolls, pies and jello salad will all have been made on Wednesday.  I'm picking up my timetable at 1:00 p.m. Thanksgiving Day.  The stuffing will have already been made.  The turkey will have been washed, prepped and stuffed.  The oven already pre-heated.
1:00 – Put turkey in oven.
Take the big table to the school room and add the leaves.  Put on the tablecloth.  Decorate the table.  Set the table.
Set up the buffet table in the dining room.  Put on the tablecloth.  Decorate table.  Get all serving utensils, platters and bowls out and place them on the buffet table or side counter for later.  Put dinner plates on the buffet table.
2:00 – Bring the roaster oven
in from the garage.  Wash inside and cover.  Pre-heat to 350°.
Wash and peel potatoes.  Prepare Scalloped Potatoes, cover with foil.
3:00 –  Put Scalloped Potatoes into roaster oven.
Take butter out of fridge to soften.
Make the green salad, cover and refrigerate.
Whip the cream for the pies, sweeten, cover and refrigerate.
4:00 – Put the extra pan of stuffing into the roaster oven next to the potatoes.
4:30 – Cut the jello salad into squares, put back in fridge.
Uncover scalloped potatoes, finish cooking in roaster uncovered.
4:40 – Turkey out of oven.
Cover rolls with foil and put in oven to warm.
Call my husband in to pour off the turkey juices for me and to start carving the turkey.
Pour fat off juices and make gravy.
Have Dani start putting the salads on the buffet table, and the other dishes as they are completed.
5:00 – Potatoes, stuffing and rolls out of ovens and onto table.
Give thanks and eat!

The selection of dinner tapers (candles) was pretty picked over at my grocery store yesterday.  I wanted white.  My choice was beige or red.  Since my china has red roses on it, I went with the red tapers.  I have a few ideas for my table setting, but I need to check on the condition and supply of mini-pumpkins in the garden first.  I will definitely take a picture of our dinner table, as well as my buffet table on Thursday.   Much as I like to serve a big meal family style with passing of the serving dishes, our family logistics (and the number of little ones we have) makes it more practical to serve the meal buffet style.
I've not had as much time to read as I'd like (I never have as much time to read as I'd like!), but I have managed to read another chapter in Hidden Art
.  The chapter is entitled, Drama; and to tell you the truth, I almost skipped it this time through.  I'm sure I've read the chapter before, but when I read it the other day, it seemed brand new to me.  You see, my sister-in-law, Leigh, is an actress.  She has performed in countless plays and dramas at her church and through local, community theater.  I, however, am not an actress.  When I saw the chapter title, I thought of Leigh, and I read with an eye to maybe read something that I might be able to encourage her with.  Guess who was encouraged?
Mrs. Schaeffer reminded me of the one way that I do employ drama in my life – and that almost daily.  I use drama every time I read aloud to my children or grandbabies!!!  I use different voices for different characters.  I use different tones, read at different rates of speed and vary my volume according to the storyline.  Mrs. Schaeffer's words reminded me of the skill involved as I read aloud, letting my eyes move a line or two ahead of my voice, watching for cues to change voice, volume or speed to make the story come alive for my listeners.
Ladies, I've told you before – I've read this book several times.  It's well worn cover, and turned up corners are a testimony to that fact.  Yet, reading it this time has been like reading it for the first time.  The Lord has opened my eyes to new ideas, new ways of thinking about my role as a homemaker.  Every beautiful, wonderful chapter has been like a book unto itself to me.  In fact, I am re-reading the drama chapter now, and I have even just a bit more I'd like to share with you from it very soon.
The shadows outside grew quite long, and the few hours of warm weather we had late this afternoon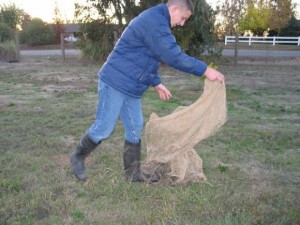 gave way to yet another cold night.  The cold air outside reminded me that I should have bought burlap while I was in town today to cover the citrus trees tonight as frost is threatened.  My husband saved the burlap bought last year, but the trees have, by God's tender mercy, grown considerably.  There are several navel oranges not quite ready to be picked, and three beautiful, big grapefruit.  We had to pull out pool towels and some extra blankets to finish covering them for the night.  Aaron dutifully takes care of this job for me on cold nights, and he uncovers them again the next morning when the frost has passed.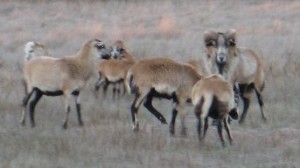 I tried and tried to catch my sheep in mid-jump while I was outside watching Aaron cover the trees.  Our big  ram had all of the yearling neutered males, along with all of this fall's little male lambs, out together doing some wrestling.  There was head-butting, and leaping and posturing of all sorts going on, all under the watchful eye of Papa Ram!  The ewes, and the ewe lambs, along with our one old, grizzled neutered male, grazed peacefully while the rowdy boys played.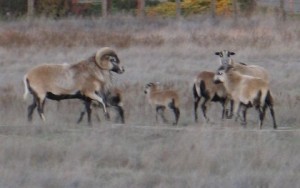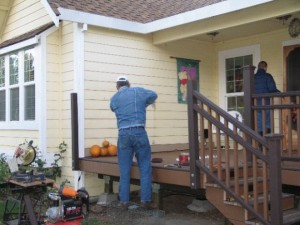 My hard working husband put his jacket back on over his flannel shirt to continue working as long as there was some daylight.  I think that he might be disappointed that the porch rails didn't get finished.  I'm not!  This has been a long, hard project that he has done beautifully!  I'm so proud of him!
I posted two recipes earlier tonight that were promised from last week, as well as the Library Builders post for books for girls.  I cheated a bit on the book post and had Dani give me a list of books she remembers as being among her favorites at that age!  The funny thing is, her recommendations are just as suitable for boys as they are for girls!  This next week I plan on a Library Builders post featuring Christmas books, and Corin will be weighing in with some of her favorites from her girlhood as well.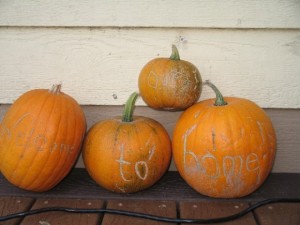 My evening was very full and I am staying up way too late!  Tomorrow is a very busy, very full day, but what  fun to be preparing food and my home for Thanksgiving!  I'll be busy, as I'm sure all of you will be, too.  I won't be around until Friday at the earliest.
I wish you all a blessed and happy Thanksgiving!
God bless you as you look well to the ways of your household!
Proverbs 31:27