Good neighbors!  We've got 'em!  I've bragged on my neighbors before, but they really are the best.  My
husband had quite a bit of extra material to return to the lumber yard, and the pieces were too long for our little utility trailer.  He walked next door this morning and came back with their heavy duty trailer, pulled by their pickup!  Nevermind that the lumber yard that we've been using is three cities away, the keys were handed over joyfully.  God has richly blessed us with these folks living close by.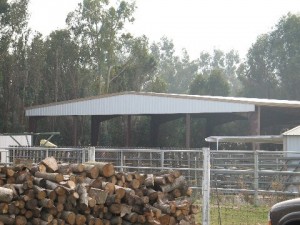 Remember all of the cement trucks that were on our property a couple of weeks ago pouring the footings for the neighbor's covered arena?  Well, it is almost done!  Here's what it looks like from the end of my driveway.  It's incredible, and it went up so quickly.  I'm just thrilled for them.  Sometime soon they will haul in several truckloads of dirt and then a top layer of sand, which will be delivered via our driveway again.  We've had so much fun watching their dream of a covered arena materialize for them.
My husband made the return trip with the lumber, and we are both pleased that the family owned and operated lumber yard was so gracious about the returns.  Nary a complaint about taking back a few hundred dollars worth of surplus lumber, hardware and trim.  Family owned and operated…..those businesses tend to be the best, don't they?
We've a little lamb that's not doing so well.  When he was born in early October, we were so thrilled with him.  His markings were quite different from the rest of the breed, and we knew within days that his vision was poor.  Yet he thrived.  He learned to keep up with the herd quite well, though he carried his head in a way that let us know that he was blind.  He's grown at the same rate as his twin brother.  When he was left behind, he would holler, listen for Mama Ewe's bleat, and then follow his ears to the herd.  As he grew, we remarked more and more frequently about his beautiful markings, and how we were excited to see what he looked like fully grown.
The little guy began failing over the weekend.  This morning he looked awful.  Dani and I went out to check on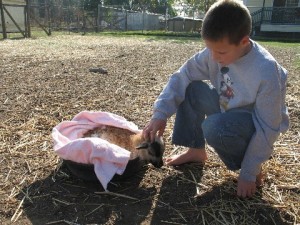 him, listening for signs of pneumonia, checking him for any sign of injury.  We found nothing.  He seemed cold, so Dani pulled down one of the black plastic tubs we use for the sheep's grain, which was warm from the sun, put the lamb in the bucket and then covered  him with a towel.  He lay out there in the sun, sleeping for quite awhile.  (The rest of the herd wandered back into their yard later, and looked at him in the feed bowl so quizzically!  It was funny!).  I called my husband on his cell phone (he was still on his way to the lumber yard), and got his okay to take the lamb to the vet.
I love the large animal clinic at our veterinarians'.  The docs are all commonsense, and yet caring, individuals.  Well, we knew our little guy was special, genetically, because of his markings; but apparently he has some neurological problems that have become more complex as he's grown.  In all likelihood we'll lose the little guy soon.  We do know, though, to watch for future lambs from the same ewe, to be sure that we don't windup with a genetic predisposition to this sort of thing running through our herd.  The vet sent us home with a few days worth of anti-imflammatory meds to give him, just to see if they might help.  In her words, "the body sometimes can fool us", but I know that the Lord is in control.  Not even a sparrow (or a wee lamb) falls without His knowledge.  Dani has a bit more detail on her blog if you're interested.
I had another wee bit of steering trouble leaving the vet's office which led me right into a Starbuck's parking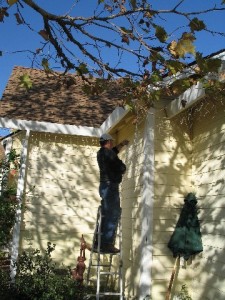 lot.  Funny how the van always seems to go out of control near Starbuck's.
One Eggnog Latte with light whip, and one peppermint mocha frappucino later, we pulled back into our own driveway.  My husband was already on the ladder finishing up hanging the Christmas lights.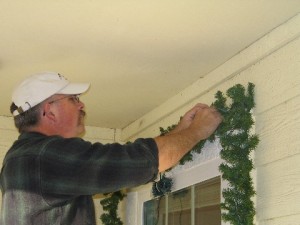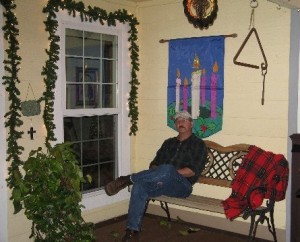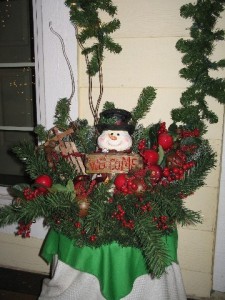 I had fun arranging things around on the front porch this afternoon.  I pulled out our pretty Red Flyer wagon  and put my little lit tree in it, arranged a couple of throws on the front porch furniture and then set the beautiful arrangement Meg gave me next to the front door.  The front porch decorations are simple, but I like it!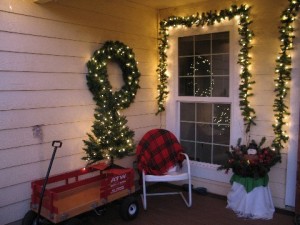 My day was full to overflowing.  Homeschooling.  Laundry.  Picking up and straightening up as I moved through my home.  Checking on my husband's progress with the lights.  Taking care of an ailing lamb.  We did a lot of dusting and polishing of furniture as we worked decorating on Friday and Saturday, so there was not a great deal of that sort of work to be done today.  I spent a lot of time knocking down cobwebs on the front porch, though.  With all of the construction going on out there, it hasn't been done in several weeks!
This evening my husband and I spent quite a bit of time doing some planning for the next few weeks.  There are several holiday traditions involving different parts of his extended family and we were planning what we would be able to host and when.  I think we made some good decisions!  In the past few years, we've had a couple of really rough Christmases health-wise.  Three years ago, my husband and I spent the entire day in the emergency room while he did battle with a kidney stone.  Last year, he had  surgery two days before Christmas and was certainly not quite himself on Christmas Day.  We are looking forward to a HEALTHY, quiet, family day this year!  I'm praying that the Lord will so bless!
We also decided that while we still hope to get the porch and front door painted before Christmas, we are going to wait and see and not worry if it doesn't happen.  Our weather has been dry, too dry; and we desperately need the rain.  Our climate is also prone to long stretches of damp fog.  Neither of those conditions is favorable to outdoor painting, so we'll wait and see.  We do have our new porch lights ready to be installed tomorrow, and if that is all that gets done between now and the holidays, then we will be happy with that!  This has been a big job, a huge job; and my husband has labored long, hard hours on his days off from work to finish the building of the new porch.  The painting can wait if it needs to.
I've been asked, recently, about not stressing out when things don't go quite as we'd planned or hoped.  You know what?  I used to stress when *my* plans blew up.  Big time!  Did that help?  Not a bit.  Did my stressing cause further harm?  Usually!  Holding your plans loosely, my friends, means allowing the Lord to do what He will in your life.  I do so hope that you younger woman can learn this without the hard lessons it took for me to learn it. Many of you celebrate the holidays with a lot of family events and plans and parties.  Well, we do, too.  I've already mentioned that my husband and I did some planning toward that end this evening.  However, we hold our plans loosely.  We leave room for the Lord to alter our plans, or to change our plans entirely.  We've spent many holidays at the bed side of ailing parents, either in the hospital or in our own homes.  We've opened our home just days before Christmas to four young sisters who needed foster care.  I've left tearful boys at home with a tearful Dani as I've driven my husband to the emergency room, cancelling plans to prepare dinner for a house full of guests.  Hold your plans loosely!
The knitted dishcloths brought up a few things yesterday.  You can use any all cotton, worsted weight yarn for these, the brand doesn't really matter; but the 100% cotton does matter for dishcloths.  My big skeins of Christmas-colored cotton yarn, which were bought in early September, are Bernat "handicrafter" yarn.  There are oodles and oodles of patterns for knitted dishcloths available without charge on line.  Something for every skill level!  I've mentioned several before, check back or just do a google search for them.
I do not plan to sell any of my knitted dishcloths, but remember that milestone I talked about reaching soon?  I might go so far as to say that some of my knitted dishcloths might be a part of a celebration of that upcoming milestone.  Yep, I'd go that far.
When the milestone is reached, there will be a celebration, and we'll invite everyone who wants to attend to come to the party.  However, as I've said before, I really and truly hope to be able to give some special benefits to those of you who read her regularly.  The only way I have of knowing you're there, though, is if you leave me a comment now and again.  I started keeping a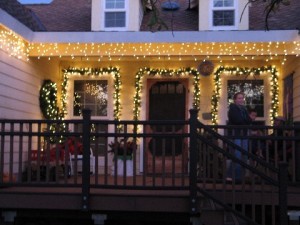 list of commenters when I first mentioned this, and I'll keep on keeping it, until the day the milestone is reached.  Hmmmm……..any idea what the upcoming milestone might be?????
Oh, dear.  The day has been full, and I had several things more to share.  Isn't that always the way?  It's grown quite late, and I really must retire soon.   It was a busy, but delightful day!   It might not look like much, written down this way, but we kept busy all day long and so many things were accomplished.   Lord willing, tomorrow will allow me a bit more time to share again.  Until then,
God bless you as you look well to the ways of your household!
Proverbs 31:27