Thank you all, so much, for your sweet compliments and kind words about our porch.  I am just so pleased with it, and cannot tell my husband enough what a great job he did!  I just love being out there.  It's quite cool here these days, but the full afternoon sun is on the porch and I sat out there and took in some rays this afternoon while I rested a bit and read some.  My imagination is full of the possibilities for the porch, and I'm anxious to see what the Lord might send our way in the way of finding things to furnish it in the months ahead.  I love the anticipation!
I have to tell you that our old house, where we lived for 18 years, had no porch at all.  There was a concrete walk up the side of the garage to the front door, and the "porch" was a 42″ concrete square, raised just an inch or so higher than the walkway.  There wasn't even room for a small potted plant next to the door!  I was content with that situation, and I did what I could to make the walkway as attractive as possible.  When circumstances developed that sent us looking for a home in the country, the idea of a porch didn't really cross my mind.  As we were driving out here for the first time, though, the Lord brought a porch to mind.  I didn't know what to do with that thought suddenly popping into my mind, so I started praying about it.  Much to my chagrin, I caught myself praying, "Lord if this is THE house, then let it have a front porch.".  Yikes!  Talking about casting your fleece before the Lord!
Well, long story short, this was THE house and it did, much to my delight, have a front porch!  There were a few other things that let Copper and I know almost from the start that we'd found our country home.  Of course, if you've read here long, you know the problems we've had with the construction of the house, and the loooooong road we're travelling to make this home truly ours, and also a home that will give Copper and I a pleasant place to live when we are too old to do all of the work that it requires now!  As we make repairs or take care of issues, we do everything with an eye toward our older years.  When we needed a new roof, we put on a 40 year guaranteed roof.  When we needed to replace a few windows, my husband replaced them all with good quality, dual pane, insulated windows.  And when a new porch was necessary, we built something that will last and give us years of use and pleasure.
We lost our little lamb during the night.  He did really well yesterday afternoon, but wasn't doing well when we saw him just before dark.  Aaron picked him up and put him into the sheep shelter where he'd be warmer and off the wet ground, and it doesn't appear that he ever left that spot.  Mama Ewe, I think, had already given up on him.  She still responded to his bleats, but she didn't hang around and wait for him when he couldn't keep up anymore.  I'm glad she had twins so that she still has a lamb to mother for a few more months.  We've had ewes who have grieved dead lambs mournfully, and I'm glad that she's not doing that.  Our little herd will number thirteen until late March or early April.
I know some of you are a bit confused about our Mondays and their, sometimes, "day off" appearance.  My husband works twelve hour shifts, sometimes a bit longer.  His commute has him out of our home from about 5:50 a.m. until 7:30 p.m. (and even later once every other week).  His days off are Sunday, Monday and Tuesday (and every other Wednesday, unless he takes an overtime shift on that day, which happens about 2/3 of the time).  Sunday, of course, is the Lord's Day, and not ours.  Our Mondays are, quite frequently, what would be for most of you a Saturday.  Dad's home.  If there are projects to be done, they happen on Monday.  If there is a family outing planned, it's usually planned for Monday.  I keep our Mondays as free from appointments and scheduled homemaking tasks as much as I can so that we are free to have our Saturdays on Monday!  We homeschool all year long, so these Mondays "off" do not mean that we "miss" a homeschool day.  I'm so thankful for the flexibility that homeschooling has given my family.
We still have not had a really good soaking rain.  My citrus trees have been holding their own in the nightly frosts, snuggled up and tucked in each evening in blankets and towels, but they were very dry.  I went out this morning and did some irrigating.  The citrus trees, the orchard and the vineyard were all irrigated.  I even turned the water on for the three weeping willows that border the sheep pen.  I'll have to do a bit more tomorrow.  The air was quite cool outside today, but the sun felt warm on my face each time I went outside.  Still, it felt nice to come back into the house.  We kept the wood stove running all day today, and the boys did part of their school work stretched out on the floor in front of it.  Of course, Will also did part of his schoolword UNDER the new porch…..dressed warmly in sturdy pants, a sweatshirt and BARE feet!
My laundry was finished up by mid-afternoon, and there was even time to hang just a few things on the line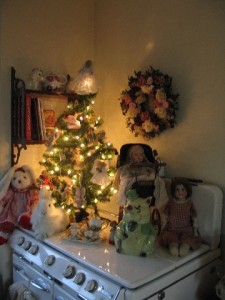 today and have them dry before dark.  My husband's uniform came out of the dryer right after lunch and was hung by the back door for him to grab on his way out the door in the morning for work.  Wednesday is the day that I tend to my weekly tasks in my parlor.  I do enjoy decorating my home for the holidays, but the trade off is keeping everything dusted and looking fresh!  This year in my parlor I have placed a Victorian inspired tree on my mom's old stove, surrounded by antique dolls, a doll carriage, a few stuffed animals and my granddaughters' wee china tea set.  My mom's baby coat hangs from the oven handle, and my antique child's desk sits just in front of the stove.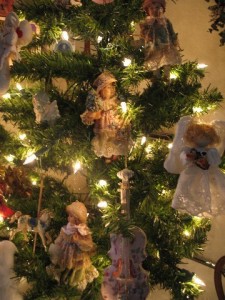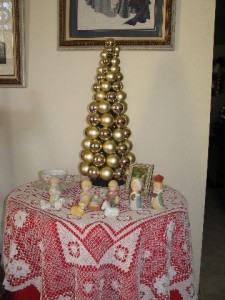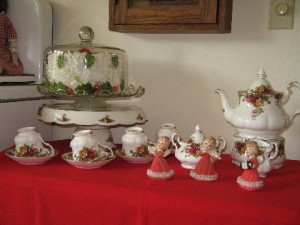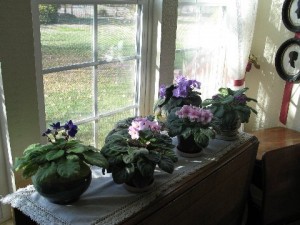 My African violets look so pretty blooming in the parlor windows!  All six are blooming (though one, technically, is still just at the bud stage), and I gave them each a quarter turn.  It takes only a few seconds every morning for me to turn each little violet a quarter of a turn to the right (clockwise) so that they receive the light evenly.  It keeps them from all growing in one direction towards the windows, and makes for a prettier, more symmetrical plant.
This is the fourth Wednesday of the month,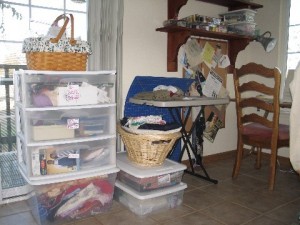 and the areas where I do my longer term cleaning during the fourth week of the month are my living room, school room, mudroom/sewing nook and back porch.  A good portion of the monthly-type tasks were accomplished on Friday and Saturday.  It was just natural to polish furniture and clean a bit more thoroughly as the fall things were being put away and before the Christmas things were put out.  There is still plenty to do, of course!  Last month, Dani was in the middle of a sewing project, so I didn't do too much in the sewing nook.  It's not too bad back there, but the top of my little drawer unit was quite a mess, and the little table needed some attention.  Why on earth are William's socks in the middle of the floor????  I dunno!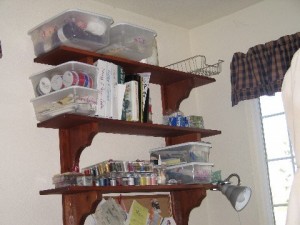 Some things in the sewing nook have been bugging me.  For one thing, the biggest tubs on the shelves were on  the top shelf.  There was a large tub of pre-washed fabrics, as well two slightly smaller tubs, one for fabric scraps and the other for interfacings, pattern making material, etc.  They aren't opened as frequently as the smaller tubs on the lower shelves, but having them on top made things look top heavy and awkward.  And talk about awkward – check out the giant cob web on the air intake in the ceiling!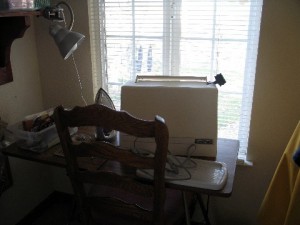 The sewing table was in pretty good shape so I started there.  The iron was put back onto its holder in the  near-by closet, the lid was put back on the small box of sewing notions, and then it was put back onto the shelf.  I gave the table and the machine cover a good wipe down with my spray and a cloth.  Down on my hands and knees, I wiped down the base boards behind the machine table, the machine table legs and the legs of the small  utility table.  With my damp cloth I wiped down the window sill behind the machine and then that nasty cobweb hanging from the air intake overhead!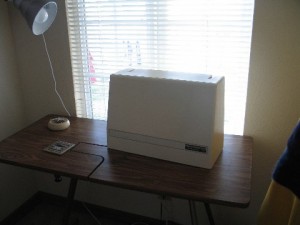 I pulled the tubs down and decided to put them on the floor.  This still isn't the best of arrangements, but it's
better.  The big fabric tub fit nicely under my little set of plastic drawers, and it raised them up just a bit so that they're easier to get into.  The other two large tubs sit between the drawers and the little table. My large cutting mat sits behind the little table, and it's always bugged me that it flops over.  It just looked untidy.  Today it dawned on me to push a bit of it in behind the pin board there.  Voila!  Worked like a charm!
I wiped down all of the shelves and moved some things that aren't used very often to the top.  I put some things away, and straightened and cleaned as I went.  The only thing on the table now is a skirt I need to replace the elastic in, and a couple of pictures from a catalogue that Dani is keeping for skirt inspiration.  I am happy with how things turned out.  You can look back in the archives, if you'd care to, and see how we carved this little sewing area out in an afternoon without buying a thing.  Everything we found to use was already here in our home.  Someday, perhaps, I'll find some better storage alternatives, but for now, this works!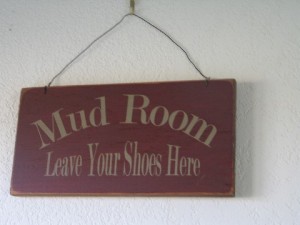 This really and truly is a mud room, too.  This is where the guys come in after feeding and caring for the  animals.  In the winter, the floor, and even the walls, can get pretty mud splattered.  In all fairness,  I should show the wall of the mud-room/sewing nook that still serves the original function.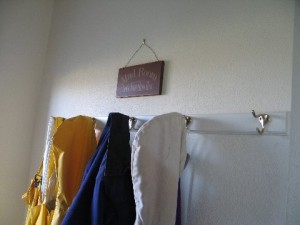 All of the work jackets and rain gear are hung and ready to go.  Just under the coat rack is a rug with the dog's food and water bowls on it.  Still, this little nook makes a nice, sunny sewing nook despite its original purpose.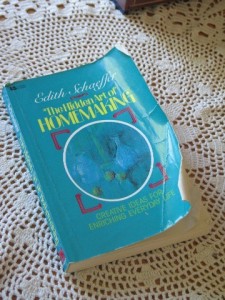 I made myself a cup of tea and headed to the front porch to read a bit this afternoon.  Just a little bit of rest and refreshment before putting the roast in the oven and doing the day's ironing.  I was sad to put Hidden Art of Homemaking back on the shelf.  It's been such a delightful read this time around.  You can see how well-loved this book has become, and yet I glean something new from each and every reading.  I spent some time this afternoon starting another frequently read book – Creating a SenseSational Home
.  It seems I enjoy reading this book every year during the cold weather months.  It's been in my current reading basket for awhile now, but I just opened it to read again today.  I love the way that Mrs. Willits reminds us to decorate our homes not only to appeal to our sense of sight, but to also take into account our other four, God-given senses as well.  I took Family Practice: God's Prescription for a Healthy Home
out to read as well.  I started this book a couple of months ago, but it hasn't been out of the basket for awhile.  In fact, I pulled my book mark out of the center of the book, and started it anew this afternoon.  I loved this quote from the book's editor, Dr. R.C.Sproul, Jr., "Andrew Lytle argued that the American family was destroyed not by Hollywood or Washington, but by central heating.  Before its advent, families stayed together by the fire.  You could either have peace and warmth, or bicker and be cold."    Perhaps that is why we prefer heating our home with just our wood stove instead of turning on the heat!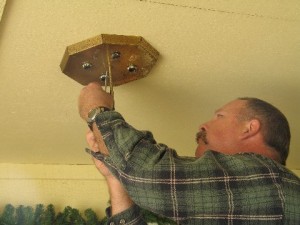 My  husband hung up our new porch lights today.  The old ones were falling apart when we bought the house,  and finally came crashing to the floor a couple of years ago when we had the roof replaced.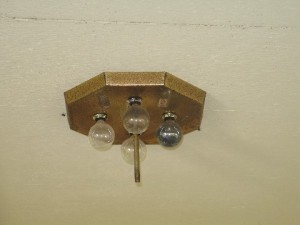 We've left them that way, just bare bulbs without globes ever since.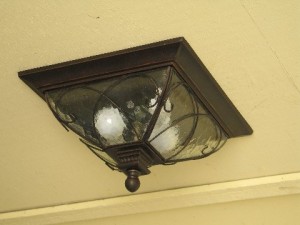 The new ones are so pretty, but then, I guess anything would have been an improvement.  I think these look nice with the color of the porch boards, and have just enough of the right rustic/old-fashioned feel to suit me.  He spent the rest of his last day off cleaning rain gutters.  What a guy!
The neighbors did pull down the fence again today and the same two dump trucks brought load after load after load  of soil to form the floor of their riding arena.  I'm glad that it was too cold to have my house opened up, because they left quite a cloud of dust in their wake everytime they left!  Dani moved the little car that Eric & Lisa have loaned her to use to travel back and forth to their house so that the trucks could access the neighbor's property from our driveway.  In fact, she moved the car all the way to Lisa's house this afternoon!  She'll be helping out in their home again for a few days.  I expect her home late in the day Friday.
I am not a Charlotte Mason homeschooler.  I don't, honestly, follow any one "method" of homeschooling, but rather I have gleaned from many methods, over the years, the things that work best for each of my children.  My boys both have nature journals, and we have, on the rare occasion, done some sort of organized nature study together, culminating in the boys sketching their observations in the journals.  It was okay, but it just wasn't us.  My boys, however, have both been known to pursue nature study on their own.  The key is in giving them enough free time outdoors!  Aaron's forte has always been discovering and researching tracks and scat, both of which are in abundant supply around here.  In fact, I bought him a book on those items
which he has used a great deal in identifying critters that have left evidence of their being on our property behind.
However, of all my children, William is the real naturalist.  Given the opportunity for outdoor exploration, he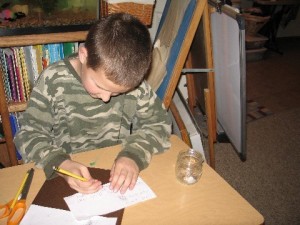 has amazed us with what he has found.  I do allow him to bring his finds, living, dead or otherwise, into the house.  He has two full to overflowing baskets of fur, feathers, nests, rocks, shells, skins and teeth.  Today he went outside with a jar, moved a few rocks and brought in an earthworm, a sow bug and a beetle of some sort.  He diligently sketched the critters onto a piece of paper. He identified them, with a little help from Copper and I, using an insect field guide
.  He then wrote some descriptions and information about his findings on the paper, too.  I reminded him of his Nature Journal, so he glued his little slips of paper into that.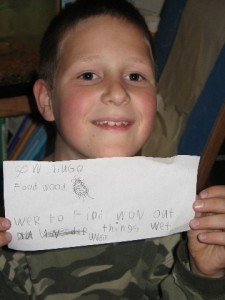 I remember, vividly, wandering through the book section of Toys R Us when my girls were younger and discovering that all of the Golden field guides were on clearance.  I bought a copy of every title  they had left, about a dozen I think, for $2.00 each.  I think Dani was probably just about the age Will is now when that happened.  The field guides have been used a lot over the years, and they are still being used today!  If you ever make a great find like I did all those years ago, be sure to snap them up for your own Heritage Library.
I popped the roast in the oven around 4:45, and then pulled ten articles from my ironing pile.  With the holiday it's been slow getting caught up with the ironing again.  I miss my Rowenta iron!  I hope it's back from the shop soon.  Still, the little Sunbeam is a good second, and I am at least able to enjoy ironing with it.  I ironed a couple of pieces and then started the Basmati rice pilaf, and then finished up the ironing while that cooked.  We switched on all of the indoor Christmas lights to enjoy for the evening before we sat down to dinner.  We allow our indoor Christmas lights to provide our necessary light in the evenings.  I love it!   When I was done cleaning up the kitchen this evening, my husband and I settled in for some Christmas shopping.  Using my lap top, we were able to sit together on the couch and shop on-line, comfortabl, crowd-free, snug in front of our own fire!  That's my kind of Christmas shopping!
God bless you as you look well to the ways of your household!
Proverbs 31:27