I woke up a bit on the wobbly side this morning, and it has persisted through the day.  Will, on the other hand, is back to his old self, save for a lingering cough!  I'm thankful that my boy is back to being full of energy and fun and mischief!
I tended to the daily stuff, and finished up the watering and irrigating.  In fact, while I was watering the back lawn, I got my silk garland wet all over again!  Geesh!  Dani re-hung the parlor curtains for me this evening.
Dani is headed to Lisa's again tomorrow, so we switched laundry days so that she could get hers done today.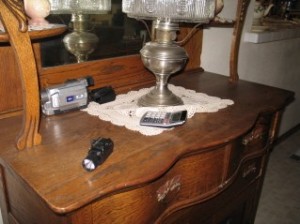 I spent the rest of the day just taking care of the "stuff" that gets out of whack around my home…..furniture gets knocked out of place, crumbs get left on the couch, toys & things get left here and there and everywhere, and books!!!  There is always a stack of books somewhere that needs to be re-shelved!  The stack in the chair is the reading that William has done while he's been sick!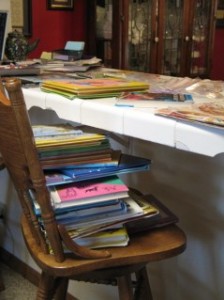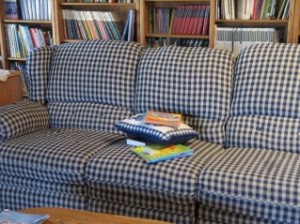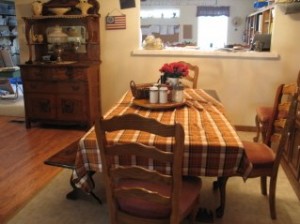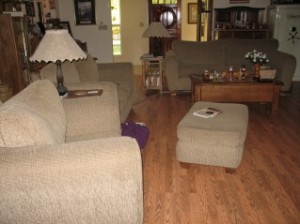 There will be, Lord willing,  two more posts this evening.  I am starting a new series for those interested in building their home libraries (better known around here as Heritage Libraries).  There will be a brief introductory post, and then the first post in the series.  I'm hoping to post these about once a week, give or take a bit; but I still intend to keep up with my "bits and pieces of my day" posts as well.
The boys homeschooling was interrupted this afternoon by some serious happenings outside.  You know,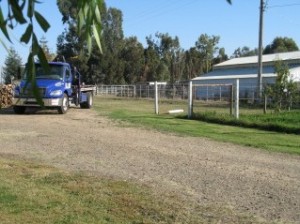 having good neighbors is a wonderful thing.  When our neighbors asked us the other day if part of our common fence could be taken down so that trucks could access the back of their property from our driveway, we didn't hesitate to say, "Yes!".  They are building a large, covered horse arena at the back of their property, but the way their house is situated, large trucks really cannot access the back.  The fence came down today, and a truck with a huge metal trench plate (to help support their little bridge across the creek) was dropped into place.  Sometime in the next few days, many, many trucks of cement will be entering through our gate, turning and then backing through the opening in the fence, and down the neighbor's side pasture.  My boys will be out taking it all in, I'm sure.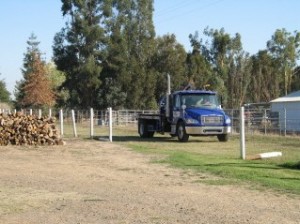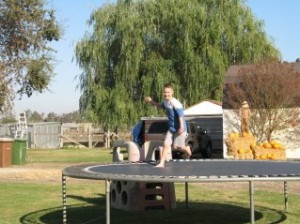 There's something about big trucks that make little boys positively giddy!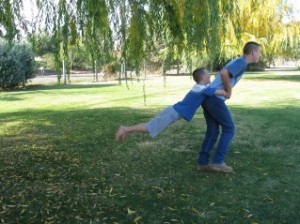 Experiments in centrifugal force were conducted on our front lawn…………
resulting in total collapse of all mass!
It was an uneventful day, and I did not get much done as you see.  Still, in all, there will be days when our flesh is ailing or circumstances prevent us from taking care of anything more than just the essentials.  My family was fed, and they were well cared for.  Child training issues were handled in a timely manner.  We enjoyed some time together outside watching the big doin's at the neighbors' house and playing a bit in the process.  God is faithful, and we will wake up in the morning with a brand new day ahead of us!
God bless you as you look well to the ways of your households!
Proverbs 31:27