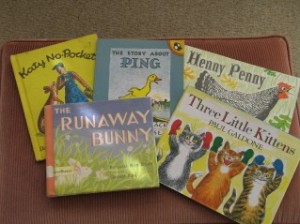 Here are five picture books for the very young that my family has especially enjoyed over the years!  They are  wonderful read-alouds for tiny toddlers, and they are stories that your children will love to hear over and over again.  They are books meant to be read leisurely, turning the pages slowly so that your child, and you, can enjoy the lovely illustrations.  As your children grow and become independent readers, they will enjoy reading for themselves these stories that have been favorites from having heard them countless times before.
One of my favorite aspects of reading these over and over again stories, is the way that children will remember a particular phrase and will "read" it out loud with you.  For example, when Will and I read The Story About Ping
together when he was still very young, every time I would come to the words, "the Yangtze river",  I would pause and he would say those three words out loud to fill them into the story.  I can still hear his precious, very young voice saying, "the Yangtze river" over and over each time we read this story together!
Your children will remember parts that they especially enjoy, and you will know that as soon as you speak the words they will giggle with glee, or they will smile up at you each and every time.  In Ping, my Will always got a kick out of the fact that the last duck to cross into the boat each night got a "spank on the back" from the boatman.  He giggled every time!!  These books are all about making precious memories!
This, of course, is by no means an exhaustive list of wonderful books for the very young, and I am sure that I will feature more books for this age group in the future.
MORE LIBRARY BUILDING BLOCKS:
Paul Galdone has quickly become one of our favorite illustrators.  Look for his name in future Library Builder posts.  In the meantime, I also recommend the following classic children's picture books for the very young re-told and/or illustrated by Paul Galdone.
For a current list of the Library Builder articles to date, please visit the Library Builders page of my web site.
God bless you as you look well to the ways of your households!
Proverbs 31:27