I'd say I was dating myself with that partial song title; but as I'm fairly certain that all of you are aware of my age, I won't say it.  The Carpenters were HUGE when I was a teen, and I can still hear the refrain, "Rainy days and Mondays always get me down" quite clearly.  While, perhaps, I was not a fan of Mondays in my youth, I've always LOVED rainy weather.  These days, with my husband always having Mondays off, Mondays are a delight, too.  Rainy days and Mondays are great around here, and today is a rainy Monday!  Yee haw!
My family is feeling much better!  Saturday night we were all pretty miserable, and my husband decided that we should all just stay home on Sunday.  We hoped that the restful day at home would help put us back on the road to health, but we also did not want to spread our virus to our church family.  We slept in until a deliciously late hour, and then had a very leisurely rest of the morning and early afternoon.  It was wonderful!  We watched two Christmas movies together, White Christmas
and my husband's all-time favorite Christmas movie, Mr. Magoo's A Christmas Carol
, while we munched on Dani's cookies.  It was just what we needed I think!
My poor laptop, on the other hand, is a very sick machine.  She's been checked into the Geek Squad hospital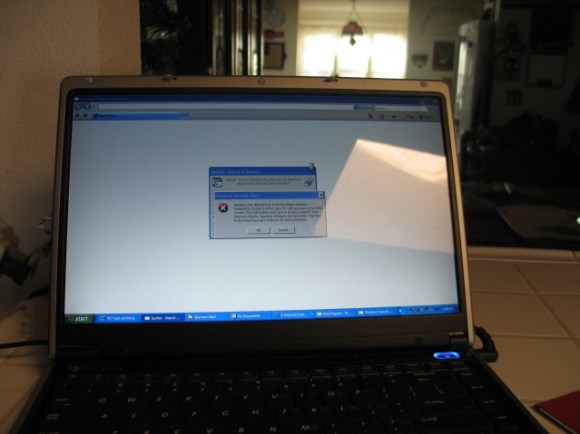 with the initial diagnosis of two trojans, at least one worm, and untold minions of viruses.  The tech kept shaking his head as he ran the initial diagnostic saying, "that's not good", "oh!  that's bad.", and other such reassurning statements!  My laptop is a very low end Gateway, so we browsed around Best Buy a bit to see if it might make more sense to just buy another low end laptop, but all the cheap ones are sold out until well after Christmas.  Even on sale, though, they were double the repair bill, so we opted for the repair.  Ideally, the hefty fee we paid in advance to clean mine up, will take care of everything.  My husband had just backed up all of my files last Monday or Tuesday, so I really shouldn't lose too much information, if any.
We have an excellent program running on our big desk top computer to protect it from Internet garbage, but we'd gone for a lesser type of protection for the two laptops when we bought the router a few weeks ago.  Until we had the router, the laptops weren't used on the Internet.  Well, there are times to cut corners budget-wise and there are times to not cut corners.  We have now learned the expensive lesson of NOT cutting corners when it comes to protecting our computers.  For about half the price of repairing my laptop, we could have purchased a good anti-virus program as well as a good Internet security program, licensed for all three of our computers.  Lesson learned!  My laptop will be in the shop for five to seven days.  I miss it!
One more word of warning……..ladies, all of this infected my laptop in the time span of about two seconds.  It was just that fast!  I followed a link, which seemed harmless enough, and a video opened that I closed just as rapidly as ever I could
.  Two seconds.  Tops.  If your computers are not adequately protected, be sure that you trust the source of the links you follow!
Dani left this morning just before 8:00 to spend a couple of days at Lisa's.  My guys were headed to town well
before noon.  My husband needed to order two new uniforms, and he and the boys had a couple of errands to do, too.  I opted to stay home and get caught up a bit on things here.  We did the mega-shop on Friday and I didn't feel up to doing much on Saturday, so there's plenty to be done here.  They left me a roaring blaze in the wood stove, and a nice pile of wood to see me through until they come home.  It was just us girls, Dixie and I, for the day!  She's really not much company, sleeping in front of the fire all day, but I like having her here just the same!  She barks when someone is on the road, and she's very grateful for every little bit of attention, pat or word sent her way.
I set to work making my bed up (after letting it air a bit), loading the dishwasher, spraying and wiping all of my kitchen counters, cleaning up the waffle iron, and cleaning the sink.  I loaded the washing machine and started it.  The kettle we keep on top of the stove was looking pretty grungy.  We have a lot of minerals in our well water, and the mineral deposits left from the evaporating water in the kettle looked gross!  I let it soak in the sink a bit with some hot soapy water while I cleaned the rest of the kitchen, and then I scrubbed it good with the scrubby side of my kitchen sponge.  Not all of the deposits came off, but it looks MUCH better.  The kettle was refilled and put back on top of the wood stove to help keep the air in my home from being quite so dry.
I have a modified schedule for my home maintenance in this week leading up to Christmas.  I'll keep up on the basics of my daily and some of the weekly chores, but I have an eye towards having everything ship-shape by Friday.  Having everything ready by Friday means that we can attend a family gathering on Saturday, church on Sunday, and still be ready to host my husband's family for supper on Christmas Eve and Corin's family for dinner on Christmas Day.  If it's all ready by Friday, we'll just have to do some basic maintenance (spraying and wiping bathrooms, light dusting, vacuuming & sweeping) to keep it in good shape through Christmas Day.  I didn't mention it, but we do our best to keep the kitchen clean all day every day by cleaning up immediately after meals, cleaning as we cook, wiping the sink out and polishing the faucets throughout the day, and not allowing too many things that don't belong in the kitchen to be left in the kitchen.
I started today by knocking down the cob webs all around my home.  This is done, usually, once a week in all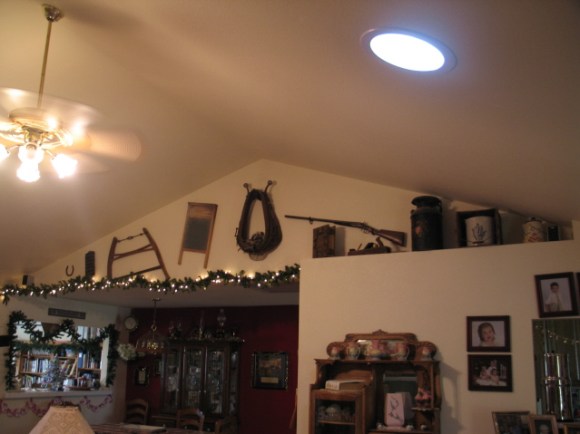 the rooms, but sometimes small cobwebs get missed.  And sometimes even big cob webs go unnoticed.  My living room has no windows and it can be quite dark on a cloudy day.  I knock down cobwebs faithfully in there once a week and still I'll see one in the evening when the lights come on.  I turned on lights in all the rooms today as I worked, and hopefully I got them all.  This wall in the living room, over the entrance to the dining room, is a magnet for cobwebs with all of our family heirlooms hanging on it.  I worked and worked over this area, but the very tippy top peak will have to be done after my husband comes home!  I use a step stool when my family is home, but I have taken a few missteps coming off the thing in the past so I'm a bit wary of being on it when no one is home!  I even ventured into the pit of despair my boys' room to get cobwebs today!  For the most part, it looks like they've been doing a good job in there.  Or maybe the spiders are just too afraid to take up residence.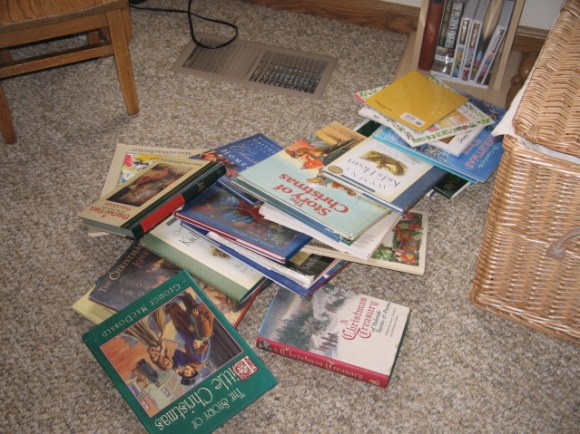 The Christmas books have never found a home this year.  They've just sort of wandered aimlessly about the schoolroom since we took them off the shelf right after Thanksgiving.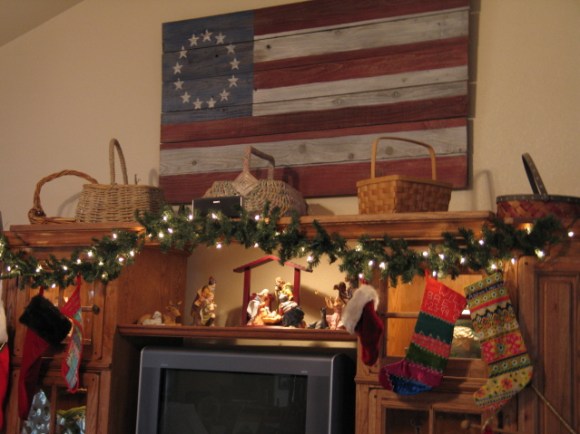 I remedied that easily enough by taking down a couple of  baskets from the wall unit in the living room.
I arranged a basket for the living room, and another for the school room.  Now, after someone has enjoyed one of Christmas books, it can be replaced in either basket instead of being dumped unceremoniously on the floor!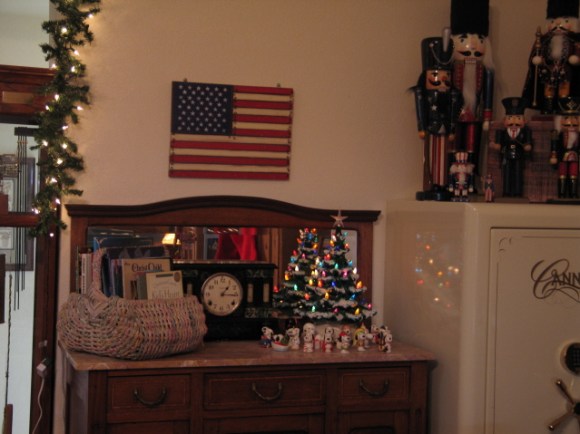 The living room basket is on the sideboard behind the couch, along with my late mom's old ceramic tree and the Snoopys I've had since I was a kid.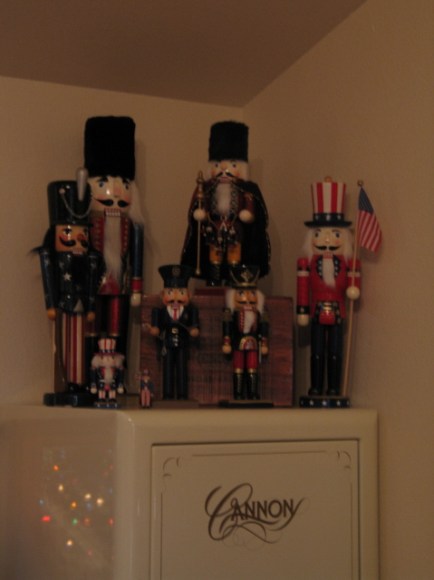 And while I'm playing show and tell, this is my small collection of nutcrackers.  I started this collection just a few years ago.  I buy nutcrackers with a blue and red color scheme.  I thought that I'd go without a new nutcracker this year.  The budget has been tight, and my husband graciously found a way for us to purchase the garland and lights for our new front porch.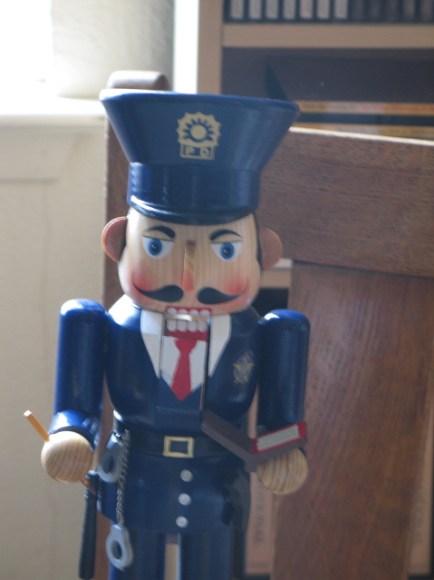 I saw this guy at Target a week or so ago when Copper and I were out doing our Christmas shopping.  Just look at him…..he's a cop!  After spotting him, we put him back on the shelf; but do you know what my husband said?  He said, "Get him."  Obedient wife that I am, I obeyed instantly and quite cheerfully, to boot!
I don't know how well all the details show up, but he has his pencil out and his ticket book open. There are handcuffs and a nightstick hanging from his belt.  Unlike my wonderful husband, this little guy is either left-handed or a cross-draw shooter because his hand gun is on his left side.  The lady in line in front of us at the check out thought he was cute, too, and asked me if I knew anyone in law enforcement.  My husband and I laughed out loud, and I said, "Yes.  My husband!".  She seemed kind of shocked for some reason, which made me laugh (on the inside) even harder.  My husband looks like a cop!  In fact, he looks very much like the nutcracker!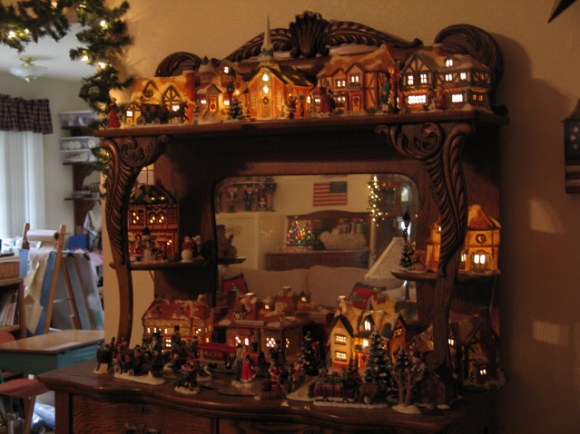 I thoroughly dusted the living room today, and that will do until we take care of the light dusting later this week and then again on Monday.  With the wood stove burning all day every day, there is a lot of dust caused from the stove opening and closing.  I have my mom's old village set up on on her sideboard in the living room, and it's very tempting to just let the dust settle here all season and call it "snow", but I dusted it today.  Aaron set the whole thing up solo this year, and I think he did a fine job.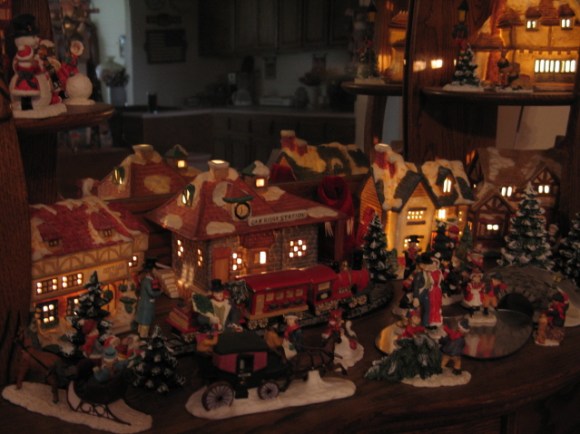 After finishing the first two loads of laundry today, I realized that I had three red tablecloths and a few red items of clothing, so I put those in together for my third load.  It didn't quite fill the machine, but it was enough that it wasn't wasteful to run that way.  Only in December do I have wash loads of just reds!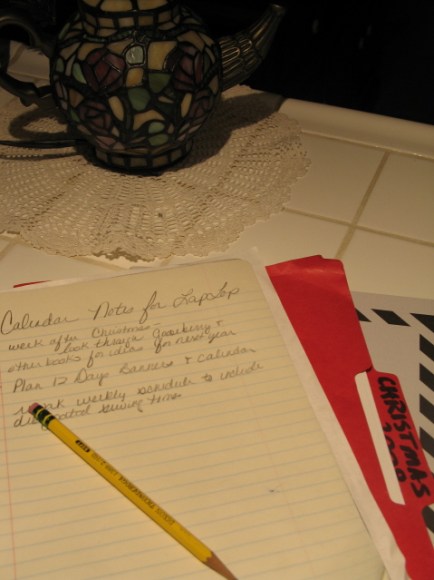 With my laptop in the shop, I've found it necessary to keep a notebook open to a page I've titled "Calendar  Notes for Laptop".  Most of you know that I keep my calendar and planner on my laptop using MicroSoft Works calendar.  This software comes free on most PCs, but if you can afford it, I'm told that the calendar program on Outlook is far superior (not Outlook Express, but the full version of Outlook).  Out of my price range, but for those of you who have, or can get it, our friend Sven says it's great.
I have several things that I've made notes for.  I'm afraid that by the time my laptop is back home, I'll have several pages of notes to enter into my planner/calendar!  That's okay.  This is the time of year that I do a lot of planning.  One thing that I've mentioned recently is that I intend to start working on some projects for next Christmas beginning in January.  I always want to make a few new things to add to our decorations, but things are too busy in the fall.  So, I've made some notes, I've printed some pictures and I'll be searching through all of my Gooseberry Patch and other Christmas books the week after Christmas.  I'll carefully choose just a few things and then I'll plunk them into my calendar to be started at various times in the coming months.  Oh, and I have one HUGE Christmas project that I'll be doing this year, too.  I'll share it with you as it's begun sometime next month.  I can't wait!!!
Other notes concern homeschooling in the coming months.  I've a note or two about some books I want to purchase after the first of the year.  A note to revamp my weekly schedule just a bit to include some time dedicated to sewing once or twice a week.  Oh!  Won't that be heaven on earth!  Notes concerning things I'd like to, or need to, do in my home.  There's one that simply said, "Schoolroom!!!!!!" and that accurately reflects my frustration about some things in this room that need some attention.  Now, however, is not the time to be doing any of these things.  It is a very good time, though, to make notes for next year.  Notes for things to do immediately after the holidays.  Notes for short term and long term projects.   Notes only!!!  No starting anything new now!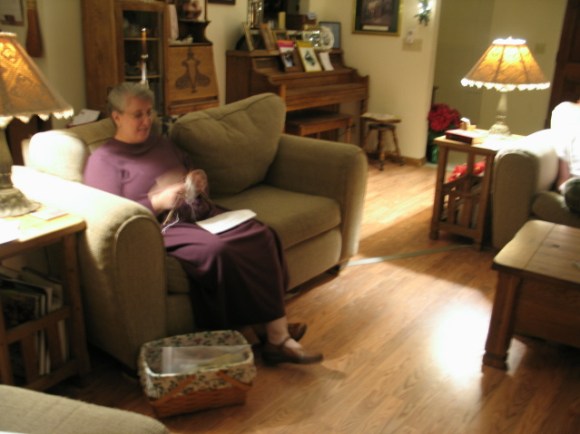 We decorate our home for Christmas the weekend after Thanksgiving most years.  This year was no  exception.  Many years, by the time Christmas Day has passed, I am more than ready to put away the Christmas decorations and put my home back in order.  I'm feeling differently this year.  I've not had quite enough of quiet evenings relaxing and just enjoying the lights inside, with quiet music playing on the stereo.  Evenings reading, or knitting or what-have-you.  I think that this year we may leave things up through New Year's Day.  My husband has taken a few days of vacation from the 27th-29th, coupled with his normal days off, that means we will have him home from the 23rd through the 1st.  He'll return to work on Wednesday, January 2, and that will be a grand day for the kids and I to take everything down and put it away.  It's funny how I'm feeling so differently about things this year.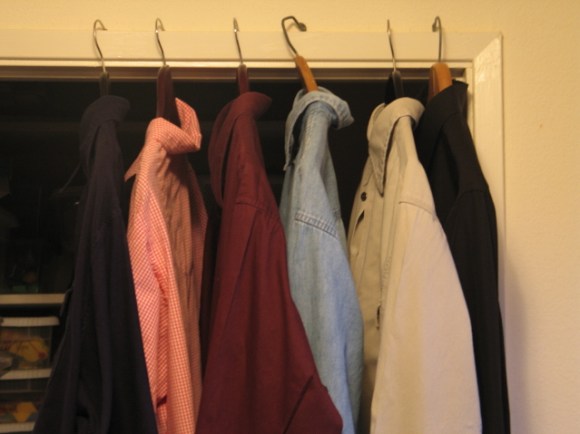 By 3:00 my guys still weren't home from town, but they had called to ask, "What would you like from  Starbuck's?"
Keep in mind, my husband does not like coffee in any way, shape or form; so his stopping to pick something up for me is truly an act of love!  Just after they called, I pulled out my ironing board and ironed a few things.  I was finishing up just as they came in the back door.  Wow, with a yummy drink close by, I pulled out a few more things and ironed those, too!
This will be the last of my normal, daily posts until after Christmas.  With just a week to go, and much to do, a blogging break is a necessity.  Oh, I may pop in, now and again, to share some little something or another.  You never know!  I'll resume my normal blogging schedule sometime after Christmas Day.  In the meantime, I'll be looking well to the ways of my own household and enjoying my family.
God bless you as you look well to the ways of your households!
Proverbs 31:27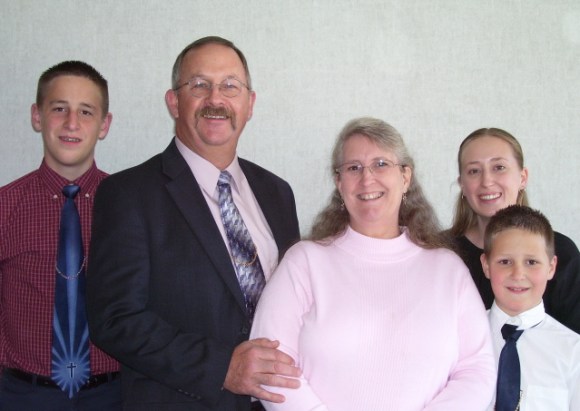 Merry Christmas!