My husband has Mondays off, except for when he doesn't.  Take today, for example.  He's off, but he's not.  Technically, he is off from work today and tomorrow, but the county has scheduled him for training both days – from 3:00 p.m. until 1:00 a.m!  At least he was home with us for a bit today.  We'll enjoy him home tomorrow for a short spell to, but he will be sleeping in after his late night, and then will need to be out the door again at 2:00 to make the drive to class.  He doesn't mind the training so much this time around as it is behind the wheel training.  Think about it – grown men, driving patrol vehicles, and getting paid to play cops & robbers!  I miss that he's not here and hate that he loses a couple of days off, but we're both thankful for the overtime it will provide.  My husband really does need a couple of new uniforms, so the overtime pay is quite timely.  God provides.
We've had some computer woes today, and my poor husband spent most of his few precious hours at home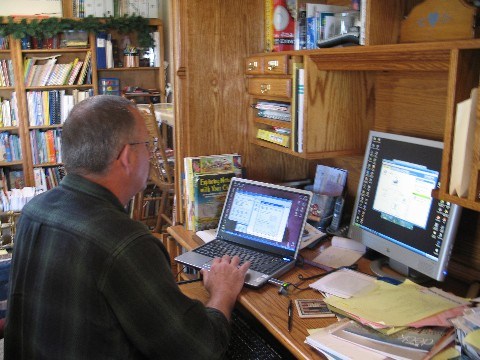 trying to get the main computer and router to allow the lap tops to connect.  He gives so freely of his time for us.  The problems developed for no apparent reason, and then resolved the same way.  We're just glad that things are back up and running.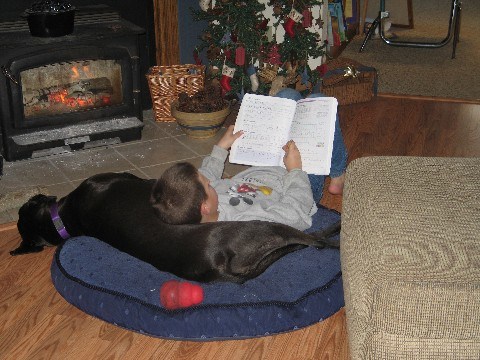 My boys settled in with their homeschooling this morning……..Will claiming the coveted spot in front of the fire, using Dixie for a pillow (and obviously before anyone had swept the hearth today!)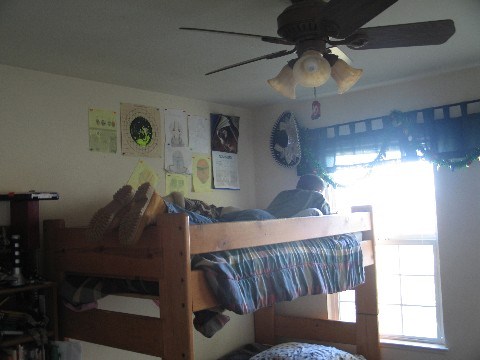 and Aaron taking the perch on the top bunk.  I love those SIZE 12 boots hanging off the end of the bunk!
My day was filled with just the normal things of the day – homeschooling, laundry, straightening up a bit here and there.  It doesn't sound like much, but it fills my day.  I love sitting down with Will and working on a grammar lesson together.  I enjoy having my boys relay funny anecdotes or favorite parts from books they are reading for school.  I'm glad that I'm the one that returns algebra assignments that need correcting.  I can do so with encouragement that the problems are not impossible, and with praise for a job well done when they are successfully corrected.  I'm so glad that I'm the one explaining what adjectives are, and hearing about how much my son enjoys his current literature selection
.   
Dani's cold is some better.  Her voice is still pretty hoarse, when she has a voice at all.  She doesn't feel too badly, though.  She was up to helping with all of her normal household chores today, which is a huge blessing to me.  She made a new-to-us dish tonight called Stuffed Loaf, which is a recipe she learned at Lisa's house.  Hey, Lisa  – It was yummy!
I'm making sure that Dani doesn't over do it, though.
As you know, I leave my Mondays relatively free to spend with my husband.  Since he was gone I spent some time on a bit of homeschool research for the spring semester, as well as making some plans for next Christmas.
Next Christmas????  Yep!  I've a couple of things planned already for next Christmas season, and doing the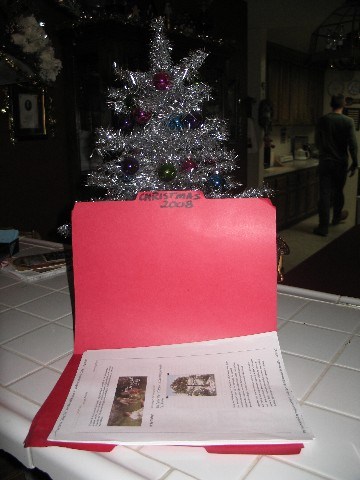 research now, and then getting them plunked into my weekly schedule for next year, will give me a real chance at actually having the plans come to fruition without a lot of last minute hassle next year.  As I'll be doing the actual work after the first of the year, I'll be sure to share more with you then.
For now, though, you can be thinking about what sorts of things you'd wished you had time for this year.  Any crafting you wish you had done beforehand?  Any sort of advent or devotional study that you would have loved to have planned for your children?  If so, jot those ideas down somewhere now. No, no, don't try to DO them now, just jot them down so you won't forget them and then don't think about them again until the first of the year.  Jot down ideas.  List books.  Bookmark web sites.  Print up instructions.  But set it all aside in a folder for next year.  (I'm keeping my plans in a red folder seen here on my breakfast bar/command central propped up against our little silver tinsel tree!)
I went out this evening to collect the burlap wraps, stray sheets and pool towels that we've been using to protect our citrus trees from frost.  We are expecting just a bit of rain late tonight or tomorrow morning, and I didn't want them to be lying wet on the ground tomorrow.  They are piled, not too neatly in the garage, but they are in where they will stay dry until we need them for frost protection again.
My little blog's milestone is getting ever closer!  Even with the Thanksgiving holiday, we've kept closer to the mark.  I am so grateful for all of you that have left comments in response to my requests.  Your kind words are always encouraging!  This will be the last little reminder that I will be giving about this.  I am planning a little celebration, and all will be invited who wish to come and be a part; but I have a special treat which will only be available to one of you who have been here all along.  Again, I don't know you're here unless you leave me a comment now and then.  No xanga account is necessary, only an e-mail address which will be visible only to me.  No need to comment to this post, just somewhere in the next few days, if you haven't already done so, before the milestone is reached.
The kids and I are lying low tonight without my husband at home.  The evening chores will be done quickly, showers will be taken and jammies put on.  We've a short show to enjoy, A Charlie Brown Christmas
, and then it's early to bed for everyone.  I would appreciate your continued prayers for Lisa (she's been on bed rest for a couple of months now), and most especially for Eric and his family.  Updates are available on Heather's blog, which Lisa (yes, THAT Lisa) is keeping up to date.  Praise God, Eric continues to improve, but we all still covet your prayers on his behalf, as well as for his precious wife, Heather, and their six beautiful blessings, and extended family.
God bless you as you look well to the ways of your household!
Proverbs 31:27