My boys and I conquered the mega-shop yesterday.  We were gone for six hours, including a quick lunch at McDonald's.  Not so quick that Will couldn't take a quick romp in the play area, though.  We moved quickly through all of our stops, though we didn't rush.  In all honestly, we couldn't rush as the stores were all crowded.  Aaron needed a new pair of everyday boots.  It's official.  His SIZE 12 feet are now bigger than his dad's!  aye yai yai yai  While he tried on his SIZE 12 boots, I browsed the ladies shoes.
The arthritis in my feet makes it necessary for me to wear shoes all of the time that give my feet some firm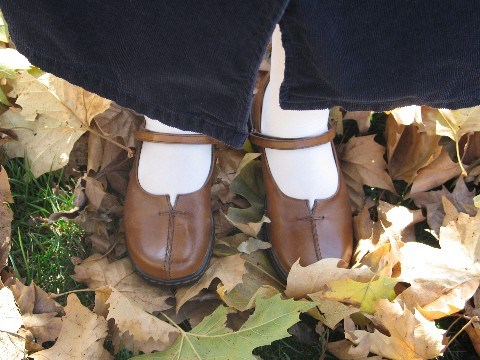 support.  No more barefootin' it in the summer, or enjoying wearing just socks or my slippers all day in the winter.  I cannot afford to buy myself expensive shoes, so I do the best I can with WalMart and Payless.  The pair I've been wearing for the last three years or so are just plain ol' worn out.  I was thrilled yesterday to find some leather shoes that not only fit my feet, but that feel supportive around and under, and are cute to boot!  After buying Aaron's boots, I had just enough to buy a pair in brown and also a pair in black!  With proper care, these will do me for everyday as well as Sunday wear.  I'm all set for a year or so!  Yee haw for cute shoes!
As things will sometimes happen, our list for necessary purchases was shorter than our budget.  It doesn't happen often, but it does happen.  I was able to order two 25 lb. bags of soft white wheat that will come during the next week, so I set the money for that aside.  I also picked up a few things that we will use during the course of our holiday celebrations and put those into the freezer or into our longer term storage.  It was such a blessing to come home from the store with some cash still left in my food envelope!
I shop with cash these days for the most part.  I carry from one to five envelopes in my purse, depending on what we're shopping for and the funds available.  Over the course of the last few months, I've worked out a pretty good system for paying with cash at the register.  For example, when Aaron and I put our shoes in the cart at WalMart, (those would be his SIZE 12 boots and my much smaller shoes),  I transferred the cash from the "clothing" envelope, to the "food" envelope.  Most of what I buy at WalMart is paid for from my food account, so transferring the money in the peace and quiet of the shoe department makes paying up front easier.
When we got to the check out yesterday, the lines were quite long.  Finally we made it to the front of the line and unloaded our groceries onto the belt.  I like that the WalMart registers tally your purchases as you go.  It allows me to just gradually count out the money needed for the purchase as it's checked through by the cashier.  The final total was $120 and change.  I handed the cashier a fifty and and four twenties, or $130.  Then, THIS happened………….
…….apparently, the cashier punched in that I had paid her $13.00 instead of $130.00.  I kid you not, things in my line, as well as the next line over came to a screeching halt, almost as dramatically as they did in the video!  Complete log jam.
The checker even asked me, in her bewilderment, if I'd slid my card yet.  "Umm……noooooo, I paid you with cash."  When I explained to her that she'd simply dropped a zero in entering my payment, and that the difference was $117.00, she looked at me like I was trying to pull a fast one.  She honestly did not know what to do.  She kept recounting the cash I'd given her.  She repeatedly held the $50 up to the light to assure that it was not a counterfeit bill.  Then she'd count the cash again.  Then she'd check the fifty again.  Then the checker next to her got involved.  Again I explained that if she'd simply enter that I'd paid her an additional $117.00 that everything would be fine.  They pulled out a calculator.  The lines behind grew ever longer.   I'm not sure what they finally decided to do….my receipt does not reflect the cash that actually changed hands, but a much different amount, and I was actually shorted a nickel in the final outcome, which I noted to the cashier but told her I would gladly leave without.
Once we had the car loaded and were on our way to our next stop, I had to call Corin.  She and I certainly enjoy giggling together over these things that happen to us when we're out and about.  When Corin told me about the VISA commercials on t.v., I knew that I'd just recreated one right there in the WalMart!  We're still laughing about it today!
I  buy quite a bit of our food in bulk.  My family is not that large, but we do all of our cooking from scratch.  We also live quite a distance from town and need to optimize our food dollars as well as my time in the stores.  I've been asked what all I do buy in bulk, meaning in large quantities.  Currently I buy our hard white wheat (for bread), soft white wheat (for other baking purposes), white flour, white sugar, brown sugar, bread flour, oats, baking soda, baking powder, sea salt, molasses, sometimes honey, many of our spices, and yeast in large quantity.  Most of these are bought in 25 – 50 lb. quantities.  The baking soda and powder are 5 – 10 lb. lots, the yeast is a two pound package, and most of my spices are bought by the pound (rather than by the ounce).  I have discovered a good source to special order large quantities of some other things we use and I'll be ordering those in bulk now, too.  The organic granular evaporated cane juice and basmati brown rice, come immediately to mind.
We still use some white flour, sugar and bread flour, even though we try to use as much whole wheat and non-refined white sugar as possible.  We make the cookies we take to church every week with the more traditional flours and sugars, and we do have some recipies that just "have" to be made with white flour and sugar.  We're ever working toward eliminating more and more of these from our everyday diet, but it's a process.  I do not buy powdered sugar in bulk.  Powdered sugar has a high moisture content so it does not have a long shelf life.  We don't use enough of it to warrant purchasing a 25 lb. bag.  I watch for the 2 lb. bags to go on sale and then buy 4 or 5.
We have an insulated outdoor storage area where most of our bulk purchases are stored.  We have 5 gallon, food grade buckets that are stacked to hold these items.  With a bit of creative thinking, most families can find a place to stack a few 5 gallon buckets in even a small home.  A good friend of mine had several stored, side by side, under her hanging clothing in her closet.  My husband works at a large jail facility and he is able to bring buckets home for me when I need them as they receive all of their food stuffs in institutional quantities.  I know some folks can pick buckets up from their local bakery either for free or at a minimal cost, and you might try large schools, nursing homes, hospitals, etc..  Most large health food stores sell them as well.  My bucket lids snap on and off and all fit really tight.  I line my buckets with a plastic liner that is food grade, but that is certainly not necessary.  I store my bulk purchases of oats in large zip lock bags in the freezer so that they do not get rancid.  I store these items on the shelf in my home in either large Tupperware containers, or 1/2 gallon or gallon size jars and then refill them as necessary from the outdoor storage area.
Buying in large quantities is not for everyone, and I don't want to imply that it's the "best" way to do things.  We live 30 minutes from town, and I only shop once every two weeks.  I need to make do with what is on hand here in between those shopping days, or ask my husband to stop for something on his way home.  I  hate to do that because he works such horribly long hours, and we want him home after work not running errands.  Buying in bulk is a long term proposition.  Most of us could never just decide to start buying in bulk and run out and buy 50 lbs. of everything we need.  We started buying in bulk fifteen years or so ago, and have worked our way up to where we are now.  I started by buying only the things we used the most – flour, oats, rice, and then gradually added other things.  Buying in bulk works well for my family, but it is up to each of you to determine how you can best look well to the ways of your own households.
There is one question I am asked more than any other.  It is asked by young moms with only one wee babe, or maybe two.  It is asked by moms who homeschool, and by moms whose children attend school outside of the home.  It is asked by women who are childless as well as those whose children are grown and gone.  It is asked by women who are full time homemakers, as well as women who work outside their homes.  It seems that all women wonder the same thing – how to balance all the demands that are placed on us.  How do we balance keeping our homes with caring for our children.  How do we find time to clean house if we homeschool all day (or vice versa).  My answer is quite simple, and it is the same for everyone.  You will find the answer in the priorities that I have set for myself in the sidebar.
Your first priority is to the Lord your God, and maintaining your relationship with Him.  Next, you are to love your husband.  Our marriages, the husband and wife relationship, is the foremost family relationship.  The first family was created by God, and that family was a husband and his wife.  Next, we are to love our children.  Then we are to be keepers at home, looking well to the ways of our own households.  Finally, we are to consider the needs of others, through hospitality, ministry, etc.
The Lord provides us, each of us, with enough time to take care of the tasks He sets before us.  It is only when we try to do more than He asks us to, that we get into trouble.  If you are finding that you just cannot do it all, take a step back and look at your life.  What is taking your time?  What fills your days?  Are you running here and there to visit with this girlfriend or that?  Are you constantly in the car driving your children to lessons and such?  Are you filling your hours at home on the computer, shocked when you look at the clock and realize that your husband will be home in just a few minutes and you've been at the computer all afternoon?  Even good things can skew your priorities from what they should be.  I've known homeschooling moms who have tried to attend two or three different women's Bible studies during the week.  I've known women so "burdened" by the needs of others that they were involved in ministries to the poor and the homeless to the extent that their own children ate poorly and were rarely home because of their mother's involvement.
I hope none of you find yoursevles in any of these extremes, but perhaps you find a hint of what might be keeping you from fulfilling your calling.  I've had years when I've chased after things that were good, but were still outside of my calling to be a helpmeet to my husband (and thereby a mother to his children and a maker of his home).  Those years are gone forever.  Praise God that He can restore the years the locusts have eaten  (Joel 2:25) and I have been given a renewed vision for what it is the Lord calls me as a wife and mom to do.  Please ladies, do not allow the locusts, the swarming locusts of wasted time, eat away the years!
Today was such a wonderful, relaxed day.  I usually have a mountain of laundry when we've been gone for the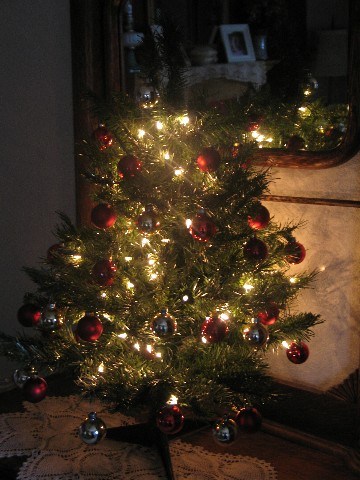 mega shop on Friday, but I did some on Thursday and finished it up yesterday before we left for town.  I had only three loads to do today.  The flannel sheets always feel so wonderfully warm and soft and inviting coming out of the dryer.  It's almost a shame that we can't crawl right into bed when we put them on!  We finished putting away the rest of the groceries, and bagged up the oats for the freezer.  Saturday is the day that I tend to the weekly cleaning of the master bedroom and bath, and I took care of that this afternoon.  We have such hard, hard water here.  I'm giving some orange oil a go at cleaning the hard water stains from my shower doors.  I'll let you know if it's helping in a couple of weeks.  Initial results are not conclusive.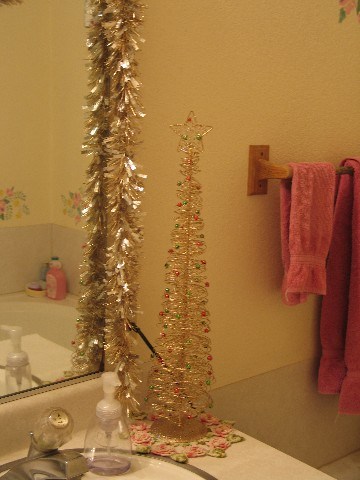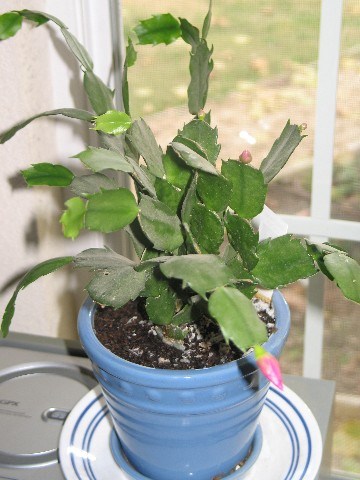 I water and feed my houseplants on Saturday, too.  I checked them all today, and they were all just fine.  I dusted their leaves gently, though, and will check again on Monday.  My small Christmas cactus has several buds and will definitely be blooming by Christmas Day!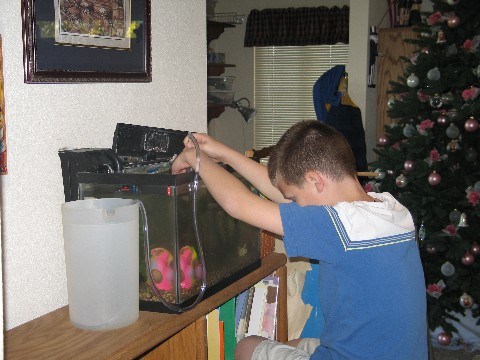 Saturday is also a big day for outdoor tasks and weekly animal care.  The goats and sheep get a fresh layer  of  straw added to their bedding, and all of the water buckets are scrubbed clean.  The goat and sheep yards are raked up, and all of the bits of hay and manure are added to our compost pile.  Will cleans his aquarium on Saturday, too.
Aaron spent a large chunk of his day raking leaves in the front yard.  He tried the leaf blower, but there were  just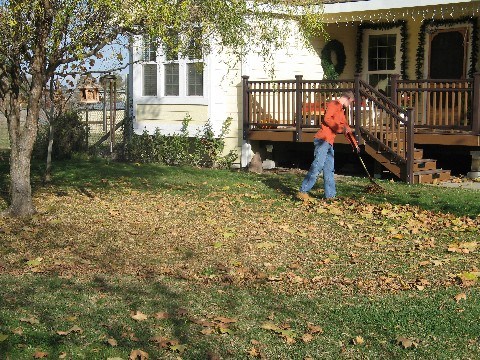 too many.  He resorted to the old-fashioned rake and had ten big piles when he was done.  These he loaded into the wheel barrow and put onto our compost pile.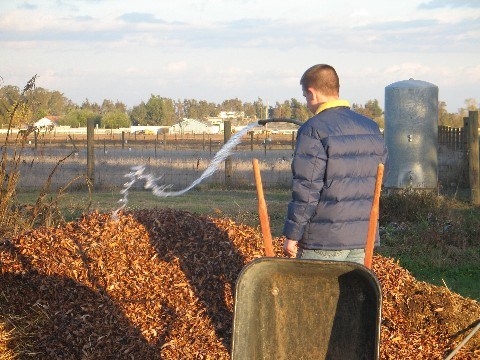 He wet down the leaves on the pile every few loads.  This top coat of leaves will finish off this big pile.  We'll just leave it to cook now for the rest of the fall, winter and into the spring.  I'll have the boys start a new pile next Saturday.
As always, the most important part of our Saturday was the time we spent preparing for Sunday.  The boys and I were home sick from church last week, so all of our clothes were already ironed and ready to go.  I simply pulled the boys things out of their closet and hung them in their doorway for them to find easily tomorrow morning.  Our budget has required that I put together a more economical main dish for our fellowship lunch on Sundays, so I'd planned a good, hearty casserole.  However, my husband decided this afternoon that we'd come home after church rather than staying for the meal.  That only changed the size of the casserole I was making.  I still made the Hamburger Corn Casserole, but I made up just a single-size recipe.  I put it into my crock pot and we'll turn it onto low when we leave for church in the morning.
The church basket was packed with Bibles, notebooks, and asthma medications, ready to load into the car in the morning.  Dani helped at the horse ranch around the corner for a bit this afternoon, and then she came home and made our Sunday morning coffee cake.  The coffee cake, plates, serving utensils, and forks will be placed on the table tonight before we head to bed.
I would appreciate if you would remember to pray not only for my friend Lisa, but also and even more especially for our friend Eric and his family.  Eric's condition remains the same – he is intubated and heavily sedated.  Those of you who are praying might want to bookmark his wife's blog as she will post updates on his condition there as she can.  My heartfelt gratitude to all of you who are praying.  God hears the prayers of His saints!
Have a blessed Lord's Day tomorrow!
God bless you as you look well to the ways of your household!
Proverbs 31:27