Dani and I did the mega shop today.  It was so much fun to have her with me.  We were terribly silly for the better part of the day, and commented several times that, "Watch!  Now is when we'll run into…." and then we'd name one blogging buddy or another that live in our area.  However, I need to start at the beginning.
As you will recall, my husband and Aaron were due home late last night.  I had a flat tire on my van, and our pantry doors had been knocked off track.  The fellas rolled in just before 10:00 and went right to work on the tire.  The van was jacked up, the flat tire removed and the little donut/spare tire put on.  It was flat.  No problem, said my husband, "Aaron can put air in it.".  Aaron stayed outside to air up the spare and my husband went into the house to fix the pantry doors.  In his capable hands, the doors were put to right within minutes.
I went outside to see how Aaron was coming.  The donut/spare would not hold air!  At all!  Oh, my!
I have mentioned before that we have been blessed by the fact that Lisa and her husband have loaned Dani a vehicle to travel back and forth between their home and ours.  On more than one occasion, Eric, Lisa's husband, has told us to feel free to use the vehicle if we needed it during the week.  That has never been necessary, but we have been grateful for their generosity.  Today, we were extremely grateful.
Dani and I loaded into their car this morning, with both flat tires in the back, and headed to town.  We dropped the two flats at the tire store.  There is a branch of our bank in the same shopping center, as well as a Trader Joe's that we needed a few things from.  I made my necessary transaction at the bank, and we did our shopping at Trader Joe's.  The tire guy said to give them an hour, so we had lunch, too!
When we went back, the spare had been fixed but we were given the unfortunate news that the regular tire was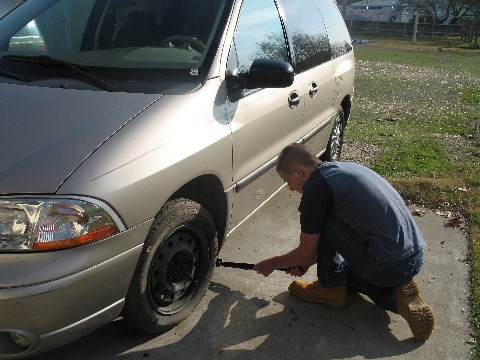 irreparable.  We collected both of our tires, and headed home.  Aaron put the repaired spare onto the van in five minutes!  I drove the van with the whacky tiny tire on the front, and Dani followed in the borrowed vehicle.  Those donuts have "do not drive over 50 m.p.h." written right on them, so we had to take the back roads back into the city.  Dani followed behind.  (Here's where we started getting silly.)  When there were no other cars on the road with us, which was most of the time on the country roads, I used my turn signals indiscriminately and incorrectly as often as possible.  When I'd stop at a stop sign, I'd signal a left turn, even though I was headed straight.  Our country road takes a sharp turn to the left, but I signaled right (even though NO signal was necessary).  After the first couple of times, I enjoyed looking in the rear view mirror and seeing Dani laughing right out loud in the car she was driving!!!!
We dropped my van off at the tire store and went on our merry way in the borrowed car to finish up our mega-shop.  Of course, with all of the tire shenanigans and two trips from our home into the neighboring city, we didn't get started until after 2:30!  Around 4:00, we had the unfortunate experience of having the steering go crazy in Eric and Lisa's car, much as it does in my own van, and we somehow found ourselves in a Starbuck's drive through.  I am so thankful that our steering problems always occur when one of those drive throughs is close at hand to receive our errant vehicle!  We peeled the silly stickers off of our cups that identify the drink, and promptly stuck them onto our clothing.  We'd had coffee and we were proud of the fact!  The stickers would warn anyone in our path that we were full of caffeine and should be given a wide berth!
We finished all of our shopping except for our stop at the regular grocers by about 5:20.  The tire store closed at 6:00, so we made a dash across town to pick up the van.  We made it with 15 minutes to spare!  We caravaned in two vehicles to the grocery store, finished up our shopping and then headed home (after filling the gas tank of the borrowed vehicle).  My husband was already home, and he'd gotten the boys started on their after dinner chores, even though the poor things had not had any dinner!  While the boys showered, we unloaded the two vehicles, sorting through to bring in the things that needed to be in the house, and leaving the items for our outdoor storage in the garage until tomorrow.
Dani and I had a wonderful time out today.  We enjoyed browsing just a bit through Costco and Wal Mart.  We were able to find the boys new jeans and new shirts (a red sweater for Aaron, and a long sleeved t-shirt with a coordinating short sleeve shirt to wear over it for Will).  These new things will be for a couple of family Christmas get togethers we'll be attending.  Aaron's sweater, which is beautiful, was already on the clearance rack!  We also hit pay dirt for the first time EVER in the $5.00 movie bin.  More on that later.
With all of the special food purchases for the various Christmas events, our cash was running a bit low by the time we made it to the regular grocery store.  We kept a running tally in our heads, faithfully rounding UP to pad the total a bit.  By the time we were done with our list, I was pleased that I still had enough to pick up a half price turkey ($.44/lb. with a $50 purchase) for my freezer!!  Our total at the checkout was about $20 less than the running total we'd kept.  I think we might have rounded up a bit too often, but I was pleased with the outcome!  I'm very pleased to have a 12 lb. turkey in my freezer!
Another fun find at the grocery store today were bargain priced Duncan Hines cake mixes.  Yes, I confess, we occasionally use a cake mix.  We do, for the most part, do all of our baking from scratch.  We prefer the taste and texture and of course can usually beat the price of a mix.  However, Dani has this great cookbook
and some of the recipes in it (all of which use a cake mix as the base) have been incredibly good.  We watch for super sales on mixes and then stock up and keep them stored in the freezer.
We came in the back door and William greeted me with the biggest smile and the tightest hug.  His tics have picked up a bit, and his OCD ways are also on the increase, but he is HAPPY again!  The tics don't bother me a bit.  The little OCD behaviors aren't a big deal.  In the grand scheme of things, having my eight year old boy back to his old self is so delightful!!!!  I showed him the clothes I bought him to wear for Christmas.  He was thrilled.  I'd bought him a new package of briefs, too.  He thanked me again and again.  When I pulled out the $5.00 Crocodile Hunter
movie, he was overcome.  In fact, he began to cry!!!  Big, racking sobs of absolute joy, repeating over and over again, "Thank you, oh, thank you!".  My heart overflows!!!
So, we have two new tires on our van.  All of our supplies for the next two weeks, including everything needed for Christmas meals, treats, etc., have been purchased (save for a few perishables later on).  I very much appreciate those of you who have prayed for us today.  Even the issue I mentioned that was unresolved that my husband needed to deal with has been, I think, resolved happily for everyone.  I am thankful!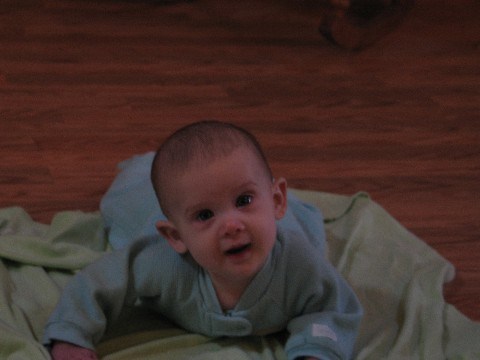 I have a few pictures to share with you from our Library Day at Grandma's house yesterday.  We read and  enjoyed three Christmas books together: Silent Night
, The Twelve Days of Christmas
, and The Legend of the Candy Cane
.  After we read, we took advantage of the story we'd just read and put together our own beaded candy canes, adorned with a tag describing the legend of the candy cane.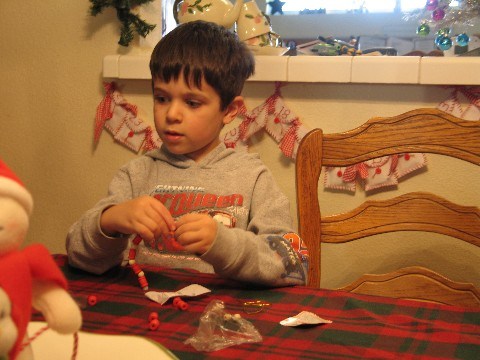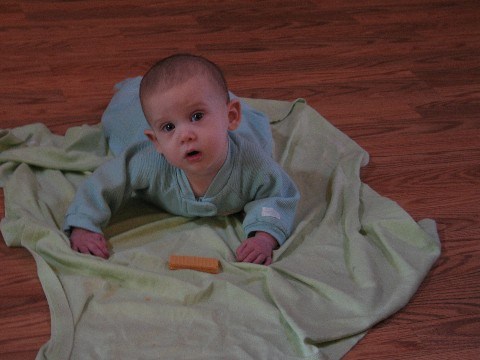 Of course, there were cookies!  Things have been crazy-busy, so Dani picked up some store-bought cookies  for us the other day and we enjoyed our guilty pleasure very much.  I enjoy my days with my grandbabies so very, very much.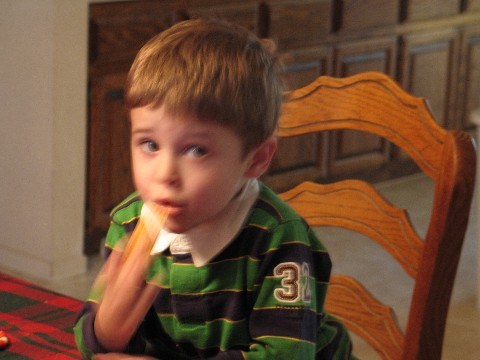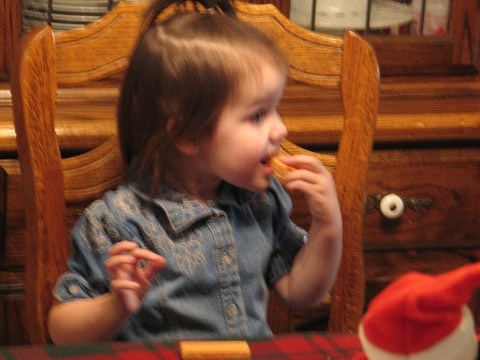 We are enjoying an an old movie
together tonight, with the wood stove burning brightly and keeping us warm and comfy.  Tomorrow will be a very full, very busy day, but it will be a wonderful, full day at home!  I relish the day at home, and the work will be pleasant just because I'm in the place I love the best.
Speaking of tomorrow……9:00 p.m. PST is the deadline for entering "Copper's Wife's 100K Give Away.  If you have not already done so, be very sure to leave a comment at THIS POST.  No comments after 9:00 p.m. tomorrow will be eligible.  I will announce all of the winners before I head for bed Sunday evening.
I'm headed off to the kitchen to fetch the last piece of pumpkin pie and then to enjoy the rest of the movie.
God bless you as you look well to the ways of your household!
Proverbs 31:27