That's the by-word for our home today!  Virus!  The boys and I have one.  My laptop has one.  Virus!  Not good news on either front.
Aaron was not feeling at all well last night.  Sore throat.  Chills.  He woke up this morning feeling a wee bit better, but he has dark circles under his eyes.  One of his tonsils looks very inflamed, too.  I'll be keeping an eye on him.  My long-term asthma care medication tends to give me a hint of a sore throat and a raspy sounding voice pretty much all of the time.  I tried to convince myself this morning that that was all that I had going on, but as the day has progressed it looks like I've got a wee bit of a bug, too.  It's the season for that sort of thing, though.  I'm grateful that I've been on the long term asthma meds for several weeks now so that I don't need to worry about my cold causing my asthma to flare.  Tender mercies.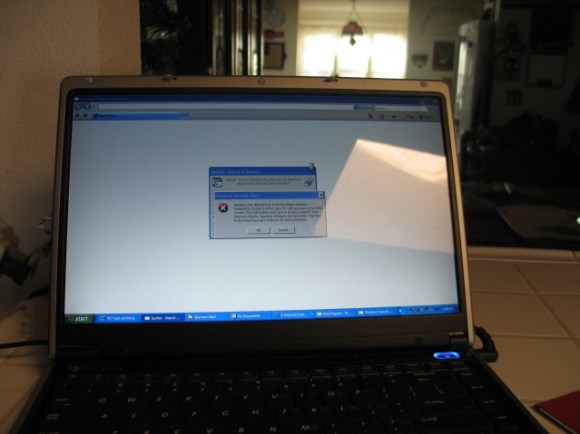 Unfortunately, I picked up a really nasty bug on my laptop last night.  We are unsure, at this point in time, if there has been any damage or if the anti-virus program contained everything before any damage was done.  I wasn't able to get into it to check it until Dani was able to reconfigure our wireless network so that my laptop cannot access it and, possibly, infect the other two computers.  Yikes!  My anti virus program is running a full system scan now.
I went out front a bit ago to check on my citrus trees.  We've had several nights in a row of frost, a couple of them hard frosts; and even though the trees have been covered, some of the outer leaves are showing signs of frost damage.  They are quite dry, too; but we are expecting rain again late tomorrow, so I'll hold off on irrigating.  It was quite cool out there, but the sun felt good.  Dani came out and stood on the porch and we chatted for a few minutes, discussing the events of the last week.  I told her, "You know, it all started with that fool ram getting out!".  It's been quite a week!  Yet, we've sufferred no lasting harm, and the Lord has graciously shown us a way through all of the trials we've experienced.  I'm thankful!
I appreciated so many of your comments and messages on yesterday's post.  I smiled when I read that some of you are enjoying being silly with your small children.  Good for you!  As they mature and grow up, the silliness will continue and they'll not think a thing of it!  I loved hearing that ErinLynae has similar experiences out with her mom and sister.  She mentioned all of their ages, which are very close to mine and the girls (we're 50, 27 & 24); but it's not an age thing at all.  My mom and I had a hoot out together sometimes, and she was an older mom and I an only child.  I can't remember when it started, but I fondly remember times from my early teen years until just months before she passed away.  Don't be afraid to just be silly with your kids from time to time.  That goes for being silly with the boys, too!  If you start when they are young, they won't feel weird about it when they're teens!  It's not an all the time thing, but once in awhile let that hair down and have fun!
Yes, I do enjoy my time with my grandbabies.  Corin and Rob were both homeschooled through high school, so the grandbabies have homeschooling grandparents on both sides.  Rob's parents are every bit as much involved with these children as we are.  In fact, they see more of them as they all home church together, too!  I grew up without grandparents.  My dad's parents had passed away years before I was born.  My mom's father died when I was barely four, and my grandmother died when I was 11.  However, they lived half a continent away, and our visits were limited to a few days every summer and the occasional Christmas.  My grandmother developed dementia while I was quite young, so many times on our summer visits she didn't know who we were.
For those of you in similar situations with your own children, may I suggest that you adopt a grandparent or two?  Are there any older ladies (or gentlemen) at your church whose family is far distant?  Perhaps a neighbor?  Oh, I know that you don't know any of them "that well"……at least not yet.
No harm will come from reaching out and initiating a friendship.  Invite them home after church to have supper with you.  Take a small plate of cookies or other home-baked treat by.  Send cards and let the children make drawings to send.  Sit with her, or him, in church on Sunday.  Even though my children had grandparents, and great-grandparents, Corin enjoyed sitting with the older folks, including her own great grandparents,  in church on Sunday.  Okay, she enjoyed it because the Starlight mints were in ample supply over that way, but she did enjoy it.  Sunday after Sunday, Corin sat by Mr. Seckman.  I loved looking over that way and seeing them singing together or listening to the sermon together.  I know that he looked forward to it.  When Mr. Seckman passed away, my daughter grieved; but knowing him was a good thing in her life!  The grief was hard, yes; but the love and the caring that she felt for Mr. Seckman was the real gift.
My folks had very dear friends when I was growing up that I called Uncle Ed and Aunt Fran.  They were a few years older than my folks and had never had any children.  I cannot remember a Christmas at home without them there!  Aunt Fran passed away twenty years ago, leaving Ed alone.  Uncle Ed was still a part of all of our Christmases and other family celebrations, though!  I remember the year Copper and I had Christmas at our house.  I thought that one of my husband's grandmother's was going to come unglued when she caught Uncle Ed cheating at Skip Bo!
Ed passed away several years ago, but my three older children and I have tons of great Uncle Ed memories.  The extra fridge we keep in the garage is even named after him!  Adopt a grandparent or two!  You will bless them greatly, but I think you just might find that the real blessings come to you and your family!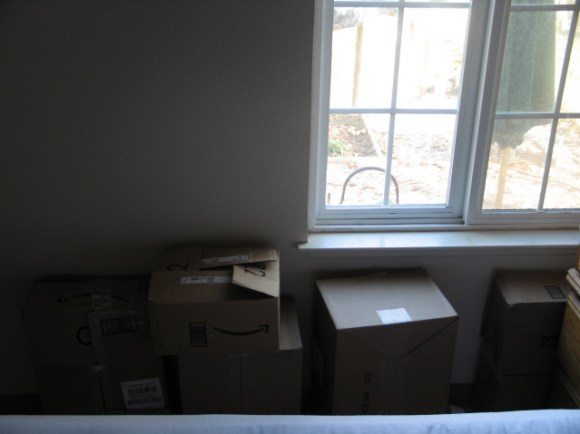 I don't know how many of you order much from Amazon.  Over the course of a year, we order quite a bit.  This Christmas, my husband and I did quite a bit of our Christmas shopping through Amazon and bought either directly from Amazon or from some of their sellers.  The packages have been arriving steadily for the last week.    We have had two mishaps with orders and both of them have been handled lightning fast and very much to our satisfaction.  The first mishap was in a gift we ordered for William.  The order was received by us in just days, but it contained the wrong product.  I sent a message to the seller through the Amazon system, and received a reply within a couple of hours (and that was last Saturday).  The replacement game
was mailed out to me by priority mail last Monday and we received it on Wednesday.  He e-mailed me a link to FedEx so that I can print up a return, pre-paid shipping label to return the wrong item to him.  Wow!!!  I am very pleased.
The second incident occurred today.  (Hmmmmmmm…………..me thinks there is something amiss with my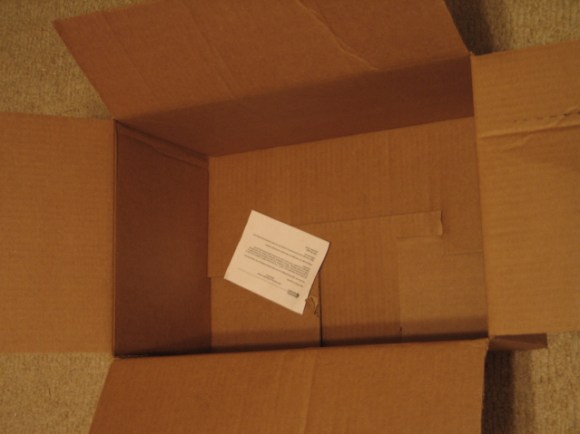 receiving Amazon orders on Saturdays!).  I actually received two packages from Amazon.  The first was perfect.  The second was a big box, but when I opened it there were only two items inside.  One of those was all biffed up from being in too big of a box.  That seemed wrong to me from the start, and when I checked the shipping invoice I found that there were supposed to be seven items in the box.  In the very bottom of the box, was a tiny little slip of paper from the postal service, a pre-printed form apologizing for damaging my package.  I admit it.  I panicked a bit.  I went to the Amazon web site and used their telephone feature, choosing the "call me now" option.  They did call right away, and once I explained the situation to the customer service rep, he placed a new order for the five missing items as well as a replacement for the damaged item.  However, he could not guarantee me receipt by Christmas.  I thanked him for his help, told him that I was not at all upset with him, but might I please speak to a supervisor.
Several minutes later another young man came on the line.  He was NOT a supervisor, but he needed to re-open my account to forward me to a supervisor.  Once he saw what had happened, and read the comment the other fella had left stating that I was requesting expedited shipping, he took care of that for me.  In fact, he said that they had all received e-mails telling them to upgrade shipping for damaged or lost merchandise to insure delivery before Christmas.  He changed my order to two day shipping and it will be here no later than Thursday.  Again, I couldn't be more pleased with Amazon!  It's nice to know that a really HUGE company can still offer such great, personal customer service!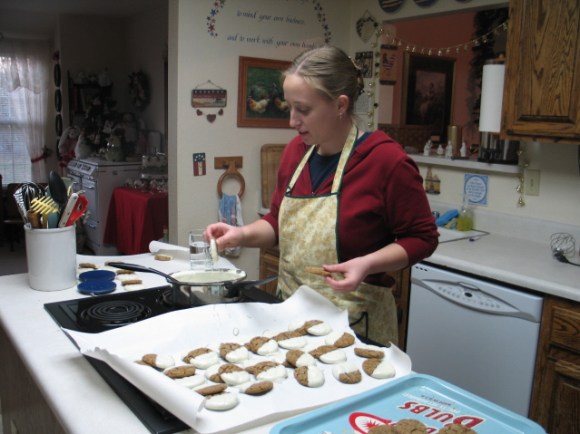 Dani is in the kitchen making her customary twelve dozen or so cookies for tomorrow.  With Aaron and I  under the weather, we've already cancelled our plans to spend the afternoon with friends.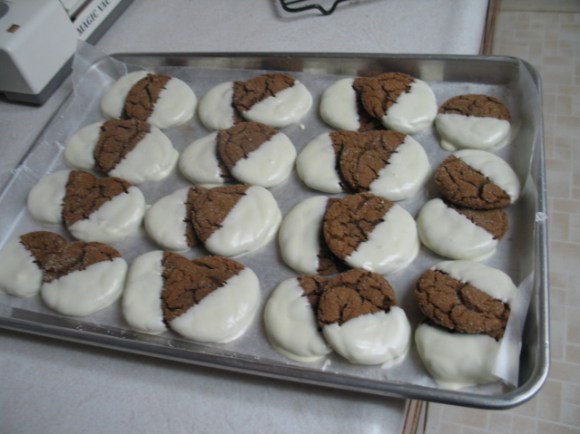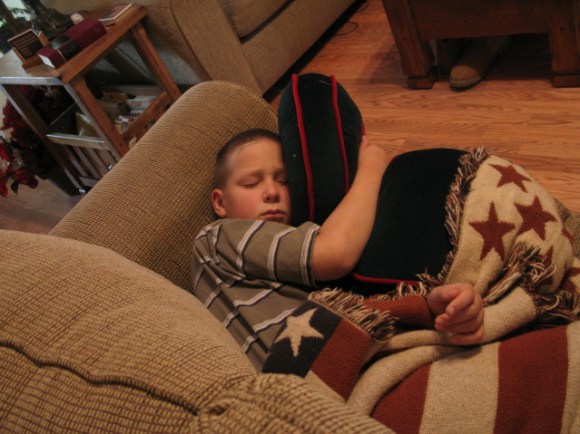 Will fell asleep on the couch a bit ago, and I'm beginning to wonder if he's catching something, too.  His asthma was flaring a bit last night, so I'm watching (and listening to) him closely, too.  At this point in time, we're all pretty "iffy" even for church tomorrow.  Ah, well, we can always find a home for some of Dani's cookies!
By the way, my girls and I were quiet today.
I'm posting earlier than usual today.  With my laptop "under the weather" and my boys and I the same, I want this evening to be as restful and quiet as we can have it.  Do be sure to leave a comment so that you are entered in my drawing!! There are just a few more hours left. Leave your comment HERE before 9:00 p.m. PST.  I'll announce the winners sometime tomorrow evening.
Have a blessed Lord's Day tomorrow!
God bless you as you look well to the ways of your households!
Proverbs 31:27