We've recovered, for the most part, from last night's ram escape/capture escapade.  We're actually giggling about it a bit today.  That is, giggling despite the fact that Dani has a painful left side, and my back tweeks a bit now and then.  I'm glad that a few of you caught the fact that we pursued that ram relentlessly, much as the Lord pursues His sheep when they are in danger.  Five people, 2 1/2 hours, 2 hours of missed work for my husband, all to rescue a ram whom, in all reality, we really need to sell by the time our spring lambs our born.  He needs to go so that we don't have too much inbreeding in our small herd.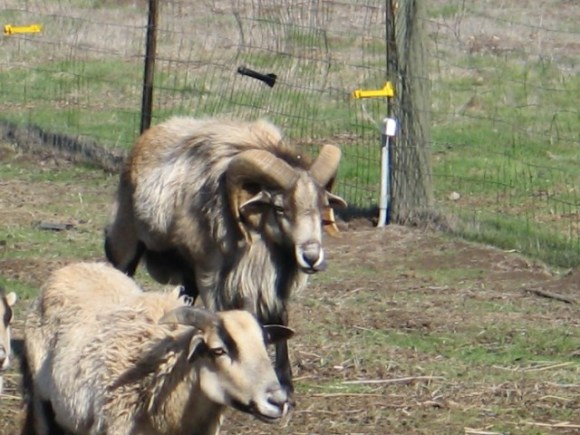 We all managed fairly well on a moonless night with our night vision.  He's quite light colored, so we could usually spot him when he was moving.  There were times when we had him very close to the gate of a smaller, enclosed area, only to have him turn and bolt at the last second.  There were times when we were just sure he would go through the opening in our own fence (Aaron opened up a whole section for just that purpose).  He would stand and look at the opening, take a step in that direction, freeze again, watch his beloved family on the other side, and then take off like a shot.  Poor guy, he was exhausted, hot & sweaty!  Sweaty sheep do not smell very good.  I mentioned that it was cold last night.  There were times when what we could see of him was just this moving cloud of steam!  His own little self-contained fog bank!  He'd walk majestically around for a bit, then he'd spook for some unknown reason and he'd race off as fast as ever he could.  At times he would bounce around as though he were showing off for his favorite ewe!  At times he would hop, with all four feet at once, like a young lamb!  Then there was the time we were tracking him in the dark when he disappeared, or, rather, fell into a hole!     As I said, it's funny today….last night, not so much.
I am, however, quite grateful that a neighbor, and one who really didn't have the time to stop, did stop and tell us that the ram was out.  Even though he needed to be on the road for a lengthy drive, he helped Dani and Aaron get the ram herded onto the abandoned property that is behind us.  It is an almost 5 acre piece of land, which made it hard to catch him, of course; but it was fenced and away from the busy road.  So thankful.  As I mentioned, it was about 4:00 when the neighbor stopped by.  It was getting dark and our road is one of the main thoroughfares out here, so traffic was picking up.  The posted speed limit is 55 mph, but folks tend to drive well beyond that.  I am so thankful that the Lord kept that fool ram off the main road where he could have caused a horrible accident, resulting in someone's being seriously hurt.  God is good all the time, as my friend Elk Grove Susan says, and which I whole-heartedly believe.  His tender mercies are new every morning.
Today will definitely not go down in the books as one of my more productive Saturdays.  I washed all of our sheets, of course, and all of the hampers were emptied and everything washed up.  I did a bit of work in our price book.  I special ordered 50 lbs. of soft wheat/pastry berries last week, and picked the order up yesterday afternoon.  I ordered them through a large, local natural foods cooperative in the large city nearby.  I was very pleased to find out that I was given a 10% discount for a "case" lot, rather than the 5% I was told when I ordered.  I jotted down some other prices from their bulk bins while I was there, and will see how those compare with the places I've been buying things, after deducting the 10% discount.  Yesterday's discount was $3.50, which paid for a gallon of gas, not quite enough to get me there and back.  I will need to call the co-op and see if they will allow me to place special orders by phone.  If so, buying from them could end up being quite a good savings on some of the products I buy in bulk (evaporated cane juice, buttermilk powder, etc.).
I also wrote a couple of personal e-mails, which catches me up for the month of November!  I am woefully behind there!  My husband and I did the vast majority of our Christmas shopping for our children on line, and the items have begun to be delivered.  One of Will's gifts came today, but it was the wrong thing!  I double checked, and the error was not mine.  I quickly wrote an e-mail and I was very pleased to hear back from them a few hours later!  After a couple of e-mails back and forth, they are shipping the correct item Monday morning.  Happy results, but it has taken some time to take care of.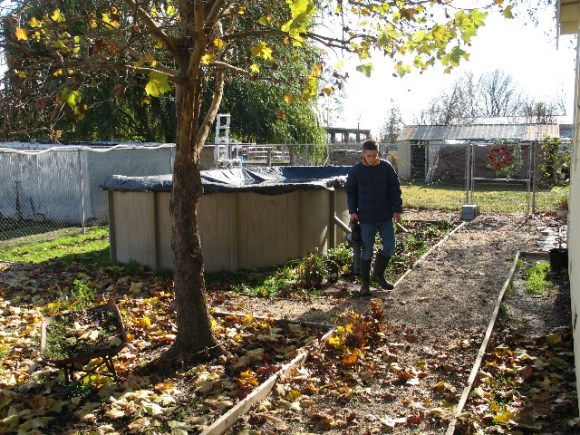 Saturday is the day that the boys do a lot of the outdoor work.  Aaron was dressed very appropriately for today's chilly weather.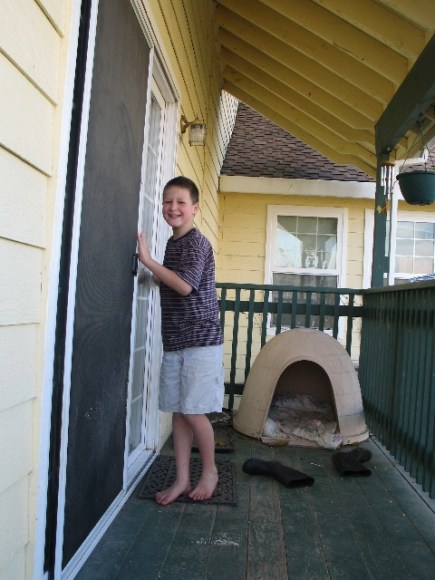 William was dressed very appropriately for a day in August, but that's just Will!  I stayed inside, as much as I could, and threw logs on the fire as often as I could get more to fit in the stove!  I ventured out only long enough to fetch things from our outdoor storage area, or to give the boys some instructions for their outside work.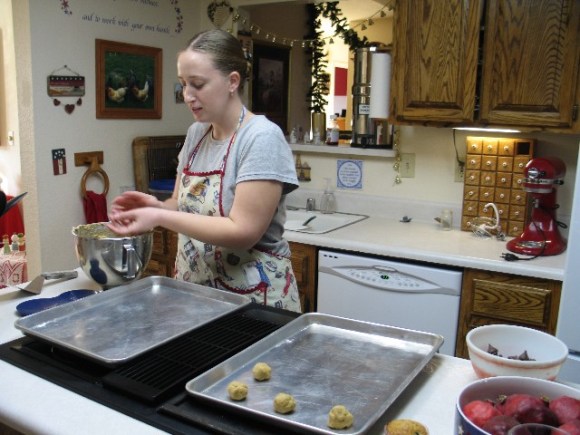 Dani, on the other hand, has been a busy, busy girl today!  Have I mentioned how much she blesses me?  She  made just over twelve dozen Peanut Butter Blossoms today to take to church tomorrow.  That's a lot of cookies, not to mention unwrapping all of those chocolate kisses.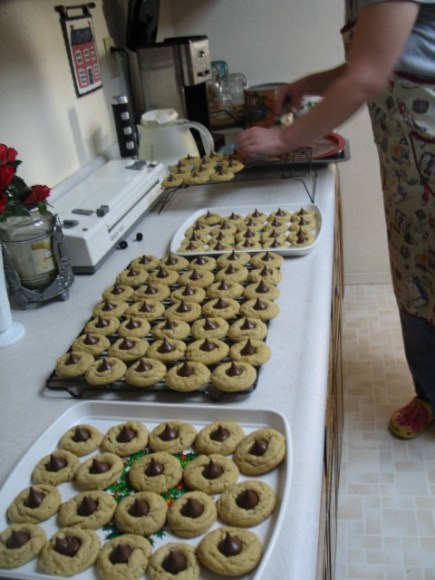 Okay, 150 cookies are probably too many to take for the fellowship meal, so we'll have to suffer and put part of them into the cookie jar in the kitchen.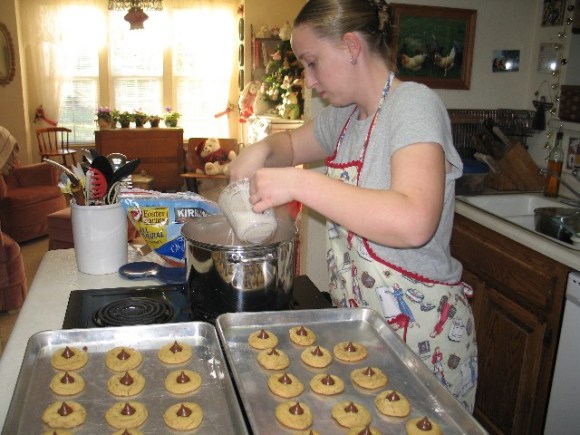 She helped me decide on an economical main dish to take tomorrow (homemade tomato soup), which I intended to make as soon as she was done with the cookies.  However, as the last of the cookies baked in the oven, I caught her making the soup on the stove top!  What's a mother to do with a girl like that???  As soon as the soup was done, we poured it into the crock pot and put it into the fridge until tomorrow morning.
She also decided to make up some Raisin Bran Muffins (also known as 6 week muffins) for breakfast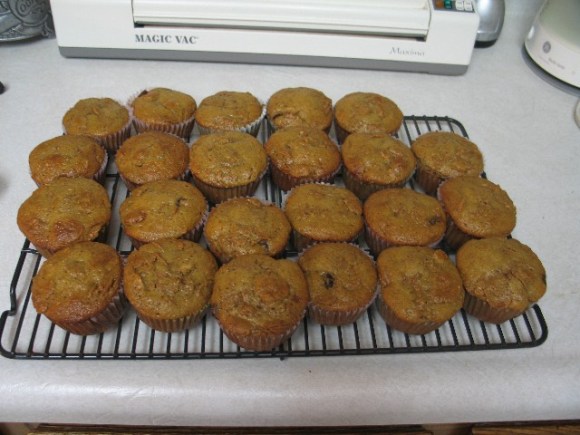 tomorrow.  A couple dozen of those were baked, and the rest were frozen before baking, in their muffin papers, for our freezer stash.  I shared the recipe just a bit ago, and it should appear directly below this post (or check the recipe archives in the side bar).
I had the opportunity to get into the kitchen myself late in the day.  I had some extra eggs on hand so I hard boiled a couple dozen or so.  Tomorrow after we get home from church, I'll mix up a big batch of egg salad for sandwiches, and we'll eat the rest of the hard boiled eggs out of hand for snacks, or sliced onto salads.
Towards evening, I ironed shirts and slacks for my boys, and made sure that everyone else, myself included,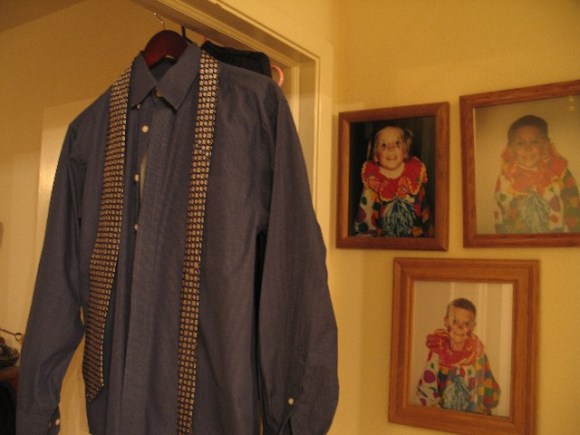 had clothing ready for worship tomorrow.  I hang my boys' clothes in the doorway to their bedroom so that there is no mistaking, for Will especially, where their Sunday clothes are.  I even hang my own clothes in the open door of my closet on Saturday night, just to simplify matters on Sunday morning.
Our church basket was packed and placed by the back door – included were all five Bibles, my notebook, pens & pencils, and Will's Tangle toy
.   I placed the sliced peaches we're taking as a side dish into a big bowl and put those in the fridge, next to the soup, ready to go in the morning.  Aaron packed his after church clothes into a bag, and I packed Will's.  Everything, except for the food, is stacked and waiting by the back door, ready to be loaded into the back of the van in the morning.  It is so important to our Sundays that we do everything we can on Saturday.
Those of you who have been praying faithfully for our friends Eric and Heather might enjoy hopping over to Heather's blog to read her account of the last week.  It's an amazing testimony to God's faithfulness!  The very first Sunday we attended the church where we are now members, Heather was the very first person I met and spoke to.  In the ladies' room, of course.  Her cheerful countenance and friendly manner put any nervousness I felt to rest right then and there.  I don't know why I'm telling you that, except to say that she's become a dear friend and I'm so thankful to our Lord that her husband is home and recovering.  Keep praying for wisdom for his doctors and for his continued recovery.  Speaking of dear friends, I'd appreciate your remembering Lisa, too.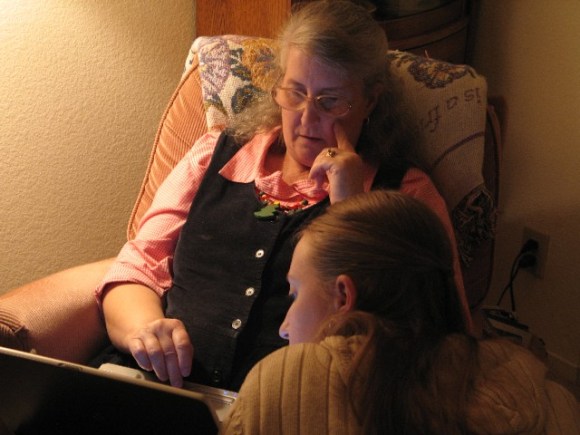 About that milestone I've mentioned now and again……..it's looking like it will be reached on Monday.  Stay tuned…………  And a special, extra-big, mega thank you to my Dani-girl who helped me figure out how to load the pictures for the blog from my laptop without them being so pixelated!!!!
Have a blessed Lord's Day tomorrow.
God bless you as you look well to the ways of your household!
Proverbs 31:27