Whew!  We've had a fast and furious few days!  Christmas shopping with my husband all day Monday.  Tuesday was spent with my family taking part in some necessary herd management with our sheep and then in a wonderful family Christmas tradition.  Of course that meant an abrupt return to reality for everyone today, with homeschooling, laundry, cleaning, laundry, homestead maintenance, laundry, goaty-goat pedicures, an unexpected run to town, laundry…..did I mention there was laundry?  Yes?  Sorry.  There was just a LOT of laundry after being away from home for two days following the Lord's Day.
Tuesday my husband and boys made a run to our local feed store for grain for our sheep and goats, as well as feed for the chickens.  They also bought some tetanus serum.  Our male lambs are now several weeks old, and for our small herd, proper herd management means neutering the males, and giving them a tetanus shot at the same time.  After watching us catch lambs a few years ago, my late mother-in-love said we should film it and submit it to America's Funniest Videos.  I'm happy to report that since that time, my family has developed a better system for catching the little rascals.  It still involves a few funny moments, but it's not nearly the chaotic scene it once was.
These days, the entire herd is moved from their pen into the adjoining barn yard.  Supplies are set up and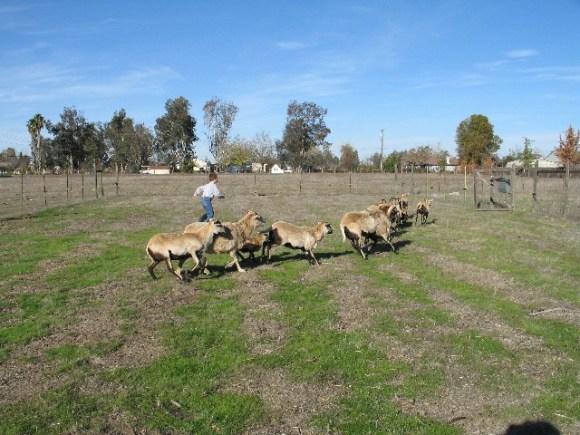 readied inside the feed barn.  The herd is then set into motion, first at a run to get them moving together, and then slowed to a walk as they are moved around the side and back of the little feed barn.  This is a great job for Will and he shepherds them well.  As they round the back of the barn to the other side, my husband and Aaron are waiting for them.  The silly little rams will, almost invariably, leap just as they pass one of the guys.  It's kind of cool, really, because that means that the guys can just reach out and catch them in the air!  The intended job takes just minutes and the lambs that are "done" are returned to their own pen.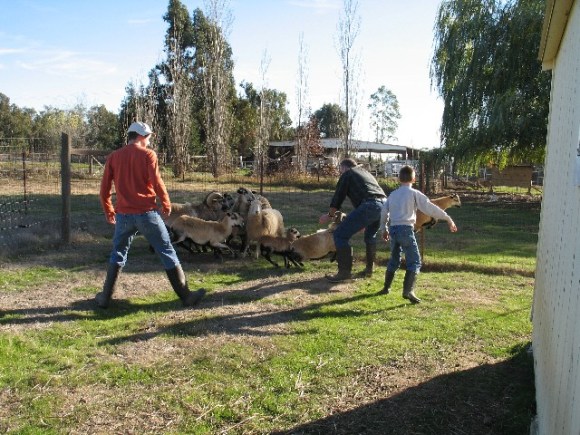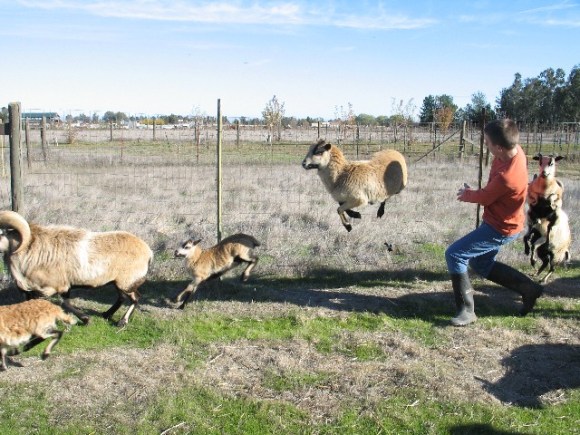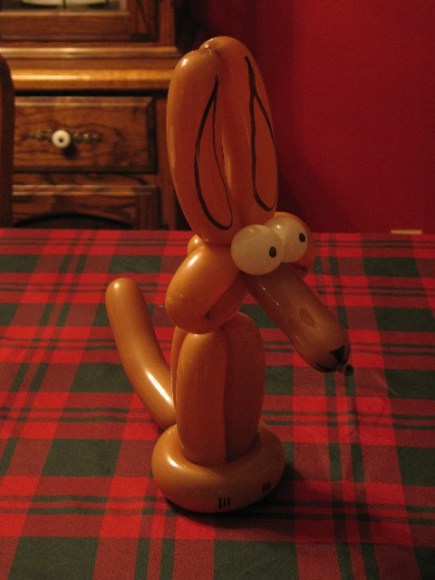 Then, later in the afternoon, we loaded up, warm coats, scarves, gloves and hats all in the back of the van, and headed out for the movies.  Family movie picks were a bit slim, but we decided on Mr. Margorium's Wonder Emporium.  We thought it was cute and delightful!  Unfortunately, the only other viewers in the entire theater were three middle-aged women.  Just our family and them, and they sat in the row immediately behind us.  And proceeded to talk, loudly, throughout the entire movie!  Aye yai yai yai…..   We found an IHOP for dinner, and to our delight it was "family night".  Will ate free, and there was a pretty cool balloon artist there who made balloon creatures for all the kids.  Will asked for Wile E. Coyote.
We spent the evening visiting three different neighborhoods that decorate their homes lavishly with lights and various things displayed in their yards.  We stopped at McDonald's on the way home for ice cream (even though we'd been freezing as we walked through all the neighborhoods)!  Of course, I forgot the camera and don't have a single picture to share, but we had a wonderful time with one of our annual traditions.
I enjoy having family traditions.  These are events that our children look forward to every year.  We talk about them for months afterward.  Even though we usually visit the same neighborhoods every year, we look forward to seeing some of our favorite homes year after year, and we enjoy spotting the homes that have changed since the last year.  Family traditions.  Time together.
This morning, though, was back to normal!  Very normal!  So normal, in fact, that I wanted to show you a  picture of my tablecloth after breakfast.         Berry jam….everywhere!  After our past discussions concerning using cloth tablecloths on a daily basis, I just had to show you that mine can get pretty oooky during a meal, too.  I had quite a bit of laundry to do today, but there wasn't room for the tablecloth until late this evening.  Before washing it, I used some of my favorite stain treatment
on it, and put it in with the tablecloth from tonight's meal.  We had tacos.  Need I say more? My washer and dryer have been humming along all day, and are running even now.  I normally try to not run my machines in the evening, preferring for my home to be quiet in the evenings; however,  running them this evening will allow me to catch up almost completely.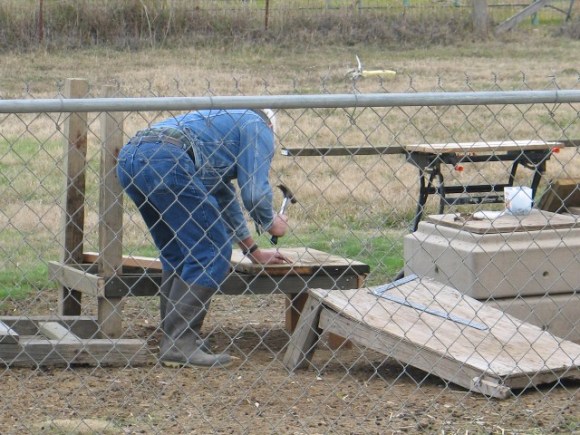 My boys were back to their normal routines of homeschool and chores, Dani and I were back to our normal tasks, and my husband got busy taking care of some homestead chores that were neglected during the construction of the porch.
Our goats all needed to have their  hooves trimmed, but the stantion we need to hold them so that my husband can tend to their hooves, was broken.  Copper went to work this morning building a new one.  It took quite a bit of his time, but it got done and the goats' have had their pedicure.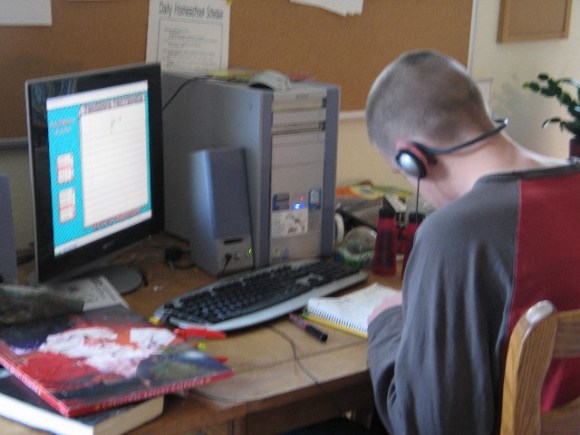 We chose the Teaching Textbooks curriculum for Algebra for Aaron this year.  After using it for a few months now, I can say that we are pleased.  After correcting Aaron's assignment today, he was able to sit down at the computer and have the program walk him through his missed problems step by step.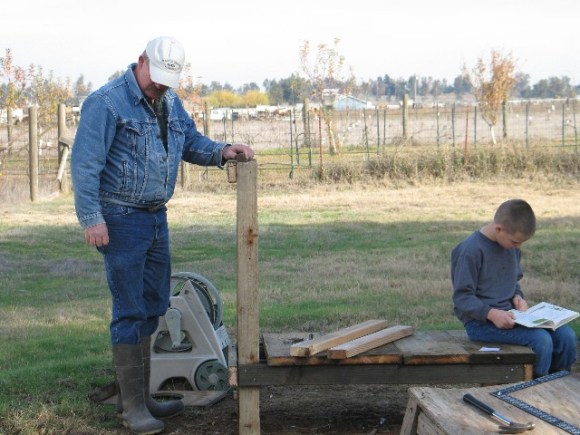 Will took a book out to read while Dad worked.  He likes being with his daddy, and even though he couldn't help or chat, he was happy just being with Dad.  He was reading about bacteria.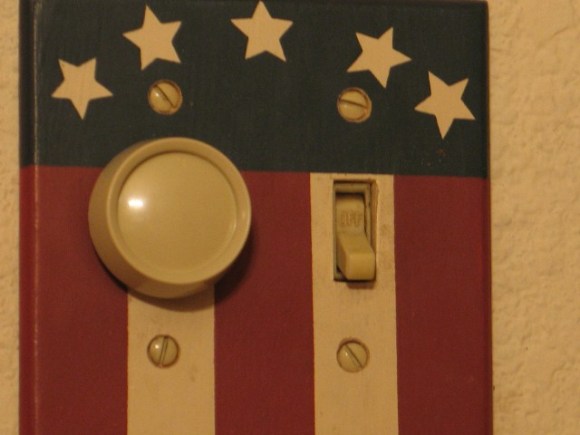 While we were out shopping on Monday, my husband picked up a new light switch to replace the broken one in our bathroom.  I asked him if it was possible to replace just one switch, in a multiple switch set-up, to a dimmer.  He said, "sure", and then spent the five bucks to pick one up for me.  I have, for years, wished that we had a dimmer switch on the fixture over our dining table.  All that wishing seems so silly now.  I "wish" I had asked him years ago!  For $5 and just a few minutes of my wonderful, handy husband's time, we now are able to dim the over head light to whatever setting pleases us!  It is so nice!  Much to my delight, my husband dimmed the lights just before we sat down to dinner tonight!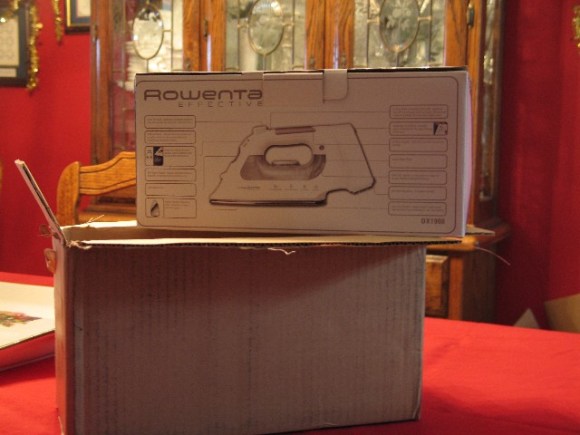 We did so much of our Christmas shopping on-line this year, the UPS truck and mail carrier have been almost daily visitors.  When the UPS truck drove in today, I thought he was delivering another on-line order.  I was thrilled, however, to find out that it was a brand, spanking new iron!!!  I sent my almost brand new Rowenta iron in for repairs to the warranty center in mid-November.  Apparently it was not repairable, and I was sent a brand new iron instead!  I am so pleased!!!!!  It's nice to know that Rowenta stands behind their warranty!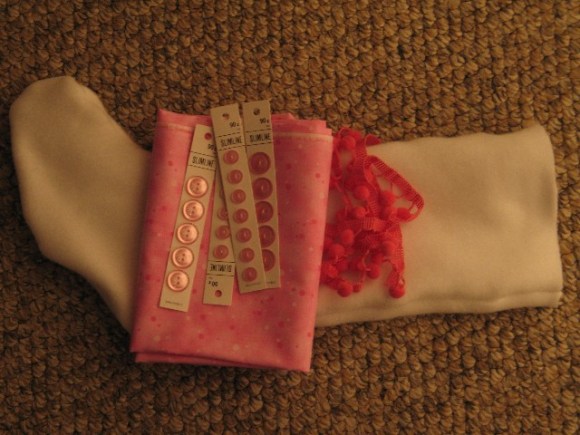 Another Christmas tradition I have is making my grandchildren's Christmas stockings for them.  I am so blessed that I have the opportunity to make one again this year!  So that they will all have some sort of connection, they are all made from bright, white polar fleece.  It was so much fun tonight to cut out the fourth of these stockings, and stitch it up.  I have a fun little  pink polka dot theme planned for my youngest little treasure's stocking.  I'm hoping to get it finished up over the weekend.  I'll be sure to take a picture.
One of the goals I have for my boys in the coming year is to give them both a little more training in cooking.  I'll
try to share more about that in January as my plans are firmed up a bit.  In the meantime, though, we can always count on William for his expert handling of cooking the refried beans.  Dani showed him how to heat them in the microwave a few months ago, and he takes great pride in being called upon to make the refried beans for us.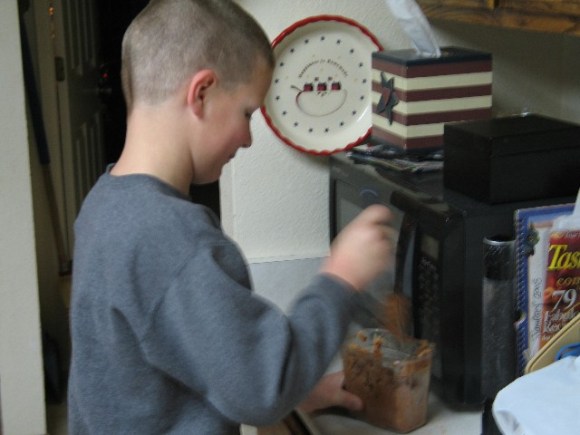 He was so glad when I asked him to do it for me tonight.  He does a great job.
I just popped the last load from the washer into the dryer.  Even though my laundry room is just outside my bedroom, my new machines are quiet enough that I can run them, when I need to, at night.  Happily, but not surprisingly, my trusty Zout got all of the berry jam stains out of my tablecloth even after letting them sit all day.  Man, I love that stuff.
Be sure, too, to check in with my friend Heather, to see the latest GREAT report on Eric's continued recovery!  God is so incredibly good!
It's grown quite late, and I need to get headed toward bed.  I am so pleased that so many of you have taken the opportunity to enter my drawing.  If you have not already done so, be sure to visit THIS POST and leave a comment before Saturday evening.
God bless you as you look well to the ways of your household!
Proverbs 31:27