With just five more sleeps 'til Christmas, I  finally hit that frantic "AUUUGHHH!!" stage this morning.  By mid-afternoon, though, I knew that it would all, somehow, still get done.  I'm not frantic anymore, but there's not a lot of time for dilly dallying (or blogging!) either.
I wanted to let Susan, Lea, Jolene, Melissa and Amanda know that their packages were finally mailed off today.  I'd meant to get them to the post office by Wednesday, but it just didn't get done.  They were all mailed first class.  Don't expect them before Christmas, but they should be there a day or two after.
I took my kids for a suprise trip to the huge mall in a nearby city yesterday.  None of us have been to the mall for at least two years, and I think that it's been even longer since we have been at Christmas time.  It was delightful!  The state fairgrounds are just a mile or so from the mall.  During the holiday season, the mall contracts with the fair grounds and a private, charter bus company, so that folks can park at the fairgrounds and ride a nice bus to the mall.  That's what we did!  We were able to park just steps from the shuttle stop, and it dropped us off and picked us up just steps from one of the mall entrances.  Will was so excited.  He had never ridden a bus before, and he was just beside himself with the treat.
Walking about the mall for a couple of hours or so was fun for all of us.  The beautiful decorations and the stimulation were incredibly fun for William.  The crowds of the mall meant that his ways of dealing with all of the incoming stimulation went more or less unnoticed by everyone but his family.  We love him, so we didn't mind the tics and repetitive behaviors at all! The big kids, Dani & Aaron, and I enjoyed window shopping and people watching.  Dani and I saw several things that have given us some sewing and crafting inspiration for the coming months.  In fact, we're talking about a return trip, just the two of us, in February or March for some spring sewing inspiration.
I made two purchases.  I bought a tub of glow in the dark letters for $5.00 that I plan to use to leave surprise messages for my boys.  How fun to go in during the day and stick the letters to their wall only to have them discover them once the lights go out at night!  I also bought a six pack of Cinnabon rolls, which we brought home to enjoy with my husband in the evening.  As a matter of fact, we got home so late, he was already home and had the wood stove burning again.
Dani and I are busily working to do some neatening and straightening, and also some special cleaning to get things ready for our family. We will host my husband's extended family for Christmas Eve and Corin & Rob and the grandbabies for Christmas Day.  Oh, I can't wait for either!  I love having folks over.  I'll be posting our holiday menus in the next couple of days.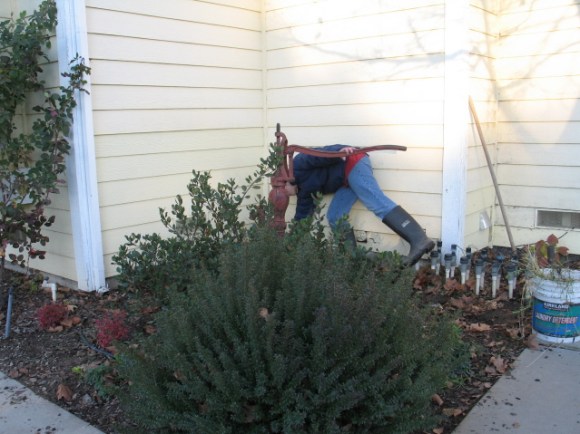 The boys are not idle either.  Picking up toys and projects that have been in the schoolroom, pulling weeds along the front walk way.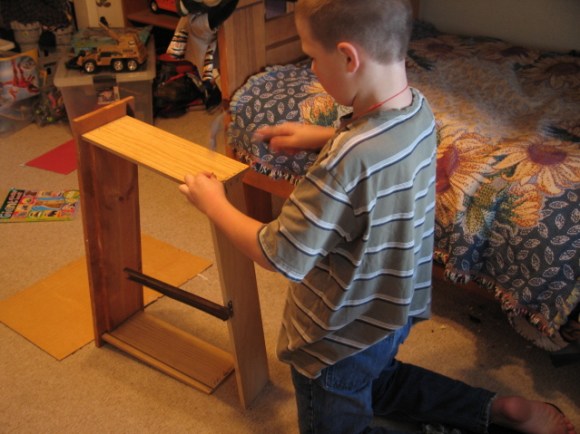 William took on the task, as a surprise for his brother, of trying to repair one of Aaron's drawers that fit under the bunk beds.  He hammered and worked.  He sought help and advice from Dani, then he hammered and worked.  Then he tried some wood glue.  The drawer was really, really broken and fixing it was just beyond his 8 year old skill level.  He came to me with his big brown eyes brimming full with tears.  His defeat broke my heart!
I've made significant progress on my youngest grandbaby's Christmas stocking.  The theme, set on white polar fleece, is pink polka dots.  The fabric I'm using is a bubble gum pink background, with a few hot pink and pale pink dots scattered about.  The fabric was cut into three different size polka dots, attached to the front of the stocking with WonderUnder in a random and somtimes overlapping pattern.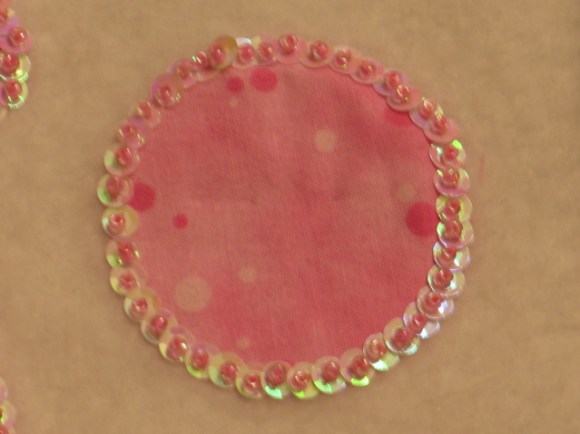 There, easy enough.  However, each polka dot is now being stitched down by hand as I attach an iridescent white sequin, held in place with a  pink glass seed bead.  Hundreds and hundreds of sequins.  Hundreds and hundreds of beads.  Some of the poka dot fabric will band the top of the stocking, with a fun fringe of hot pink pompoms underneath.  My sweet little treasure's name with be put onto the top band using the sequins and beads.  I have TONS of handwork left to go, but I'm not giving up hope of having it done in time!
Take your time.  Enjoy your family.  Don't neglect spending time with the Lord.  I'm off to heed my own advice!
God bless you as you look well to the ways of your household!
Proverbs 31:27