It's Thursday, and that means that it was Library Day at Grandma's House.  Corin and my grandbabies drove out here in the rain and it was so wonderful to see them!  I love their sweet, smiling faces and the sight of them coming up my porch steps to my house!  They are treasures, each and every one (Corin, included!).
We visited for a bit, and then the littles and I settled in for our read aloud time.  Christmas books, of course, were on the agenda.  Here's what we read today: Thank You, God, for Christmas
, Cat in the Manger
, and A Night the Stars Danced for Joy
.   The last one was our favorite of the day – just the very thought of being a shepherd witnessing the multitude of heavenly host praising God  with, "Glory to God in the Highest", fills my heart with adoration and thanksgiving.  The kids enjoyed it the best, too!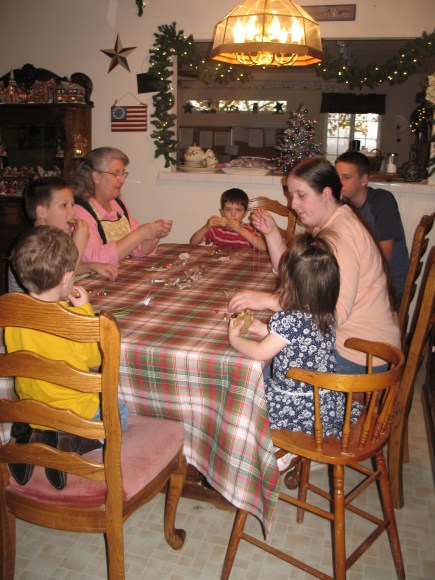 I ordered quite a few things from Oriental Trading Company for us to work on in the coming weeks.  With the weather so uncertain this time of year, it's nice having something fun to do inside.  Today we made beaded holiday necklaces and we all happily wore them for the rest of the afternoon.  I still have mine on!
Afterwards the children all played happily in the schoolroom, while my older kids and I chatted in the living room.  It seems strange, somehow, counting Aaron as one of my "older" children, but he visited with his sisters and I this afternoon.  He also kept refilling my glass of Diet Pepsi, Lord love him!  Here are some pictures of our day…….but scroll to the end because I want to talk about books.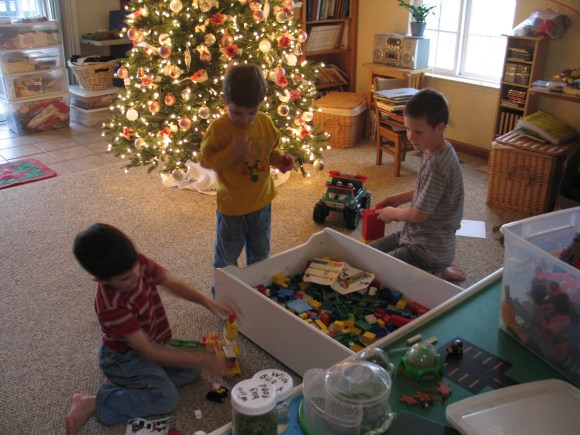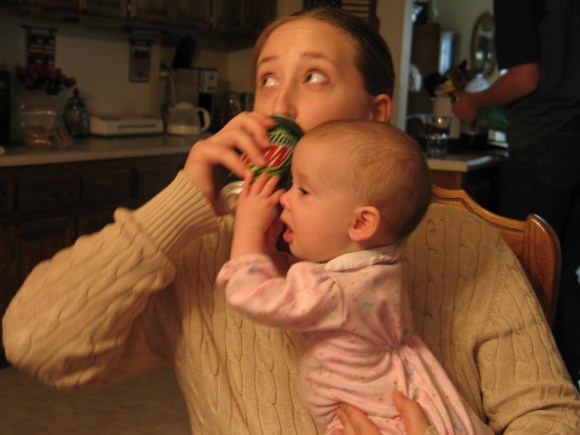 Like auntie, like niece – Me thinks the Mt. Dew thing might, perhaps, be genetic!
Trying to snap a shot of my boy………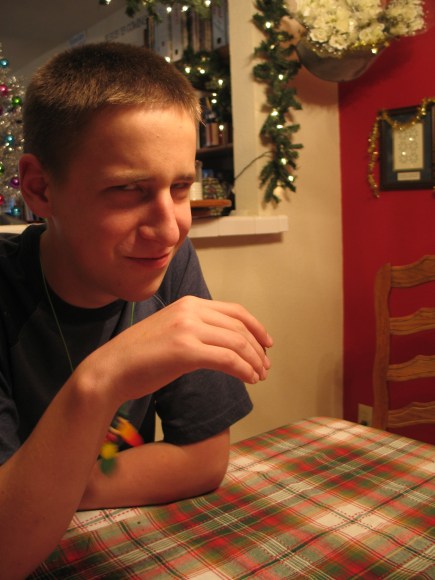 ………..who insisted on mugging for the camera!  What a ham!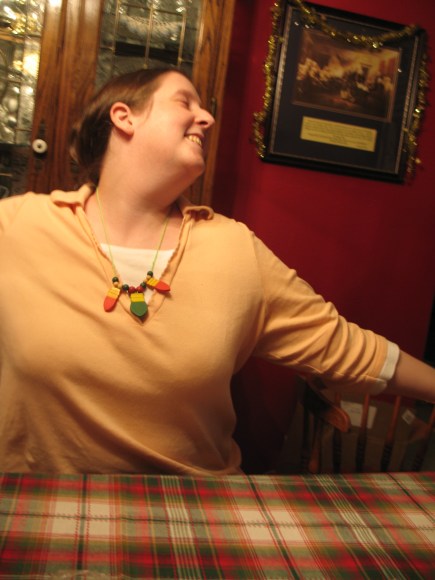 Uh-oh……looks like I've raised more than one ham!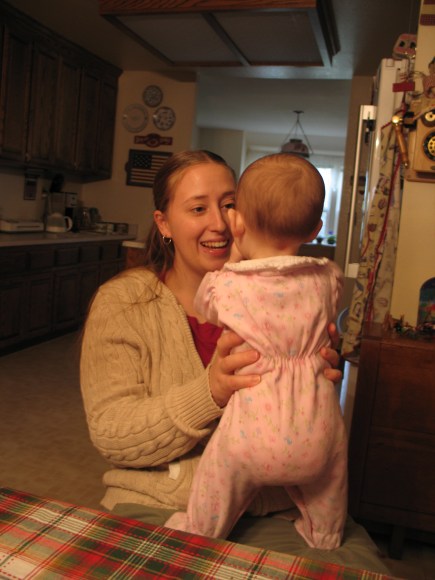 Aunt Dani and our, sweet baby girl visited and shared lots of girl talk.
They shared quite a few giggles, too!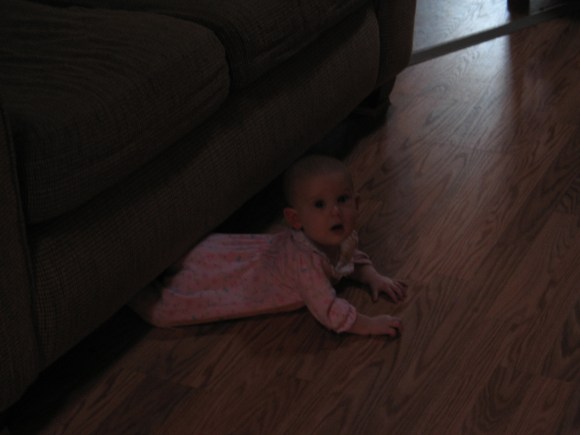 If all the dust bunnies under my couches were as cute as this one, I'd never vacuum!
I've long waited for an opportunity to share some of my thoughts about books with you.  I've had several questions about books lately, in both the comments as well as in private messages, that need answering.  I've also seen several articles and advertisements in the last couple of weeks that have kept pushing this topic to the forefront.
Most of you know by now, my heart is filled with the desire to build a Heritage Library.  The idea is, of course, that we would own a fine, private library in our own home, that we use DAILY.  Even more, though, is the idea that the books contained in our library will be passed to my children, and my children's children, as an evidence not only of our passion for private, Christian homeschooling, but also as an indication of our commitment to life long learning.
Before I go any further, in order that you might understand better what is to follow, I urge you to click over and read my Heritage Library article now before continuing.  If you've already read the article, you understand my passion and the sense of urgency I feel in building our library.  I will start by answering some recent questions.
Where do you buy your books? Anywhere.  Everywhere!  I buy books at garage sales and thrift stores.  I buy books in book stores.  I buy books in liquidation stores.  I buy books at homeschool conferences.  I buy books through Amazon, e-bay, abebooks, bookcloseouts and other on-line book sellers.
Do you buy only new books, or only used, or both? Both!  Brand new books are wonderful, but I think that a still sturdy, worn book is absolutely lovely.  I enjoy books with inscriptions from former owners.  I buy books from lists I keep of books I am looking for.  I also buy books that were unknown to me that appeal to me when I see them.
Hardback or paperback? Now, this gets tricky!  I would prefer to only have hardback books.  Since my intention is to buy books to pass on to my kids and grandbabies, then the sturdy nature of a hardback is preferrable.  However, paperback books are almost always quite a bit less expensive than hardback**, so I often choose paperback and a larger number of books, over hardback and a lesser number when I have money to spend on books.  **While it is often true that paperback books are cheaper, watch carefully!  Quite often, the hardback version of a book is only a dollar or so more than the paperback version.  Coincidentally, Meredith had a great post asking just this question (hardback or paperback) at her blog.  Be sure to read all of the comments to see what others think, too.
What do you do with books after they're read? Well, we reshelve them on our home library shelves for the next reading!  Books are meant to be read, and re-read and read yet again.  A good book, one worth having, is worth multiple readings.  This is true for children's books as well as for books for the grown ups.  In fact, I enjoy reading children's literature myself, from time to time.  Once in awhile a book does need to be culled from our collection.  Sometimes we are given books that do not suit our family's standards.  Sometimes duplicate books come our way.  Every now and again a book will become outdated for one reason or another.  In those cases, I will either sell the books on e-bay, or I will donate them to a thrift store.  There has been the occasional book that I have destroyed due to its content.
For my family, books are an investment.  They are not bought simply just for the sake of accumulation, but for posterity.  I've always felt, somehow, that books were a valuable commodity, but an investment?  Really, Cheryl, an investment??
Well, in addition to my desire to build a Heritage Library for all of the reasons set out in my article, I've recently become aware that books, as we know them, may quickly be fading into oblivion.  I know that seems like a very unlikely prospect, but I'm not so sure.  The large city/county library system  in our area is already offering the "check out" of books on computer.  You request the book you want, they send a link to you via your computer, and you click the link and read from your computer screen.  Apparently there is some sort of encryption that disables your link after three weeks.
Amazon has recently launched a product of their own called Kindle
.  I will tell you, truthfully, that since this product was first announced, I've flip-flopped on my impression of it a couple of times.  The idea of a small, portable device that would allow me to access, at a touch, as many books as I could ever read (for a price, of course) has its appeal.  I can see this technology being nice for a frequent traveller, or for someone in very small living conditions (such as a dorm room, nursing home facility, etc.).  However, there is nothing like sitting down and holding a book in your hand, feeling the crispness of the pages and turning those pages with your own fingers.  I'm also concerned about where technology like this might lead.  Read on.
The Google Book Project I'd never heard of it, though I've heard of similar undertakings by private libraries, etc.  The idea is to scan books, turning them into digital media, for easy retrieval, etc.  Google, of course, hopes to turn a huge profit on this venture.  I enjoy reading my books, advertisement free, thank you very much.  I also don't like the idea of how this impacts the publication of future books, or the possible re-printing of older books.  (Hat tip to Mr. Saenz for this article.)
I'm not trying to sound like some end-of-the-world-as-we-know-it wacko.  I'm not such a person, by the way.
On the other hand, I do see that the book market is trending more towards e-books, books on line, and the like and away from printed books.  This concerns me a bit, and only confirms my decision that building a Heritage Library is, indeed, the right thing to do. Buying printed books for my own library insures that a suitable collection will always be available for my family.  Free of charge.  No electronic media necessary.
Ladies, I know this isn't my normal daily post.  However, this is very much what has been on my mind and heart lately.  I would not, could not, answer the questions I answered earlier without sharing this as well.  I'm not asking everyone to jump on my bandwagon.  I would, however, urge each of you to consider the role of books in your own homes, and to determine their value to your own family.  This is just one way that I look well to the ways of my own household.
Thanks to all of you who have been praying for Eric and Heather.  Eric is now home with his family, praise God; but the source of his condition is still not known.  Please continue to pray for them!  (Lisa wanted me to ask you to please pray for Eric & Heather as you've so diligently prayed for her….. She's like that.  I'd appreciate it, though, if you'd remember to lift up her and her unborn baby, Grace, as well.)
God bless you as you look well to the ways of your household!
Proverbs 31:27